Today's review is on Atomic wallet, a cryptocurrency wallet that supports top blockchains and 500+ tokens.
Already, 1,000,000 users worldwide have either the desktop or mobile version of this wallet.
And with its excellent features and services, I'm pretty sure more users will download the wallet upon discovery.
Keep reading this post to learn about these services and more.
Who knows? You might download the wallet too when you're done reading.
Let's get to it!
---
Post Summary
This review is divided into the following subheadings:
A click on any item above will reveal its details.
Enjoy!
---
1. Atomic Wallet Overview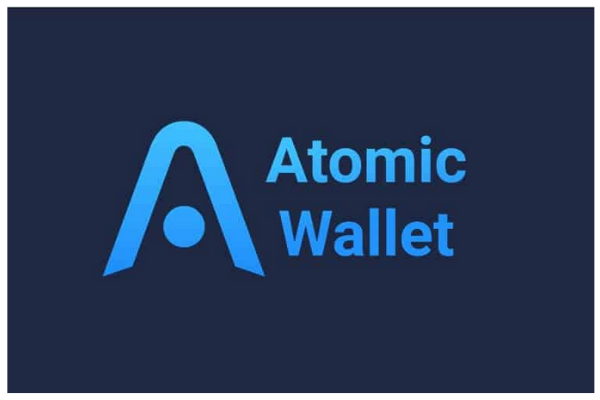 Atomic wallet is a cryptocurrency wallet that supports a wide range of coins and tokens.
Konstantin Gladych founded the wallet in 2017 with headquarters at Tallinn, EE.
It was designed to meet users' needs as far as cryptocurrency is concerned.
Talk about exchange, staking, coin swaps, and lots more.
The Atomic wallet has a network token called Atomic Wallet Coin (AWC). It is used to facilitate transactions on the wallet.
This wallet was created to enable users to manage their crypto assets in one place while earning as much passive income as possible.
Gladly, it is compatible with different operating systems like Windows, MacOS, Ubuntu, Linux, Android & iOS.
In the next section, we'll see the features of this wallet.
Keep reading!
---
2. Features Of Atomic Wallet
No KYC
Earn
Staking
In built exchange
24/7 live support
Videos
Blog
Mobile app
Next, we'll see the products and services available on this wallet.
Read on!
---
3. Atomic Wallet's Products & Services
Buy crypto
Users can buy the following cryptocurrencies from atomic wallet:
BTC, BNB, BUSD, ETH, XRP, XLM, TRON, ICX, DAI, PAX, NANO, etc.
They can make the purchase using debit/credit cards.
How to:
Download and install Atomic Wallet
Verify your Identity with a photo ID
Select 'buy crypto' from the home page and fill in the required details to complete your transaction
Atomic Swap/ Exchange
This service enables users to exchange crypto for crypto.
How to:
Install Atomic Wallet.
Deposit cryptocurrency to your wallet and go to the 'exchange' tab.
Choose the crypto to exchange and get it in less than 30 minutes.
This service is run with Changelly, ChangeNOW and Shapeshift exchanges.
We'll now see the supported currencies.
Read on!
---
4. Currencies Supported On Atomic Wallet
This wallet supports 500+ currencies including ERC-20 tokens.
Some of these currencies are listed below:
Cryptocurrency
Fiat
USD
EUR
GBP
CAD
AUD
RUB
JPY
CHF
CZK
DKK
NOK
NZD
PLN
SEK
ZAR
HUF
TRY
ILS
Now, let's have a look at the accepted payment methods.
---
5. Payment Methods & Transaction Fees
Payment Methods
Cryptocurrency
Credit/Debit card
Transaction Fees
Fees charged here vary depending on the transaction involved.
The only specified fee for now is the one charged for buying cryptos.
Atomic Wallet takes 2% fee and a minimum of 10$ per operation.
Credit/debit card bank processing fee maybe around 5%. Then network fees depending on the blockchain of the coin also apply.
Now, let's see the transaction limits and verification requirements for Atomic wallet.
Read on!
---
6. Transaction Limits & Verification Requirements
Transaction Limits
There're no limits for crypto transactions in Atomic wallet.
Verification requirements
In order to perform transactions on Atomic wallet, you need to verify your account by uploading a photo ID.
This is because the exchanges that process the transactions (e.g. buying crypto) are regulated.
However, if you only intend storing your assets on the wallet, you will not need to upload any documents for verification.
---
7. Customer Support And Public Opinion
Atomic wallet has an Academy and Knowledge Base where users can learn more about the platform and other relevant topics.
Users can also reach the admins through these channels:
support@atomicwallet.io
https://twitter.com/atomicwallet
https://t.me/AtomicWalletNews
https://www.facebook.com/atomicwallet
https://medium.com/atomic-wallet
Live chat
I tried the Telegram channel and I was attended to instantly. Cool!
When I checked Atomic wallet on TrustPilot, it had an excellent rating with 5,997 reviews. Superb!
Next, I'll show you how you can earn passively from atomic wallet.
Keep reading!
---
8. How To Earn Passively From Atomic Wallet
Atomic wallet has some features that enables users to earn passively namely:
Earn
Here users can earn AWC (atomic wallet coin) by participating in airdrops, affiliate programs, and bounty campaigns.
Owners of AWC get to enjoy discounts on exchange services offered by the atomic wallet.
Also, they can swap AWC for other ERC-20 tokens on Binance DEX and IDEX exchanges.
Staking
Atomic users can also stake coins at no cost and earn a percentage yield.
The percentage yield depends on the coin staked. Users can earn up to 16% annual yield on a coin.
In the table below, you'll find the coins you can stake on Atomic and their percentage yield.
| | | |
| --- | --- | --- |
| Coin | Min. Deposit (Units) | Annual ROI (%) |
| ZIL | 10 | 16 |
| ADA | 1 | 5 |
| ICX | 1 | 10 |
| XTZ | 1 | 7 |
| ATOM | 1 | 10 |
| AWC | 10 | 20-23 |
| TRX | 1 | 5 |
| BAND | 1 | 17 |
| KMD | 10 | 5.1 |
| VET | 0 | 1.63 |
| ALGO | 1 | 5.6 |
| ONJ | 5 | 5.6 |
| NEO | 1 | 1.4 |
| QTUM | 1 | 5.99 |
| DOT | 1 | 7.83 |
Membership
Additionally, Atomic has a membership program that is based on its native token, AWC.
Users in possession of the token receive rewards for using its built-in exchange service.
The reward received depends on membership status of a user.
Find more details below:
| | | |
| --- | --- | --- |
| Status | Cost (AWC) | Cashback (%) |
| Blue | 100 | 0.25 |
| Silver | 300 | 0.5 |
| Gold | 600 | 0.75 |
| Platinum | 1,000+ | 1 |
Users can purchase AWC via the wallet or on Binance DEX, hold and exchange it to become a member.
Moving on, I compared Atomic wallet with similar wallets.
Tag along!
---
9. Comparing Atomic Wallet With Similar Wallets
Atomic vs. Exodus
Exodus is a hot wallet just like Atomic. It was founded in 2015 by JP Richardson and Daniel Castagnoli.
Both wallets have related features including: in-built exchange, Staking, and no KYC.
Additionally, both wallets are compatible on android, ios, macOS, Windows and Linux.
However, Exodus supports crypto apps which Atomic does not.
While Atomic has a wallet token, Exodus have nothing like that.
You can read our Exodus review to learn more.
Atomic vs. Coinomi
Coinomi is one of the oldest crypto wallets founded by George Kimionis in 2014.
Just like the atomic wallet, it is highly secure and allows users to store over 500 cryptocurrencies for free.
The wallet also supports staking and exchange of crypto. Also, KYC is not required to coinomi.
However, Coinomi allows users to buy Giftcards with crypto but Atomic only allows users to buy crypto with a Credit/Debit card.
Read our Coinomi review to learn more.
Let's answer some frequently asked questions and then we can wrap up this post.
Keep reading!
---
10. FAQs
How do I get the Atomic wallet?
i. Visit atomicwallet.io and download the app
ii. Go to your 'downloads' folder and select the file you've just downloaded and install it.
iii. Once you have installed the wallet, open it and create a password. A unique mnemonic seed phrase that you will store on your device.
iv. You can then commence transactions.
iv. For mobile, download the wallet from Playstore or AppStore depending on your device.
How to deposit funds to Atomic Wallet?
i. Open your wallet and click on the coin you want to receive from the coin list.


ii. Next, click on 'Receive' to see your coin's public address.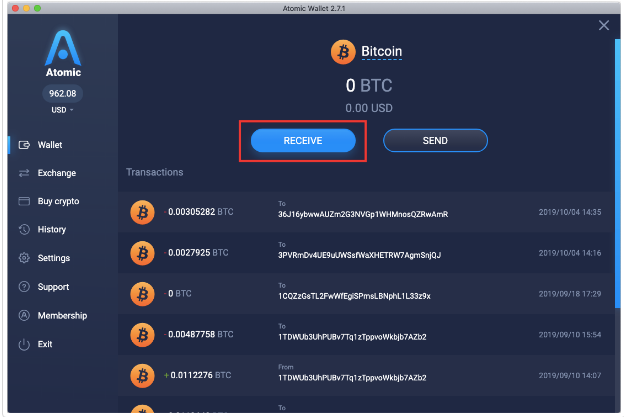 ii. Copy the address and paste it on the corresponding "Send" field of the platform from where you are receiving the coin.
Another option is to scan the QR code. This enables you to move the asset directly between addresses without copying it or sending it.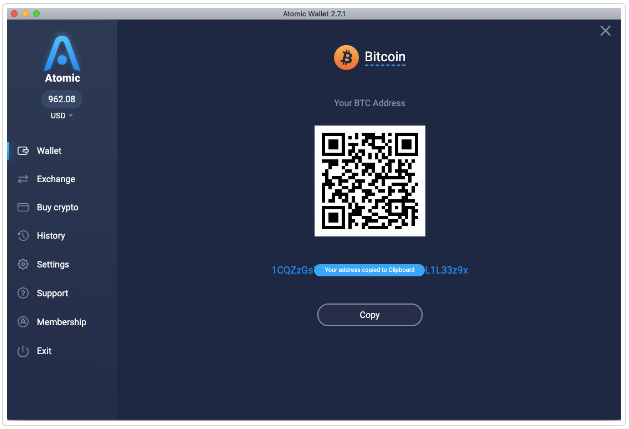 Your funds will be safely moved to Atomic Wallet.
Can I have multiple wallets on one device?
No, you can't have more than a wallet on one mobile device.
On a desktop device, however, you can have multiple wallets but each will have a separate user account.
How safe is Atomic wallet?
Though the wallet is not regulated, it has these security features:
– Members hold their private keys.
– The wallet does not store sensitive information of users.
– It provides users a unique mnemonic seed phrase with which they control access to the account.
– All connections and data transfers on the wallet run in encrypted mode
---
BTW.
If you want to learn how to trade cryptocurrencies profitably, then enroll in our Cryptocurrency Mastery Course by going to www.ctmastery.com. You can also join our Telegram community at https://t.me/ctmastery.
---
11. Conclusion
Atomic wallet enables individuals to store, buy, exchange, and swap crypto. It supports a wide range of coins and it is easy to use.
And that's all I have for you in this review. Now, I'd love to hear from you;
What do you think of this wallet? Would you store your funds in it?
Perhaps, you're already using the wallet. What has been your experience?
Tell me in the comments section right now.
Also, share this post with other crypto lovers on your list.
---
Check these out: