Crypto airdrops are one way to earn cryptocurrencies for free.
They give you access to free tokens that you can sell later and make profits.
Imagine making up to $10,000 from selling coins that you didn't buy.
Mouthwatering, right?
Read this article to the end and I'll show you how to make money from crypto airdrops.
Also, I'll tell you about high-performing projects that may airdrop their tokens soon.
If you're ready, let's jump right in!
---
Post Summary
Click on any item above to read its details immediately.
Let's get to it!
---
How To Make Money From Crypto Airdrops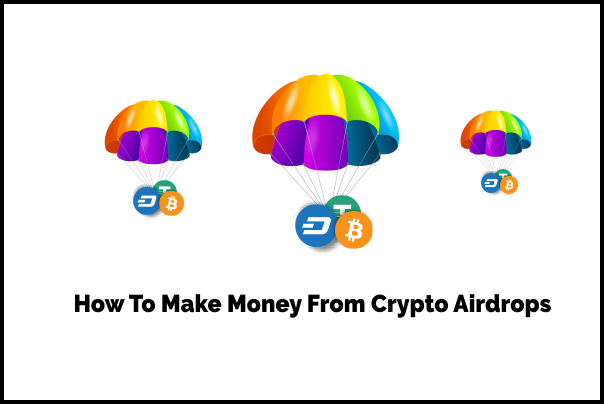 First of all, What are crypto airdrops?
Crypto airdrops are free tokens given en masse to the communities of crypto projects to encourage adoption.
In other words, newly minted tokens are given to hundreds or thousands of different wallet addresses.
The goal is to get the recipients to actively engage with the corresponding project.
So, How can you make money from crypto airdrops?
Crypto airdrops take different forms including:
a. Standard Airdrops
In standard airdrops, a project distributes its native token to the active members of its community.
So, just because you're participating actively on the network, you receive its native token for free.
This is common for protocols that commence without a native token.
When they eventually launch a token, network participants will be the first to receive the airdrop.
A typical example is Uniswap, it started without a native token but when it launched its token, it airdropped 400 UNI to each user.
b. Bounty Airdrops
This is another form a crypto airdrop can take.
Here, you are required to complete a given task to receive free tokens.
The task may be to:
Follow an account on social media/ share their posts and hashtags;
Create an account with a platform and sign up to receive updates;
Develop digital content on the project and share it on social media;
Send or receive a transaction (using a particular crypto platform or wallet).
When you complete the task, it makes you eligible and you will receive the free tokens upon distribution.
Around November 2021, the Tenset project used this approach to distribute over $3,000 to content creators.
c. Hodling Airdrops
Thirdly, a crypto airdrop can take a Hodling Airdrop format.
This simply means that the tokens are distributed to wallets holding a particular coin.
And it is popular on exchanges like Binance, where snapshots of wallets holding a particular token are taken at a set time to make them eligible to receive new tokens for free.
Take, for example, I locked up some of my BNB tokens in the BNB Vault on Binance.
As a result, I receive free tokens from new projects launched on the Binance Launchpad.
Pretty cool, huh?
d. Random Airdrops
Here, two different projects are involved in one airdrop but they have different communities.
For example, when the SOS token and LOOKS token airdrops happened, these tokens were distributed to active users of the OpenSea NFT Marketplace.
Now, these platforms are different from each other but because OpenSea has a massive following, these new projects took advantage of it.
Indeed, they received the publicity they sought and the Looksrare Platfrom outranked Opensea in the NFT kingdom at some point.
Furthermore, this kind of publicity helps to push up the price of the airdropped tokens because individuals who get to know about it but missed the airdrop would want to buy the token.
Thus, giving more value to the tokens received by participants. Cool!
When you participate in different types of crypto airdrops, you'll receive free tokens that you'll sell later for profits.

Imagine if you received $500 worth of tokens from a collection of airdrops at intervals.

Within a short period of time, you may be holding up $10,000 worth of tokens in your wallet.

Check out this Tweet by crypto influencer, Darren Lau to see what I mean 👇
Now, that's huge!
Earlier, I mentioned that participating in blockchains that have good potential but are yet to launch their native tokens is a good start to earning free crypto.
In the next section, I mentioned some projects you should expect airdrops from soon.
Tag along!
---
Top 8 Crypto Projects To Invest In Now For Airdrops
Let's take them one after the other...
1. OpenSea
OpenSea is the first and largest peer-to-peer marketplace for NFTs.
In late 2021, OpenSea announced that it would be going public.
Users who misunderstand it as a plan for IPO demanded that the platform consider governance instead.
The bone of contention was that users have grown the community and not Virtual Capitalists.
As of 19/07/2022, OpenSea boasts of $30.57B trade volume, 1,960,777 traders, and $1.5k average price.
This shows that the platform has generated enough liquidity and we should be expecting a native token soon.
And when the token is released, it will be airdropped to the community members first.
In order not to miss out, you want to start participating in OpenSea now.
Buy, create, and sell NFTs to join the community.
2. Francium
The second project that may be airdropping tokens soon is Francium.
And no, it is not the chemical element that you know (LOL).
Francium is one of the largest lending protocols and yield farming aggregators on the Solana blockchain.
It does not have a native token yet but it has dropped a hint on its Telegram channel that a native token is on the way.
So, this may be a good time to become active on the network.
You can start by lending tokens and yield farming on Francium.
Read our complete review of Francium to learn more.
3. MetaMask
MetaMask is another big player that may be giving out free tokens soon.
It is a DeFi wallet that supports 45 tokens, 4 blockchains, and has about 30 million users.
Interestingly, this wallet has a "Swap" feature where it charges users a 0.8 fee to exchange tokens.
This is a clue that the platform is generating enough liquidity and may be releasing a native token soon.
In order not to miss the airdrop, download the MetMask wallet and start using its "Swap" feature.
Impressively, it scans different decentralized exchanges to give you the best exchange rate.
Also, you can choose any of the supported networks (Ethereum, Polygon, Avalanche, BSC) to enjoy low gas fees.
4. StarkWare
People are looking at StarkWare too for crypto airdrops.
StarkWare is a Layer-2 scaling solution for the Ethereum blockchain.
You can build any decentralized application on it including NFT marketplaces and Derivatives Exchanges.
Already, the platform has many users (as you can tell from its stats 👇)
Hence, the reason there may be an airdrop soon.
So, you may want to join its community by using its tools in order not to miss out.
5. zkSync
Here's another Layer-2 scaling solution on the Ethereum blockchain that you should watch.
Gladly, it has hinted its community that there may be a token launch soon.
On zkSync, you can build apps using its tools.
Also, you can mint NFTs and exchange Ethereum-based tokens while enjoying low gas fees.
That said, you know what to do in order not to miss out.
Read our complete review of zkSync to learn more.
6. Arbitrum
Arbitrum is also a Layer-2 scaling solution on the Ethereum blockchain without a native token.
It has gained massive attention lately and may be airdropping tokens soon.
So, you can start now to use the platform and join its community.
Maximize its bridge feature for tokens transfer, and also link it to decentralized exchanges like Uniswap for seamlessly trading.
7. Zora
Zora, an NFT marketplace on the Ethereum blockchain may soon launch crypto airdrops too.
It allows permissionless minting and trading of NFTs.
To participate in its airdrop, start now to use its products, buy, mint, and sell NFTs on Zora.
8. Opyn
Opyn is a unique Derivatives platform on the Ethereum blockchain.
Here, users can trade perpetual contracts in long or short positions.
It has a product – Squeeth (squared ETH) which enables users to make more profits from their positions.
To participate in the airdrop when it launches its token, start now to take long or short positions, provide liquidity, and deposit into any of the trading strategies on the platform.
Other Potential Crypto Airdrops that didn't make my list are:
Phantom
Across
Aztec
Socean
Solanart
Hedgehog Markets, etc.
Superb!
We are almost done here but before we go, a brief info on airdrop scams.
Keep reading!
---
Beware Of Scam Crypto Airdrops
Yes, it is possible to get scammed from airdrops and lose your funds.
Some scammers are out there creating "fake and juicy airdrop schemes" to lure people into giving them money or crypto.
In order not to be a victim, take note of the following:
i. Only follow airdrops from legitimate sources like CTMastery signal group, Airdrops.io, Coinmarketcap.com, OpenSea, etc.
ii. Additionally, crosscheck the website URLs and other channels like Twitter and Telegram to confirm that the airdrop is for real before you proceed.
iii. Don't participate in an airdrop if you do not have a full understanding of the product.
Once the purpose of the project is not clear, let it go.
iv. Never send money to anyone who promises you an airdrop. They are called free tokens for a reason.
v. Do not hold high-value assets in the same wallet where you want to receive airdrops to avoid stories that touch the heart.
vi. Again, nobody will give you millions of dollars worth of tokens as airdrops. They are drops, not downpours. 😅
So, don't let greed lead you to send your wallet details to someone promising you a $5000 airdrop at once.
Find more helpful tips here: [How To Know Legit Crypto Airdrops (9 Pro Tips!)]
---
Conclusion
Crypto airdrops do not drop from the sky, you have to be active somewhere to receive them.
Participating in blockchains or their communities or signing up and depositing crypto somewhere are common eligibility criteria.
But when you see all those DMs or emails that request money or private keys to send you airdrops, take to your heels.
Feel free to drop any questions or thoughts you may have in the comments section.
Also, share this article with your friends, thank you.