Today, I am going to take a deep dive into the Binance Launchpad.
It is one of the products on Binance that allows you to invest in newly launched coins before they hit the market.
A total of 23 cryptos worth $57.8 million have been sold on the Binance launchpad; as of September 2021, it is worth $725.2 million (over an 11x increase!).
This is indeed a golden opportunity!
So, do you want to learn how you can profit from Binance Launchpad?
No qualms. That is exactly what you will learn in this article.
---
Post Summary
This is what I will cover:
Let's get started!
---
1. What Is Binance Launchpad?
The Binance Launchpad is an IEO platform that introduces new cryptocurrencies onto the Binance exchange, and it has been in existence since 2019.
It allows crypto projects launching on Binance to source funds for their project development through a token presale.
For instance, BitTorrent, the first project to go live on the Binance Launchpad, raised over $7 million in less than 15 minutes.
Over 23 cryptocurrencies have since been launched on Binance Launchpad.
Some of them include Lazio Fan Token, Coin98, Beta Finance, Voxies, FC Porto Fan Token etc.
Furthermore, Binance only features a crypto project on its Launchpad after conducting extensive research to ensure that it is:
A solid project that has reached a relatively mature stage of development
Has the potential to receive massive adoption
Backed by a strong and committed team
And has the potential to contribute to the wider crypto ecosystem
To put it simply, Binance's Launchpad gives you early access to new, potentially profitable, and safe tokens before they are available for trade.
Investing in Binance Launchpad could be very profitable for you as an early investor.
Continue reading to learn more about Binance Launchpad and how it can help you make money.
---
2. How Does Binance Launchpad Work?
To discuss how the Binance Launchpad works, let's first take a look at the terms used for the Binance Launchpad.
1. Preparation Period
Binance calculates your BNB balance every hour for 7 days by taking a snapshot of it throughout this period.
This is important because your average BNB balance for these 7 days determines the maximum amount of BNB that you can commit to the launchpad.
2. Subscription Period
It is within this time frame that you commit your BNB to the launchpad.
The subscription period lasts for 3 hours.
3. Calculation Period
During this period, Binance calculates how many tokens each participant will receive using a preset formula.
4. Final Token Distribution
This is the period where Binance distributes the Launchpad token along with your BNB token.
The calculation period and final token distribution happen on the same day.
In summary, this is how Binance Launchpad works:
Binance features a crypto project on its launchpad periodically.
So, you need to frequently check the "Launchpad" to find launchpad tokens in which you can participate.
Once a new project is listed, it starts with the "preparation period."
It lasts for 7 days, and you will need your BNB held in any of your Binance exchange wallets within this period.
When it elapses, the "subscription period" follows suit. Then you commit your BNB to the launchpad.
Each participant has a limit on how much BNB they can commit – It had already been calculated during the "preparation period".
After the "Subscription period" is over, Binance allocates the launchpad tokens to every participant.
The amount of the token that will be allocated to you is determined by a formula (more about this later).
Finally, tokens are sent to your wallet.
A fraction of your BNB equal to the value of the token you received will be deducted.
The remainder will be sent to your wallet along with your new token.
Find out how Binance calculates token distribution below!
---
3. How The Launchpad Token Allocation Is Calculated
The Binance Launchpad token allocation is calculated using the standard formula below.

However, to ensure a fair allocation to all participants, there is a maximum cap of token allocation per user.
And it will alter the initial calculation gotten using the above formula.
This is because, at the final token allocation, any participant that exceeds the Max. Cap will only be allocated the Max. Cap.
While the remainder is distributed to other participants.
Note: The hard cap means the maximum amount of Launchpad token allocation each user can receive. It does not mean the maximum amount of BNB that you can commit.
Let me explain this using an example.
Assume we have 100,000,000 new tokens available on a launchpad.
The token allocation is placed at 20,000,000 Max. Cap per user
You have committed 50,000 BNB to the launchpad.
However, we have 9 other participants who also committed a total of 100,000 BNB.
Table 1:
Using the formula shown to you earlier, the is what the allocation will be calculated as.
The table below shows:
How the BNB commitment by all participants was collected
The first token allocation (Committed BNB by an individual/ Total committed BNB by all participants * 100,000,000)
| | | |
| --- | --- | --- |
| Launchpad Participants | BNB Committed | First Token Allocation |
| You | 50,000 | 47,619,048 |
| Alice | 30,000 | 28,571,429 |
| Dave | 7,000 | 6,666,667 |
| Tolu | 6,000 | 5,714,286 |
| Ibe | 5,000 | 4,761,905 |
| Emeka | 5,000 | 4,761,905 |
| Chinma | 1,400 | 1,333,333 |
| Alex | 500 | 476,190 |
| Justin | 90 | 85,714 |
| Peter | 10 | 9,524 |
| Total BNB Committed | 105,000 | |
Table 2:
You'll notice in the table above that the tokens allocated to "you and Alice" exceeded the 20,000,000 Max. Cap.
Because of this, 20,000,000 launchpad tokens will be allocated to "you and Alice".
Launchpad Participants

BNB Committed

Token Allocation
Based On Max. Cap
You
50,000
20,000,000
Alice
30,000
20,000,000
Dave
7,000
6,666,667
Tolu
6,000
5,714,286
Ibe
5,000
4,761,905
Emeka
5,000
4,761,905
Chinma
1,400
1,333,333
Alex
500
476,190
Justin
90
85,714
Peter
10
9,524
Total
105,000
Remaining Allocation:
36,190,476
The remaining 36,190,476 tokens will then be distributed to other participants based on the standard formula.
Table 3:
This table shows what the final token allocation will be.
| | | |
| --- | --- | --- |
| Launchpad Participants | BNB Committed | Final Token Allocation |
| You | 50,000 | 20,000,000 |
| Alice | 30,000 | 20,000,000 |
| Dave | 7,000 | 16,800,000 |
| Tolu | 6,000 | 14,400,000 |
| Ibe | 5,000 | 12,000,000 |
| Emeka | 5,000 | 12,000,000 |
| Chinma | 1,400 | 3,360,000 |
| Alex | 500 | 1,200,000 |
| Justin | 90 | 216,000 |
| Peter | 10 | 24,000 |
| Total | 105,000 | |
Check out the next section!
---
4. Steps To Participate On Binance Launchpad
This is how to participate on Binance Launchpad.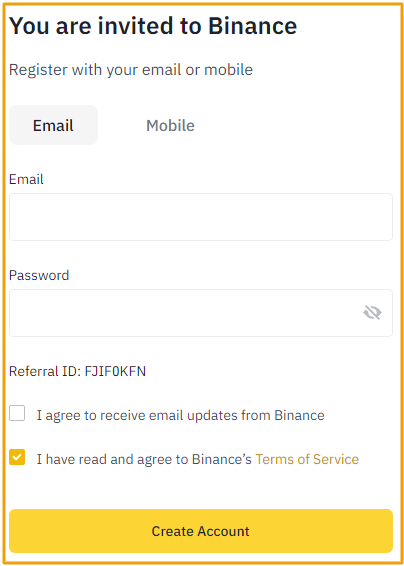 Navigate to "Earn" and click "Launchpad". You will see a featured project with a tag attached to it, then the details about its presale.
If the tag reads "Preparation period," note that Binance has started taking a snapshot of your BNB wallet.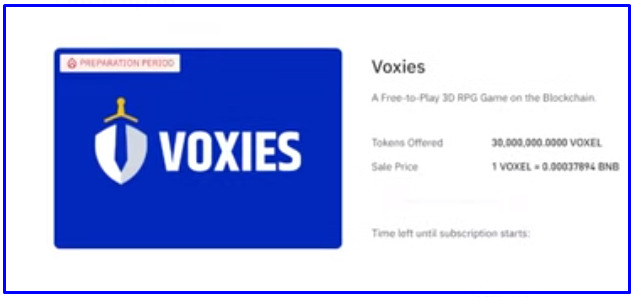 However, if it reads "Subscription period", click on the project to commit your BNB.
To commit your BNB, first, click the featured image.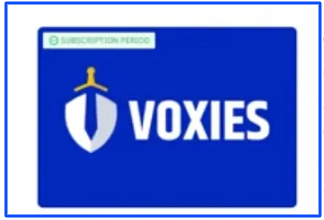 Details about the coin, including your "maximum commitment limit," will be displayed.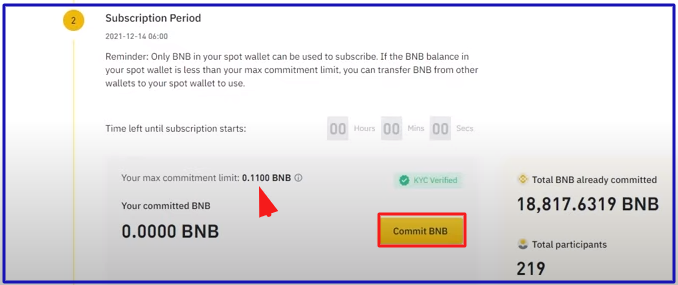 Enter the amount of BNB you want to commit and click "commit now." A notification will pop up, and you click "commit now" again.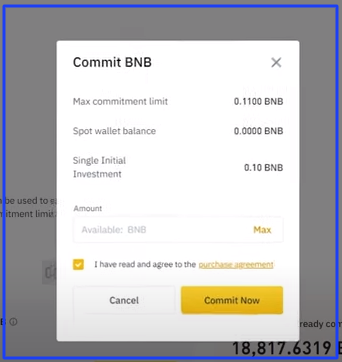 Once you commit your BNB, it will be temporarily locked until the distribution time.
Scroll down and you will see how participating in the Binance Launchpad can be profitable.
---
5. The Advantages Of The Binance Launchpad
Binance Launchpad benefits both cryptocurrency projects and investors.
1.
Early access to promising cryptocurrencies
Binance Launchpad offers you an opportunity to become one of the early investors of new and exciting crypto projects.
This is great because the coins are being sold at a discount to investors before they go public on the market.
2.
Token launch on a reputable platform
Binance has already established itself as a top cryptocurrency exchange, with over 10 million people putting their trust in it.
When a project is listed on Binance Launchpad, it gains exposure to millions of users.
As such, crypto projects can be confident in obtaining the necessary funds and community support for their project's growth.
Moreover, projects on Binance Launchpad are later listed for trading. Binance world-class liquidity as well as several trading pairs.
3.
Security for both projects and investors
Binance Launchpad is a highly secure IEO platform.
Investors do not need to worry about investing in projects that could turn out to be ICO scams. This is because these projects have been thoroughly vetted.
Crypto projects, on the other hand, can entrust their funds to Binance.
4.
Long term profitability
Participating in Binance Launchpad can be quite profitable.
MATIC, AXS, EGLD, and INJ are just a few of the cryptocurrencies that have been launched on this platform, and they have all done exceptionally well in the market.
Furthermore, at the time of writing (December 13, 2021), Binance featured Voxie on its launchpad.
At the launchpad, the token was sold for 0.00037894 BNB, or about $0.17.
However, the coin traded at approx. $6.9 on the day of its listing on the exchange before finally consolidating at a price of over $3 the next day.
As you can see, people who participated in the Voxie launchpad are already profiting handsomely.
---
6. FAQs
1. Must I hold my BNB in my spot wallet for the snapshot during the subscription period?
No, you can hold your BNB in any of the Binance wallets, including BNB Vault, Launchpool, Futures wallet, etc.
2. Is there a minimum amount of BNB I can commit?
Yes, the minimum is 0.1 BNB
3. Is my BNB locked during the subscription period?
Yes, once you commit your BNB to the Launchpad, it will be locked until the final distribution period.
4. How profitable is Binance Launchpad?
This will depend on 2 things:
– How much have you committed to the launchpad|The number of tokens you have been allocated
– The token's performance in the market
---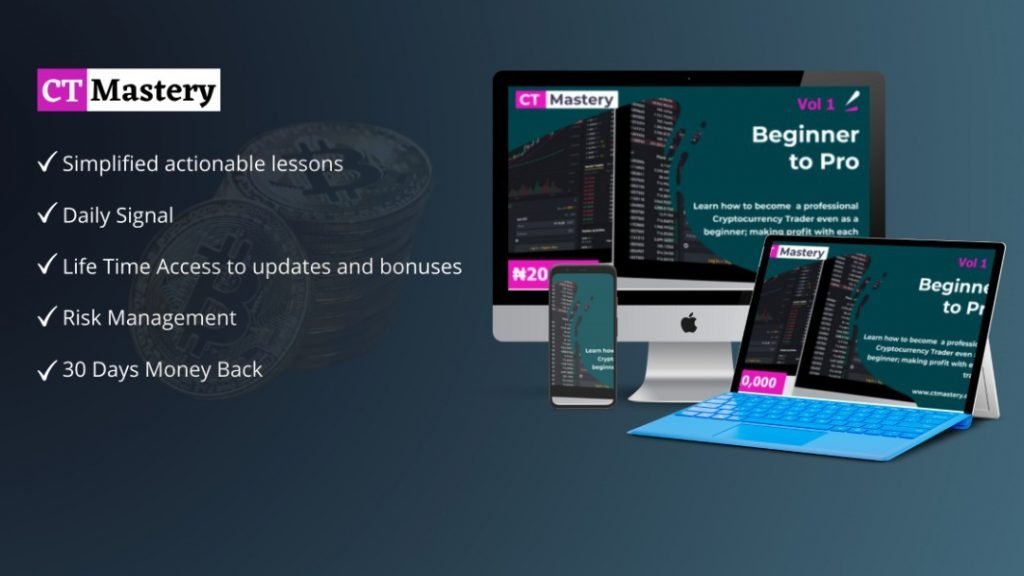 Do you want to learn how to trade cryptocurrencies profitably?
We developed a perfect course to help you master Cryptocurrency Trading.
Go to www.ctmastery.com to enrol. You can also join our Telegram community at https://t.me/ctmastery for more information.
---
Conclusion
This is where we wrap it up.
Whether you want to buy coins before they are listed for trading on Binance, or you want to participate in IEO, the Binance Launchpad is what you need.
It is also one of the best IEO platforms for potential blockchain startups to launch their token.
So, tell me in the comment section.
What do you think about the Binance Launchpad?
Have you participated in Binance Launchpad before? Tell us about your experience.
Did you enjoy and find this post helpful?
Remember to use the share buttons below if you enjoyed this post. Cheers!