This is the most comprehensive and in-depth review of Binance!
Binance is a global cryptocurrency trading platform that supports over 500 crypto pairs.
It earned the world's biggest crypto trading platform by trade volume not long after it launched.
Currently, Binance provides a plethora of services. In this review, I will teach you all there is to know about Binance.
I will also give you a free tutorial on how to trade profitably on Binance. So, If you are ready…let's get started!
---
Binance Review Summary
To gradually take you through this review, here is what I will cover;
Without hesitation, let's get down to business.
---
1. Company Overview
The word Binance is based on the combination of the words 'Binary and Finance'.
It is a popular cryptocurrency exchange founded in China and launched by a developer Changpeng Zhao in July 2017.
Binance is registered in Malta but later moved its headquarters to Tokyo, Japan due to the Chinese regulations on Cryptocurrency.
As a cryptocurrency exchange, it aims to improve the future of crypto finance.
At the time of this post, Binance is still one of the leading cryptocurrency exchanges.
It currently supports over 400 altcoins and offers users the opportunity to trade a wide variety of digital assets globally.
Binance has an exchange token "BNB". The initial value of Binance Coin (BNB) was around $0.1, but at the time of my writing, its value has appreciated to $42.36.
More so, on Binance cryptocurrency enthusiasts can raise funds from Initial Exchange Offerings (IEO) when they launch their tokens on Binance.
That is all I have for the "company overview"…if you want to learn more about Binance, then, you must keep reading.
---
2. Features of Binance
Intuitive UI
Plethora of tokens
Low fees
Increased security
A host of trading services
Hight trade volume
Multiple payment methods
Over 50 fiats listed
Mobile app
In the next section, I will walk you through all the services offered on Binance. Let's get going!
---
3. Binance Services
Binance offers a lot of services on its exchange, but I will talk about 5 of its services here. I will discuss other services on Binance in the later part of this article.
These 5 services are;
Buy Crypto
Markets
Trade
Derivatives
Wallet
.Buy Crypto
This is where you can buy or sell cryptocurrencies for over 50 fiat currencies.
You can buy or sell crypto on Binance in three different ways that are convenient for you;
Credit/Debit Card: This option allows you to buy cryptos using credit/ debit cards. You can buy up to 19 cryptocurrencies or sell 22 cryptos using this option.
Third-Party Payment: Your transactions here are being carried out through a selected payment gateway (either Simplex or Banxa for now). The supported cryptos here are the same as the Credit/Debit card option.
Note: These two options are not available for all the listed fiat currencies.
P2P Trading: This is where you buy cryptos using the Binance escrow system. This option allows you to buy 3 cryptos and 3 stable coins with over 100 payment methods and it is available for all the listed fiats.
.Markets
This is the section that shows the Last Price, 24h Change, 24h Volume, and Market Cap of all the markets available for trade on Binance.
Binance has three categories of markets; you can see these markets demarcated with a red box in the screenshot above.
These three markets also have sub-divisions of markets. For instance, you can see the sub-divisions of Spot Markets inside the blue box on the screenshot.
.Trade
Clicking on this menu will display a list of services offered by Binance under it. Let's look at these services from the screenshot below.
Talking about the first three listed items on the "Trade" list, they are basically, the three different trading interfaces available on Binance.
Basic: This interface shows you the easiest way of converting your crypto. It is most helpful for newbies who are not yet familiar with crypto trading tools.
Let's us see what this interface looks like below;
Classic: This interface displays all the categories of markets on Binance with the charts, trade history, and order books.
Here is what it looks like;
Advanced: The advanced and basic versions are very similar. But the distinguishing factor is that the advanced version gives you advanced trading tools and indicators.
This is what the advanced version look like;
Margin: Here you borrow funds from Binance to top your trading capital. This is what we often refer to as Leverage trading.
Note:
Margin trading is inherently riskier than regular trading but it allows traders to access greater sums of capital.
For instance; If I make 10%($10) trading at $100 per trade, I can make 100% ($100) at the same $100 per trade, if I applied the power of margin trading to 10X my trading capital.
The downside is that if a make a loss of 10%, my $100 is gone and I will have no capital to trade with.
OTC: This option helps to facilitate a "quote" for the trade of a large number of crypto at a cheaper rate. The option supports the buy and

sale

of over 20 cryptos with three listed stable coins.
.Derivatives
On Binance, you can trade crypto derivatives. Crypto derivatives are financial contracts that have their values placed on underlying cryptocurrencies.
You do not own these crypto-assets; instead, you speculate on their price movement.
The screenshot above shows the derivatives contracts that you can trade on Binance.
Also read, What is Futures Trading to get a better grasp of how the derivative market works.
Wallet
Binance has an exchange wallet. As you can see from the screenshot, these wallets are grouped according to the services they are used for.
You can transfer funds to and from these wallets, but you can only deposit and withdraw from your "Fiat and Spot" wallet.
Having gone thus far, let's now look at the next section.
---
4.Currencies, Payment Methods and Supported Countries
Currencies
Binance supports over 450 cryptocurrencies; including the top 100 cryptocurrencies on coinmarketcap.com.
You can see some of the supported cryptos on Binance on the image displayed above.
Bianace supports over 50 fiats. Here is the list of the supported fiats on Binance.
| | | | | | | | | | |
| --- | --- | --- | --- | --- | --- | --- | --- | --- | --- |
| NOK | UAH | SEK | SGB | THB | KZB | LBP | LKR | MAD | MXN |
| NZD | UGX | MYR | NGN | AED | ARS | AUD | AZN | BGN | BOB |
| PAB | USD | BRL | CAD | CHF | CLP | CNY | COP | CZK | DKK |
| PEN | UYU | EGP | EUR | GBP | GEL | GHS | HKD | HRK | HUF |
| PHP | VES | IDR | ILS | INR | JPY | KES | KRW | PKR | VND |
| PLN | ZAR | PYG | RON | RUB | TRY | TWD | SAR | | |
Payment Methods
Credit/Debit Card
Third-Party Payment ( Simplex and Banxa)
Binance has over 100 payment methods available for the P2P market
Supported Countries
Binance is a global exchange which means that it is available worldwide. However, it prohibits 13 states in the US from using its exchange.
Notwithstanding, it has launched Binance.US to provide trading services to US citizens.
Unfortunately, individuals in states as Alabama, Alaska, Connecticut, Florida, Georgia, Hawaii, Idaho, Louisiana, New York, North Carolina, Texas, Vermont, and Washington are restricted from using Binance.US.
Taking a deep dive, let's check out the fees on Binance.
---
5.Transaction Fees, Limits and Verification Requirements
Transaction Fees
The exchange's transaction fees are relatively low and fair.
Here, I will be showing you the three important fees that you can incur on Binance.
Deposit/Withdrawal fee
Trading fee
P2P fee
Deposit Fee

For Cryptos: 0%
For Fiats: Depends
on currency.

Withdrawal Fee

Depends on crypto
Click here to view
Paying with Crypto
(for Spot trading)
0.1%
(Maker and Taker)

Paying with BNB




(for Spot trading)

0.75%
(Maker and Taker)

Futures Trading Fee

USDT-Ⓜ Futures
– Maker
0.02%
– Taker
0.04%
COIN-Ⓜ Future
– Maker
– 0.04%

Binance also sets its trading fee for BTC and BNB coin, based on a 30-days volume trade. These fees are scheduled under 10 VIP levels -VIP 0 to VIP 9.
For further clarification, we would be looking at the screenshot below;
Currently, it charges a P2P fee of 0%. However, this 0% charge offer will expire on 30th June 2021.
Limits
Binance does not have a deposit and trade limit. However, it has a withdrawal limit, and I am going to specify it in the table below;
| | |
| --- | --- |
| Unverified users | 2BTC |
| Verified users | 100BTC |
Note: Verified users can increase their withdrawal limit, if their trade volume equals 500BTC within 30 days.
Verification Requirements
These are the verification requirements;
BVN
Residential Address
Screenshot of yourself
Legal ID
Let's now look at Binance support channel.
Keep reading!
---
6. Customer Support and Public Opinion
Binance has a multilingual customer base support.
To contact support, click on the "message icon" beneath the website or join Binance "Community by clicking on any of the social media icons on the web page.
On Public opinion, Binance has a poor review on Trustpilot with complaints about customer support prevalent.
This is usually the case with very big exchanges e.g Kraken, Coinbase, etc. as they have an overwhelming number of customers to attend to.
But I believe the team can do better in this aspect.
I hope you are still here?
Let's go and explore other services offered on Binance.
---
Other Services on Binance
. Academy
Binance Academy is a nonprofit blockchain educational portal.
It offers cryptocurrency users and enthusiasts quality and easy-to-understand content on Blockchain, Security, etc.
· Binance Charity
Blockchain Charity Foundation (BCF) is a profitless organization that is dedicated to achieving global Sustainable development.
It aims to improve the living condition of 'Bottom Billion' through blockchain technology.
· Labs
Binance Labs is the venture arm of Binance. It was established to incubate, invest and empower blockchain and cryptocurrency entrepreneurs and communities.
Its mission is to support industry projects that help grow the larger blockchain ecosystem while increasing cryptocurrency adoption globally.
· Launchpad
Binance Launchpad is an Initial Exchange Offer (IEO) platform through which token startups can raise money to execute their projects.
It's an advancement in ICO (Initial Coin Offering) because token sales are conducted on its exchange rather than the startup's website as seen on ICOs.
· Research
Binance Research is an informative center that provides investors with detailed reports and analysis of specific digital assets and market themes.
It aims to increase transparency and also improve the quality of the information in the crypto ecosystem.
· Binance DEX
Binance releases the first version of its decentralized crypto exchange – "Binance DEX". It is a decentralized platform that is based on the Peer-to-Peer (P2P) protocol.
This protocol allows users to exchange crypto assets directly between each other.
It gives users full control of their funds and allows experienced traders to engage in more complex strategies when trading.
.Binance Earn
With Binance Earn you earn an ROI when you invest your crypto into any of the product offered under it.
Biance Earn has four products; Flexible, Fixed Term, Launch Pool and Asset Management.
.Trust Wallet
Trust wallet is a non-custodial wallet that supports bitcoin and multi-cryptos. It was acquired by Binance in 2018 and it now serves as Binance's official mobile wallet.
.Coinmarketcap
Coinmarketcap is the world's most referenced website for crypto price-tracking and exchanges performance. Binance acquired Coinmarketcap around April 2020.
.Binance Smart Chain
This is a new Defi development platform on Binance.
It is a blockchain technology with advanced functionality that runs in parallel with the already existing Binance chain.
.Binance Cash Transfer
On Binance, you can easily send money to anyone by clicking on "withdrawal" and selecting "Cash transfer" on your Binance wallet.
This is currently available for Nigerians "alone".
---
7. Frequently Asked Questions
1. How do I start up?
To register, you will have to follow these steps closely.
a. Go to Binance's official website and click the Register button on the top right-hand side.
b. On the registration page put your Email and Password.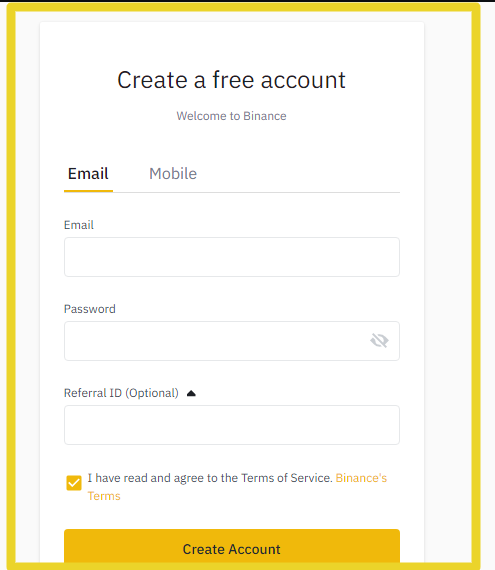 c. If you have been referred by a friend to register on Binance, you can fill in the Referral ID of your friend or leave it blank since it is (Optional).
d. Tick the "Terms and of service" box on Binance
e. Click on the 'Create Account' button.
Shortly, you will be sent a confirmation email to the address you specified.
2. How do you buy Bitcoin on Binance?
You can buy bitcoin and other cryptos on Binance by clicking on "buy crypto".
There, you can select your preferred payment option to buy BTC.
If you do not want to buy through this process, then, you can go to the Exchange's interface and place your order.
You can also fill an already placed order.
3. How can I withdraw on Binance?
i. First login to your Binance account.


ii. After logging into your account, click [Wallet]. When a drop-down box appears, click "Fiat and Spot".


iii. Now, using the search box, type in the crypto you want to withdraw and click on "Withdraw".


iv. Select "currency type" and fill in the required information and click on 'Submit'.


Your withdrawal will then be sent to your desired wallet.
---
9. Conclusion
Binance is a reliable bitcoin exchange and trustworthy company for anyone who wants to engage in crypto trading.
It experienced a major hack on May 7, 2019, which resulted in 7000 BTC stolen from its exchange.
But all the losses were covered by Security Asset Fund for Users (SAFU), its emergency insurance fund.
Despite this major drawback, the exchange still stands tall as the worldwide leading cryptocurrency exchange that supports over 100+altions.
The achievements and areas it needs to improve upon can be seen in the pros and cons (see product rating).
And this brings us to the end of this review. In the course of it, we learnt about:
The services Binance offers,
Its payment methods
Transaction fees and limits
The countries it supports, etc.
I'd like to hear your opinions in the comment section below. Tell me:
Do you have an account with Binance?
Is there any experience you'd like to share concerning Binance?
What do you feel this exchange should improve on?
If you enjoyed reading this Binance review and will like more like it, don't hesitate to hit the share button below.
And please leave your opinions in the comment section as well.
Thanks!
---
P.S
If you want to learn how to trade cryptocurrencies profitably, we developed a perfect course to help you master Cryptocurrency Trading.
Go to www.ctmastery.com to enrol.
---
Related Articles;