In today's post, I did a complete review of OKEX, one of the top crypto exchanges in the world.
OKEX is a multi-cryptocurrency exchange founded in 2014 by, Star Xu.
Its exchange ranks 7th on the list of top 50 crypto exchanges by liquidity on CoinMarketCap.
By the end of this post, you would have completely understood what OKEX is and how it works.
Let's dive right in
---
Post Summary
I have carefully drafted out these sub-headings that will guide you through this post. Here is what I will cover;
---
1. OKEX Overview
OKEX is a privately owned company that was founded in 2014 by Star Xu.
It has its headquarter in Malta, the world's Blockchain Island.
The exchange has an average daily trade volume of about $2.5 billion placing it at No. 7 in the top crypto exchange by liquidity.
The exchange offers a plethora of products ranging from spots trade to derivatives, Pools, etc …all of which would be discussed in this article.
OKEX also has apps for PC, macOS, Android, iOS.
This is just the tip of an iceberg, as more and more details are yet to be unraveled.
I hope we are still together
---
2. Product and Services
You can watch the video as I take you through the products and services or read the text below. The choice is yours…
OKEX has varieties of products and services. I will group them into two;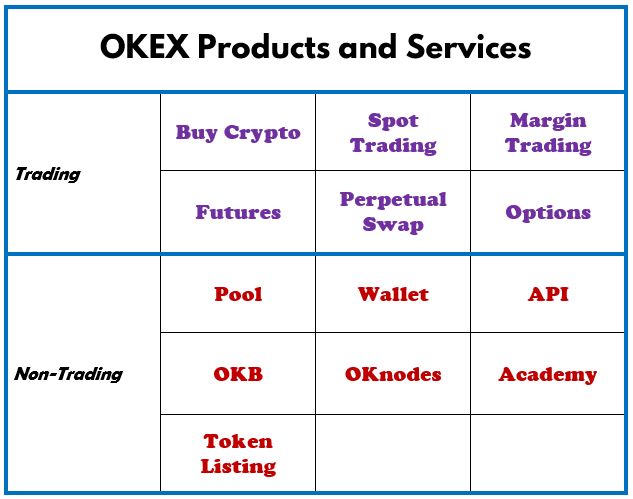 Let's get more details on them
OKEX Trading Services
Buy Crypto | Spot Trading | Margin Trading | Futures | Perpetual Swap | Options | Dex Trading |P2P
Buy Crypto:
Here you can buy 8 different cryptocurrencies (BTC, ETH, XRP…) instantly with your fiat money (over 30 local currencies are supported) using your debit/credit card or other payment methods.
The Cryptocurrencies and the payment methods are listed in the Supported Cryptos and Payment method below.
Spot Trading:
Here is where you trade cryptocurrency pairs such as BTC/USD, ETH/USDT, etc. OKEX supports over 180 cryptocurrency pairs.
It has advanced charting tools to help you conducts analysis with 7 order types to choose from when placing your trades. These include; Limit, Advance limit, Market, Trail, TWAP, Stop-Limite, Iceberg.
Margin Trading:
Margin trading is similar to spot trading, the only difference is that you can leverage up to 10X. In this case, when you make a profit of 1%, it is multiplied by 10 but so is your loss.
Thus margin trading can work both to your advantage and disadvantage.
margin trading features are also available in the perpetual swap and Futures trading
Futures:
In Futures, you trade on the outcome of a crypto-asset over a period of time. You can profit from its rise (long position) or from its fall (short position).
OKEX lets you open a long or short position over three-time periods; weekly, bi-weekly and quarterly.
Perpetual Swap:
This is similar to Futures trading, the only differences are that your positions are open indefinitely until you close them.
Options:
Options on OKEX is similar to futures but with limited risk.
Dex Trading:
This is OKEX decentralized exchange. It is still in its testnet at the time of this article which means the live version is not out just the test version.
In decentralized exchanges, you can trade crypto while maintaining total control of your fund.
P2P
OKEx has included a P2P trading feature in its range of trading services. This service went live on OKEx on Jan 27, 2021.
This will allow Nigerians to purchase crypto with Naira despite the CBN crypto ban.
OKEX Non-Trading Services
Pool | Wallet | OKB | OKNodes | API | Academy | Token Listing
Pool:
Here you can join OKEX mining pool to share in its profit. There are currently 12 cryptos available for mining.
Also read: Bitcoin Mining in Everyday Language – A Complete Guide (2020)
Wallet:
OKEX wallet supports over 180 cryptocurrencies and all ERC-20 tokens
OKB:
Just like the Binance BNB, OKB is a utility token issued by the OK Blockchain foundation. It was designed to encourage the development of the digital asset industry by connecting prospective digital asset projects to OKEX users and professional investors.
The total supply of OKB is 300 million.
OKNodes:
Here you can build your own exchange leveraging on the OKEX technology and high liquidity. OKEX shares its strong tech, providing 24hour support to its partner.
OKEX API:
With OKEX API users can integrate apps with their accounts to perform actions such as automated trading, viewing market trends, etc.
OKEX Academy:
OKEX offers a free tutorial to learn about blockchain, Cryptocurrencies, trading analysis. These articles and videos help its investors gain good knowledge to enable them to make a profit from and check loss.
Token Listing:
Any project wishing to have it's token listed on the OKEX exchange would have to apply by sending the following document to [email protected]
White paper of the project
Letter of legal advice
Your social media account(s), telephone number(s), and email(s)
If the project meets minimum requirements, the application will be contacted with 10 working days.
From the above, you will agree with me that OKEX has a plethora of products and services.
That said, Let's take look at the transaction fees.
Visit OKEx
---
OKEX Transaction Fees
There are three areas where fees are applicable when using the OKEX platform. They include
Buy Crypto fees
Crypto Deposit and Withdraw fees
Trading fees
Buy Crypto Fees
As stated earlier above, the 'Buy Crypto' section is where you can buy the top 8 cryptocurrencies directly with your local currencies.
OKEX employes the service of 5 different payment processors here. The fees depend on the payment processor and its as follows;
Banxa ………………….. 1.99%
Simplex ……………….. 3.5%
Koinal ………………….. 2.5%
Indacoin ………………. 5%
Moonpay ……………… fee not displayed but included in the exchange rate.
As you can see above, the fees are quite high. I would rather use Quidax (1.5%), Luno (1.5%), or Binance ($1 flat fee) for direct purchase as they charge much lower fees.
Note that the fee above is charged by the payment processors and not OKEX.
Crypto Deposit and Withdraws Fees
These are the fees charged when you send/withdraw or receive/deposit crypto to your OKEX wallet.
Deposit/receive fee…………… 0
Withdraw/Send fee………….. depends on the crypto and charges by the miners as called miners or network fee.
Trading Fee
Trading fees are fees charged when you trade crypto pairs e.g BTC/ETH
The fee ranges from 0.15% to 0.01% depending on the following;
Account type and level
Trade features and
If you are a Maker or Taker
Account Types and Level
There are 2 types of account on OKEX,
Normal User account and
VIP User account
Each account has different levels which are determined by either the 30-day trade volume or OKB holding. see the table below.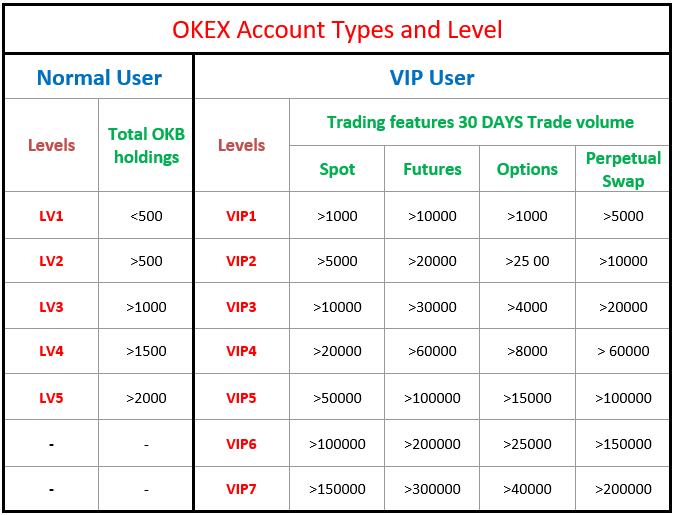 Now we know what determines the type of User/account, let look at the trading fees.
The 'Normal User' Trading fee ranges from 0.1% to 0.015%. This is one of the best in the market.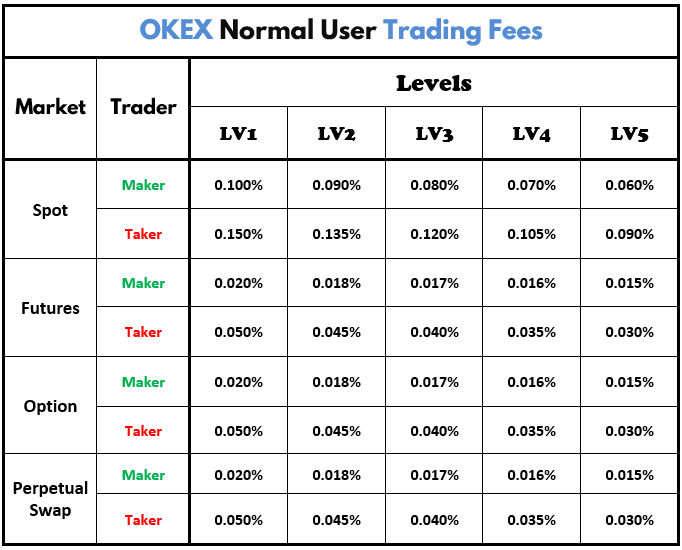 The VIP user trading fee ranges from 0.06% to -0.015%.
As a VIP user making a trade, you would not only be charged but take a share in the Takers' fee.
I hope the above was well explained. You can see that OKEX charges the lowest in trading fees when compared with other exchanges.
P2P Fee
OKEx does not charge any fees to customers who buy or sell cryptocurrencies on the P2P platform.
That's it for the trade fee.
---
Currency Support
OKEX Supports about 188 cryptocurrencies, they are;
USDT
BTC
ETH
XRP
BCH
LTC
EOS
TRX
You can buy the above cryptos instantly with your local currency.
Other cryptos traded in OKEX include;
DAI,OKB, BSV, DOGE, EC, EDO, EGT, ELF, FAIR, FSN, USDK, GAS, GNT, GTO, INT, INSUR, IOTA, KNC, LET, ITC, KCASH, LINK, DCR, DGB, CVT, CVC, GUSD, HBAR, HPB, HYC, HC, IOST, ITC, KAN, LAMB, NEO, QTU, XLM, LBA, LEO, etc
As at the time of this post, OKEX supports the following fiat currencies;
USD, CNY, EURO, GBP, KRW, JPY, RUB, TRY, UAH, CAD, AUD, NZD, INR, COP, VND, KZT, THB, IDR, PHP, BRL, ARS, MXN, PLN, CHF, SEK, DKK, NOK, SGD, CZK.
NGN (was delisted after the CBN ban, however, it is supported on the p2p platform)
more digging, more unraveling!
Hope we are still moving together
---
OKEX Payment Methods
There are many methods for depositing funds into the OKEX account. These methods are;
Bank transfer
VISA
Mastercard
Apple play
Ideal
POLI
Bpay
Blueshyft
SEPA
Flexepin
IDEAL
Interac
OKEX also partners with channels referred to as the gateway partners to buy crypto. They are;
Indacoin
Simplex
Banxa
Moonplay
Koinal
XANPOOL
If we are on the same train of thought, I won't doubt you are almost shouting; That's great!
The payment methods are just so massive.
---
Countries Supported
OKEX supports about 188 countries, some of these countries appear on the table below.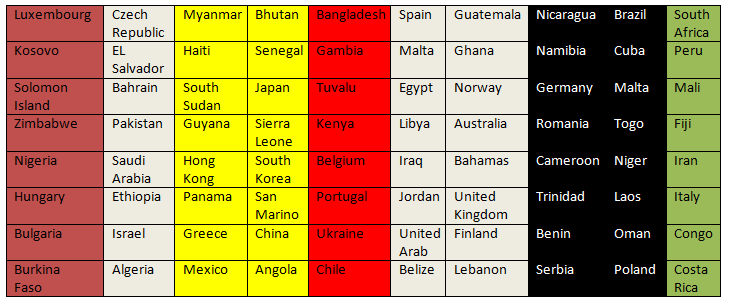 However, OKEX maintains a high-status quo in areas related to countries that can make use of their services.
among all other countries, OKEX has ruled against the following countries from making use of its exchange;
U.S.A, Hong Kong, Syria, Cuba, North Korea, Iran, Crimea, Sudan, Malaysia, Bangladeshi, Kyrgyzstan, Ecuador, Bohua
If you are fascinated already, I guess the next outline is for you.
---
How to Open Account
To sign up an account with OKEX, all you need do is;
 step 1:  Go to OKEX.com
step 2: once you get there, click on sign up. (this should be seen on the right corner in the homepage). once you have done that, it will get you to the registration page.
step 3: simply enter your email address.
step 4: click on Get Code, and just in about a second a verification code will be sent to your email.
step: Enter the verification code in the box provided and head to password.
step: create a password you will not forget and confirm it. Then straight away click sign in
voila!
Your account is ready for you.
If you do this correctly, you would receive a congratulatory message for a successful registration.
it's simple right
---
How to Deposit and Withdraw using OKEX Account
Here I am going to show you how you can make a deposit and withdraw using OKEX.
This is a simple guide for you.
To make a Deposit;

Go to their homepage @ OKEX.com, at the top right corner of the window, click on Asset; a variety of options will appear, click on deposit.
Once you have clicked on deposit, a platform for deposit will appear on your screen.
Select the token you would like to deposit
A deposit address will appear. Click on the square icon to copy it.
Send the coin to the address.
make sure to send particular crypto to its address and not to another crypto address.
Note: You can also scan the QR code to send crypto to it. To do this; click on the QR icon situated just after the square icon. A black and white QR code will appear on your screen.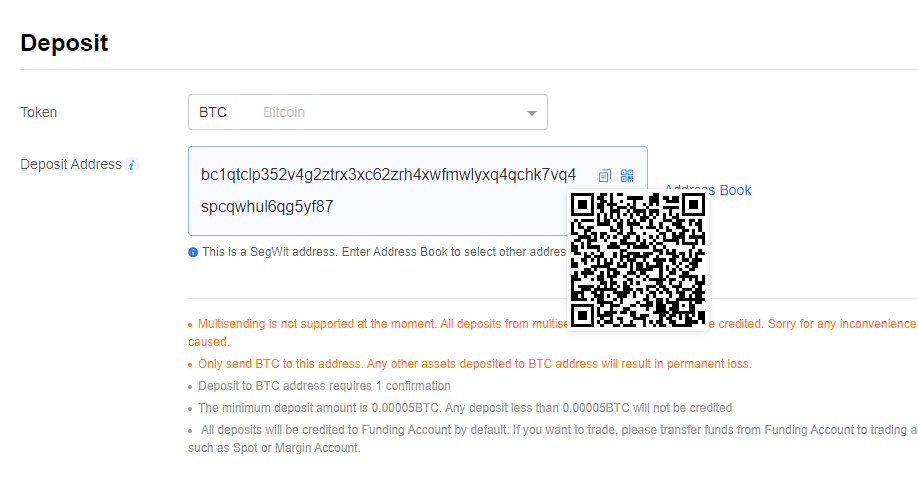 To make Withdraw; 

Go to the [email protected]OKEX.com, click on Asset, select withdraw and a withdrawal page will appear.
Select the token you wish to withdraw.
 Once you have selected a token, a dialogue box will pop up for you to fill;
Add the wallet address you want to withdraw to
Add a note (optional)
Enter amount
Click on submit.
Once you are through with these, your transaction process will be due in about 5mins.
let's keep digging!
---
Verification Requirements
The higher your verification level, the more you can do in the exchange.
Level1 Verification – Name and ID number
Level2 Verification – Level 1 + upload of government-issued ID
Level3 Verification – Level 2 + video verification via OKEX mobile app.
The image below shows the limits based on the verification level
let's look at the customer's support and accessibility. Can the exchange be reached
Hope we are still together
---
Customer Support
For inquiry on the exchange, you can contact support using any of the following;
you can find more ways to connect with OKEX at the support centre.
The support I will say is fast, responsive and friendly. once you start a live chat, you are attended to within 1 minute.
---
Pros and Setbacks
Pros
Supports multi-currency
Trading in OKEX is well secured
Supports a plethora of trade
It can be downloaded in pc, ios, and Andriod
supports an innovative mining platform
Low trading fees
Setbacks
OKEX even with its reputable trade-in volume, renowned technology faces some challenges;
High "Buy Crypto" transaction fee
Not available in the USA
This notwithstanding, I believe that every exchange has its own challenges and that the exchange, regardless of this is a good one.
I still trust that they can trounce these setbacks for better delivery and customer's maximum satisfaction.
---
Conclusion
If you wish to trade with multiple currencies, buy and sell futures contracts then I bet this is an assured exchange for you.
Nevertheless, you must know that it requires more than meet the eye to get grounded about an exchange(you have to actively try it out yourself).
Now, this is where I will have to end the post for today. Seeing you have had a full note on OKEX.
I would like to ask a few questions.
What is your thought on OKEX?
Are there points that I have missed out and you would have loved me explain?
Well, I will be right there in the comment box waiting for your replies
And it won't be bad if you share my post by clicking the buttons below.
---
Here are more useful resources: