In today's review, I will walk you through one of the hottest food-themed Defi projects – PancakeSwap.
PancakeSwap is one of the Dapps built on Binance Smart Chain.
It allows users to trade and access a wide range of liquidity pools and earn a high APR on them.
As I walk you through this review, you will get to learn how to use PancakeSwap and all you need to know about the CAKE token.
Let's get started!
---
Post Summary
I will cover the following;
You are ready? Let's dive in!
---
Overview of PancakeSwap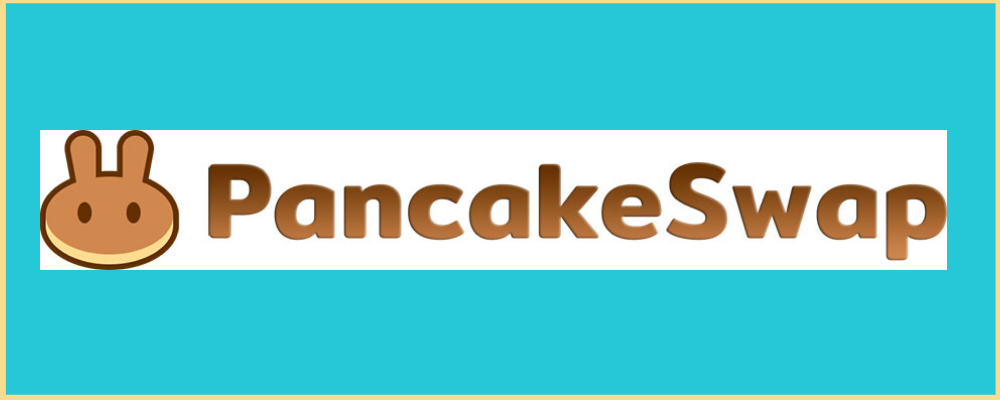 PancakeSwap is a decentralized exchange that runs on the Binance Smart Chain network.
It was launched by a set of anonymous developers in September 2020.
Pancakeswap was created to allow traders to swap BEP-20 tokens without difficulties.
It also offers a range of liquidity pools that allow liquidity providers to earn rewards in CAKE and LP tokens.
PancakeSwap is the first Dapp on the Binance Smart chain to hit a billion dollars in TVL and transaction volume.
The data on Coinmarketcap shows that PancakeSwap has $8,174,624,645 in TVL (April 22, 2021).
Total Value Locked (TVL) is the aggregate amount of funds locked into a DeFi protocol. You could think of TVL as all the liquidity in the liquidity pools of a given money marketplace.

https://academy.binance.com/en/articles/7-indicators-every-defi-investor-should-know
PancakeSwap offers a very fast transaction and low fees for token swap.
And despite being relatively new, it has gotten an enviable potential for having outperformed older DeFi projects like Uniswap.
You care about how PancakeSwap works? I will tell you how in the next section!
---
How PancakeSwap Works
PancakeSwap follows the Automatic Market Maker (AMM) protocol to execute trades.
This simply means that traders' orders are not matched to an order book but are traded against a liquidity pool.
Anyone can provide liquidity to PancakeSwap's Liquidity pool and earn a reward for doing so.
Also, coins are traded in pairs, but traders do not come together for their coin pairs to be swapped.
Let's briefly see how it works;
Liquidity providers stake their coins to the protocol's liquidity pool
A trader makes an order to swap his coin for another (let's say BNB/CAKE) from the liquidity pool
PancakeSwap AMM quotes a price using the mathematical equation (x * y = k).
The trade is then executed, If the trader agrees with the AMM's price
Lastly, liquidity providers earn a portion of the trader's fee
You can also liken this to how a peer-to-contract exchange like the Synthethix DEx works.
However, unlike the Synthetix DEx, the coins traded are not minted and burned, and there is a little slippage too.
Having discussed how PancakeSwap works, let's look at what and what you can do on PancakeSwap's platform.
---
Services on PancakeSwap
PancakeSwap offers the following services;
Exchange
Liquidity
Farms
Pools
Lottery
Collectible
Team Battle
IFO
Exchange
This is the interface that allows you to swap your BEP-20 tokens using the AMM model discussed above.
You can swap over 130 tokens on the exchange's interface including these BEP-20 tokens;
TWT
ALICE
DODO
CAKE
SUSHI
DITTO
DICE
DFT
CREAM
BAKE
BEER etc.
You can also trade BEP-20 version of other blockchain's token including;
Liquidity
You can become a market maker/ Liquidity provider by depositing your crypto assets into PancakeSwap.
In return, you will receive liquidity pool ( LP) tokens. The LP tokens represent your share in a pool.
Farms
"Farms" is a feature that allows you to stake your LP tokens and earn rewards in CAKE.
This service is provided to Liquidity providers alone, if you are not willing to add liquidity to the protocol, then, do not worry, "Farms" is not for you.
Here are some of the LP tokens that you can stake;
CAKE-BNB
TKO-BNB
APY-BNB
HOO-BUSD
ODDZ-BNB
TWT-BNB
MIR-UST, etc.
Moreso, the APR that you receive on most Farm pools is quite high, e.g; TWT-BNB has an APR of 115.71% (April 22, 2021), however, these APR fluctuates in real-time too.
You can check out how to farm on PanckeSwap here.
Pools
PancakeSwap pools are called the Syrup Pools.
You can stake your CAKE to about 40 pools to earn CAKE and other new tokens.
The amazing thing about PancakeSwap is the sky-high APR that you can earn by staking your coins in its pools.
For instance, at the time of writing this post, CAKE's pool has an APR of 100.55%.
This is insanely high! And it shows that you can make 2x your money in a year.
However, you must know that the APR on the Syrup Pools also fluctuates.
When you have staked CAKE and earned your pool's token reward, you can cash it out by clicking on "Harvest".
Lottery
Talking of CAKE Lottery, you can win a jackpot in a lottery pool by simply purchasing a lottery ticket with your CAKE token.
How it works? I will tell you…
First, you need to buy a lottery ticket.
One lottery ticket costs 1 Cake, which is equivalent to $27 (as of 22nd of April, 2021).
You can buy as many tickets as you wish, but you can only buy 50 tickets at a time.
Each full lottery session is completed every 6 hours, for 4 times a day, within a set time.
When you pay for one ticket, for instance, you will get 4 random digit numbers between 1-14, e.g. "1-9-14-2".
Now, to win this lottery, the 4 digit numbers on your lottery ticket need to match the positions of the 4 winning numbers for the lottery.
Here is how the winning ratio is calculated;
Match all 4 numbers in the exact order = win 50% of the pool's pot (or split the pot if more than 1 winner)
Match 3 numbers in the exact order = win or split 20% of the pot
Match 2 numbers in the exact order = win or split 10% of the pot
The remaining 20% of the pool's pot are burned
Collectibles
PancakeSwap has 15 Binance Smart Chain NFTs for wins!
You can win these NFTs and have them as collectibles by participating in the PancakeSwap Team Battle.
I will show you how to win these NFTs in the next feature.
Team Battle
You can win free prizes in NFTs, CAKE token and more by participating in team battle on PancakeSwap.
But to become one of the participants, you need to go to your "Team and Profile" and set up "Your Profile".
Once "Your Profile" is set up, you can now join the ongoing battle by trading any of these eligible trading pairs;
BNB/BUSD
CAKE/BNB
ETH/BNB
BTCB/BNB
But note that, there are about 3 battle teams made up of 500 team members in this competition, and you must belong to any of the three teams. See the teams below!
Chaotic Cakers
Syrup Storm
Fearsome Flippers
Your rank and your team's rank in the battle are calculated by the total number of the eligible trade pair volume that you and your team members have traded.
In the end, the final winning team will be the team with the highest trade volume.
Initial Farm Offering (IFO)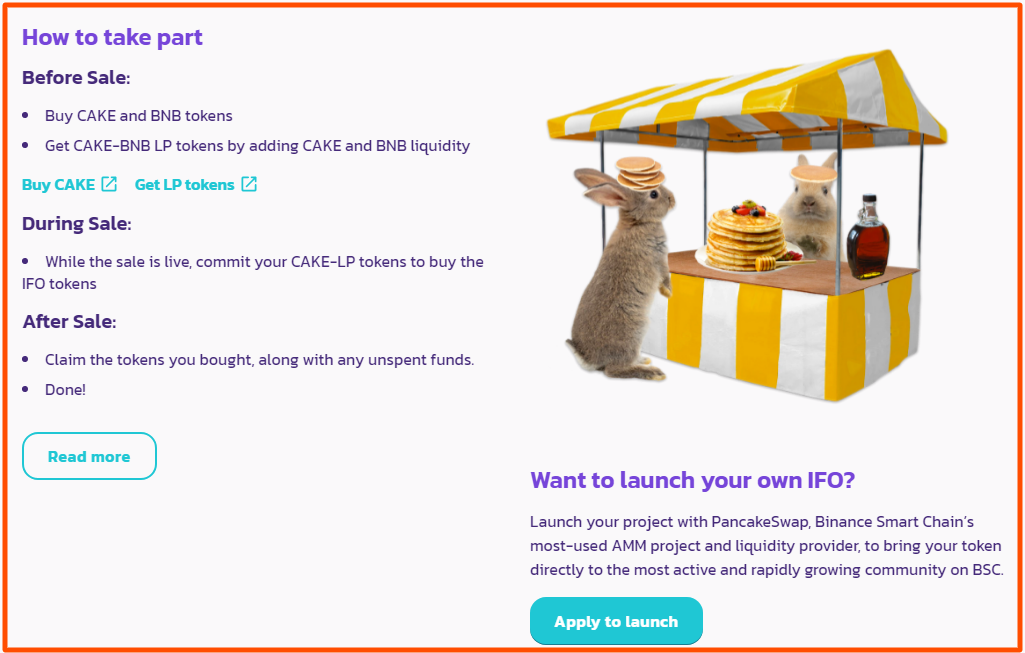 This is another unique product on PancakeSwap!
IFO is a way of farming newly launched DeFi coins on PancakeSwap.
You can think of IFO as an IEO, however, contrary to IEO, coins that are sold on IFO are not bought but farmed with LP tokens.
You can participate in any IFO on PancakeSwap, by following the steps that you are seeing on the screenshot above.
The best part to PancakeSwap's IFO is its "Overflow Sale Method".
This basically means that you can get back your leftover LP tokens if the project conducting the IFO raises more funds than their initial target.
Note: There is no limit to the amount of LP tokens that you can commit into an IFO. However, you may not also receive the IFO coin if you have committed very small LP tokens.
I will tell you all you need to know about the CAKE token in the next section. Scroll down!
---
CAKE Token Explained
CAKE is a Binance Smart Chain token created under the BEP-20 token standard.
It is the native token of PancakeSwap, and it is used to incentivize liquidity providers on PancakeSwap.
For example, when you stake your LP token on any of the "Farms" pools, you get rewarded with the CAKE token.
CAKE is also the governance token on PancakeSwap; it confers voting power to hodlers and enables them to vote for proposals made on the protocol.
As of 22nd of April 2021, 157,012,708 CAKE are currently in circulation, but there is no fixed maximum supply of CAKE.
The reason for the "no maximum supply of CAKE" is to enable CAKE to keep up with its use case in incentivizing liquidity providers.
However, the fact that CAKE has no maximum supply virtually makes it an inflationary token.
To counter this Inflation, the team at PancakeSwap came up with 2 mechanisms to control the supply of CAKE and make it deflationary too.
The two mechanisms are;
Reducing Block Emission: CAKE's emission rate was reduced from 40 block reward to 25 and eventually 22 blocks (after a successful governance voting).
Token burn system: This ensures that the CAKE token is frequently burned to bring about deflation.
Here is how the token burn system is being carried out;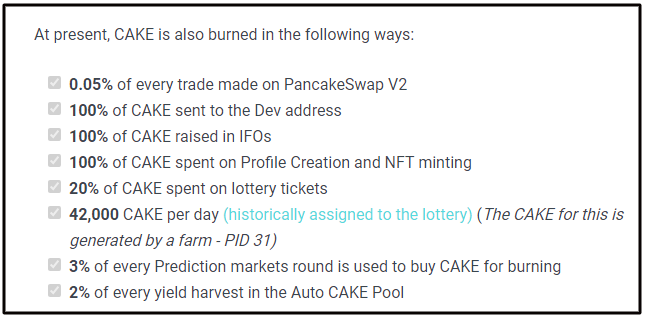 As for CAKE's distribution, this is how the protocol distributes the CAKE token to liquidity providers;
Farms – 12 block rewards of CAKE tokens
Syrup pools – 10 block rewards of CAKE tokens
If you are already thinking of the exchanges to get your hands on some CAKE tokens…no worries…I listed the top places here;
For CAKE's wallet, here are some of the wallets where you can store your CAKEs;
Not financial advice: The best way to profit from your CAKE token is by staking them into PancakeSwap for more yields. This is way better than holding them idly in your wallet.
Back to the main business, let's look at how to interact with PancakeSwap in the next section.
---
How To Use PancakeSwap
To use PancakeSwap, you will need to have these two things first;
Any of the supported wallets
BEP-20 version of BNB stored in the wallet ( to pay for network fees)
Once these two things are ready, you can now follow this step- by- step guide below;
Go to PancakeSwap.Finance and click on "Connect"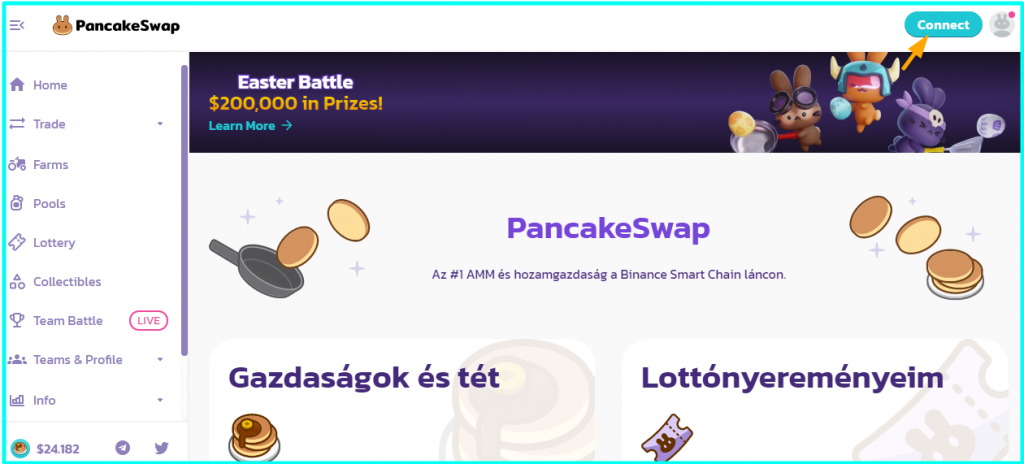 From the supported wallets, connect PancakeSwap to the wallet where your BEP-20 BNB is already stored.
Make sure that your wallet address is connected to Binance Smart Chain network.
Once your wallet is perfectly connected to Pancakeswap, you can now go on to explore and use the services provided on the platform.
I will compare PancakeSwap with Uniswap (another DeFi DEx).
If you wish to know which is the best, then scroll down and read through!
---
PancakeSwap Vs Uniswap
In this section, I will briefly talk about the similarities and dissimilarities between Uniswap and PancakeSwap.
I will also let you know the one that has gotten more traction over the other, as of late.
But first off, let's start with the similarities…
PancakeSwap and Uniswap are two huge AMM DExs on the DeFi space.
They both have a governance token
Both also have a seamless UI
Let's get the dissimilarities in the table below;
Parameters

Uniswap

PancakeSwap

Year Founded
2018
2020
Founder
Hayden Adams
unknown
developers
Blockchain
Ethereum
Binance Smart Chain
Native Token
UNI
CAKE
Max. Token
supply
1 billion UNIs
None
Circulating
Supply
523,384,244 UNIs
April 23, 2021
156,767,207 CAKEs
April 23, 2021
TVL
$8.98b
April 22, 2021
$8.17b
April 22, 2021
Consensus
Mechanism
Proof of Work
Proof of Stake
Transaction
Per
Second
30tps
79tps
Fees
0.3%
0.2%
No. of Users
87.07k users
April 22, 2021
170.92K users
April 22, 2021
Market Cap
$16,869,940,897
April 23, 2021
$3,975,450,010
April 23, 2021
Services
3
7
Price
$32
April 23, 2021
$25
April 23, 2021
Blockchain
Interoperability
No
Yes
Well, I have given you the similarities and dissimilarities of these two protocols, it is now left for you to decide which you would go for.
In the meanwhile, let's head over to the FAQ section, where I answered some of the questions that you might want to ask.
---
FAQs
1. Why is the name PancakeSwap?
The name PancakeSwap was given to this DEx as a follow trend to other Defi projects and tokens named after yummy foods.
A number of these food-themed projects include; SushiSwap, BakerySwap, BurgerSwap, Yam Finance and a whole lot more.
2. How do I convert other blockchain's token to BEP-20 token and trade them on PancakeSwap?
You can use these two methods to do that;
– Binance Exchange: Go to Binance account and withdraw a BEP-20 version of the token into the wallet that you wish to connect with PancakeSwap
– Binance Bridge: This functionality is already integrated into PancakeSwap.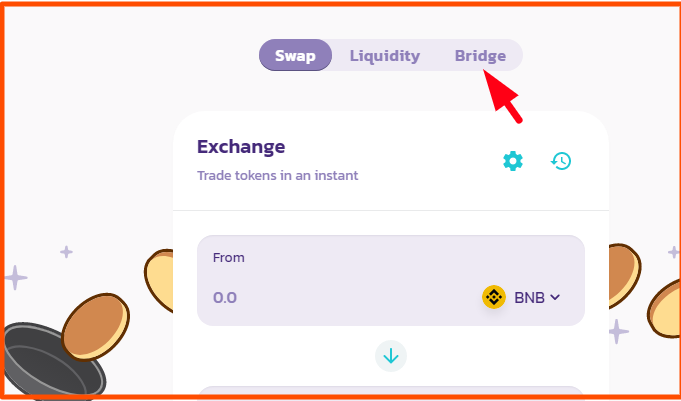 Binance Bridge enables crypto assets to be converted from any blockchain to Binance Chain and Binance Smart Chain wrapped tokens.

You can simply access it here on PancakeSwap by clicking on the"Bridge" menu on the "Exchange" section.
3. Is PancakeSwap Safe?
As of April 2021, PancakeSwap is currently sitting as the #1 Dapp on Binance Smart Chain.
The data on Dappradar reveals that over 50k users have connected their wallets to this DeFi DEx.
Need to mention, the DEx has well over 7 billion value locked in its protocol. plus a strong pillar as Binance solidly standing behind it.
Moreso, its smart contract has also been audited and found safe by Certik – a leading blockchain security company.
However, PancakeSwap suffered an attack around March 2021, but according to a report, the hack was only able to target the site's domain name and not the protocol's smart contract.
This shows that PancakeSwap is still very safe for use, but that users need to be very careful so as not to fall into phishing attacks.

---
P.S
Do you want to learn how to trade cryptocurrencies profitably?
We developed a perfect course to help you master Cryptocurrency Trading.
Go to www.ctmastery.com to enrol.
You can also join our Telegram community at https://t.me/ctmastery for more information.
---
Conclusion
PancakeSwap has not even done a year, yet it seems extremely incredible how it has drawn so much attention off older DeFi DExs.
As of Feb. 22, 2021, PancakeSwap is ranked #1 in the list of "Top Cryptocurrency Decentralized Exchanges" by Coinmarketcap.
Splendidly, it has also been the recent price booster of the BNB token – the price of this token gains momentum as more volume is traded on this DEX.
PancakeSwap did not just follow the trend in the DeFi space, but it also brought spiced features and new flavours along with it.
Having spoken so much of the PancakeSwap, I will now leave the floor open for your question and comments.
So, you can tell me here…
What do you think of the potential of PancakeSwap?
Do you see the TVL on PancakeSwap swallowing up that of Uniswap soon?
Considering the various features of Uniswap and PancakeSwap, which would you rather go for? Why?
Let me have your thoughts on the comment section, and remember to hit the share buttons below.
Cheers!
---
Other related articles;