In this post, I described the top 13 food-themed DeFi Projects.
All over the crypto verse, DeFi seems to be the new gold mine.
But the trend doesn't end there. Even the DeFi space seems to have its own craze.
And that is food – almost everything edible is carving its niche in DeFi; vegetables, fruits, pastries, etc.
Are you hungry yet? Let's discuss these tasty projects right away!
---
The List Of The Top 13 Food-Themed DeFi Projects
I briefly described each project below…
(NB: all information in the tables were gotten from Coinmarketcap on May 26th 2021)
1. SushiSwap
The first exchange on my list of food-themed DeFi projects is SushiSwap.
This is an automated market maker (AMM) that runs on the Ethereum blockchain.
It forked from Uniswap in September 2020.
SushiSwap rewards users with tokens for providing liquidity and enables them to swap coins.
Also, holders of the SUSHI token can make contributions to the improvement of the network.
And liquidity providers are rewarded with Sushi.
Shortly after its launch, the founder of SushiSwap was accused of an exit scam.
Later, he apologized to the community and returned the coins he cashed out (about $14M worth of ETH).
| | |
| --- | --- |
| Token Price | $12.68 |
| Market Cap | $1,613,233,145 |
| 24hr Trading Vol | $1,071,469,779 |
2. PancakeSwap
PancakeSwap is also an AMM but it runs on the Binance Smart Chain.
It launched in September 2020.
Here, users can exchange tokens, provide liquidity via farming, and earn fees in return.
They can also swap BEP20 tokens and receive liquidity provider (LP) tokens for depositing their funds into pools.
These LP tokens grant users their share of the pool and a portion of the trading fees.
Furthermore, PancakeSwap users can farm additional tokens such as CAKE and SYRUP.
Also, they can stake LP tokens to earn CAKE. Cool!
| | |
| --- | --- |
| Token Price | $18.09 |
| Market Cap | $2,982,790,849 |
| 24hr Trading Vol | $389,024,570 |
Read our PancakeSwap review to learn more.
3. BakerySwap
BakerySwap is similar to the two food-themed projects described earlier.
It is an AMM that operates on the Binance Smart chain.
Anonymous developers launched the platform in September 2020.
Users of this platform can swap their BEP20 tokens comfortably.
Also, this exchange rewards Liquidity providers with BLP tokens which they can stake to earn BAKE tokens.
Holders of BAKE can earn a share of BakerySwap's trading fees and participate in BakerySwap's governance.
The pools available on this exchange have different ROI and the BAKE-BNB pool provides 10x the rewards of other pools.
| | |
| --- | --- |
| Token Price | $3.85 |
| Market Cap | $725,721,536 |
| 24hr Trading Vol | $228,732,082 |
Get more details from our BakerySwap review.
4. Burger Swap
Burger Swap launched in September 2020 as well.
It is also an AMM on the Binance Smart Chain.
Burger Swap is based on the DEMAX decentralized Binance platform.
This platform facilitates a swapping mechanism with democratic procedures.
Hence, community members can change system parameters through voting.
Also, users are rewarded with the BURGER token when they provide liquidity, stake tokens, and vote within the governance system.
Additionally, BURGER token holders may create proposals to influence the adjustment of transaction fees, block rewards, etc.
This exchange also features the Burger Swap Bridge that allows users to swap coins from the Ethereum network's ERC-20 standard to the BSC's BEP-20 standard and vice-versa at low fees.
Therefore, Ethereum users can migrate to the BSC network and enjoy low transaction fees and fast block times.
So cool!
| | |
| --- | --- |
| Token Price | $8.73 |
| Market Cap | $105,412,874 |
| 24hr Trading Vol | $75,346,611 |
5. Yam Finance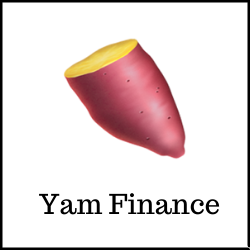 Another food-themed DeFi project that made my list is Yam Finance.
It was launched in August 2020.
YAM operates on the Ethereum blockchain.
It has an elastic supply, a governable treasury, and on-chain governance.
The goal is to achieve and maintain price stability (1 USD per YAM).
YAM expands and contracts supply with respect to market conditions.
Additionally, YAM developers designed the project with a fork of the Compound governance module.
You can trade this coin on Uniswap and MXC.COM exchanges.
| | |
| --- | --- |
| Token Price | $1.08 |
| Market Cap | N/A |
| 24hr Trading Vol | $332,900 |
6. Beefy.Finance
Beefy.Finance is a yield optimization tool on the Binance Smart Chain that helps maximize the return from yield farming.
It was launched in 2020 by a team of pseudonymous developers.
This platform optimizes yields via a vault system.
The vaults serve as investment instruments that can implement strategies using smart contracts.
Due to the excellent features of the vaults, users can automate their DeFi farming and optimize the returns.
The governance token of Beefy.Finance is BIFI.
Holders of BIFI receive a portion of the vault's performance fees.
Also, they can stake their tokens into a governance pool and earn WBNB daily.
| | |
| --- | --- |
| Token Price | $852.69 |
| Market Cap | $61,393,782 |
| 24hr Trading Vol | $2,906,859 |
7. Banana.Finance
This DeFi project is an interesting one.
There are only 500 BANANA tokens in circulation. Quite small, right?
The system rewards early adopters and employs a burn rate of 2%.
Tokens are burned daily and reminted the next day as airdrops for the top 200 holders.
Airdrops are distributed based on the amount of coins one holds.
BANANA is an ERC20 token that is virtually free of downtimes.
It is used for trade, exchanges, and crowdsales.
Additionally, business owners can exchange the coin for mobile and web development services.
| | |
| --- | --- |
| Token Price | $359.75 |
| Market Cap | N/A |
| 24hr Trading Vol | $352,404 |
8. CheesecakeSwap
CheesecakeSwap is a decentralized exchange that runs on Binance Smart Chain.
It has a deflationary token – CCAKE, which allows a constant price pump with a sufficient burn mechanism.
The exchange enables users to farm CCAKE tokens.
There are plans to add other tokens in the future.
| | |
| --- | --- |
| Token Price | $0.750708 |
| Market Cap | $1,355,864 |
| 24hr Trading Vol | $286,278 |
9. Taco Finance
Taco Finance is another AMM that made my list of food-themed DeFi projects.
It features a deflationary governance token model with a unique burn, a rewarding and profitable yield, and a time lock contract at launch to avoid rug pulls.
Taco exchange runs on the Binance Smart Chain (since August 2020).
Participants get to enjoy Taco rewards, low fees, and fast transactions.
| | |
| --- | --- |
| Token Price | $0.052558 |
| Market Cap | N/A |
| 24hr Trading Vol | $2,248.17 |
10. Pickle Finance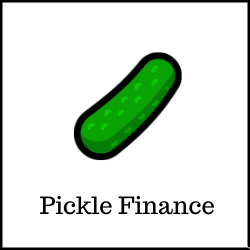 Pickle Finance is a yield farming protocol built on the Ethereum blockchain.
It was created to stabilize the one-to-one peg of stablecoins e.g. Dai (DAI), Tether (USDT), USD Coin (USDC), and sUSD (SUSD).
To achieve this, users are incentivized to sell above-peg stablecoins and purchase below-peg ones.
The platform has an ERC-20 native token – PICKLE
It is used for governance and as a reward for liquidity providers.
Pickle Finance launched in September 2020 and integrated with yearn.finance in November 2020.
| | |
| --- | --- |
| Token Price | $9.90 |
| Market Cap | $8,948,415 |
| 24hr Trading Vol | $8,948,415 |
11. CoffeeSwap
CoffeeSwap is a DApp that allows staking and farming on the Binance Smart Chain.
It also enables users to communicate with the Ethereum network via its cross-chain technology.
COFE is the native token of the platform. And it is used for staking, farming, and governance.
CoffeeSwap launched in March 2021 with a max. supply of 6,000 COFE tokens.
You can buy/sell the coin on HOTBIT and PancakeSwap exchanges.
| | |
| --- | --- |
| Token Price | $24.04 |
| Market Cap | N/A |
| 24hr Trading Vol | $196.40 |
12. BerrySwap
Yet another robust AMM that made my list of food-themed DeFi projects is BerrySwap.
It is built on the Binance smart chain.
Key features of this platform include a Swap system, an IDO Launchpad system, Staking pool, Gaming platform, Farming pool, NFT market, and a cross-chain Bridge system, etc.
BERRY is the native token of this exchange.
It is a utility token that enhances community participation.
The top exchanges for trading in BERRY are Finexbox, BakerySwap, and JulSwap.
| | |
| --- | --- |
| Token Price | $0.009206 |
| Market Cap | N/A |
| 24hr Trading Vol | $99,822.26 |
13. Pizza Finance
The last food-themed DeFi project on my list is Pizza Finance, a yield farm on the Binance Smart Chain.
It features token swaps, liquidity pools, farms, and IDO Launchpad, etc.
The total supply of the PIZZA token is 236,722 and its max. supply is 500,000 coins.
You can trade this token on CheesecakeSwap, DigiFinex, Bilaxy, Hotbit, and PancakeSwap.
| | |
| --- | --- |
| Token Price | $0.815736 |
| Market Cap | N/A |
| 24hr Trading Vol | $50,349.35 |
Apart from the platforms described above, other food-themed projects/tokens include but are not limited to:
Mushrooms Finance
MarshmallowDeFi
CaramelSwap
SaltSwap Finance
PlumCake Finance
BarbecueSwap Finance
Berry Club
Honeyswap
Milkshake Swap
GreenTeaSwap
SalmonSwap
Rotten
JUIICE
WHEAT
One more thing before we wrap up this post…
---
Are Food-Themed DeFi Projects A Good Investment?
Needless to say, these projects are appetizing and many crypto enthusiasts are willing to try/already trying them out.
Most of these projects launched in September 2020 on the Binance Smart Chain.
While some have been doing well in the market, others are not.
PancakeSwap for example is listed among the first 50 coins on Coinmarketcap as of 26/05/2021. Nice!
The success of these projects can be traced to the low fees and the transaction speed of the BSC.
Secondly, I believe introducing the NFTs marketplace in some of these projects has helped them scale.
A good example is BakerySwap which is among the top platforms for minting NFTs.
Nevertheless, BSC and the Ethereum blockchain which are the homes of these projects are open-source.
This means that anyone can build on them including scammers.
Already, some of these food-themed DeFi projects have had issues of a scam like SushiSwap, HoneySwap, and IcreCreamSwap.
Also, some projects appear to be a mere copycat of the others.
For instance, Pizza Finance appears to be a copycat of BakerySwap. LOL!
Furthermore, some experts think that food-themed DeFi projects are not worth the hype.
Tony Sheng said that these projects may lure newbies into a scam.
Also, Vitalik Buterin mentioned that the yield rates of yield farming projects, in general, will drop to close to 0% when the hype is over.
My Take?
Hyped or not, food-themed DeFi projects make the crypto space look tasty.
It is a good way to promote the adoption of cryptocurrency and the use of blockchain technology.
However, the need to do detailed research on a project before investing cannot be over-emphasized.
You can read our post on DeFi Scams to learn how to play safely on this field.
---
P.S
Do you want to learn how to trade cryptocurrencies profitably?
We developed a perfect course to help you master Cryptocurrency Trading.
Go to www.ctmastery.com to enroll.
You can also join our Telegram community at https://t.me/ctmastery for more information.
---
Conclusion
Food-themed DeFi projects allow users to farm tokens, provide liquidity/earn rewards, mint NFTs, and more.
These promising projects notwithstanding, you should DYOR before investing in any project.
We have come to the end of our discussion on Food-themed DeFi projects. I hope you enjoyed the read.
It's your turn; what do you think of these projects? Will they keep scaling?
Have you invested in anyone before? What has been your experience?
Do you know other projects that should have made my list of top 13?
Let me have your responses in the comments section right now.
Also, hit those SM buttons to share this post with your friends, thank you!
---
Don't miss…