Today's review is on Uniswap, a decentralized exchange with excellent services.
With DeFi becoming a household name in the crypto space, you cannot help but notice Uniswap.
On this platform, you can access different financial products and benefits from liquidity pools.
And in this post, I'll show you how.
Let's get started!
---
Post Summary
Enjoy your read!
---
1. What Is Uniswap?
Uniswap is a decentralized exchange built on the Ethereum blockchain.
It is popular for making the trading of DeFi tokens fast and easy.
Hayden Adams launched the exchange in November 2018.
The plan is to keep token trading automated and open to anyone who holds tokens.
By implementing automated solutions, Uniswap solves the problem of liquidity that most DEX suffer.
More to its decentralized feature, Uniswap released its governance token – UNI in September 2020.
We'll learn more about UNI later in the post. For now, let's look at the services offered by the platform.
Keep reading!
---
2. Uniswap Services
This exchange offers two major services:
Swap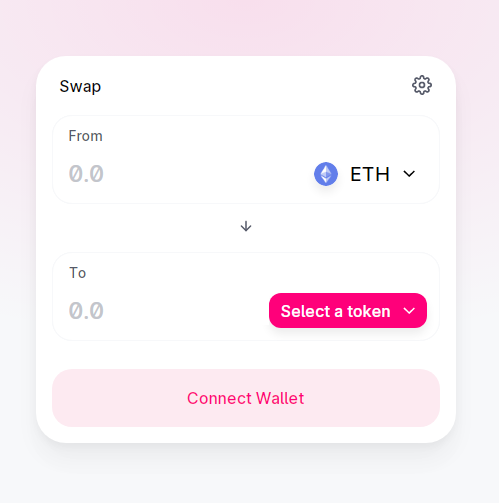 Users can swap between ERC-20 tokens with this service
How to?
Visit Uniswap
Click on 'Use Uniswap'
Connect a wallet from the right tab
Then select the tokens you wish to swap and the amount.
"Confirm" your transaction in the window that pops up
Your new coins will be sent to your wallet
Pool
Here, users can add liquidity to any pool of their choice and reap from its yields.
How To?
Open Uniswap and connect your wallet
Select 'Pool' from the top menu
Now click on 'Add liquidity'
You will see a list of available pools i.e. pools of various tokens
Select a pool and deposit your coin
As the pool yields profit, you'll earn as well
Quick note: When you add liquidity to a pool, you will receive a portion of the fees paid by people who conduct swaps with the tokens in your pool.
The portion of the fees you're paid depends on your contribution to the pool.
Where you don't find a pool that you're okay with, you can create one.
*Plus, you can always click on 'Charts' from the homepage to learn how well the different coins and pools are doing.
Next, let's see the assets supported on this exchange.
Tag along!
---
3. Supported Assets On Uniswap
This platform supports about 194 tokens and they are all Ethereum-based including:
Let's talk about the fees charged by this exchange.
Read on!
---
4. Uniswap Fees & Payment Methods
Fees
Trading fees – 0.30% per trade.
Withdrawal fees – only network fees
Payment Methods
Only Crypto deposits are accepted.
Moving on, I described the UNI token.
Keep reading!
---
5. UNI Overview
UNI is the governance token of Uniswap. It was created to improve the decentralized nature of the platform.
Holders of UNI can vote for new developments on the platform. They can also delegate their votes to a third party.
Additionally, UNI holders can propose changes to the platform.
But to do this, they need to hold a minimum of 1% of the total UNI supply.
A total of 1 billion UNI tokens were created when it was launched in September, 2020.
And 150 million of these tokens were distributed to anybody who had ever used the platform.
Each person received 400 UNI tokens, which was worth $1,000 at the time.
As users add liquidity to the platform, they are rewarded with UNI tokens.
The coin can also be traded on popular exchanges like Binance, OKEx, Bitfinex, Coinbase, Balancer, PancakeSwap, 0x Protocol, Kyber, Poloniex, etc.
Presently (13/04/2021), Uniswap is priced at $35.22 USD with a 24-hour trading volume of $2,184,852,929.
And 523,334,542 UNI coins are in circulation.
---
6. Customer Support And Public Opinion
Uniswap provides an FAQs page where users can find answers to their queries.
Also, users can stay updated via these channels:
https://discord.gg/FCfyBSbCU5
https://twitter.com/Uniswap
https://gov.uniswap.org/
https://www.reddit.com/r/Uniswap
I checked Uniswap on TrustPilot and it has a 3.8 rating with only 2 reviews.
This is quite poor for an exchange that has been active for more than 2 years.
Then on Reddit, the platform has an active group with over 33,000 members. Cool!
Now, I'll show you how to get started on Uniswap.
Tag along!
---
7. How To Use Uniswap
i. Visit Uniswap.org and select 'Use Uniswap'
ii. Next, you click on 'Connect to a wallet' from the top menu and select your preferred wallet.
iii. After you have successfully connected your wallet, go on to use the service you need
Enjoy!
So, what does the future hold for Uniswap? I discussed that in the next section.
Keep reading!
---
8. Is The Future Bright For Uniswap?
Judging from the role Uniswap is playing in the DeFi sphere, one can tell that the future is bright for this exchange.
As the interest in DeFi grows, Uniswap will remain relevant because of its automated nature.
Plus, the swap feature of the exchange is easy to use and the yields from the liquidity pools help to sustain the network.
Additionally, users do not have to complete any KYC process and there are no restrictions in choosing a liquidity pool.
This will attract more users to the platform.
Then looking at the UNI token, it has maintained a bullish cycle all the while (check out the chart above). Superb!
Nevertheless, Uniswap is not free of challenges. There is the risk of failed transactions because of high Ethereum network fees.
Also, since anyone can add a coin to the platform, scammers may add fake coins and dupe innocent users.
With Uniswap V3 in view, we will hope that these issues will be addressed.
Already, the new version proposes to give liquidity providers higher profits and reduce transaction fees on the Ethereum network.
Anticipate!
---
Hey!!!
We designed a course to show you how to trade crypto profitably without being defrauded.
Hurry now to ctmastery.com to register!
You can also join our Telegram community at https://t.me/ctmastery
---
9. FAQs
What's the difference between Uniswap version 1 and 2?
V2 offers ERC-20 to ERC-20 token pools, native price oracles and flash swaps, which were not obtainable in V1.
---
10. Conclusion
We have now come to the end of our discussion on Uniswap. I hope you enjoyed the read.
This exchange enables you to swap tokens stress freely and profit from liquidity pools. A much-needed solution in the DeFi space.
Now, over to you, what do you think of Uniswap?
Do you think it is doing better than other decentralized exchanges?
Have you tried swapping your tokens on the platform before? How smooth was the transaction?
Let's have your responses in the comments section right now.
Also, share this post with your friends by hitting those SM icons below.
---
For your reading pleasure…