In today's post, I did a complete review of OKX, one of the top crypto exchanges in the world.
OKX is a multi-cryptocurrency exchange founded in 2017 by, Star Xu.
Its Exchange ranks 15th on the list of top 50 crypto exchanges by liquidity on CoinMarketCap.
By the end of this post, you would have completely understood what OKX is and how it works.
Let's dive right in
---
Post Summary
I have carefully drafted out these sub-headings that will guide you through this post. Here is what I will cover;
---
1. OKX Overview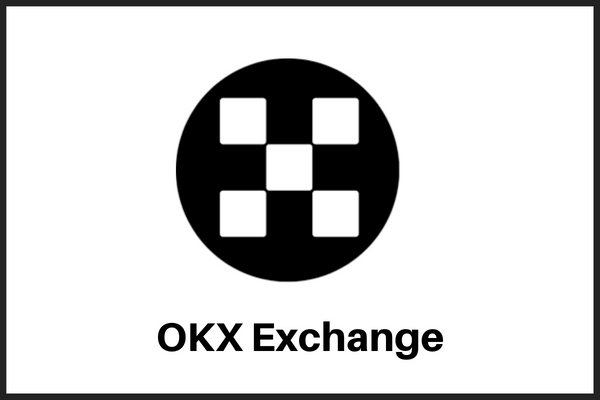 OKX (formerly known as OKEX) is a privately owned company that was founded in 2017 by Star Xu.
It has its headquarters in Seychelles and Malta, the world's Blockchain Island.
The exchange has an average daily trade volume of about $2.5 billion placing it at No.15 in the top crypto exchange by spot.
OKX offers a plethora of products ranging from spot trade to derivatives, Pools, etc, all of which would be discussed in this article.
Also, it has apps for PC, macOS, Android, and iOS.
Continue to the next section!
---
2. Product and Services
OKX is partitioned into two main user interfaces with different product offers:
Let's explore the products you can access on OKX.
(a) Exchange
This interface is the cryptocurrency exchange platform of OKX, offering the following products:
– Buy Crypto:
You can buy cryptocurrency here with fiat using one of three methods:
Buy crypto with card: Here you can buy over 50 cryptos with USD, KES, RON, UGX, and 50+ more fiats.
P2P trading: Using this option, you can buy/sell 6 cryptos from other OKX users with different payment methods.
Third-party payment: This option allows you to buy over 70 cryptos from different payment processors like Simplex, Banxa, etc.
You will see a list of some of the cryptocurrencies you can buy on OKX in a later section of this post.
– Discover
In this product category contains the following:
Markets: This shows the different trading options you can perform, the cryptos traded, and their performance in real-time. You can click on your choice of interest to perform trades instantly.
Opportunities: Once you click here, you will get to see the top performing cryptos by price and market cap, and also the newly listed tokens.
Leaderboard: Here, you can follow the most profitable traders on OKX and copy their trading strategy as well.
Trade
This product category shows you the different ways you can trade cryptos on OKX:
Convert: Here, you can easily convert one crypto to another crypto without using the order book. This is perfect for newbies.
Basic trading: This allows you to trade crypto pairs via spot.
Margin trading: This indicates that OKX offers "Margin, Perpetual, Futures and Options" contracts. Once you click here, an option for "BTCUSD PERP" will display. Click on the "switch icon" on the left-hand side and select "Group by instrument" to filter the option you want to trade.
Trading bot: You can automate your trade on OKX using the following crypto trading bot types: Spot grid, Recurring buy, Futures grid etc.
Block Trading: This product is designed by OKX to allow big investors and professional institutions to execute large, privately negotiated transactions, including spot, options, and futures contracts, off the order books.
– Grow
This is a product suite for crypto passive income offered by OKX.
It includes "Earn" via staking, ETH.2.0, dual investments, etc. Lending and borrowing and participating in launchpads via the "Jumpstart".
– Build
Here you can interact with the OKC chain, a blockchain network powered by OKX.
It features a bridge, swap, oracle, subgraph, Testnet explorer for different blockchains, etcetera.
– Learn
OKEX offers a free tutorial and articles to learn about blockchain, cryptocurrencies, and trading analysis.
The articles can help users gain a good knowledge of crypto, enabling them to trade profitably and limit losses.
– More
This include other products that are accessible via OKX "Exchange":
Pool:
Here you can join the OKEX mining pool to share in its profit. There are currently 12 cryptos available for mining.
Also read: Bitcoin Mining in Everyday Language – A Complete Guide (2020)
– Broker
This is a product suite for third-party brokers who want to leverage the OKX platform for liquidity.
– Blockdream Ventures
Blockdream Ventures is an arm of OKX with $100 million in funds.
It is focused on investing in crypto projects like Layer2, DeFi, WEB3, NFT, and Metaverse. Efinity, zkSync, WAX are some of the projects it has invested in.
(b) Wallet
This is the interface in OKX where users can explore Web 3.0 by simply connecting their private wallet or Unstoppable domain address.
Available products include:
Trade: You can swap tokens of 8 different blockchains including BSC, Avalance, Fanthom, Polygon etc.
NFT Marketplace: You can buy/sell and create your NFT. It supports NFTs on OKC, ETH, and BSC blockchains.
Discover: Here you can explore and use different DApps, including LIDO, Aave, Curve, Pancakeswap, etc, directly on OKX.
Whoops! As you can see, OKX offers a plethora of products and services.
Next, let's take look at the transaction fees.
---
3. OKX Transaction Fees
There are three areas where fees are applicable when using the OKX platform. They include
Buy Crypto fees
Crypto Deposit and Withdraw fees
Trading fees
i. Buy Crypto Fees
As stated earlier above, the 'Buy Crypto' section allows you to buy crypto in three ways. The fees involved include:
Buy crypto with Card …………. This fee depends on the payment processor used.
P2P trading…………………………. 0%
Third-party payment: This fee also depends on the hird-party used. For instance, Banxa charges 1.99%, while Simplex charges 3.5% – 5%. That's very high!
ii. Crypto Deposit and Withdraws Fees
These are the fees charged when you deposit or withdraw crypto to your OKX wallet.
Deposit…………… 0
Withdrawal………….. depends on the crypto and charges by the miners as called miners or network fee.
iii. Trading Fee
Trading fees are fees charged when you trade crypto pairs e.g BTC/ETH
The fee ranges from 0.15% to 0.01% depending on the following;
Account type and level
Trade features and
If you are a "maker or taker"
Account Types and Level
There are 2 types of accounts on OKX,
Normal User account and
VIP User account
Each account has different levels which are determined by the 30-day trade volume and OKB holding. OKB is the native token of OKX. See the table below.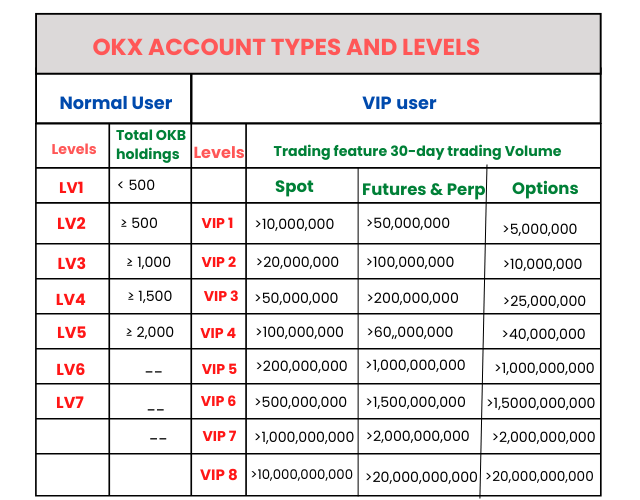 Now that we know what determines the type of User/account, let's look at the trading fees.
The 'Normal User' trading fee ranges from 0.015% to 0.08%. This is one of the best in the market.
The VIP user trading fee ranges from 0.06% to -0.01%%.
As a VIP user making a trade, you would not only be charged but take a share in the Takers' fee.
I hope the above was well explained. You can see that OKX charges the lowest trading fees when compared with other exchanges.
That's it for the fees.
Continue to the next section!
---
4. Currency Support
OKX Supports about 188 cryptocurrencies, they are;
USDT
BTC
ETH
XRP
BCH
LTC
EOS
TRX
You can buy the above cryptos instantly with your local currency.
Other cryptos traded in OKX include;
DAI, OKB, BSV, DOGE, EC, EDO, EGT, ELF, FAIR, FSN, USDK, GAS, GNT, GTO, INT, INSUR, IOTA, KNC, LET, ITC, KCASH, LINK, DCR, DGB, CVT, CVC, GUSD, HBAR, HPB, HYC, HC, IOST, ITC, KAN, LAMB, NEO, QTU, XLM, LBA, LEO, etc
OKX supports the following fiat currencies:
USD, CNY, EURO, GBP, KRW, JPY, RUB, TRY, UAH, CAD, AUD, NZD, INR, COP, VND, KZT, THB, IDR, PHP, BRL, ARS, MXN, PLN, CHF, SEK, DKK, NOK, SGD, CZK, NGN.
Keep reading!
---
5. OKX Payment Methods
There are many methods for making payments on OKX. These methods are;
Bank transfer
VISA
Mastercard
Apple play
Ideal
POLI
Bpay
Blueshyft
SEPA
Flexepin
IDEAL
Interac
Crypto wallet (for crypto deposits)
See the next section!
---
6. Countries Supported
OKX supports about 188 countries, some of these countries appear in the table below.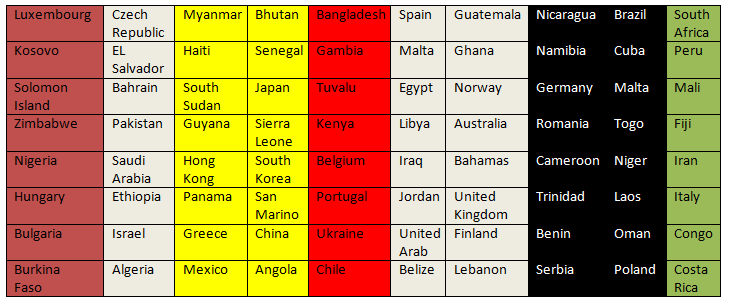 However, OKX maintains a high-status quo in areas related to countries that can make use of their services.
Among all other countries, OKX has ruled against the following countries from making use of its exchange:
U.S.A, Hong Kong, Syria, Cuba, North Korea, Iran, Crimea, Sudan, Malaysia, Bangladeshi, Kyrgyzstan, Ecuador, Bohua
Let's see how to create an OKX account below!
---
7. How to Create An OKX Account
To sign up for an account with OKX, all you need do is:
Step 1: Go to OKX.com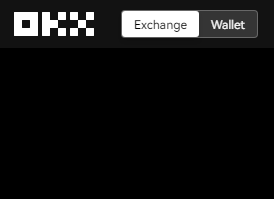 2.Step 2: Click on "Sign up".
3. Enter the verification code sent to your email.
Voila! It's that simple. When you create a new account on OKX, you earn 100 satoshi as a welcome reward after completing some tasks.
---
8. How to Deposit and Withdraw using OKX Account
Here I am going to show you how you can make a deposit and withdraw using OKX.
– Steps on how to deposit crypto to your OKX account
Log into your OKX account, and at the top right corner click "Asset", then select "Deposit".
Select the token you would like to deposit.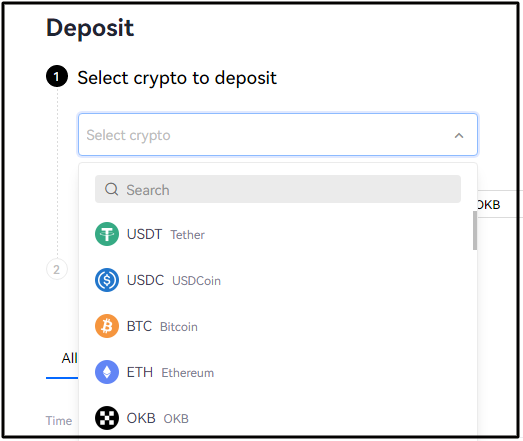 Select the tokens blockchain network and click "Continue".
Copy and send the crypto to the address displayed on the screen or scan the QR code.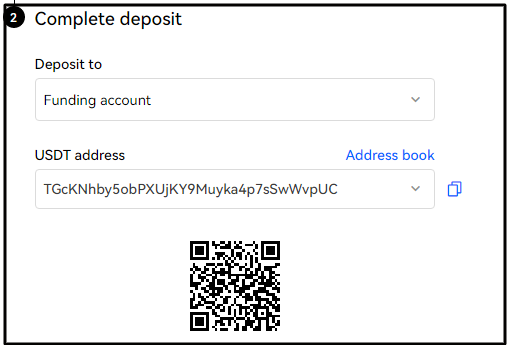 You will receive the token in your OKX account as soon as your transaction is confirmed.
Note: OKX does not support deposits from Dexes, BSC, and Huobi ECO Chain as at the time of writing (August 2022).
– Steps on how to withdraw crypto from your OKX account
Click "Asset", and select "Withdrawal".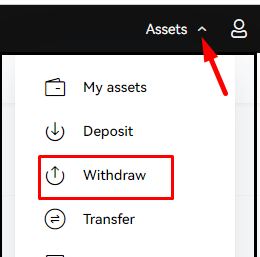 Select the token you would like to withdraw.
Select a withdrawal method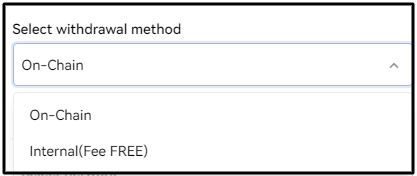 Select the token's blockchain and click "Continue".
Enter your address (OKX also supports Unstoppable domain), name your address and enter the amount you want to withdraw, then click "Continue."
Next, your transaction will be confirmed and sent to your wallet.
See the next section!
---
9. Verification Requirements
OKX has two account verification types. See below!
– Individual account
Nationality
ID type
ID number
Legal first, middle, and last name
Corporate account
Nationality
Company name
Company registration number
Date of incorporation
Address and postal code
Consent documentation
Information about legal representation, controller(s), and authorized account users
Hope we are still together. Continue to the next section.
---
10. Customer Support
For inquiry on the exchange, you can contact support using any of the following;
Support Center
Email: [email protected]
Phone number: +1 226 798 4487
Telegram group: https://t.me/OKXOfficial_English
Twitter: https://twitter.com/okx
Reddit: https://www.reddit.com/r/OKX
The team at OKX responds to emails and direct messages promptly.
---
11. Pros and Setbacks
Pros
Supports multi-currency
Trading in OKX is well secured
Supports a plethora of trade
It can be downloaded on pc, ios, and Andriod
Friendly user interface
Supports blockchain domain
Low trading fees
Setbacks
High "Buy Crypto" transaction fee when buying from Third-party.
Not available in the USA
---
12. FAQs
2. How do I apply for token listing on OKX?
Any project wishing to have its token listed on the OKX exchange would have to apply by sending the following document to [email protected]
-White paper of the project
-Letter of legal advice
-Your social media account(s), telephone number(s), and email(s)
If the project meets minimum requirements, the application will be contacted within 10 working days.
3. Does OKX offer API keys?
Yes, it does!
With OKX V5 API users can integrate apps with their accounts to perform actions such as automated trading, viewing market trends, etc.
4. Does OKX have an affiliate program?
Yes it has. Affiliates are offered up to up to 60% commission.
Ordinary users are also entitled to mystery boxes worth up to $10,000 for inviting new users.
---
Heads up!!
We developed a perfect course to help you master Cryptocurrency Trading.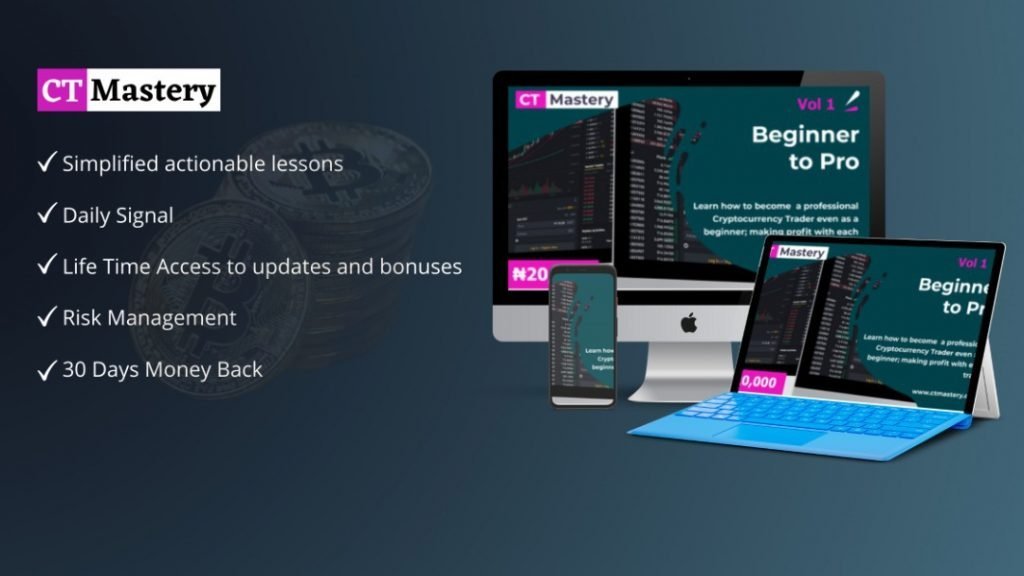 Go to www.ctmastery.com to enroll.
You can also join our Telegram community at https://t.me/ctmastery for more information.
---
13. Conclusion
If you wish to trade with multiple currencies, and buy and sell futures contracts, and interact with Web3, then I bet this is an assured exchange for you.
Nevertheless, you must know that it requires more than meeting the eye to get grounded in an exchange(you have to actively try it out yourself).
Given that you have read the full note on OKX, I'm going to have to conclude this post here.
I would like to ask a few questions.
What's your though on OKX?
Are you an OKX user and do you find it impressive?
Share your thoughts in the comment section and I will respond.
Als, share the post by clicking the buttons below. Cheers!
---
Here are more useful resources: