Bitget is one of the world's largest crypto-derivatives exchanges.
High trade volume, low fees, tight spreads, and other features that appeal to crypto traders can be found on the Bitget exchange! 😋
Wondering why you should consider Bitget?
Well, in this review, I covered all there is to know about the Bitget exchange.
---
Post Summary
This is what I will cover:
Click on the link attached to each of the items and it will take you to where it is discussed properly.
---
1. Bitget Overview
Launched in 2018, Bitget is a cryptocurrency exchange based in Singapore.
The exchange started up as a "Spot Exchange," but it has expanded to include derivatives, which marked its noticeable success.
Bitget is unique because it offers a robust trading platform, innovative trading products, low fees, and top-notch security.
Impressively, Bitget commands a significant presence in the crypto space.
It is the world's 4th largest derivatives exchange with a trading volume of over 8 billion dollars in January 2022.
The exchange is also worth billions of dollars, and over a million people worldwide are using Bitget.
Additionally, it is partnering with the world's biggest icons, including the Italian football club, Juventus, and the Global eSports League, PGL.
That's the Bitget overview, continue to the next section!
---
2. Features Of Bitget
Excellent User Interface
High trade volume
Stable Trading System
Advanced trading tools
Instant Transactions
Super secured SSL
Low Fee
Mobile App
Bitget API
Quantitative trading tools
Rewards Center
---
3. Bitget's Products And Services
Bitget offers the following:
Futures
Spot
Copy Trade
Buy Crypto
Launchpad
i. Futures
Speaking of futures, it is the derivative product on the Bitget exchange.
When you trade futures, you are agreeing to buy or sell a crypto asset, say BTC, to another trader at a specified price and date in the future.
Now, it is derivative because you exchange the value of an asset, say BTC, and not the asset itself. Learn more about Futures trading here.
Bitget has two categories of perpetual futures contracts:
USDT Margined Futures: Here you can trade the futures contract of up to 41 cryptocurrencies. The contracts here are quoted and settled in USDT.
Coin Margined Futures/ Quanto Swap Futures: You can trade the perpetual contract of multiple cryptocurrecies, but unlike the former, this contract is quoted in USD and can be settled in the following coins: BTC, ETH, USDC, XRP, and BGB.
Bitget allows for up to 125x leverage and simulated trading on both categories of futures contracts.
ii. Spot
Unlike futures, spot trading allows you to buy or sell a coin at the current market price.
On Bitget's spot, multiple cryptocurrencies are paired with BTC, ETH, and USDT.
iii. Copy Trade
The above video describes how to perform copy-trading on Bitget!
Worried about how to place a profitable trade?
On Bitget, you can copy the trades of expert traders and make the same profit as they are making.
On the other hand, expert traders can apply to start sharing their trades for a 10% share of the profit made by those who have copied their trades.
iv. Buy Crypto
With this service, you can buy BTC, USDT, ETH, LTC, BCH, TRX, and XRP with fiat from either of these two payment processors: BANXA or Mercuryo.
V. Launchpad
Learn how to participate in Bitget Launchpad by watching the video above.
This is Bitget's IEO platform, where new tokens are initially launched before being listed for trading.
Fair enough, Bitget uses a "hold and claim" method to airdrop launchpad tokens to participants.
This means that you can get Bitget's launchpad tokens for free if you hold a certain amount of a specified asset.
In addition to the products mentioned here, Bitget also has its own native cryptocurrency, the BGB token, which will be unwrapped in the next section.
---
4. Native Token Of Bitget
BGB is the native token of the Bitget exchange.
It is an ERC-20 token with the following use-cases:
Traders that participate in Bitget's "Trade to Earn" program receive rewards in BGB tokens.
It offers up to a 20% trading fee discount to Bitget traders
Using BGB as the margin on "coin margined futures" lets you enjoy a 15% discount on fees.
Bitget uses it as collateral for potential partnership opportunities and continuous development of the exchange.
Before the launch of the BGB token, Bitget initially had the BFT (Bitget Defi Token) as its exchange token.
BFT had a total supply of 1 billion coins. However, its existing circulating supply, totalling 250 million BFT, is swapped for BGB at a ratio of 2:1, while the rest will be destroyed.
The distribution and allocation of BGB tokens were done as follows:
BFT to BGB swap ➔25%
Branding and promotion ➔15%
Team ➔20%
Acquisition of new users ➔15%
Ecosystem investment ➔ 15%
Investor protection fund ➔ 10%
Check out Bitget's supported currencies and countries below.
---
5. Supported Currencies And Countries
Supported Currencies
Cryptocurrencies
Bitget supports over 190 cryptocurrencies. Some of them include:
BTC, ETH, USDT, SOL, CHR, DASH, MKR, CRV, COMP, AAVE, SNX,
BAL, BAT, ENJ, MANA, SAND, AXS, SLP, FLOKI, SHIBA, WKD, BNT
YFI, REN, BTT, EOS, CHZ, LTC, BAL, BCH, CRO, UFO, TRON, XRP
BAND, LINK, BGB, ANKR, SHILL, ATOM, LINA, SUSHI, QTM, CELO, etc
Fiat
Over 20 fiats are supported.
USD, EUR, GBP, RUB, HKD, JPY, THB, VND, UAH, BRL, CAD
CZK, DKK, IDR, KES, MYR, NGN, NOK, NZD, PLN, SEK, SGD
TRY, ZAR, PHP, INR, AUD, TZS, UGX, GHS
Supported countries
Bitget is a global exchange. It supports the USA, Nigeria, South Africa, Ghana, Canada and so many more.
The following countries, however, are not supported by the exchange:
Singapore, Mainland China, Hong Kong, Macau, North Korea, Italy
---
6. Fees And Payment Methods
Fees
i. Spot Trading Fee
Standard Fee
Paid in BGB

Maker

|

Taker


0.10%
Maker |Taker
0.08%
ii. Futures Trading Fee
iii. Deposit And Withdrawal Fee
Bitget charges a zero deposit fee.
However, it does charge a withdrawal fee, which all depends on the cryptocurrency you want to withdraw. View here.
iv. Buy Crypto Fee
Banxa ➔ 1.99%
Mercuryo ➔ 3.95%
Note that this fee is not charged by Bitget but by the payment processors.
Payment Methods
Buy Crypto

Spot Futures

– Credit/Debit card
– Apple pay
– Google pay
Cryptocurrencies
Let's talk about the limits and verification requirements below.
---
7. Verification Requirements And Limits
Verification Requirements
Bitget's verification requirements aren't very stringent. They are as follows:
Phone verification
Email verification
Country
Name
ID Card (National ID, Driver's License, Passport)
A self-portrait of you holding your ID and a piece of paper inscribed with "Bitget and the date of the day"
Note:
Bitget allows you to trade, deposit, and withdraw cryptocurrencies without requiring any verification.
You must, however, be verified before you can use the "Buy crypto" option.
Limits
i.
Crypto via "Assets"
Limits

Unverified Users

Verified Users

Deposit Amount

Min: 0.001 BTC
Max: None
Min: 0.001BTC
Max: None
Withdrawal Amount
Min: 0.001 BTC
Max: 20 BTC
Min: 0.001 BTC
Max: 200 BTC
ii. Buy Crypto
This table shows the minimum and maximum amount of crypto you can buy with fiat using the "Buy Crypto" option.
Minimum buy




amount

Maximum buy




amount

$30
$15000
Continue to the next section!
---
8. Customer Support And Public Opinion
Bitget can be reached through the following channels:
24hrs Live chat via the website
Twitter: https://twitter.com/bitgetglobal
Discord: https://discord.com/invite/TzDzd4dCds
Telegram: https://t.me/bitgetEN
Reddit: https://www.reddit.com/r/bitget/
Facebook: https://web.facebook.com/BitgetGlobal?
Medium: https://medium.com/bitgetglobal
Feedback via the website
There is also a "FAQ" section to guide you through the platform and a "Verification channel" section, which confirms that you are not visiting a Bitget phishing site.
I found Bitget to be a really pleasant exchange to use; the platform is user-friendly and the live chat is very responsive.
Furthermore, I found the copy trading feature very attractive because it is not offered on many top exchanges, including Binance, FTX, Huobi, OKX, and so on.
I could not find Bitget on Trustpilot. However, Bitget has more than 100k followers on Twitter, and these people seemed to have found the exchange impressive.
Now, let's quickly compare Bitget with similar platforms. Scroll down!
---
9. Bitget vs FTX vs Bitmex
i.
Bitget vs. FTX
FTX is a cryptocurrency exchange founded in 2019 by Sam Bankman-Fried, a renowned crypto trader and founder of Alameda Research.
It is one of the top derivative exchanges "built by traders, for traders."
Similar to Bitget, FTX offers high liquidity, spot trading, the ability to buy crypto with fiat via OTC, futures trading, a plethora of coins, and a 0.2% fee on futures.
However, it also offers more sophisticated products not available on Bitget, including NFT, Volatility, Leveraged Tokens, etcetera.
And, unlike Bitget, FTX supports stocks as well as both perpetual and expiring futures contracts.
Nevertheless, Bitget is suited for newbies and pro traders, while FTX is more ideal for pro traders.
Read our FTX review here.
ii.
Bitget vs. Bitmex
BitMEx is one of the oldest crypto exchanges, founded by Arthur Hayes in 2014.
It used to be solely a Bitcoin derivative exchange, but it has added additional products.
BitMEX has been in the crypto space for a long time. It is also one of the top 10 crypto derivatives exchanges by Coinmarketcap.
However, Bitget offers more futures contracts, more products, and supports spot trading, which is not available on BitMEX.
Bitget is ideal for newbies and expert traders, whereas BitMEX is best for pro traders.
Furthermore, Bitget charges a maker fee of 0.2 and a taker fee of 0.06%, while BitMEX charges a maker fee of -0.01% and a taker fee of 0.05% on futures.
Read BitMEX review.
---
10. FAQs
1. How can I become a Bitget user?
To become a Bitget user, follow these steps:
a. Visit Bitget and click on "Sign up"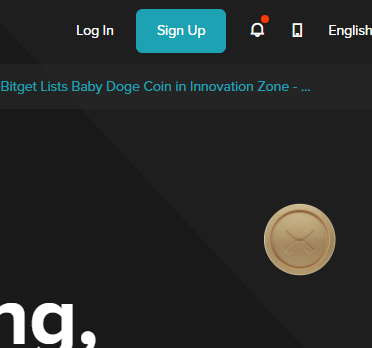 b. Enter your email or phone number and password, then click "Sign up" again.


c. Enter the verification code that was sent to you and click on "Complete Registration."


Congratulations! You are now a Bitget user.

2. How do I deposit funds into my Bitget account?
a. Navigate to "Asset" and select "Deposit."


b. Select the coin that you want to deposit, then select the blockchain.
Send the coin to the address by scanning the QR code, or copy and paste the address into the wallet you wish to send it from.

3. How do I withdraw my funds from Bitget?
a. Go to "Asset" and select "Withdraw."


b. Select the coin you want to withdraw, as well as the blockchain. Enter the wallet address you are withdrawing to. Enter the amount you want to withdraw and click "Submit".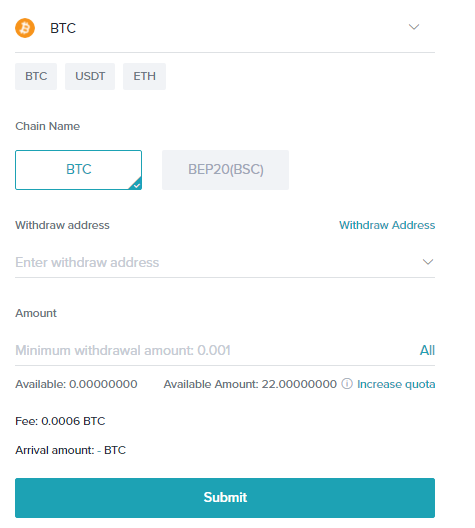 Your transaction will be processed by the Bitget team and sent to the wallet address you have entered within a few minutes.
4. How do I buy crypto using my local currency on Bitget?
a. Click "Buy Crypto"


b. Select your local currency, select the crypto you want to buy, and enter the amount.
Go ahead and select a payment provider, then click on "Next." After that, your transaction will be processed by the payment provider that you have selected.




d. However, it is compulsory that you verify your account before making use of this service.
So, if you have not yet verified your account, click on the "human icon" and select "ID verification." Then continue to verify your account.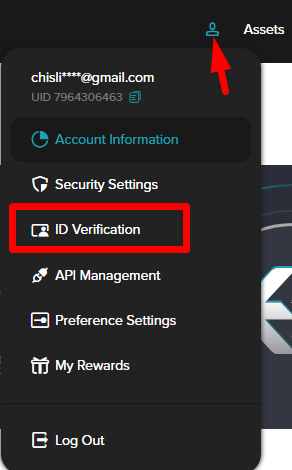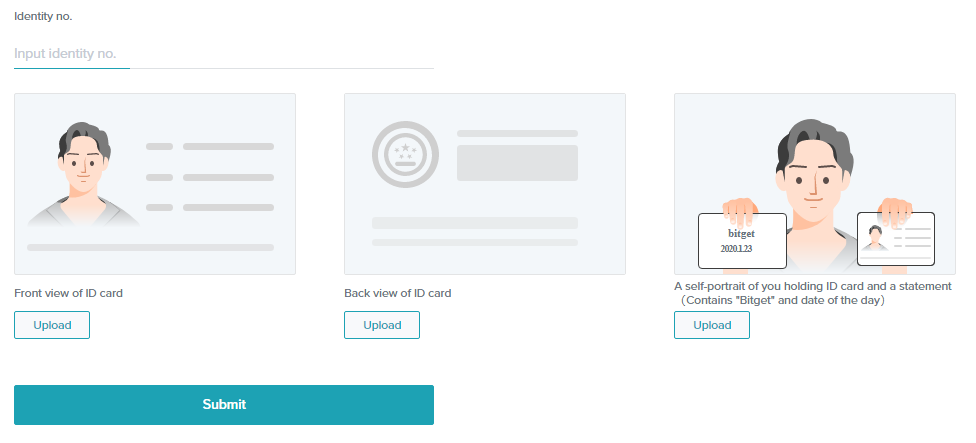 5. Is Bitget Safe?
I will say yes, but it is based on the following reasons:
-The exchange has not been hacked up until the time of this review.
-It has one of the highest rankings by trade volume.
-Over 1 million users trust and feel safe with the exchange.
-Although there is nothing known about the founder, Sandar Lou, the company's CEO, has been in the public eye and has been interviewed by Cointelegraph.
-The website has a super secured SSL. Also, users' funds are managed by a secured hot and cold storage wallet.
– Bitget takes customer support seriously, which is a sign of a good exchange.
However, make sure to do your due diligence before using it.
---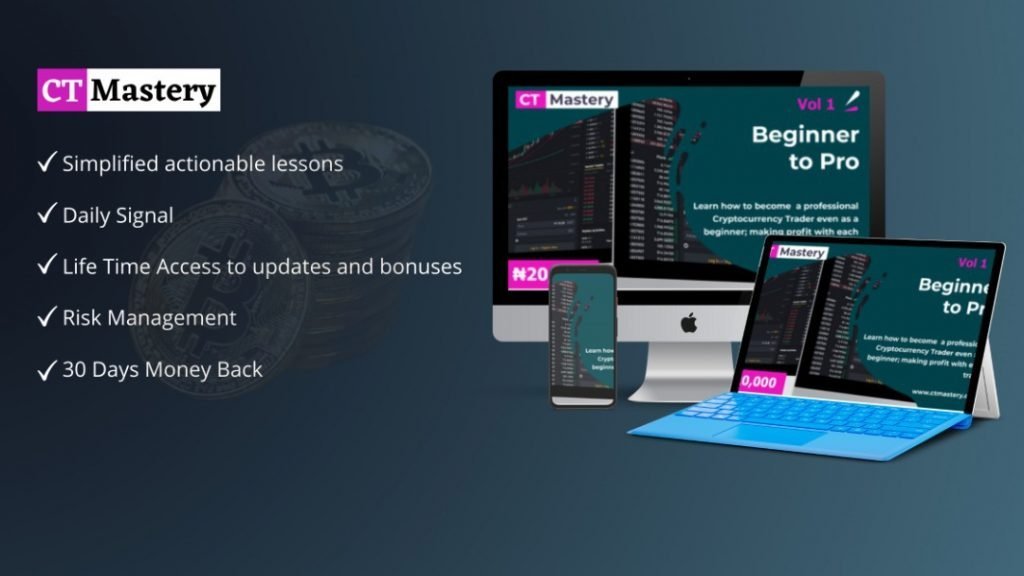 Ps: If you want to learn how to trade cryptocurrencies profitably, we developed a perfect course to help you master Cryptocurrency Trading.
Go to www.ctmastery.com to enroll.
You can also join our Telegram community at https://t.me/ctmastery for more information.
---
Conclusion
We have come to the end of this review.
But, I'd love to hear from you:
What do you think of the Bitget exchange?
What product on Bitget appeals to you the most?
Is there anything else you'd like to ask regarding this exchange?
Please leave a comment in the space below.
Remember to click the share buttons if you enjoyed the review! Cheers
---
Other Related Articles: