If you're considering trading on FTX, this review will teach you all you need to know to get started.
FTX is a crypto exchange that witnessed phenomenal growth within a short period of its inception.
It is one of the world's largest players in the crypto niche, with a daily trading volume of over $17 billion.
This post is a beginner's guide to all of the FTX exchange's features and products.
Make sure to stick around until the end.
---
Post Summary
This is what I intend to cover:
Using the jump links, you may navigate to any section of this article.
Let's get started.
---
1. What Is FTX?
FTX stands for "Futures Trading Exchange". It is a cryptocurrency exchange that launched in May 2019.
It is headquartered in the Bahamas and has offices around the world, including Nigeria.
The founders, Sam Bankman-Fried and Garry Wang are both experienced crypto-traders.
Both cofounded Alameda Research, a top liquidity provider and quant trading firm.
FTX provides a robust trading platform that is user-friendly for beginners but more ideal for pro traders.
The exchange has established itself as a market leader, boasting of some of the highest liquidity and trade volumes, despite being relatively new.
It has also secured substantial sponsorship and acquisition deals including:
Acquisition of Blockfolio, a crypto portfolio tracking app with millions of users, for $150 million
Acquisition of the naming right to Esport Organization and Miami Heat for $210 and $135 million respectively
A 5 years sponsorship deals of MLB, a major baseball league.
This shows that FTX is keen on continuous growth and popularity!
Furthermore, FTX is valued at $18 billion; it reached this milestone after raising $900 million in fundraising from 6 investors.
In terms of security, FTX provides advanced features such as IP and wallet whitelisting as well as KYT, an anti-money laundering technology.
You can check out FTX's impressive security features here.
Want to learn more about FTX? Keep reading!
---
2. Features Of FTX
User-friendly UI
Plethora of cryptocurrencies
High liquidity
Innovative derivative products
Users' Insurance Fund
Staking
Advanced Security
Mobile App
Low fees
Scroll down to learn about FTX's products and services.
---
3. Products And Services Offered On FTX
FTX offers a wide range of crypto products but majorly focuses on derivatives.
As of Nov. 2, 2021, FTX ranks 4th among the "Top 100 Cryptocurrency Derivatives Exchanges" on Coinmarketcap. This is impressive!
Find the products below.
1. Market
This gives you exposure to the available markets on FTX.
If you look closely, you will find that FTX has five categories of markets, including, Futures, Spots, etc.
You will also get to see all the crypto pairs that are traded under each market with their Price feeds, 24hr changes, and volume.
2. Futures
This is the section where you perform traditional futures trading on FTX.
You don't buy or sell an underlying asset in futures trading; instead, you predict its price movement.
FTX offers two types of futures trading contracts here:
a. Futures Contracts:
These are contracts with an expiry date.
For instance, BTC-1231 is a futures contract that will expire on the 31st of December 2021.
Furthermore, the futures contract on FTX expires quarterly.
b. Perpetual Contracts:
These are futures contracts with no expiry date.
A BTC perpetual contract on FTX will look like this: BTC-PERP.
Note:
- All futures contracts on FTX are quoted and settled in USD.

It means that any of the crypto assets listed here can be used as collateral for trading futures and will display as USD when you start trading futures.

However, FTX also offers a "Sub-account" that helps you to isolate your position and control how it is funded.
- Currentlly, FTX offers a maximum of 20X leverage for "Futures".
This is actally great as it helps to mitigate users risk of getting liquidated.
3. Spots
FTX supports over 180 cryptocurrencies paired against stable coins, fiats, and BTC.
Unlike Futures, Spots allows you to buy a crypto asset using another asset that it is paired with.
The exchange does, however, provide spot margin trading, but you must enable it manually.
Spots margin simply implies that you borrow more funds from the exchange at a rate of interest to increase your trading capital.
4. Leveraged Tokens
Leveraged tokens allow you to profit from the downward or upward movement of a crypto asset with a leveraged exposure.
FTX has 4 categories of leveraged tokens. To explain them, we will assume the underlying asset is MATIC:
BULL (+3x): If MATIC goes up by 1%, MATICBULL will make a 3% profit
BEAR (-3x): MATICBEAR makes a 3% profit if MATIC goes down by 1%.
HEDGE (-1x): If MATIC falls by 1%, MATICHEDGE gains 1%, but if MATIC rises by 3%, MATICHEDGE loses 1%.
HALF (0.5): On the other and, if MATIC falls 1%, MATICHALF falls 0.50%, but if MATIC rises 3%, MATICHALF rises 0.50%.
One of the advantages of leveraged tokens over futures trading is that they remove the risk of liquidation. However, they might be risky in a volatile market.
5. Volatility
FTX offers 3 volatility products that are specific to BTC trading:
a. Options:
Options give a trader the right to buy/sell an underlying asset at a specific price and date in the future.
FTX only supports BTC options. Learn how to trade Options on FTX right here.
b. MOVE
MOVE is a futures contract with an expiration date equal to the dollar amount that BTC moves in a specified time frame.
FTX offers 3 types of MOVE contracts, which are, Daily, Weekly, and Quarterly.
This product is very new in the crypto space and was initiated by FTX.
c. BVOL
This is a product section that gives you exposure to the implied volatility of crypto markets.
It supports two ERC-20 tokens, namely:
BVOL – This token track 1x the implied volatility of BTC in a long position
IBVOL – On the other hand, tracks 1x the implied volatility of BTC in a short position
6. Prediction
Here you can bet on upcoming real-life events.
The contract is set to expire at $1or $0 depending on the outcome of the event.
7. Fiats
This shows you the fiat market where you can trade fiat against fiat or stablecoins. It also displays the future contracts that are available for stablecoins.
8. OTC
OTC is the fiat-to-crypto onramp product of FTX.
If you want to buy cryptocurrencies using fiat, you can do that through FTX OTC. But do note that not all fiats are supported (more about this later).
9. NFT
Using FTX NFT marketplace you can create your NTF or buy/sell them for profit.
10. FTX Pay
FTX Pay is a payment gateway offered by FTX for online businesses.
Users can embed the FTX Pay widget on their website to start accepting cryptocurrency and fiat payments from customers.
11. Wallet
FTX offers an exchange wallet that supports all the cryptos listed on its exchange.
The wallet option gives you an overview of your subaccount, main account, balance, filled orders, deposit, withdrawal, lending, and staking options, etc.
12. Quant Zone
Quant Zone allows you to create a trading strategy and perform trades in an automated fashion.
Note that FTX also supports external trading bots; crypto bots like Wunderbit, 3Commas can be integrated via FTX API key.
13. Stocks
FTX is one of the few crypto exchanges where you can trade tokenized stocks.
It features popular stocks such as TSLA, GOOGL, TWTR, UBER, among others.
FTX stocks are quoted in USD and you can trade them like spots or futures.
14. Lending & Staking
Looking for a way to earn free rewards in cryptocurrencies?
FTX offers up to 30% APY as lending interest and it supports popular crypto assets including BTC, USDT, ETH, etc.
On the other hand, you can also stake four cryptos, FTT, SOL, SRM, and RAY to earn good returns.
Furthermore, the FTT token has the most benefits over other cryptos supported for staking on FTX.
Let's take a closer look at the FTT token below.
---
4. FTX Native Token Explained
FTT is the native token of the FTX exchange.
It not only enhances the utility of FTX but also offers a range of benefits to FTX traders.
FTT use-cases include:
Transaction fee discount: FTT holders gets 3% – 60% fee discount depending on their FTT holdings
Staking: Staking FTT on FTX has a lot of advantages including, increased referral rate, maker fee rebate, free swag NFTs, airdrop rewards, IEO tickets and more
Collateral: You can use FTT token as collateral to trade futures
Fees for FTX products: Projects interested in listing their products on FTX, as well as those seeking to use FTX white label pay a fee using the FTT coin.
Net gains from Insurance Funds: By holding FTT on FTX, you are eligible to earn rewards from FTX insurance funds. See all the amazing benefits you get for staking FTT here.
FTT was created as an ERC-20 token with a total supply of 350,000,000 FTT.
It was first listed on FTX on July 29, 2019, with a $1 price tag, but it has reached an ATH of $85 on Sep 9th, 2021.
Also, it is the 30th most valuable cryptocurrency, with a market capitalization of $7,428,263,640 as of Nov. 22nd, 2021.
This shows that the coin has done well so far in the crypto market.
Additionally, FTT undergoes a coin burn via the buy-back and burn model. This helps to keep the token deflationary and profitable.
Continue to the next subheading!
---
5. Supported Currencies And Countries
Supported Currencies
– Cryptocurrencies
FTX supports over 300 cryptocurrencies including, leveraged tokens, volatility tokens, and tokenized assets:
BTC, ETH, SOL, AAVE, GRT, LINK, BNB, CRO, MATIC, DOGE
FTT, XRP, RAY, LINA, CHR, FTM, SAND, SRM, MANA
TSLA, BITO, MSTR, BABA, ARKK. GME. FB, SLV, GBTC, SPY
THETABULL, MATICBEAR, LTCBULL, BVOL, IVOL.
You can view all the supported cryptos here.
– Fiats
The following Fiats and stablecoins are supported on FTX.
HKD, JPY, PAX, SGD, CAD, CHF, EUR, GBP, AUD, BRL
BRZ, BUSD, TRYB, USD, ZAR, TUSD, USDC, USDT, WBTC
Note:
The FTX OTC platform accepts all of the fiat currencies listed above.
However, only a few of these fiats are supported by the FTX market.
Supported Countries
Although FTX.com is a global exchange, it restricts access to countries in the following countries:
United States of America, Cuba, Crimea and Sevastopol, Iran
Afghanistan, Syria, North Korea, Antigua or Bermudas, Ontario
Japan and non professional traders from Hong Kong
The following countries are prohibited from using the FTX prediction market:
United States Of America, Canada, European Union, Hong Kong
United Kingdom, Singapore, the UAE, Cambodia, Turkey
Furthermore, Stocks (and any related products or derivatives) are prohibited in the following countries:
Malaysia, Thailand, United States, Hong Kong, Singapore
Following this, we'll look at the FTX fees and payment options. Continue reading!
---
6. Transaction Fees And Payment Methods
Fees
Trading Fees
(a) Spots and Futures Fees
For these two products, fees are calculated depending on your "tier level and 30days volume trade.
Take a look at the image below.

Note:
FTT stakers receive maker rebates up to 0.0030%, you also pay 0 maker fee if you stake up to 25 FTT tokens
You get a trade fee discount of 3%-60% depending on your FTT holdings as a maker. Takers, however, can get a fee discount of 3%-15%.
(b) Leveraged Tokens
They have creation and redemption fees of 0.10%, and daily management fees of 0.03%.
(c) Move Contract
The fee here is calculated based on the underlying asset.
2. Deposit and Withdrawal Fees
(a) Deposit and Withdrawals For Cryptos
FTX charges a 0% fee for deposits and withdrawals. However, there is an exception to the withdrawal option.
If you withdraw ETH-based tokens or a small amount of BTC, you will be charged a withdrawal fee.
However, it can also be waived depending on your FTT stakes. See below.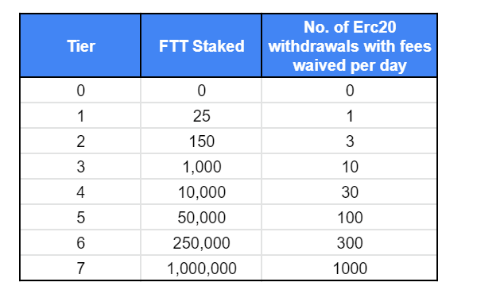 (b) Deposit and Withdrawal For Fiat/stablecoins
FTX charges 0 fees for fiat/stablecoins deposit and withdrawals except for the following:
Fiat withdrawals below $10,000 in value have a $75 fee.
A fee of up to 0.10% is charged if your fiat/stablecoin withdrawal exceeds your trading volume.
3. OTC Fees
This fee is already embedded in FTX OTC rates.
Payment Methods
Credit Cards
Wire transfer
Crypto wallet
Keep in mind that Wire transfers can take a long time (a day or so) to process.
Now, before you can even begin to deposit or withdraw from FTX, you must go through KYC verification.
Let's get the full details below.
---
7. Limits And Verification Requirements
On FTX, you can own 2 types of accounts:
Individual (personal account)
Institution (company account)
But no matter the type of account, there are verification requirements for each.
At FTX, KYC requirements are divided into three stages, each of which determines your trading limits.
See at a glance below!
1. Individual
Tier

Verification Requirements

Limits

Unverified
Email
– No deposit and withdrawal.



1
– Email
– Full Legal Name
– Date of Birth
– Country of residence and region/province
– Check for restricted jurisdictions
– Phone jurisdiction
– 2000 USD daily

– No Fiat deposit
2
– Must have gone through "tier 1" verification
– Proof of Address/phone jurisdiction
– Description of source assets
– Passport or other similar government-issued identification
– Facial verification
– Make Fiat deposits

-Unlimited crypto and fiat withdrawals
2. Institution
Tier

Verification Requirements

Limits

Unverified
Email
– No deposit and withdrawal.



1
– Full legal name and D/B/A (if applicable)
– Principal place of business
– Jurisdiction of organization
– Proof of address
– Taxpayer identification number
– Description of business
– Description of the source of assets
– Entity information document
– List of all executive officers and directors ("D&Os")
– List of all individuals and entities who, directly or indirectly, beneficially own or control 10% or more of the equity interests in the entity ("10% shareholders")
– Bank statement
– Bank name
– 2000 USD daily

– No Fiat deposit
2
Entity legal documents:

Certificate of Incumbency
Certificate of Incorporation
M&AA
Organizational chart

For all D&Os and 10% shareholders:
Passport or similar government-issued identification
Proof of address
– Make Fiat deposits

-Unlimited crypto and fiat withdrawals
Does FTX have good customer support? Find the answer in the next section.
---
8. Customer Support And Public Opinion
FTX customer support can be reached through the following media:
Support ticket via the exchange
Twitter: https://twitter.com/FTX_Official
Telegram: https://t.me/FTX_Official
Email: [email protected]
WeChat: FTX_Official
There's also a "Help centre" with some useful resources for questions about FTX products and services.
Users have given the exchange a positive review with a 4.5-star rating on the Google play store.
I found the exchange sleek and easy to navigate.
I have also used most of its beginner's products like spots, staking and found no issues with them.
However, some products offered on FTX are specifically designed for expert traders.
Although this is commendable, there are a few things I will like to point out:
FTX has not provided enough materials and beginner guide videos that lay its product bare for newbies.`I wish the company could look into this.
Another thing is that it takes time to get a response from the FTX support ticket.
This does not set a high standard for FTX customer support.
But I believe the team can still work on this by offering a live support medium or increasing their response time.
Far from this, FTX is one of the world's most prestigious crypto exchanges.
You can now scroll down to the FAQ section!
---
9. FAQs
1. How do I create an account with FTX?
FTX allows you to create an account via the website or your mobile app. For my illustration, I'll be using the webpage.
1. Go to FTX.com and click "Register". By using our link, you get a 5% fee discount.


2. Enter your email address and a strong password. Click "Verify" to solve the puzzle, check the FTX terms of the service box and click"Sign up"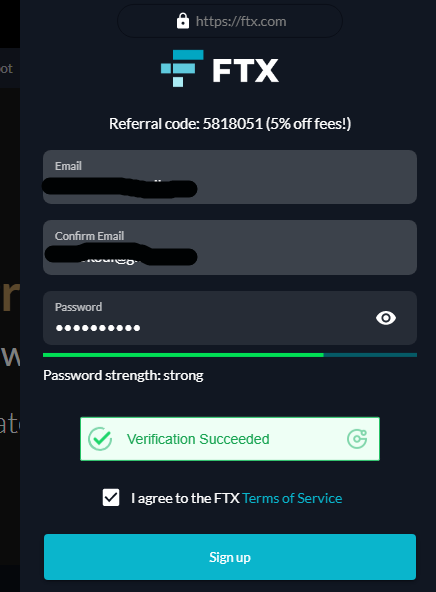 You have successfully created an account. It's that simple!

Also, note that you must verify your account before depositing or withdrawing from the FTX exchange.

To verify your account, follow these steps:
Click the "settings icon" from the homepage. A new interface will display, select "Identity verification".


2. Click "Enable Trading And Deposits".
It will take you to the identity verification interface, then you select your verification type.



3. Once you have selected your "Verication type" it will bring you to "Level 2 identity verification". Fill the form provided and click "Submit Information".



After you've successfully entered your information, the system will take you to "Level 2 identification verification."
From there, you can continue with the verification if you wish to.
2. How do I deposit funds into my FTX account?
You can deposit on FTX in three different ways.
a. Crypto deposit
b. Fiat deposit
c. Credit card deposit
For this illustration, I will only be showing you how to deposit crypto into FTX.
1.Log in to your account and click "Wallet"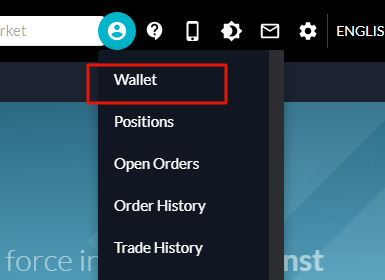 2. Select the crypto you want to deposit and click "deposit".


3. You will see the coin's different blockchain addresses and QR codes.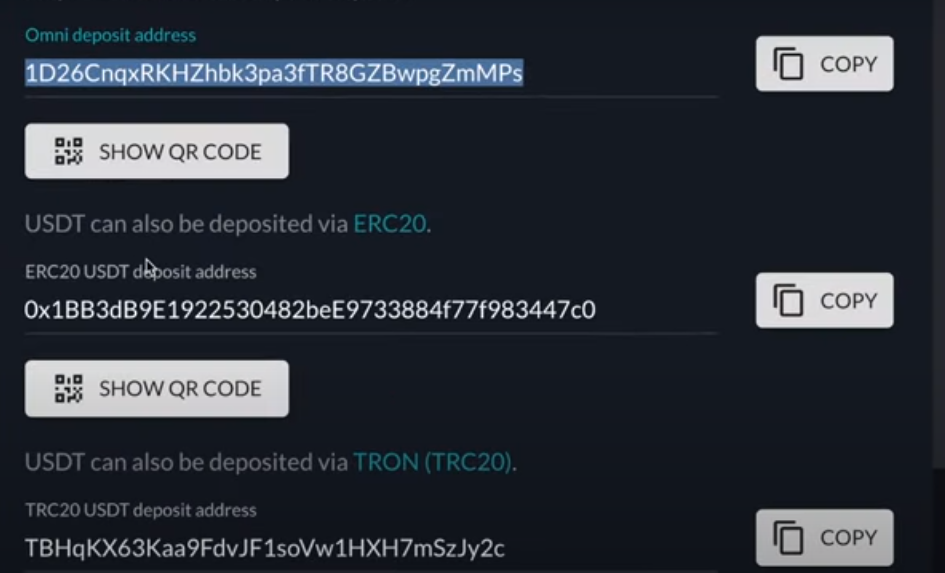 Select the blockchain you want to send to and make your deposit by scanning the correct Qr code or pasting the address to the wallet you wish to send from.

3. How do I withdraw funds from my FTX account?
There are 2 ways to withdraw from FTX:
a. Crypto withdrawals
b. Fiat withdrawals
We will only be going over "crypto withdrawal"
1. On the wallet section, select "Withdrawal"


2. You will see the blockchains supported. Enter the amount you want to withdraw and paste the wallet address you want to send to.


3. Once you paste the address, you will see your fees. You will also need to enter your 2FA code if you enabled it. After that, click "Withdrawal"

4. What is the difference between Main-account and Sub-account?
The main account is your major account, where all your funds go when they are deposited into FTX.
The Sub-account, on the other hand, can be created if you want to isolate your trades from your main account while trading futures.
5. Does FTX have a referral program?
Yes, it does!
When a new user signs up with your referral code, you will receive 25%-40% of their fees, and they will also get 5% of their fees back.

6. Is FTX.com the same as FTX.US?
FTX.com has a subsidiary called FTX.US.
However, these two exchanges are not the same; FTX.US is designed specifically for citizens of the United States.
Moreover:
– FTX.US order book differs from that of FTX.com.
– The FTT token and other derivative products on FTX.com are not supported by FTX.US.
---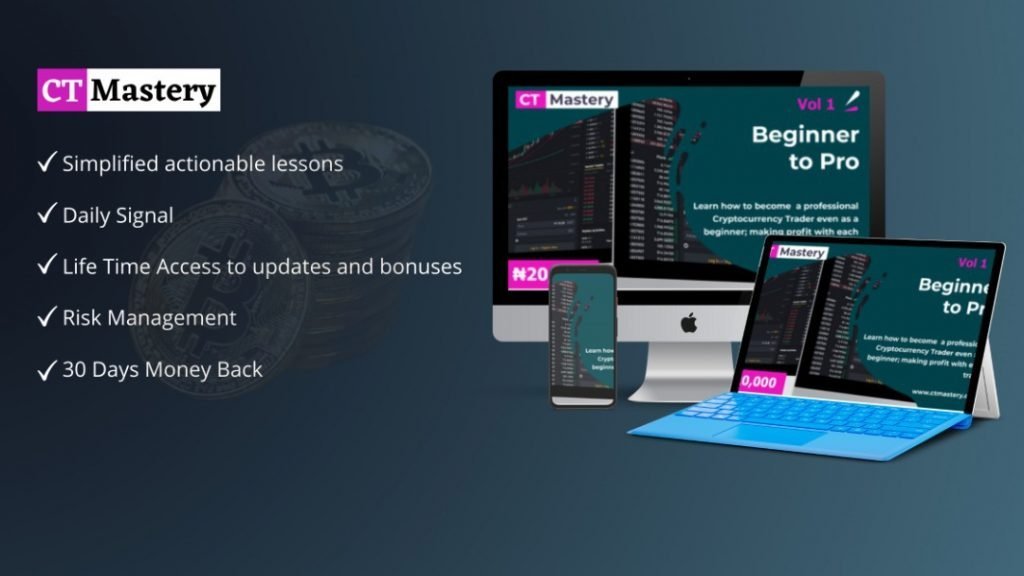 Ps: If you want to learn how to trade cryptocurrencies profitably, we developed a perfect course to help you master Cryptocurrency Trading.
Go to www.ctmastery.com to enrol.
You can also join our Telegram community at https://t.me/ctmastery for more information.
---
Conclusion
This section concludes my FTX beginner's guide!
FTX is an innovative crypto exchange that is doing exceptionally well in the services that it provides.
When it comes to security and liquidity, FTX offers one of the best.
One of the aspects of this exchange that I must applaud is its promotional campaigns. No, doubt, this will reinforce the exchange's long-term growth!
I was able to attend one in Port Harcourt, Nigeria, and I can assure you that these guys know what they're doing.
Now, it is time to hear your thoughts.
What do you think about this exchange?
Is there anything else you'd like to ask regarding this exchange?
Please leave a comment in the space below.
Finally, click the Share buttons if you enjoyed the review! Cheers!