This post is a comprehensive review of the crypto trading bot.
Crypto bots are pieces of software that can be programmed to automate your trades.
Obviously, there is a lot of money to be made in the bitcoin market every second.
Many crypto traders, however, regularly miss out on these opportunities. Probably, because they were asleep or offline. 🤷 😔
For this reason, in this review, I'll show you how to automate your trades and make money even while you're sleeping.
Are you ready to learn? Let's get started!
---
Post Summary
This is what I will cover:
All set? Let's dive in!
---
What Is A Crypto Trading Bot?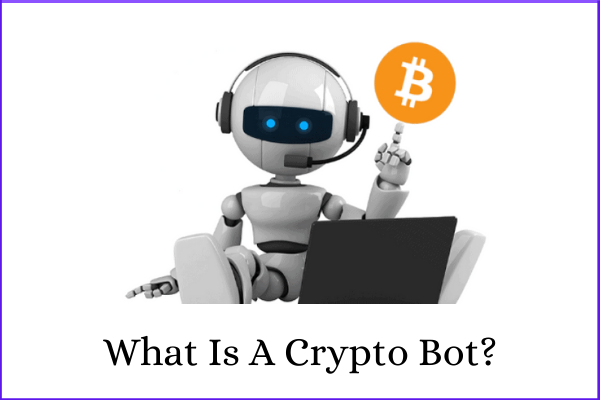 Crypto bots are computer programs that conduct trades on your behalf 24 hours.
Consider them a pre-programmed set of instructions that help you to buy and sell your crypto assets at the proper time.
They do it, though, by exploiting your encoded trading techniques to profit from the cryptocurrency market.
A cryptocurrency bot's primary function is to enhance your revenue, limit your losses/risks, and conduct trades in your absence.
Crypto trading bots are a highly profitable instrument for every cryptocurrency trader.
This is because they are quick to respond to market fluctuations, thus generating quick profit for you.
Let's talk about how crypto trading bots work. Scroll down!
---
How Do Crypto Trading Bots Work?
It is easy to use a crypto bot if you know the technicalities behind it.
First off, there are various kinds of crypto trading bots.
You can create one yourself if you are technically inclined.
If you are not, then you need to make use of the already existing ones. I will discuss them in a subsequent section.
The majority of crypto trading bots that you can find are open-source, while some are close-source.
And although some are free, others require payment.
However, cryptocurrency exchanges such as Binance, Gate.io, and Huobi already have a grid trading bot installed on their exchanges.
When you have gotten your hands on a crypto bot, the next step is to customize it to your preference. This varies depending on the bot, but it includes:
The bot type
Your crypto trading strategies
The cryptocurrency pair you want to trade, the exchange you want to trade and a lot more
Finally, when you have launched your bot to execute, it will actively monitor and will respond in accordance with the instructions that you have given it.
As an example, consider the following:
You instructed (programmed) your bot to; Buy 0.5 BTC once the price hits or falls below $30,000 and sell once it hits $32,000.
Once this condition is met, the bot will automatically execute this trade.
Before I forget, you also need to connect your bot to your crypto exchange using an API (Application Program Interface).
It is this API that allows your bot to trade systematically on a specific cryptocurrency exchange.
However, note that you do not need an API if you are using an exchange's bot.
This is because these exchanges provide trading bots as a service.
Continue reading by scrolling down to the next section.
---
Types of Crypto Trading Bot
There are various types of crypto trading bots. I'll include the most popular ones right below.
Grid Bot
DCA Bot
Arbitrage Bot
Coin Lending Bot
Options Bot
Profile-automation bot
i.
Grid Bot:
This type of bot makes it possible to automate Grid trading.
Grid trading is one of the most profitable trading strategies in a ranging market.
Crypto traders use this strategy to buy and sell their crypto assets at predefined price intervals.
Normally, manually implementing a grid trading strategy is difficult and time-consuming.
The grid bot, on the other hand, automates the entire procedure.
ii.
DCA Bot
DCA (dollar-cost averaging) bots automate the DCA strategy.
It is an investment technique that aims to reduce risk by purchasing digital assets at regular intervals.
Read up: What is Dollar – Cost Averaging (DCA)? | Why You Should Start Using This Investment Strategy
iii.
Arbitrage Bot
Arbitrage bots compare prices across exchanges and make trades to capitalize on price differences.
The price of a cryptocurrency typically changes slightly from exchange to exchange.
This is of significant benefit because bots like this move quickly enough to outpace exchanges that are slow to update their values, allowing you to profit.
Learn 👉🏻 How to Make Massive Profit on Bitcoin Arbitrage Trading on Luno and Remitano
iv.
Coin Lending Bots
Coin-lending bots streamline the process for persons interested in lending cryptocurrencies at favourable interest rates.
It helps to reduce the volatility of interest rates and borrowers' loan repayments.
v.
Options Bot
This bot assists you in automating your options trading to make it more user-friendly, efficient, and profitable.
See The 7 Best Binary Options Trading Platforms in Nigeria + Free Signal Provider
vi.
Profile-automation bot
This kind of bot, rather than automating your trades, assists you in creating and maintaining your perfect portfolio.
Having known the types of bots that you can create, let's go ahead and see the steps on how to create your own crypto bot.
---
Steps On How To Create Your Own Crypto Bot
These are the seven must-know tips if you want to build your own crypto bot from the ground up.
1.
Select a programming language.
The most often used languages for crypto bots are Python, Javascript, Perl, and C++.
The advantage of using such well-known programming languages is that they have been tested and proven.
2.
Get your exchange account and API ready
There are several cryptocurrency exchanges around the world.
Select the reputable ones and obtain their API.
Here are some of the crypto exchanges that provide API access to users.
Binance, Huobi, Bittrex, Poloniex, Coinbase etc.
3.
Have a bot type in mind
We will talk about this in the next section. Read on!
4.
Encode your Strategies
Your strategies will largely depend on the type of trade you want to make and the current market trend.
Some of these strategies are:
Bollinger bands, RSI, Scalping, Arbitrage, Momentum trading etc.
5.
Create your bot
When you have completed all of the above steps, the next step is to encode them into your bot.
This will, without a doubt, be the most time-consuming aspect of the procedure.
If you're working on a bot with other developers, make sure you have an open line of communication with them.
6.
Perform simulated trades with the bot
This is to ensure that your bot works properly and can handle the current market trend
7.
Launch your Bot
This simply means that you can now trade with your bot in real-time.
Scroll down to see the top 10 Crypto bots that you should start using right away!
---
10 Best Crypto Trading Bot And How To Create Them
These are already existing bots that you can start using right away.
Here you have them!
Click on any item and it will take you to where it is discussed.
a. RoyalQ
RoyalQ is a quantitative crypto trading bot that executes automatic crypto trading 24/7.
It is a configurable bot that trades on your behalf according to the instructions that you have given it.
RoyalQ is ideally suited for both professional traders and newbies.
It has a feature that allows users to Sync profitable crypto trading strategies from crypto experts.
RoyalQ does not only conduct profitable trades for you, it also has multiple earning strategies plus a passive income opportunity.
Features
– Quantitative Spot trading
– Mobile app
– Great UI
etc.
Supported Crypto
Exchanges
Binance
Huobi
Pricing
$120
Pros
– Great UI
– Allows Copy trading
– Multiple Earning Strategies
Cons
– It only supports spots
trading
– It only has a mobile app
Resource
How to create
RoyalQ bot
Visit Site
RoyalQ
b. 3Commas
3commas is one of the most well-known web-based cryptocurrency trading bots.
Yuriy Sorokin created it in 2017.
More than 20,000 users are trading with this bot.
On 3Commas, 1.2 billion deals have been executed, with an average monthly trading volume of $22.5 billion.
Find other features below:
Features

– 3 types of trade bots
– Crypto-Signals
– Mobile app
etc.
Supported Crypto
Exchanges
20 Exchanges
Click here to view.

Pricing

$0 – $49.5
(depends on
your plan)
Pros
– Great UI
– Allows Copy trading
– Active Customer Support

Cons

– Some countries
are not supported

Resource

How to create a
bot on 3Commas
Visit Site
3Commas
c. Cryptohopper
Cryptohopper is a cryptocurrency trading bot designed for experienced traders.
It was founded in September 2017 by Ruud Feltkamp.
Cryptohopper provides automatic trading and portfolio management for over 100 cryptocurrencies in real-time.
There are presently 403,069 users of this bot.
d. Wunderbit
This company was created in the Netherlands in 2017.
Wunderbit allows you to construct an unlimited number of cryptocurrency trading bots.
It also assists you in automating any TradingView scripts into a fully functional cryptocurrency trading bot.
Wunderbit Trading has over 15000 users and has recorded over $210m in 30-days trade volume.
e. BitUniverse
Jack Chen started Bituniverse in 2017.
It has 12 free in-built trading bots and is integrated with the Pionex cryptocurrency exchange.
Among other things, this bot allows you to automate five grid trading bots, such as; Margin grid, Reverse grid, Infinity grids etc.
It also allows you to track your balance and profit from exchanges and wallets automatically.
f. Zenbot
Zenbot is a command-line cryptocurrency trading bot.
It makes use of the Node.js and MongoDB programming languages.
The good news is that you can customize it to your trading preferences and use it on all major operating systems.
Features

– Powered by AI
– Open-source
Supported Crypto
Exchanges
Poloniex, GDAX
Gemini, Bittrex

Pricing

Free
Pros
-Very secure
– Supports
simulation
– Multiple strategies

Cons

– No UI
– Too technical

Resource

How to create
Zenbot
Visit Site
Zenbot
g. Trality
Moritz Putzhammer and Christopher Helf founded Trality in 2018.
This is an easy-to-use platform where both beginners and experts may create trading bots using a variety of techniques.
Trality has two unique features:
Trality Rule Builder – This does not require coding skills. Users can create bots using pre-defined strategies|technical indicators by simply dragging and dropping the UI.
Trality Code Editor — This requires coding skills. It is a browser extension that allows you to build bots in Python.
Features

– Cloud-based
– Drag-and-drop UI
– Python code editor
etc.
Supported Crypto
Exchanges
– Binance, Bitpanda
– Coinbase, Kraken

Pricing

€0 – €55.99
(depends on
your plan)
Pros
– User friendly
– Tracks trade volume

Cons

– Supports few
exchanges
– No mobile
app
– Copy-trading
is not available

Resource

How to create
a bot on Trality
Visit Site
Trality
h. Humming bot
CoinAlpha Incorporation established Hummingbot in 2017.
It is an open-source cryptocurrency trading bot that allows you to automate crypto trading on both centralized and decentralized platforms.
It uses a local software client architecture, which means that users have complete control over their bot.
Impressively, Humming Bot allows you to build a bot that provides liquidity to exchanges and receive rewards in return.
i. Binance bot
If you recall, I said earlier that certain exchanges provide trading bots as a service.
One of such exchanges is Binance.
Binance is the largest crypto exchange by trade volume.
It was founded by Changpeng Zhao in 2017.
Binance offers a futures grid trading bot.
Users can automate their trades by customizing their trading parameters to determine the upper, lower and number of grids.
j. Huobi Bot
This is another crypto exchange that offers a grid trading bot to users.
Huobi Global is ranked the 2nd largest crypto exchange by trade volume.
It is a blockchain and crypto exchange company founded by Leo Li in 2013
It is one of the very best exchanges that enables you to trade multi-cryptocurrencies with optimum advantage.
Take a look at the features of Huobi's trading bot below.
k. Gate.io
Gate.io was founded by Lin Han in 2013 as Bter.com.
It is an advanced crypto exchange that supports the trade of over 1000 crypto pairs.
It is also one of the largest crypto exchanges in the world by trade volume.
Gate.io offers a crypto trading bot for both Spots and Futures trading.
Find the features below!
That's all I've got for this part.
Next, we will look at the advantages and disadvantages of crypto trading bots.
Scroll down!
---
Pros And Cons Of Crypto Trading Bots
Pros.
Trading bots allow you to trade and profit from market trends 24/7.
Crypto bots make trades based on data rather than emotion.
It is more efficient in executing trades
It trades on your behalf, allowing you to focus on other critical tasks.
Bots provide a great opportunity to profit from quick market movements.
Cons.
Some are poorly coded, making them more vulnerable to hackers.
When dealing with a volatile market, crypto trading bots are not ideal.
They can't carry out trades independently (you need to monitor them once in a while)
They can make losses too.
Not suitable for newbies.
You have not read the FAQ section. Scroll down for more information!
---
FAQs
1. Are cryptocurrency trading bots extremely profitable?
Crypto trading bots can assist you in making better and more profitable trades while you are offline.
It is crucial to note, however, that crypto trading bots are essentially bits of software.
They can not guarantee a profit on any investment and they are not very useful in a highly volatile market.
They are also not crypto experts or gurus.
Crypto bots can only execute trades based on how you have programmed them.
2. Is it legal to trade with crypto bots?
Crypto trading bots are legal.
Some exchanges, however, do not support it.
3. Which is the best trading bot?
I've compiled a list of the most secure and profitable bots you'll ever come across.
The best trading bot, on the other hand, is determined by the type of trade that you wish to conduct.
Each of the bots listed in this post has its unique set of features and functions.
You should choose one that includes everything you need in one spot.
Binance, Bituniverse, Huobi, and Gate.io, for example, are excellent for grid trading.
You should also check out the bots' strategies and the exchanges it supports.
Inversely, you can design your own bot in whatever way you want.
4. How do I know if a crypto bot is secure?
Here are a few points to consider while choosing a bot:

1. Team Reputation – Conducting a background check on a team?
2. Support System – Does it have an active community?
3. Security – Is the bot secure? Check out the online review.
4. UI – Does the bot have a good UI?
5. Features: What unique features does the bot have?
---
Ps: If you want to learn how to trade cryptocurrencies profitably, we developed a perfect course to help you master Cryptocurrency Trading.
Go to www.ctmastery.com to enrol.
You can also join our Telegram community at https://t.me/ctmastery for more information
---
Conclusion
Crypto bots are an excellent choice to keep executing your trades profitably 24/7.
They also take away a lot of the stress that you would have had to deal with if you had to do everything manually.
However, crypto bots still have their flaws. and limitations.
So, there you have it.
What do you think about crypto bots?
Do you think you need to start using them now?
Which one on my list would you go for?
Have you used a cryptocurrency bot before? Tell me about your experience.
You can put your thoughts down in the comment box below.
Remember to share this article by clicking on your favourite social media icon below. Cheers!
---
Other interesting articles;