Have you been seeking a strategy to profit from cryptocurrency consistently?
Then, allow me to introduce you to RoyalQ a.k.a Royal Quantitative Robot.
RoyalQ is a cryptocurrency trading bot that has attracted a lot of attention due to its high profitability.
This bot gives you an exceptional opportunity to make a daily profit in crypto even while you sleep.
So, in this review, I'll explain what RoyalQ is and how to create a RoyalQ account so you can start earning a 15% – 30% monthly profit.
---
Post Summary
This is what I'm going to talk about:
You can click on any of the items, and it will take you to the section where I discussed it in detail.
Note:

We have created a special series just for the RoyalQ bot.

This is to give you the best understanding of how the bot works.

This is the first part of the RoyalQ bot series.

Make sure you keep an eye out for new series that will be published soon.
---
What Is The RoyalQ Bot?
RoyalQ is one of the prominent crypto trading bots that places orders and executes profitable trades on your behalf 24/7.
It was created by a group of Chinese software developers and crypto/blockchain experts.
Whether you're a crypto newbie or a seasoned pro, RoyalQ aims to help you build and grow your finance.
Now pay attention!
The cryptocurrency market offers a platform with virtually unlimited profit potential at any given time.
However, it is bound to be extremely volatile and unpredictable.
Furthermore, the crypto market does not have an opening and closing time, nor does it sleep; trades are conducted 24/7.
This means that as a crypto trader, you must stay up and alert at all times to keep track of the market's current direction.
That's almost impossible!
Of course, we are all human beings. We have other commitments to attend to, and our bodies, of course, require rest!
But what about a cryptocurrency bot that assures you never miss a trading opportunity?😚
That is exactly what RoyalQ was created for.
You see, all you have to do with this bot is give it a set of instructions, and it will begin trading profitably.
RoyalQ has grown in popularity, with over 200,000 active members as of September 2021.
If you're considering giving RoyalQ a try, stay with me as we continue our discussion in the next section.
---
How Does RoyalQ Work?
In this section, I will go through the basic information you need to know about the RoyalQ bot.
This is how RoyalQ works:
Activate the bot
Bind the bot to an exchange's API
Fund your exchange's account
Manage trade settings
Trade and make your profit
Find brief details on them below.
1. Activate The Bot
Firstly, RoyalQ has an annual subscription fee known as your "Activation Fee".
This implies that, in the same way, that you subscribe to your "GoTV" in Nigeria, your RoyalQ bot requires a subscription to function.
The activation fee was initially set at $100, however, on September 9, 2021, it was raised to $120.
Now, remember, this is a one-time subscription that will last for a year.
Another thing is that this payment is made in USDT on the Tron network (TRC-20).
2. Bind The Bot To An Exchange's API
Secondly, before an external crypto trading bot like RoyalQ can trade for you, you'll need to connect it to your exchange account via an API.
RoyalQ only supports 2 leading crypto exchanges API as of September 2021.
See the exchanges below.
This simply means that RoyalQ can only trade on your behalf if you have an account with any of these two exchanges.
I embedded a link on them so you can create an account with them right away if you haven't already.
3. Fund your Exchange's Wallet
Before you start up trading, you will have some USDT in your exchange's account.
You can do that by transferring funds from an external wallet to your exchange wallet.
You can also buy USDT via P2P on both exchanges.
4. Manage Trade Settings
On the RoyalQ bot, you can adjust trade settings to suit how you want the bot to trade for you.
For example, you can choose to trade once (One Shot) or trade repeatedly (Cycle).
Not only that, but you can also set the amount you want to trade with, your profit percentage, etc.
Note that RoyalQ does not have access to your trading funds.
It simply follows a set of instructions which you have given it to conduct trades for you.
Also, trading takes place only on your exchange account, not on the RoyalQ platform.
To put it another way, RoyalQ has no control over your trading money and is unable to withdraw your funds from your exchange account.
5. Trade And Make Your Profit
When you can trade and make your profit, you can choose to withdraw it or put it back into the trade.
Note that the bot charges you a 20% fuel fee on every profit you make.
So this is how the RoyalQ bot works.
As mentioned earlier, I just gave out the basics. You will get more details on the bot poco-a-poco as we progress in the series.
Next, I'll guide you through how to download and create a RoyalQ account.
---
How To Download And Create A RoyalQ Account
To use the RoyalQ trading bot, you must first sign up for a RoyalQ account.
Below is a step-by-step guide on how to download and create a RoyalQ account.
Download and install the mobile app from your phone's Google Playstore or App Store.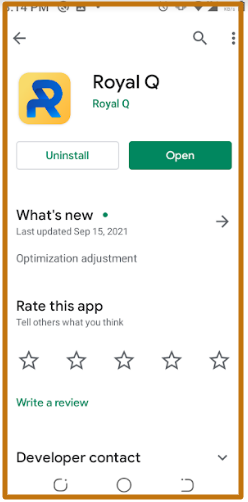 The interface will look like this, once you click "Open" click on "Register now".
Next, continue with filling in your details into the box provided, then click on "Register now" again.
Remember to use the code 3UXTV as your "invitation code".
At this point, you will be prompted to solve a reCAPTCHA before you could proceed to the next step.
Your account has been created successfully, you can now log into your account by entering your email and password.
That's how you create a RoyalQ account!
In the next series, I will teach you how to activate and bind RoyalQ to Binance and Huobi.
Let's meet in the next section. Scroll down!
---
FAQs
1. How much money do I need to get started with RoyalQ?
I would say you need around $190 to get started.
Let's do the calculation below:
RoyalQ activation fee = $120
RoyalQ trading fee estimation = $10 – $20
Keep in mind that these two charges will be transferred to your RoyalQ account and held in the RoyalQ team's custody.

However, you will also need a trading capital of about $50 (if you want to trade profitably).
Note that the trading fee is paid into your exchange account.
We will discuss this in detail in my next RoyalQ post.

2. Is RoyalQ Legit?
RoyalQ is a legit crypto trading bot. Let's look at why I said so:
1. RoyalQ is an algorithmic quantitative crypto trading bot and trades based on the set of instructions that you have given it.
2. It keeps your money in your exchange account, meaning you are in full custody of your money.
2. Unlike a scam bot, RoyalQ does not ask you to send your money to a strange
company address for a guaranteed return.
3. Many crypto traders already enjoying the benefit of using the bot
4. No user has complained about being scammed by the bot
5. It has an impressive star rating of 4.5 on the Google Play Store with good reviews from users.

However, the developers of RoyalQ are anonymous.
This does not make RoyalQ a scam. It only means that the creators of RoyalQ have chosen to remain anonymous.
Remember that no one knows who invented Bitcoin, and BTC has never been a scam.
3. What application does RoyaQ support?
RoyalQ is a mobile crypto trading bot.
This means that it can only be downloaded and used on your mobile phone.
---
Do you want to learn how to trade cryptocurrencies profitably?
We developed a perfect course to help you master Cryptocurrency Trading.
Go to www.ctmastery.com to enrol. You can also join our Telegram community at https://t.me/ctmastery for more information.
---
Conclusion
This brings my RoyalQ post for today to an end.
RoyalQ is a legitimate crypto trading bot with significant profit potential.
If you are looking to make money with cryptocurrency, RoyalQ is one of the best investments that guarantee you a real-time income stream.
It's now your turn to speak up.
What do you think about this bot?
Have you created a RoyalQ account?
Do you have other questions to ask?
Please leave them in the comments box, and I'll respond.
If you liked this post, share it with your friends by using the social media icons below. Cheers!
---
Other Interesting Articles: