This is an in-depth review of Huobi Global!
Huobi Global is ranked the 2nd largest crypto exchange by trade volume.
It is one of the very best exchanges that enables you to trade multi-cryptocurrencies with optimum advantage.
Best of it all, Huobi has impregnable security; the exchange has never been hacked before.
And in this review, you will find all you need to know about Huobi.
Let's dive in at once!
---
Post Summary
The list behind will be our guide to this review:
You are free to use the link embedded in each of the outlines to your advantage.
Let's get going!
---
Huobi Global Explained!
Huobi is a blockchain and crypto exchange company founded by Leo Li in 2013.
It is headquartered in Seychelles and is available in more than 100 countries.
Huobi offers an advanced platform where you can buy/sell, and trade a wide range of crypto assets.
Far from that, it also offers blockchain-based services including, public chain, mining pool, e.tc.
Huobi has a highly scalable trading engine, coupled with an intuitive UI, which makes it great for both newbies and expert traders.
It equally uses a range of security approaches and systems to protect users' funds from external exploitation.
Being wary enough, Huobi has set in place a "Users' Protection Fund" which will be used to reimburse users in the case of a potential security breach.
Impressively, Huobi has attracted over 4.5million users globally.
Let's talk about Huobi features below!
---
Features of Huobi Global
User-friendly UI
A host of cryptocurrencies
Plethora of services
Buy crypto with fiat
Crypto Earn
Native token
Advanced Security
Mobile App
Next are the products and services…read below!
---
Products and Sevices
Huobi offers the following services:
1. Buy Crypto
Huobi allows you to buy cryptocurrencies with fiat using the methods below:
Quick Buy/Sell: You can buy/sell up to 348 cryptos with 57 local currencies using different payment methods
P2P Market: Also, you can buy/sell 9 cryptos from other Huobi users with different payment methods
2. Market
This gives you an overview of all the supported cryptos and their trading pairs on the Huobi exchange.
It equally shows you the supported "Futures contracts", and the market trend.
Also, you will get to see the Price feeds, 24hr changes, and all other necessary information regarding individual cryptocurrencies.
3. Spot Trading
i. Exchange
This is the trading platform on Huobi that allows you to buy and sell your crypto for another crypto. This is done instantly, once your order is filled.
ii. Margin
On this trading platform, Huobi allows you to trade up to 500 cryptocurrencies with 3x leverage.
iii. Trading Bot
Huobi allows you to automate your trade using its grid trading bot.
In this way, the bot will trade and make a profit for you even when you are offline.
iv. Brokerage OTC
Here, you can exchange either your fiat for crypto or your crypto for fiat directly with Huobi. This service is under maintenance as of October 19, 2021.
4. Derivatives
i. Coin-margined Futures
This is where you trade the Futures contract of over 8 cryptos.
Huobi's Coin-margined futures are quoted in USD but settled in crypto.
Note that the contract here has an expiry date and it is settled Weekly, Bi-weekly, Quarterly, Bi -quarterly. Learn more.
ii. Coin-margined Swaps
This product is similar to the "Coin-margined product" we just talked about, but there are a few minor differences:
It offers more contract types ( over 50)
The contracts here have no expiry date
iii. USDT-margined Swaps
The two distinctions between "USDT-margined Swaps" and "Coin-margined Swaps" are as follow:
Contracts are quoted and settled in USDT
It supports more coins too
Huobi offers up to 125x leverage on Futures contracts, which is great, but keep in mind that futures trading is risky and using high leverage makes it riskier.
iv. D-Warrant
Huobi updated its "Options" product to "D-warrant", and it stands for "Derivative Warrant".
Similar to "Options", it is a contractual right to buy or sell an underlying asset at a specific price and date in the future.
D-warrant features 2 options trading products:
American Options
European Option Spread
Note: To trade Huobi's derivative products, you must:
Verify your account
Transfer the funds you want to trade with from your "Exchange Account" to your "Derivative Account".
5. Finance
i. Staking
You can earn good returns on your idle cryptos by depositing them into Huobi "Staking".
As of October 19, 2021, three crypto-assets are supported: SOL, XPRT, and CSPR.
ii. Primepool
Here, you lock up your cryptocurrency to earn a daily airdrop at a specified rate.
To participate, you need to join a package.
The product comes in so many packages that expire at a specified date.
However, you can withdraw your earnings at any time.
Note: The "primepool" packages may not be available at all times due to the nature of the product.
iii. Huobi Earn
Huobi Earning allows you to earn some passive income by subscribing to either:
Flexible Earnings: You can subscribe and redeem assets at any time
Fixed Earnings: You can subscribe and redeem at a fixed date and time
Upon clicking on this product, it will show you the APY you will earn for each coin that you subscribe to.
iv. ETH 2.0
Here, you can stake your ETH as BETH and earn 6% – 20% APY in return.
Note that the withdrawal of the BETH token is based on the development progress of ETH 2.0, which is expected to be 1-2 years.
v. Crypto Loans
This product allows you to deposit your crypto as collateral to borrow another crypto asset.
The lending term is 30, 45, and 90 days respectively!
6. Learn
This is the educational product on Huobi that allows you to search and learn everything about Cryptocurrency, Blockchain, and crypto investment.
7. Get $170
New Huobi users can get $170 worth of "point cards" (check the FAQ section) by completing certain new user tasks within 15 days.
The reward is redeemed within 30days after they have been credited to your account.
8. Huobi Pool
Huobi Pool offers users the opportunity to participate in staking pools, digital asset mining and other financial products. Check this out here!
9. Huobi Wallet
The Huobi wallet is a safe and secure non-custodial wallet that was created by the Huobi team to help users to manage their crypto assets.
It is simple to use and supports multi-cryptocurrencies.
Do note that Huobi equally offers an exchange wallet that supports all the cryptos listed on its exchange.
You will get to see the exchange wallet by clicking on "Balances" displayed on the upper right side of your Huobi account.
12. Huobi Ecochain
Huobi Eco chain (HECO) is the decentralized public chain of Huobi Global.
It allows developers to create and manage their Dapps efficiently and at a very low cost.
Huobi offers other advanced crypto-related products which we cannot all cover in this review.
I will be briefing you about Huobi native token below. Scroll down!
---
Native Token of Huobi Global
We have the HT token (Huobi Token) as the native token of Huobi Global.
Huobi token is an ERC-20 token. It launched in 2018 with a 500 million total supply.
However, at its initial stage, 300 million HT tokens were given as bonuses to users; for purchasing Huobi's Point cards.
The remaining 200 million HT tokens were kept aside, on a 1:1 ratio, for Huobi's team and the platform's management.
100 million HT tokens went to Huobi`s team, and another 100 million HT tokens went to the platform's managerial aspect.
The main purpose of creating this HT token is to serve as a users' incentive token and a fee reduction token.
Currently, the HT token powers the entire Huobi Global ecosystem.
Holders of this token will get a percentage deduction of their fees (the more HT tokens you hold, the more fee deduction you get).
By hodling this token, you can vote for a new token listing on Huobi.
Also, this token is given as a reward to users who participate in Huobi's finance and mining products.
Let's hit the next subheading
---
Supported Currencies and Countries
Supported Currencies
– Cryptocurrencies
Huobi supports over 350 cryptocurrencies.
Click here to see all the supported cryptos and their trade pairs.
– Fiats
Over 50 Fiats supported.
CNY, USD, HKD, VND, MYR, RUB, EUR, INR, TRY, UAH, KZT, TWD, KRW
AUD, CAD, SGD, GBP, PHP, CHF, NGN, IDR, KHR, BRL, SAR, AED, NZD
ZAR, NOK, DKK, SEK, ARS, THB, COP, VES, ALL, KES, BGN, PEN,CZK, HRK
HUF, MDL, MKD, PLN, RON, UAH, AZN, CLP, CRC, DOP, GEL, ILS, KZT, MAD
MXN, NAD, QAR, UYU, UZS
Note that NGN is only supported on the "P2P Market".
Supported Countries
Huobi is a global exchange and supports all other countries except:
Japan
United States of America
It does not also support the following countries for Futures trading:
Bangladesh, Canada, China, Cuba, Ecuador, Guam, Hong Kong (China), Iran, Iraq,
Israel, Kyrgyzstan, Macao (China), Marshall Islands, North Korea, Puerto Rico,
Samoa Eastern, Sudan, Syria, Taiwan (China), United Kingdom,
Next, we will look at the fees and payment methods on this exchange. Keep reading!
---
Fees And Payment Methods
Fees
i.Trading Fees
Huobi offers a basic trading fee of 0.2%. However, it offers a fee discount based on the following;
30 days trade volume
HT holdings
Point card holdings
See the trading fees at a glance!
Trades

Fee

Resources

Spot
0.2% – 0.098%
View more

Coin-margined Futures

Maker: 0.02% – 0.005%
Taker: 0.04% – 0.02%
Delivery Fee:
(BTC/USD) – 0.15%
(Others) – 0.05%
View more
Coin-margined Swaps
Maker: 0.02% – (-)0.010%
Taker: 0.05% – 0.037%
View More
USDT-margined Swaps
Maker: 0.02% – (-)0.010%
Taker: 0.04% – 0.021%
View More
ii. Transaction Fees
Deposit
0%
Withdrawal fee
For Crypto: Depends on the crypto
For Fiat: 0%
P2P fee
0%
OTC fee
0.70%

Loan Fee

0.098% – 0.0209%
Payment Methods
Over 55 payment methods are supported.
Bank Card, Alipay, WeChat pay, FPS, Paypal, Western Union, SWIFT
PayNow, QIWI, Interac e-Transfer, IMPS, UPI, NETELLER, Yandex, ADVCash
Cash Deposit, DuitNow, PayMe, PAYEER, Alfa-bank, Russian Standard Bank
VTB Bank, Tinkoff, Sberbank, MoMo, Zalopay, Grab pay, Privat Bank
Transferwise, SEPA, Raiffeisenbank, DUMB, ViettelPay, Touch n Go, Skrill
Revolut, PicPay, Perfect Money, PageSeguro, OTP, JKOPAY, Nequi, Movii…e.tc.
Scroll down to the next section!
---
Limits and Verification Requirements
Limits
i. Deposit and Withdrawal Limit
Limits

Fiat

Crypto

Deposit Amount
Min: depends on
the Fiat
Max: None
Min: depends on
the crypto
Max: None
Withdrawal Amount
None
Min: Dependent
on crypto
Max: 200 BTC
(per day)
ii. Coin Loan Limit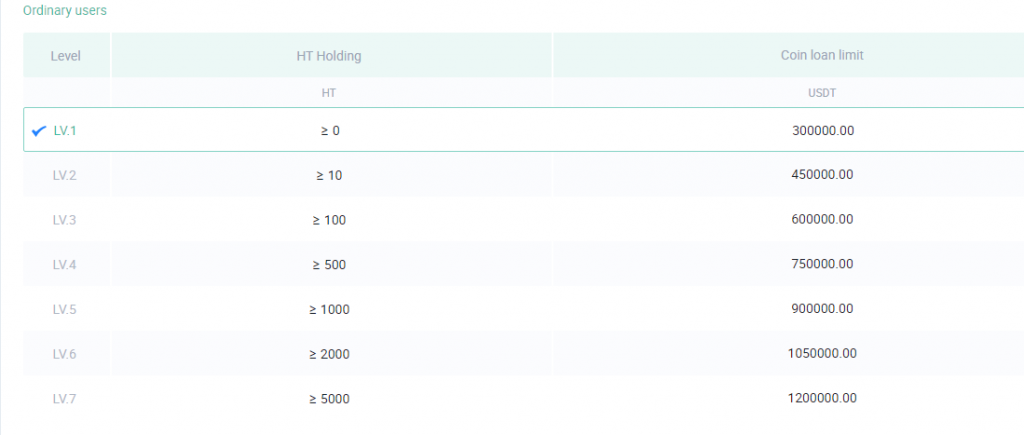 Verification Requirements
Before you start using this exchange, you must pass through verification.
Here are the verification requirements on Huobi:
Country
ID (Passport, National ID, Driver's license)
Full Name
Photo of ID
Note that you must verify your account before you can use Huobi's services.
You are still here? Alright!
Let's talk about Huobi's Support Service below.
---
Customer Support and Public Opinion
For complaints or issues regarding this exchange, you can reach out to them via:
Twitter: https://twitter.com/HuobiGlobal
Facebook:https://www.facebook.com/huobiglobalofficial
Telegram: https://t.me/huobiglobalofficial
Email: [email protected] or [email protected]
There is also a "Help Center" to guide you through some of the services provided on Huobi.
Based on my judgment, Huobi has one of the responsive client support systems.
This is my own opinion, based on Huobi's prompt responses to all of my inquiries.
Nonetheless, let's find what other users have to say about Huobi on the following platforms;
Huobi has a 2.1/5 star rating on Trustpilot, and customers have complained about the exchanges inconsistencies, which include,
– Not being able to make withdrawals
– Customer service challenge and the exchange's complicacy. Check out the review here.
Google Playstore: Huobi has a 3.8/5 star rating on this platform.
While some customers praised the exchange's mobile app for being secure and user-friendly, others pointed out issues that were identical to those mentioned in Trustpilot's negative ratings. Take a look at it here.
However, it is worthy of note this exchange has a 9.1/10 trust score,
and is one of the top Crypto Exchanges on CMC.
In addition, I have personally used this exchange and must state that it was a positive experience.
From my experience, Huobi is fast, seamless, and easy to use.
Note, however, that this is my own experience.
This is all I have for this section!
Scroll down, you will find how to use this exchange and many more in the FAQ section below.
---
FAQs
1. How do I start using Huobi?
To start using Huobi, you will need to register an account first.
Below is a step-by-step guide on how to do that.
1. Go to Huobi and click on "Sign up".



2. Fill in the "Create Account" box and click on "Sign up"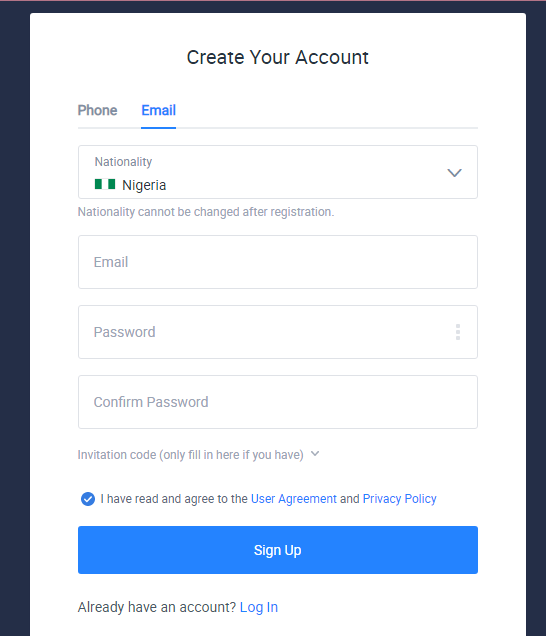 3. A verification code will be sent to your email, copy the code and paste it into the box displayed on the Huobi page screen.



4. Once you have done that, the code will "Confirm" automatically.
After then, you can now start with your "Welcome bonus" task and deposit funds into your account.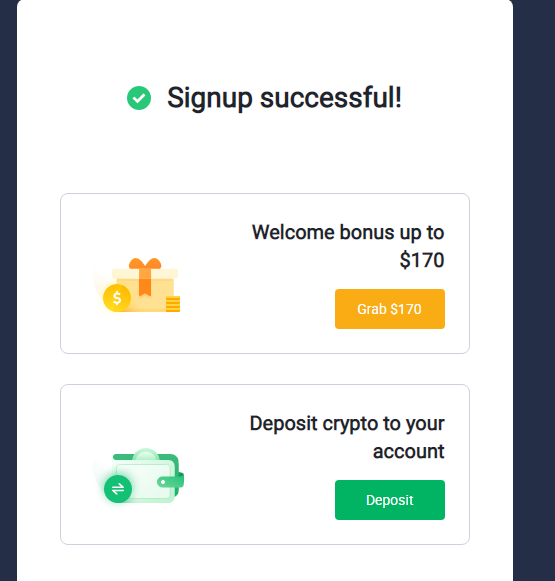 2. How do I deposit my coin on Huobi?
This simple guide will help you through:
1. Log into your Huobi account and click on "Balances" then on "Exchange Account"


2. Select the crypto you want to deposit and click on "Deposit".


3. The details about the coin you want to withdraw will get displayed, select the coin's "Chain" and click on "Send Deposit Address"


4. A message containing the deposit address will be sent to your email, If you have received the mail, click on "Confirm".


5. Shortly after, the deposit address will display on the Huobi page screen,  ensure that it tallies with the one sent to your mail.
After then, you can now copy the address to your wallet address or scan the QR code to make the deposit.


Note that the address shown on this post was only used for illustration – you should not send your crypto to the address displayed here (in this post).
3. How do I withdraw my crypto from Huobi?
1. Log into your Huobi account and click on "Balances" then on "Exchange Account"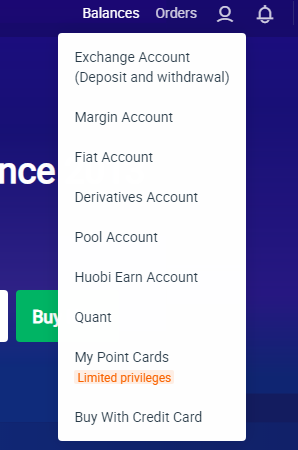 2. Select the crypto you want to deposit and click on "Withdraw".



3. Enter your withdrawal address, select "Chain", enter "Withdrawal amount" and click on "Withdraw".



Your coins will be sent to your wallet shortly after.

4. What is Point Card on Huobi?
It is a prepaid card offered on the Huobi exchange. It serves as a fee reduction point for users.  (1 point = 1 USDT fee reduction)
These Point cards are given as a reward to users for completing a task.
However, they can equally be purchased on the exchange.
5. Is Huobi Legit?
Yes, Huobi is safe.
Now, I have said this because of the points below;
– The exchange has stood the test of time (it has been in existence since 2013 despite the clampdown of other old exchanges that were launched the same year)
– It has a high trust score on CMC.
– Huobi has the 2nd largest liquidity and trade volume when compared with other crypto exchanges
– It is used by over 4 million users
– The exchange has never been hacked
– I have personally used this exchange and found it safe.

These are all I can say about Huobi's legitimacy.
Endeavour to DYOR before investing.


---
Ps: If you want to learn how to trade cryptocurrencies profitably, we developed a perfect course to help you master Cryptocurrency Trading.

Go to www.ctmastery.com to enroll.
You can also join our Telegram community at https://t.me/ctmastery for more information.
---
Conclusion
Huobi is one of the safe, secure, and top exchanges that has stood the test of time.
The exchange is everything that a crypto exchange would be with its wide range of services.
Moreover, it has superb customer support/relations; it takes users' matters seriously and responds to their messages without delay.
This is where I will end this article.
But what is your view about this exchange?
Do you still have a question about Huobi?
Drop your comment in the box below.
Remember to click the share buttons. Cheers!
---
Other interesting articles;