In this article, you will learn about one of the top crypto exchanges – Gate.io.
Gate.io is an advanced crypto exchange that supports the trade of over 1000 crypto pairs.
This exchange has one of the highest trading volumes on Coinmarketcap.
And hey! before I forget, you can make some passive income off this platform.
If you want to be in the know about this exchange then, let's dive right in!
---
Post Summary
Before I unpack all that I have for you in this post, here is what I intend to cover;
All set? Let's get started!
---
Gate.io (An Overview)
Gate.io is a subsidiary of Gate.io Technology. It is a crypto exchange founded by Lin Han.
This exchange launched in 2013 as Bter.com but rebranded to Gate.io in 2017.
It used to be a Chinese-based exchange providing fiat on-ramp services to users.
However, it has since shifted attention from China after the crackdown on crypto in the country and has been remodelled into a full-fledged crypto exchange.
Currently, this company is headquartered in George Town, United Kingdom, and it supports users worldwide.
Gate.io is one of the largest crypto exchanges in the world by trading volume.
It ranks 6th on CMC with a $906,089,293.66 trade volume as of Oct 13, 2022.
On this exchange; you can trade, borrow and lend crypto assets, participate in DeFi, and earn passively off your coins.
Apart from being a crypto trading platform, Gate.io is also a "Token Sale Platform" like Binance, OKEx, etc.
This simply means that crypto projects can host their ICO or IEO on its exchange.
You can now head over to the next section, where I will show you its features.
Continue reading!
---
Features of Gate.io
Intuitive UI
Advanced trading tools
Plethora of tokens
High trade volume
Super secured SSL Link
Offline Bitcoin Wallet Technology
Low Fee
Mobile App
Sub-account
See why you need to trade on Gate.io 👇 .
---
Products and Services
There are tons of cryptocurrency-related products and services offered on this exchange. I will exhaustively discuss them below.
i. Buy Coins
This is a newly launched product on Gate.io that allows you to buy cryptocurrency with fiat from three different options.
It allows you to buy cryptocurrencies like BTC, ETH, BNB, SHIB, and +100 others from a third-party channel using your credit/debit card.
This option also lets you buy +100 cryptos from a third-party channel through a bank transfer.
Fiat Currency Transaction
This is the P2P section on Gate.io.
Here, you can easily buy USDT, BTC, ETH, and DOGE from fellow traders at zero transaction fees and with multiple payment choices.
ii. Quotes
This shows you all the cryptocurrencies available on this exchange and their current prices.
It also gives you an overview of the state of the general crypto market.
iii. Trades
The following are available under Gate.io's "Trades" product.
This is where you exchange your crypto asset for another – Say you placed an order to buy or sell 1INCH for your BTC.
Here, you are borrowing additional funds from Gate.io to perform your trade.
Gate.io offers up to 10x leverage on Margin.
Note that this type of trade can amplify both your profits and losses.
This is where you trade ETFs. ETF simply stands for Exchange Traded Fund.
Gate.io allows you to trade, leveraged, combined, and inverse ETFs.
More so, it supports up to 143 ETFs. Impressive!
This lets you instantly swap your crypto for another one.
This is the "Token Sale Platform" of Gate.io.
You can participate in any of the ongoing ICO by clicking on the image of the token and following the instruction that follows.
iv. Derivatives
A perpetual contract is a type of futures trading with no expiry date.
Gate.io supports three types of Perpetual contracts – BTC Settled, USDT Settled and USD Settled.
This is basically a time-bound futures trading contract. Contracts are settled Quarterly, Weekly, and Bi-Weekly.
Learn more about futures trading here.
This is options trading, where you gain the contractual right to buy or sell an underlying asset at a specific price in the future. Find more details here.
This is a contract that allows you to predict the market trend of a crypto asset in the future (whether Bullish or Bearish). Read more here.
v. Finance
Gate.io offers the following services under Finance:
Financial Management

Wealth Treasure: Here, you can earn passively by staking any of the supported crypto assets for a predetermined time. For instance, you earn USDG when you stake your GT tokens for 7 days.
Structured Finance: Gate.io offers all forms of shark fin products here. Shark fin is a low-risk, principal-protected investment that pays interest to investors regardless of the market direction. Learn more.
Fixed Investment Wealth Management: This is a dollar-cost averaging (DCA) product on Gate.io. It is one of the very best investment strategies in crypto that allows you to buy a fixed amount of crypto-asset periodically.
Currency Management: This is where you lend your crypto assets to margin traders and earn interest in return. You can withdraw your interest after 10 days.
Loan

Mortgage Loan: Here, you lend a certain cryptocurrency (let's say EOS) as collateral to borrow another crypto (say BTC). However, your collateral must be up to 70% of your borrowed amount. The loan obtained must be repaid before or after the duration of 10 days.
Margin Borrowing: If you wish to top up your trading capital, Gate.io allows you to borrow any of your desired crypto assets with either BTC or USDT. Note that you need to, first of all, deposit your BTC or USDT to your Margin wallet/account before you can borrow.
Mining

Yield Farming: Here, you earn passively by staking your coins to the following yield farm pairs: ETH/BTC, ETH/BTC, and SUSHI/ETH
Lending and Mining: This is very similar to the "Yield Farm" product we discussed above. The difference is that here you can earn passively by adding liquidity to over 70 liquidity pools that are not paired.
v. Copy Trading
Gate.io is one of the exchanges offering copy trading.
The only thing you have to do to copy trade is to look through all of the expert traders' success rates and copy the trader that appeals to you.
Conversely, if you're an expert trader, you can apply to become a "signaler" and start earning commission from traders who copy your trade.
vi. NFT
NFT has been a buzzword! Looking to invest in NFT? Gate.io's NFT marketplace is the perfect place.
Its NFT marketplace features the NFT collections of different verified artists.
In addition, you can buy a fractional NFT of Mutant APe Yacht Club.
Having completely discussed the products on this exchange, we will talk about its native tokens below.
Scroll down!
---
Native Tokens of Gate.io
Gate.io has 2 native tokens that aid in the smooth running of the platform.
Gate Token (GT)
This token is an ERC-20 token and it powers two ecosystems of Gate.io:
Gatechain: Just as ETH is used to pay for gas fees on the Ethereum blockchain, the GT token is likewise used to pay for network fees, and also for POS mining on Gatechain –the public blockchain of Gate.io.
Gate.io Exchange: Here on Gate.io, the GT token is used to pay trading fees at a discount rate.
It also serves as the currency that permits a user to participate in any activity carried out on the exchange including Vote Campaign, HODL & Earn, e.tc.
Initially, the total supply of this token was 1 billion. However, the team behind it implemented a buy-back and burn function to their coin some years later.
This led to the subsequent Coin burn of the GT tokens (as you will see here). As of May 2021, the total supply of this coin has reduced to 3 million.
USDG
USDG is a USD stablecoin managed by Gate.io.
It is interoperable with the Gatechain and Ethereum blockchain.
Gate.io users can swap their USDG for another stable coin on S. Finance.
They can also earn this token by participating in Gate.io HODL and Earn products.
These are the two tokens of this exchange…
Meanwhile, scroll down to the next section… I will take you through the Supported Currencies and Countries.
---
Supported Currencies and Countries
Supported Currencies
Cryptocurrencies
Gate.io supports over 600 cryptocurrencies with over 1000 trading pairs; including ETFs.
I have a list of some of them here:
BTC, ETH, BNB, GT, USDG, XRP, DOGE, LTC, PIG, DOT, SHIB, ADA, CHR
FUN, EOS, BCH, FIL, SUSHI, AKITA, ZEC, ETC, MATIC, AAVE, UNI, HT, FEG
CRN, TRX, BSV, ASS, DOGGY, XVS, 1INCH, PLNL, KSM, XCH, TBT, SOL, ICP
ONT, ATOM, JGN, SAFEMARS, DASH, POLS, BAKE, QTUM, BTM, SXP, FTT
AVAX, ZKS, VET, ERG, SAFEMOON, CSPPR, LUNA, NEO, LION, RED, DODO
TWT, GRIN, CHZ, AE, DAO, FTM, XLM, CAKE, THETHA, ANKER, REEF, RNDR
XTZ, AQT, ZEN, BCN, DBC, PERI, KFC, CRT, NEAR, BTC3S, ETH5L.MKR3L e.t.c
Fiat
It supports 80+ fiats including:
USD, NGN, UGX, CNY, EUR, CHF, JPY, AUD, BRL, ZAR, NOK, THB etc.
Supported Countries
Gate.io supports over 180 countries. Find some of the supported countries in the table below!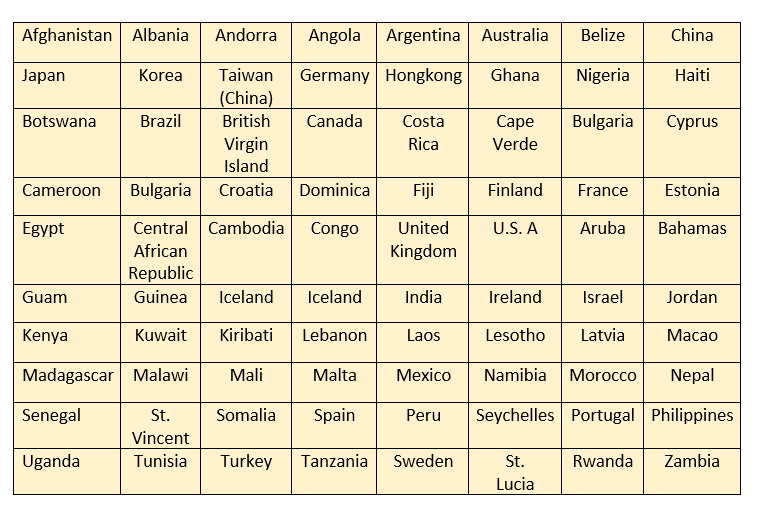 ‍The following is the list of countries that are NOT supported on this exchange:
Washington State ( U.S. A)
New York ( U. S. A)
Cuba
Iran
North Korea
Sudan
Syria
Pakistan
The Government of Venezuela
Crimea
Next, we will look at the fees and payment methods for this exchange. Keep reading!
---
Fees And Payment Methods On Gate.io
Fees
Buy Coin Fees

Credit Card – Depends on the third-party used
Bank Transfer – Depends on the third-party used
P2P – Zero fees
2. Trading Fees
**As of the time of writing this post on Oct 13, 2022, Gate.io offers zero fees on spot, margin, leverage tokens, perpetual contracts, and delivery contracts.**
3. Deposit and Withdrawal fee
Deposit Fee
For ERC20 USDT and OMNI USDT:
$20-$50
Other Cryptos:
0%
Withdrawal fee
Dependent on
crypto
4. Crypto Lending Fee
| | |
| --- | --- |
| Tiers | Fees |
| VIP 0 | 18.0% |
| VIP 1 | 17.1% |
| VIP 2 | 16.2% |
| VIP 3 | 15.3% |
| VIP 4 | 14.4% |
| VIP 5 | 13.5% |
| VIP 6 | 12.6% |
| VIP 7 | 11.7% |
| VIP 8 | 10.8% |
| VIP 9 | 9.9% |
| VIP 10 | 9.0% |
| VIP 11 | 8.1% |
| VIP 12 | 7.2% |
| VIP 13 | 6.3% |
| VIP 14 – 16 | 5.4% |
Payment Methods
Cryptocurrencies
Credit/Debit Card
Bank Transfer
Scroll down to the next section!
---
Limits And Verification Requirements
Limits
Limits
Unverified Users
Verified Users
Deposit Amount
(Crypto)
Min: 0.0001
Max: None
Min: 0.0001
Max: None
Withdrawal Amount
No
withdrawals
Min: Dependent
on crypto
Max: $100000 –
$5,000,000
(per day)
Verification Requirements
The verification requirements on this exchange are not that tedious. Here they are:
Country
Full name
Identity document (National ID, Driver's License, Passport)
A picture of yourself holding your passport and a note with your gate.io account ID
Note that you must complete your verification before you can trade or withdraw from this platform.
Hope you are still here. Good!
Now, let's head straight to Gate.io's Support and reviews!
---
Customer Support
Support Ticket: https://support.gate.io/hc/en-us/requests
Email: [email protected] or [email protected]
Twitter: https://twitter.com/gate_io
Telegram: https://t.me/gateio
Biyong:https://0.plus/gate_io
You can also make use of the "Help Centre" or the "C2C guide" on the website.
We are almost close to the end of this post.
Scroll down. I answered some of your questions about this exchange.
---
Frequently Asked Questions (FAQs)
1. How do I register an account with this exchange?
Follow these steps:
1. Go to Gate.io and click on "Sign Up"



2. Fill in the registration form and click on "Next".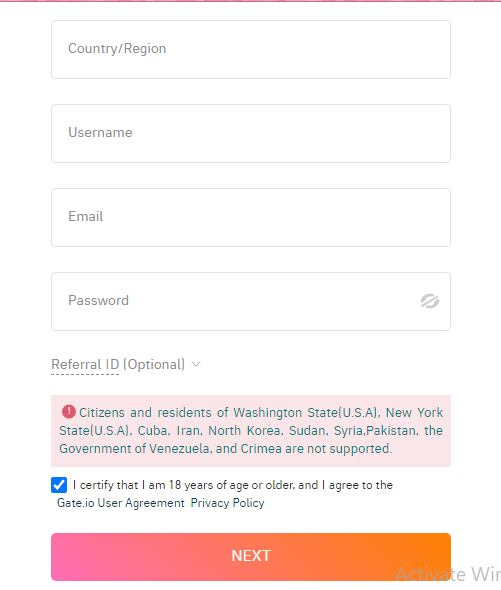 3. Enter your "Fund Password" and click on "Create account".


3. A verification email will be sent to your email address. Click on the link and activate your account by entering your email address and password again.

Congratulations! You now have a Gate.io account.
2. How do I deposit funds into my Gate.io wallet?
Here is a quick step to guide you through:

1. Log into your Gate.io account, navigate to the "Wallet" section and click on "Deposit".


2. On the "Search box", type in the crypto asset you want to deposit. (Remember to select the right "Chain"; for crypto that has multiple blockchains.


3. Once you are done with the step above, a "QR code" and a "Deposit address" will display on your screen.


4. Send the coin to the address by scanning the Qr code or pasting the address to the wallet you wish to send from.
And that's it!
3. How do I withdraw my funds from Gate.io?
This is an easy step on how to:
1.Log into your Gate.io account, navigate to the "Wallet" section, and click on "Withdraw".


2. On the "Search box", type in the crypto asset you want to deposit. (Remember to select the right "Chain" for cryptos that exist in multiple blockchains)


3. Enter your wallet address, write a short description, and then enter the amount you wish to withdraw.


4. You will find your fee already displayed on your screen. Enter your "Withdrawal password" and click on "Send Email code".


5. A Withdrawal code will be sent to your email. Copy and paste it into the "Email code" box. Click on "Submit Request"


It is that easy 🙃
4. Is Gate.io Safe?
I will say yes based on these points:
1. It has a high trust score rate on CMC
2. It secures users' funds with a cold storage wallet and Super secured SSL
3. It is one of the top exchanges with high trade volume (this shows that the exchange is a big one and it is trusted by many users)
4. It has been in existence since 2013 and has a known a founder
5. The team behind it is also very active on their social media platforms.
6. The exchange accepts a wide range of cryptocurrencies and has continued to list promising altcoins such as Tenset.
See How You Can Earn Up to $300 for Participating in Gate.io AMA Tenset

However, this exchange has been hacked in the past; when it was Bter.com.

Nonetheless, I suggest you DYOR before investing!
---
Conclusion
Gate.io is one of the top exchanges where you can trade multiple cryptocurrencies with advanced trading tools.
Most of its services are designed to give you the best trading experience. No doubt!
Here is where I will draw the drapes close for this review.
But what is your view about this exchange?
Do you still have a question about this exchange?
Drop your comment in the box below.
Feel free to click on the Share buttons! Cheers!
---
Other Related Articles: