Today's review is on Roqqu, a Nigerian based cryptocurrency exchange.
Roqqu exchange came aboard as one of the local cryptocurrency exchanges in Nigeria since 2019.
With Roqqu, you have one of the fastest and most secure ways to buy more than 7 cryptos or convert them to Naira in your bank account.
If you wish to learn more about Roqqu and the services that they offer, then, you should join me as I take you through this post.
---
Post Summary
I would walk you through the following sub-headings;
Now, let's head straight to the main post. Enjoy!!!
---
1. Roqqu Overview
Roqqu is a Nigerian crypto exchange and payment gateway that launched in July 2019.
The exchange is located in Lekki, Lagos state, and was co-founded by Uche Nnodim, a young Nigerian entrepreneur.
Roqqu offers brokerage services and assists Nigerians in making worldwide payments seamlessly.
It also integrates a bill payment processor that allows users to pay electricity, TV bills and more at their convenience.
Since launched, Roqqu has been able to process over $20 million transactions and currently has over 250,000 users.
For more information, keep reading!
---
2. Features of Roqqu Exchange
Below are the features that make Roqqu outstanding;
Instant buy and sell order
Crypto Payment Gateway
Mobile App
Highly Secure
Fast and Reliable
Active Customer Support Channels
Next is the Roqqu services, Keep reading!
---
3. Product And Services Offered
Roqqu offers the following services;
Roqqu Instant Buy/Sell Crypto
Wallet
Bill Payment
For Business
Savings
– Roqqu Instant Buy/Sell Crypto:
Roqqu provides one of the fastest means of buying and selling 8 cryptocurrencies with good experience.
The processes involved in carrying out this transaction are very simple (Roqqu designed its user's interface for everyone to easily navigate).
Your buy and sell power largely depend on your level of verification. (I will discuss this later in this post).
Roqqu's major aim for this service is to help crypto hodlers to make a profit through arbitrage trading.
– Wallet
Roqqu has an exchange wallet that enables you to store, receive, send, transact crypto worldwide, and make other payments online.
The exchange provides wallet for all the supported cryptos.
– Bill Payment
From Roqqu wallet, you can make these local online bill payments;
Paying of electricity bill
TV subscription
Topping up your phones and Data purchase
– For Business
"For Business" menu that you see on Roqqu covers the area of payment gateway services.
As a payment gateway, Roqqu helps businesses in Nigeria to accept payment made in cryptocurrencies across the continent.
The payments can be withdrawn in crypto or converted into naira and transferred directly into users local bank in Nigeria.
With this service, Roqqu hopes to increase the number of businesses accepting crypto in Nigeria.
However, this service is not yet functional.
– Savings
This feature allows Roqquians to lock their USDT for some time and earn a specified ROI.
In the screenshot below, you will find the percentage of profit that you can earn depending on the duration that you have chosen.
Let's keep digging!
---
4. Supported Countries And Currencies
Countries Supported:
Roqqu operates only in Nigeria.
Supported Currencies:
Currently, Roqqu supports these 8 cryptos and 1 stable coin;
BTC
ETH
USDT
XRP
EOS
TRON
BNB
HIVE
STEEM
Supported Fiat: only supports NGN
Having put you through this far, let's now look at Roqqu fees and payment methods.
---
5. Transaction Fees and Payment Methods
Fees
Here, I will give you all the fees that you have to keep in mind when you want to perform a transaction on this exchange.
The fees that are charged in Roqqu are;
Send and Receive Fee
Deposit, Buy/Sell Fee
Withdrawal Fee
Let's check out their fees in the table below;
Send Fee

BTC……..0.00015 BTC
ETH…….. 0.00 0.001 ETH
Other listed cryptos have 0% send fees.

Receive Fee

0%

Deposit Fee

1.4% and capped at NGN2000
Buy/Sell Fee
2%

Withdrawal Fee

To bank account—0%
To crypto wallet—-2%
Payment Methods
Next, I will be taking you through the limits and verification. Continue reading!
---
6. Limits And Verification Requirements
Limits
Roqqu has transaction limits for both deposit and withdrawal. Also, a verified user has a better advantage over an unverified user.
Get the breakdown of the limits below;
Verified Users

(Unlimited Deposit/ Withdrawal)
Min: NGN500 (per transaction)
Max: NGN1,000,000 (per transaction)

Unverified Users

Deposit/ Withdrawal limit per day:
Min: NGN500
Max: NGN20,000
Verification Requirements
These are the verification requirements;
Name
Email
Mobile no
BVN
Date of Birth
Taxpayer ID
Government ID
For more information on Roqqu…keep reading!
---
7. Customer Support And Public Opinion
There are so many ways that you can reach out to the team or find answers to your queries.
On the website, you can go through their FAQ section, Knowledge base, or send a support ticket via the support channel found on your dashboard.
You can also send a mail using this email address [email protected] or contact them through these mobile numbers and social media handle;
+(234) 906 167 7506
+(234) 813 713 7638
https://twitter.com/roqqupay
Roqqu has a poor review on Trustpilot and on Facebook too. It seems their customers are not satisfied with the services that they receive.
Well, this is something most new exchanges experience as the team is still trying to set things up properly.
However, the team at Roqqu are working tirelessly to attend to all the issues raised.
Let's quickly see the next subheading.
---
8. How to Buy Crypto On Roqqu
I will give you 7 steps on how to get your cryptos instantly on Roqqu. Let's go!
Step 2: Once signed up, click on "Buy/Sell" displayed on your dashboard.
Step 3: A buy sell page will pop up, click on "instant buy"
Step 4: Select the crypto that you want
Step 5: Select the currency you are paying with and enter the amount of crypto that you want to buy, then, click on "proceed with purchase".
Step 6: On the "Confirm purchase" page, click on "Accept"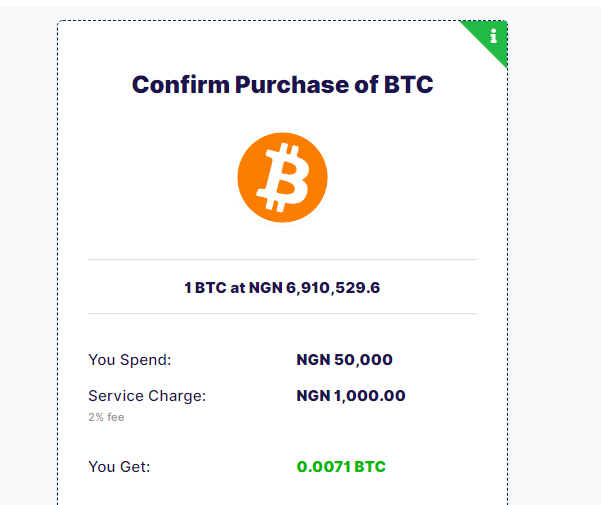 Step 7: On the "Purchase Successful" page, click on "Go to wallet". You will then be redirected to Roqqu wallet with your crypto credited to your wallet.
That is it on how to buy crypto on Roqqu Exchange. To learn how to make other payments and withdrawal, click here.
Hope you stick around for the next subheading!
---
9. Comparing Roqqu With Similar Exchanges
Roqqu Vs Patricia
Patricia is a broker exchange that launched on 16th August 2017.
It was founded by Fejiro Hanu Agbodje and is registered with the CAC in Nigeria(RC No.: 1484208)
Both Patricia and Roqqu were created to foster crypto adoption in Nigeria and Africa at large.
Like Roqqu exchange, Patricia allows users to pay bills on their platform.
However, Patricia offers more services than Roqqu as it allows its users to buy/sell more than 35 gift cards.
Furthermore, the exchange offers debit cards that allow their customer to withdraw their funds from any ATM and carry out crypto transactions.
To learn more about Patricia, click here.
Roqqu Vs Truexgold
Truexgold is a Nigerian exchange that launched in 2011 by Mr. Ikenna Ogbaraegbe.
These two are broker exchanges based in Nigeria and both support only NGN as the only fiat currency.
However, Truexgold has some unique advantages over Roqqu.
Asides from being older, Truexgold users can buy digital currencies such as Perfect Money, Neteller, etc from the platform. It also provides more payment options.
However, unlike Roqqu, Truexgold does not provide services for online bill payment.
Here is a link to our Truexgold review.
---
10. FAQs
Can I add more than one bank account on this exchange?
You can register up to 5 bank accounts on the platform.
To do this, go to "settings" on your dashboard and select your bank preference from the already listed supported banks on Roqqu.
Note: Ensure that your username on Roqqu is the same as the name(s) on the bank account(s) you intend to add. This will enable you to add your bank account(s) seamlessly.
Is it safe to give Roqqu my BVN?
Yes, it safe to give Roqqu your BVN.
Roqqu requires it to verify your identity and bank account details.
They will never have access to the monies in your bank account except for your name, phone number, email address and date of birth

Should I trust Roqqu/ Is Roqqu Scam?
Roqqu has been in the crypto industry for more than a year now, has a known co-founder; Uche Nnodim, and is registered on Namecheap.
These 2 factors show a level of credibility on the part of the exchange as it differentiates the platform from other scam sites.

Within its short time of existence, Roqqu has processed over $20million worth of transactions and has over 250,000 users.
This, also, is a good thing as it shows the platform has gained the trust of many users.

However, always DYOR before going ahead with any investment in the crypto-verse.
---
11. Conclusion
Having said it all, I will now have to put an end to this review here.
But what do you think?
Do you think that Roqqu is worth a trial afterall?
For Roqquians, what has been your experience using this platform?
What other coin would you love Roqqu to list?
Hit me up in the comment section below so that we will rub minds together.
Finally, remember to share this post with your friends on social media. Cheers
---
Ps: If you want to learn how to trade cryptocurrencies profitably, we developed a perfect course to help you master Cryptocurrency Trading.
Go to www.ctmastery.com to enrol.
---
Also Read;