In today's post, I will be carrying out a review of Patricia (and hey, it's not that lady you know).
The Patricia here is a cryptocurrency exchange that was founded in 2017. You might have heard @lasisielenu talking about it.
It is a simple, safe, and secure platform that provides alternative solutions through the use of digital currencies and gift cards.
In this most complete review, you will learn all that Patricia offers and how to use the platform.
Ready to go? Good….Let the learning process begin!
---
Post Summary
To ensure that you will follow through with the discussion of today, I arranged the thought flow in this way:
To view full details of any subheading, just click on it.
Let's get to the first subheading at once.
---
What is Patricia?
Patricia is a broker exchange that was launched on 16th August 2017.
It was founded by Fejiro Hanu Agbodje and is registered with the CAC in Nigeria(RC No.: 1484208)
The exchange is headquartered in Lagos State, Nigeria but has offices in Ghana, UAE, and China.
With ease and convenience in mind, Patricia allows its users to pay bills and even recharge their phones on its platform.
You can also buy and sell a variety of gift cards (up to 38) seamlessly.
In all, Patricia seeks to create a perfect market that will further usher the African continent into the digital era.
This, it intends to achieve, with the multiple services it provides and an experienced team working that works tirelessly.
Now that is who Patricia is.
Below, you will find the unique features of this exchange.
Just scroll down.
---
Unique Features of Patricia
Great UX
Best rates in the market
An extra layer of security
Live Chat
Mobile app
Multiple assets support
Fiat and Bitcoin wallets
Instant transactions
Virtual and physical debit cards
Next, I will take you through the products and services of this exchange.
Let's go check it out.
---
Products and Services Offered by Patricia
Patricia offers the following:
Buy/Sell Gift Cards
Buy/Sell digital currencies
Refill
Patricia debit cards
Find their details below.
1. Buy/Sell Gift Cards
You can buy and sell more than 30 gift cards on Patricia including:
Steam
iTunes
Amazon
Google
Apple Universal
Hotels.con
G2A
Find in the table steps to take to either buy or sell gift cards.
Steps

Sell Gift Cards

Buy Gift Cards

1.
Sign up with Patricia or log into
your account if already
signed up.
Sign up with Patricia or log into
your account if already
signed up.
2.
Click on 'Gift Cards' from the
dashboard and select the card
you want to sell.
Fund your fiat wallet and
then click on 'Products'
from the menu.
3.
Select the country/currency
of the card that you want
to sell.
Select 'Gift Cards', choose
'Buy Gift Cards' and then
select the card to buy.
4.
Select the type of card
(physical, large, or e-codes)
and enter the total value
of the gift card.

Select the country/currency,
choose the amount/quantity
that you want to buy. The
amount you will pay is displayed.

5.
Upload the card(s) and await a
notification for confirmation.
Click on 'Buy Now' and follow the
instructions displayed.
NOTE:
A Physical card simply refers to any gift card with a picture. The value of each must not be above $100. If >$100, upload as a Large Card.
A Large card is any physical card that its value is more than $100 i.e $101 – $500.
E-codes are cards that are traded with just the redemption codes. Simply put, it is just the digits of the gift card without the picture.
The average confirmation time is 15 – 30 minutes.
2. Buy/Sell Digital Currencies
On Patricia, the digital currencies that are available include Bitcoin, Perfect Money, and PayPal.
To buy, sell, send, or receive Bitcoin, find steps on how to do that in the table below.
Steps

Buy

Sell

Send

Receive

1.
Fund your
fiat wallet

Click on 'Sell'

Click 'Send'

Click 'Receive'

2.

Click 'Buy'

Input amount
in BTC or USD
Input username
or mail(for a
Patricia user) or
paste external
wallet address.
Copy BTC address
or scan QR code.
3.
Input amount
in BTC,
USD, or in
your fiat
currency.
Review and
authorize
transactions
Input amount
in USD.
Send BTC address
to other party.
Send email
or username for a
Patricia user.
4.
Review and
authorize
transactions
Receive expected
funds in your
fiat wallet.
Review and
authorize
transaction
to send
BTC out.
Receive BTC in
your wallet.
To buy Perfect Money, you need to provide your Perfect Money account ID which will be verified and your Perfect Money will be sent to it instantly.
For PayPal, if you want to process a transaction, you are required to provide the team with the amount you want to trade.
You will be notified if the exchange has PayPal for such amount available before you can proceed.
3. Refill
Here, Patricia, just like Bitrefill, makes it easier for its users to pay bills from their BTC or fiat wallets.
What it does here include:
Airtime and data subscription – You can do this for your MTN, GLO, Airtel, and 9Mobile lines.
Cable TV/Internet subscription – DSTV, GOTV, and StarTimes.
Electricity bills – Both prepaid and postpaid bills can be paid conveniently with no extra charges.
Educational bills – You can purchase WAEC registration and result pin from Patricia.
Airtime to cash – Here, you get to resell the airtime you don't need for cash.
4. Patricia Debit Cards
Here, the exchange offers virtual and physical cards.
Virtual Card
With Patricia's virtual card, you can withdraw funds from any ATM and carry out online transactions.
How this works is that you get to create a card of your preferred currency and amount. Then, you can use it for transactions online.
As Patricia user, you can create as many virtual cards as you want.
However, every time you request for a virtual card, there is a charge attached.
Physical Card
Patricia's physical card is Africa's first card that allows you to carry out crypto transactions.
It is secured with chip and pin technology to conveniently pay for goods and services.
The card is accepted by all payment channels and banks in Nigeria.
There are 2 options for the physical card delivery for the users.
They can either:
● have the card delivered to them at home, or
● walk into any of Patricia's experience centers to pick up the card.
Currently, the exchange has experience centres in 2 states – Lagos and Edo.
NOTE: The card services are available for Nigerians only(as at the time of this post). However, the team is working hard to ensure that users in other countries can access this service.
That's it for the services.
Moving on now, I will be providing you with information about the supported countries, assets, and payment methods.
Keep reading.
---
Supported Currencies, Countries, and Payment methods
Currencies
Bitcoin
PayPal
Perfect Money
USD
NGN
GHS
AED
Countries
As at the time of this post(September 2020), Patricia is operational in these countries:
Nigeria
Ghana
United Arab Emirates
China
However, plans are in place to expand its services to other countries.
Payment Methods
Bank transfer
Mobile money(Ghana)
---
Fees, Limits, and Verification Requirements on Patricia
Fees
Transfer between Patricia wallets – $2
Transfering to external wallets – $5
Deposit – 0% (A stamp duty of 50NGN that is charged by the bank)
Withdrawal – 100NGN
Limits and Verification Requirements
Levels
Requirements
Max. amount for
Withdrawal
1.
Email address
1,000NGN
2.
BVN Verification
2,000,000NGN
3.
Government-issued ID
5,000,000NGN
4.
Bank statement or
Utility bill(electricity,
waste,water, internet
bill)
50,000,000NGN
**Ghanaians are not required to provide anything for verification as they are not included in the process.
**For Deposits, there are no limits to the amount of funds you can deposit.
---
Customer Support on Patricia
The team at Patricia can be reached via the following means:
Live Chat
hello@patricia.com.ng
support@patricia.com.ng
Twitter – https://twitter.com/PatriciaSwitch
Facebook – https://www.facebook.com/patricia.com.ng/
Queries sent via mail takes more than 24 hours (even days) before they are attended to.
For the Live Chat, you find mostly the bot pushing out suggestions to you.
Even when you choose to be referred to an agent, the agents are not always available (takes up to 30 mins to 3 hours before questions are answered).
This sort of takes the 'live' out of the Live Chat.
I believe the team will need to do more in this aspect.
I answered some FAQs about Patricia below. Let's check them out.
---
Frequently Asked Questions(FAQs)
How do I start up with Patricia?
To start using Patricia, you have to do the following:
1. Visit the platform, fill in the required details, and click Signup.


2. An email is sent to you. Click on 'Confirm Email Address' to confirm your email.


3. A dialog box appears. Select your country and enter your phone number. Click on 'Send Code'.


4. A confirmation code is sent to your phone number. Input the OTP and click 'Confirm'.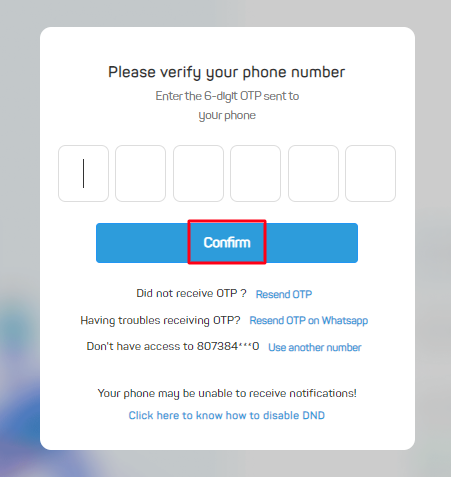 5. This confirms your phone number and takes you back to the sign-in page. Provide your details and click on the Sign-in button.


6. This opens up to your dashboard. You can now go ahead and fund your wallet to carry out transactions.
Is it safe to give Patricia my BVN?
The BVN (Bank Verification Number) is a number that unifies the bank accounts of a user in Nigeria. It was introduced by the Nigerian Banks to protect customers from identity theft and fraud.
It is mandatory for anyone who wants to have a bank account and can be likened to the Social Security Number in the USA.
To answer the question, YES, it is safe to give your BVN to Patricia.
This is required to protect you against identity theft and ensure that your account is safe and secure.
Besides, Patricia or anyone cannot gain access to your bank account information through your BVN.
Again, the exchange stores personal information such as the BVN in a secure, encrypted form that can only be accessed by authorized personnel.
Is Patricia a legit platform?
Patricia is an exchange that has been in operation since its inception in 2017(that's 3 years and counting which is a good sign in the crypto-verse).
It is a registered company in Nigeria and has a known owner; unlike most scam sites that are plagued with obscurities(which is also a good sign).
For the 3 years that it has operated, there has not been any news of it scamming anyone at all online.
This goes a long way to prove the transparency of this exchange.
Also, the CEO, Fejiro Hanu Agbodje, was among the top CEOs who just bagged an award in the Next Bulls awards.
However, always DYOR before making any solid investments in the crypto-verse.
---
PS: If you want to learn how to trade cryptocurrencies profitably, then enroll for our Crypto Trading Mastery Course by going to www.ctmastery.com. You can also join our Telegram community at https://t.me/ctmastery
---
Conclusion
This brings us to the end of this review.
While at it, I took you through the Patricia exchange explaining how it works and what is required to use it.
Now, I want to hear from you:
Have you used Patricia before? How did it go?
If you are yet to sign up, which of the services will you check out first when you do?
What fave coin of yours will you want Patricia to list?
Considering the rapid growth of the platform(having set all these in place in less than 3 years), do you see the platform emerging as the king of crypto exchanges in Nigeria?
Or perhaps you still have a question bugging you?
Let me know all about it in the comment box below.
And having learnt about Patricia, do well to spread the knowledge using the share buttons below.