The discussion today rallies around Stebab Xchange, a cryptocurrency exchange.
Stebab Xchange is a broker exchange that was launched in 2017.
It buys all volumes of Bitcoin and other altcoins at the best rate in the market.
It also ensures an easy, fast, and safe transaction of your coins.
In today's review, you will learn all about its service, supported countries, and every little detail you will need to know before setting out to use this exchange.
So if you are ready to go on this Stebab journey with me, fasten your seat belt for take-off.
It promises to be an educative and interesting journey.
---
Stebab Xchange Review Summary
To be sure our Stebab journey is going to be a smooth one, the following subheadings will steer our discussion as we journey on:
Clicking on any of these listed points displays its details.
Now, the journey begins in earnest.
You brought something to jot down points with, right? Very good.
Bon voyage!
---
What is Stebab Xchange? – A Brief Overview
Stebab Xchange is owned by Aluko Stephen, a renowned crypto trader and one of the originators of Alpha Training lab – a fast-growing Nigeria Cryptocurrency trading Community.
Stebab Xchange is located in Ibadan, Oyo State, Nigeria.
This broker exchange was founded in 2017 but launched its website in 2020.
It specializes in buying all volumes of Bitcoin and other altcoins at the best rate in the market.
Stebab Xchange ensures all transactions are swift and secure and has successfully completed thousands of transactions over the years.
Despite being located in Nigeria, the exchange transacts with sellers all over the world and pays into Nigeria bank account(s).
The team at Stebab Xchange are working relentlessly to expand its services to all the states in Nigeria and to the world at large.
That is it on the overview of Stebab Xchange.
Next in line is the unique features of this exchange.
Scroll down to see that.
---
Stebab Xchange Features
Swift transactions
Best rates
Great user interface
Instant payment
Increased security
Multiple coins support
24hrs support system
There you have the distinct features of this exchange.
The journey is becoming interesting, right? Told ya it would!
I will be moving on to the next section to talk about the service Stebab Xchange offers.
See you there.
---
Products and Services on Stebab Xchange
As at the time of this post(July 2020), Stebab Xchange offers just one service – Sell Bitcoin.
This simply means that you can ONLY SELL your Bitcoin and other cryptos to Stebab Xchange for Naira; you CANNOT BUY from it.
To do this, you have to follow these 5 simple steps: I included a 10 mins video of how to sell bitcoins on Stebab Xchange in case you choose to watch that instead.
Step 1:
Go to stebabxchange.com and click on 'Sell Bitcoin'.
Step 2:
Copy the wallet address provided(underlined in red) to transfer Bitcoin from your Bitcoin wallet on any platform to Stebab Xchange's wallet.
Step 3:
Upon successful transfer of coins, fill the 'Transaction Form' and upload the screenshot detailing the transfer transaction.
Click on 'Send Transaction'.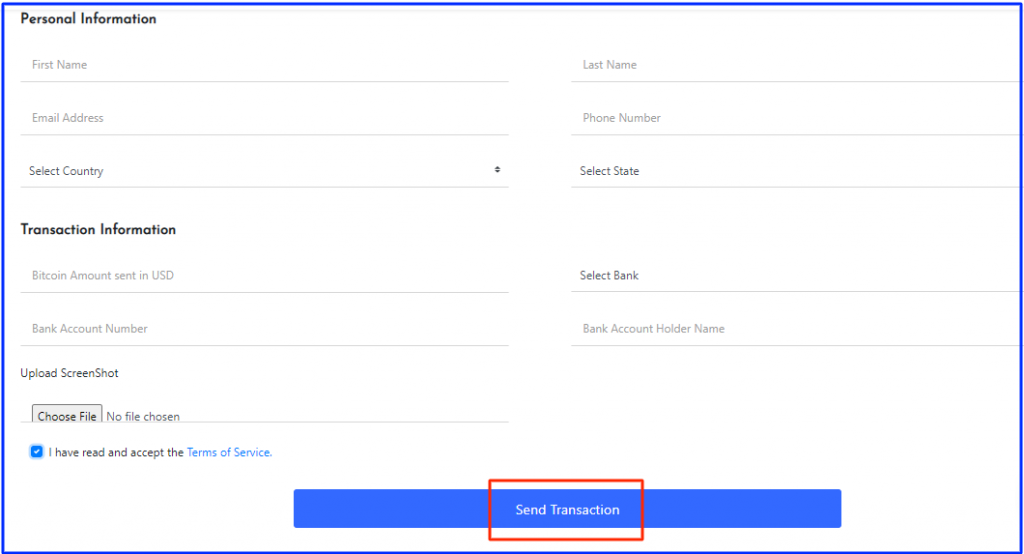 Step 4:
Confirmation email would be sent to your mail to confirm receipt of coins after at least one confirmation on the blockchain.
Step 5:
Acknowledge receipt of payment as the Seller's account would be credited in minutes after coins have been received and confirmed.
N.B: Those that will be interested to sell other altcoins or sell in bulk can chat up the Stebab Xchange team via the Live Chat or WhatsApp for negotiation.
That's it on the service Stebab Xchange provides.
I hope that seat belt is still fastened? We still have other things to cover.
In this next section, you will find out the supported countries, currencies, and payment method on Stebab Xchange.
---
Supported Countries, Currencies, and Payment Method
Countries
Users from up to 290 countries in the world can access and transact on the Stebab Xchange.
But at the moment( July 2020), all payments are made in Nigerian Naira.
Some of the supported countries include:
Nigeria
United States
South Africa
Algeria
Ghana
Zimbabwe, etc
Currencies
Bitcoin (BTC)
Ethereum (ETH)
Litecoin (LTC)
Ripple (XRP)
Tether (USDT)
Nigerian Naira (NGN)
Payment Method
The team at Stebab Xchange pays the Sellers via Bank Transfer.
What this means is that every Seller will have to provide a Nigerian Bank account to be able to receive payment.
The Seller's account is credited as soon as the coins are received and confirmed (at least one confirmation on the blockchain).
The journey is now very interesting, right?
Having seen the supported countries, currencies, and payment method, let's go on to find out the fees, verification requirements, and limits.
Just scroll down.
---
Fees, Verification Requirements, and Limits on Stebab Xchange
Fees
At Stebab Xchange, there are no fees.
Yeah, you heard right…NO FEES!
The only thing you get to pay is the Network Fee which is charged, not by Stebab Xchange, but by the blockchain.
Now, isn't that sweet?
Verification Requirements
Again, NONE!
You don't even need to sign up with the exchange or do any form of KYC before using the exchange.
The only time you get to provide some personal details is when you are filling the transaction form.
There, you will provide your account details to receive your payment.
Limits
The minimum amount of Bitcoin you can sell to Stebab Xchange is $250 worth of Bitcoin per trade.
There is no maximum amount you can sell per trade.
Note that the $250 limit applies ONLY to Bitcoin. For the altcoins, there are no limits.
Having listed the entire details here, let's move on to the next point.
For the next section, we will be looking at the exchange's Support System.
Does the team reply to queries?
Find out below.
---
Stebab Xchange's Customer Support and Public Opinion
The team at Stebab Xchange can be reached via a very active Live Chat on its home page.
I say 'very active' because queries are answered immediately they are sent.
It has an FAQ page where most queries that users may have were answered.
You can also reach the team via:
WhatsApp – +234 8136184782
Email – [email protected]
Facebook – https://www.facebook.com/Stebabexchange/posts
Instagram – https://www.instagram.com/stebabxchange/
I found no reviews online about this exchange probably because its website was launched this year.
However, there are screenshots of completed transactions on its Instagram page.
Moving on now, let's look at some commonly asked questions about this exchange.
Don't worry, we are rounding up now.
---
Frequently Asked Questions(FAQs)
Can I use the exchange if I don't own a Nigerian bank account?
No, please.
This is because there will be no way to send your payment since the exchange makes payments in NGN.
Will Stebab Xchange send a refund when I send cryptos to a wrong wallet address?
Not at all.
Stebab Xchange will not be held responsible for coins sent to a wrong wallet address.
Always ensure that you copy the correct wallet address.
Can I negotiate the rate for bulk coins?
Yes, you can do that by contacting the support team.
Is it safe to give out my personal details to Stebab Xchange?
When the exchange collects your personal data through its site, it does that on a secure server.
Details collected are encrypted using Secure Socket Layer (SSL) coding.
While this may not guarantee 100% security, it makes it hard for a hacker to decrypt your details. 
Can I schedule the time for the exchange to send my payment?
Yes, you can do that.
After successfully submitting the transaction details, you can send a mail specifying when you want the payment to be made.
Is Stebab Xchange legit?
Stebab Xchange is an exchange where you can sell your Bitcoin and other altcoins.
It can be said to be legit because it:
– has a known owner
– has a defined service that it offers
– has started up the process of getting accreditation from the CAC in Nigeria.
So far, there has been no report of fraudulent activities though it just launched its website in 2020.
However, I advise that you also carry out your own findings before going ahead to make any investments.
---
Conclusion
Yass… here is our final stop. Told you we will be rounding up soon.
As you loosen the seat belt now, let's take a quick stock of our journey.
So far, we looked at:
an overview of Stebab Xchange
its features and service
the supported currencies, countries, and payment method
fees and limits
how to contact the team, and
some FAQs
It has been a jolly-educative journey and I am sure you took notes.
But before we get to the notes, let me know your thoughts regarding these:
Have you used Stebab Xchange? How did it go?
What other service(s) will you want the team at Stebab Xchange to include?
Looking at the coins supported, which fave coin of yours will you love to see listed on the exchange?
And back to the notes you took:
Do you have any questions for me?
Or perhaps, you will like to drop a comment?
Whichever way, let me know about it in the comment section below.
Don't forget to give this post a share; it would make my day if you do.
The share buttons are right below.
---
Read also: