The crypto world experienced a "red wave" with the recent FTX collapse, probably one of its most dramatic events in recent times.
A crypto billionaire worth over $16 billion saw his wealth evaporate.
Solana lost over 60% in value in just a day. FTT nearly bled to death. Bitcoin, Ethereum, and every other crypto also took the heat.
What happened? The second biggest crypto exchange, FTX, became insolvent and collapsed. Most people consider this to be bigger than the Luna Crash.
The loss is massive for those currently holding crypto and those unable to withdraw their money from FTX.
But what really went wrong? This is the Story of how CZ Binance crushed SBF.
Read on!
---
Post Summary
---
A Background Story Of FTX And Binance
The FTX crash resulted from the actions of two crypto billionaires: Sam Bankman Fried (aka SBF), the CEO of FTX, the world's second-largest crypto exchange, and Cz Binance, the CEO of Binance, the world's largest crypto exchange.
CZ founded Binance in 2017, and it quickly became the largest exchange in the world, surpassing existing exchanges like Coinbase and a host of others.
Also, in November 2017, SBF founded Alameda Research, a quantitative trading firm specialising in cryptocurrencies.
Its strategies included arbitrage, market making, yield farming, and trading volatility.
The company was so successful in generating millions of dollars that in 2019, SBF decided to go into the crypto exchange business and founded FTX.
Liquidity and market-making are two significant challenges for new crypto exchanges.
Gladly, SBF had Alameda to provide this, so he grew FTX rapidly to become the second-largest crypto exchange in the world in just about 2 years.
But you see, SBF wasn't yet content; he wants FTX to be the world's number one crypto exchange.
This is where the story gets interesting—and, frankly, reckless!
---
---
FTX And Binance Clash: What Went Wrong?
SBF's strategies to make FTX No. 1 were as follows:
Make friends with the US government.
Propose regulations that put FTX in favour of the government at the expense of other exchanges.
With these, he proceeded. He leveraged US Politics and made friends in Washington.
Something he knew CZ Binance, a Chinese Canadian, couldn't do, as he implied in this tweet.
This was his first assault. At that time, there was escalating animosity between the US and China.
Obviously, he is aware that CZ was born in China and that there have been rumours of Chinese involvement in Binance.
But that wasn't all; SBF donated $5.2 million to the Biden presidential campaign, making him the second-largest donor.
He gave more than $40 million in total during the 2021–2022 US political cycle.
Once he made friends in Washington, he pushed his DCCPA bill for crypto regulations. He aimed to achieve two things with this bill:
Regulate DeFi. This undermines the entire concept of Defi. It also got lots of negative reactions from the crypto community.
Present FTX as the most regulatory-compliant exchange, handicapping every other exchange, including Binance.
If the bill gets approved, FTX could easily become the No. 1crypto exchange in the world.
This, however, made him enemies within the Defi community and among centralised exchanges.
Perhaps if something goes wrong, no one will come to his aid.
Also unknown to SBF, the perfect opportunity for CZ to attack was around the corner.
* DCCPA means Digital Commodities Consumer Protection Act. 
---
The Unexpected FTX Collapse | How It All Started
Things turned sour for FTX after Coindesk released an article about the Alameda Research Balance Sheet. Remember Alameda? SBF's first company.
According to the article, Alameda Research has $14.6 billion in assets against $8 billion in liabilities.
This is not an issue until you look at some of the assets held:
$5.7 billion in FTT
$1 billion in Solana
$134 million in USD and over $2 billion in other equities.
Your attention at this point should be on FTT. Alameda Research was holding over $5.7 billion in FTT in its asset column.
However, because the FTT token is not liquid, even selling $100 million worth of it would cause the price to plummet.
Let alone $1 billion worth of the token, there won't be buyers for it. So, in the real sense, Alameda has more liabilities than assets.
This balance sheet also brought on some suspicion;
The Terra-Luna Crash took down some lending and trading companies e.g Celsius, Blockfi, and 3AC;
Could it be that the reason why Alameda didn't go down with Celsius and others was that FTX bankrolled it with FTT?
If that is the case, then it provides a perfect opportunity for Binance to attack a sparring partner.
Since Binance was an early investor in FTX, holding $2.1 billion's worth of FTT.
Plus, FTT is the native token of FTX and its utility is only within the FTX exchange.
So, any dumping move by Binance may cause problems for FTX. Oops!
---
---
How Binance Crushed SBF And FTX
CZ Binance devised 2 game plans to defeat FTX:
i. Activate Sell Pressure
Activate a selling pressure on FTT; this would crash the price, leading to a decline in the value of Alameda's asset column.
If the value goes below its liabilities, Alameda would liquidate.
ii. Activate Bank Run
Since Alameda is an FTX sister company, its liquidation would lead to a bank run on FTX, possibly leading it to insolvency.
Below is exactly how it played out.
The Attack!
CZ took to Twitter and made this tweet.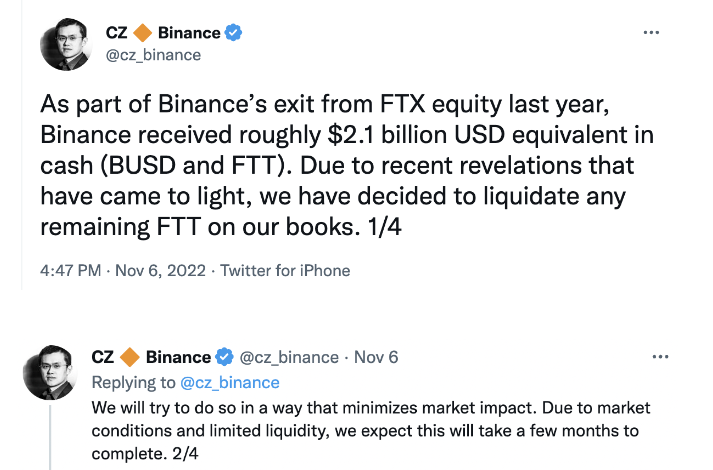 It is obvious that CZ wasn't trying to minimise the impact.
Sell pressure has been activated! At this time FTT was trading at $25.
Alameda can do two things here:
Count its losses or
Try to salvage the situation.
The risk here is that if they try to salvage the situation and fail, they would be losing more money.
This is because they would have to sell off their other assets to buy the FTT being sold. However, they chose to go with the latter
Caroline, the CEO of Alameda, dropped this tweet in response to CZ Binance.
However, CZ decided he would stay on the open market.
And what came next was his confirmation of a "whale alert," as seen in the tweet below. Over $584 million worth of FTT. Yikes!
He also dropped another tweet, which reads:
CZ accomplished three things with this tweet.
SBF has been lobbying against other industry players in Washington.
Binance is liquidating FTT, so if you are a holder, you should be selling right now.
Comparing Luna to FTT is a signal to go get your money out of FTX, thus activating the intended bank run.
To salvage the situation, Alameda sent over $257 million USDC to FTX to start cushioning the selling pressure.
You can see in the chart below that Alameda defended the price of FTT around the $22 mark for about a day before it came crashing.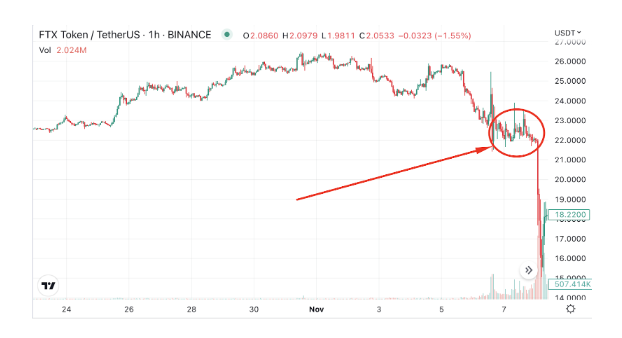 However, the price of Solana started crashing immediately, suggesting that Alameda might have been selling SOL to defend FTT.
The next day, SBF sent out the tweets in the slideshow below in an effort to salvage the situation, which he later deleted.
Despite this assurance, the selling pressure continued; the FTT price broke the $22 support and fell to $15, $4 the next day, and is currently (Nov. 2022) below $2.
This officially signals that Alameda has been crushed.
And for FTX, in just two days, more than $5 billion in cryptocurrency was taken out of the exchange. What the__?
As a result, it ran out of funds, ceased processing withdrawals, and eventually collapsed.
So kudos to CZ; his game plan was accomplished.
Owning Up To The Defeat
A few hours later, SBF, accepting defeat, bent the knee to CZ with the tweet below.
*DD – Due Diligence
CZ responded by tweeting that he has signed a non-binding contract to acquire FTX.
The tweet positioned CZ as a saviour for FTX and expressed the hope that users would not lose their funds to bankruptcy.
However, the hope was dashed into thin air 24 hours later when CZ announced in a tweet that he wasn't acquiring FTX based on due diligence.
It was also revealed that FTX owed customers over $3 billion.
Two days later, SBF filed for bankruptcy for FTX, FTX US, and Alameda.
Hmm! The truth is, if you haven't withdrawn your money from FTX before now, there is probably little chance you will ever get it back.
---
Was It All Binance's Fault? | What We've Learned
I do not think the FTX fiasco was entirely Binance's fault; here are my 3 takes on this:
First is justifying the situation from Patrick Hillmann's tweet, which reads:
Some red flags have been showing before now, which signaled that there was some shady internal show going on inside FTX and Alameda

In August 2022, the co-CEO of Alameda resigned handing over to Caroline Ellison
In September of the same year, the president of FTX resigned.
They probably saw that SBF was not playing by the rules and chose not to be a part of it.
FTX has no reason not to be able to process a customer's funds. It shows that they mishandled customer funds.
If I put my money in an exchange, I am only expected to pay transaction fees when I trade.
If my money is exchanged for collateral or lent, that is fraud because I did not sign up for that.
Lessons Learned
It is sad that some people have lost their money on FTX.
This reminded me of Mt. Gox, which did a similar thing in 2014.
Crypto has evolved sufficiently for this to occur again.
The phrase "not your keys, not your crypto" remains valid, now more than ever.
Do not leave a large sum of your money in an exchange, get a hardware wallet if you don't have one.
Here is also a tweet from CZ, which happens to be one of the lessons from the FTX debacle.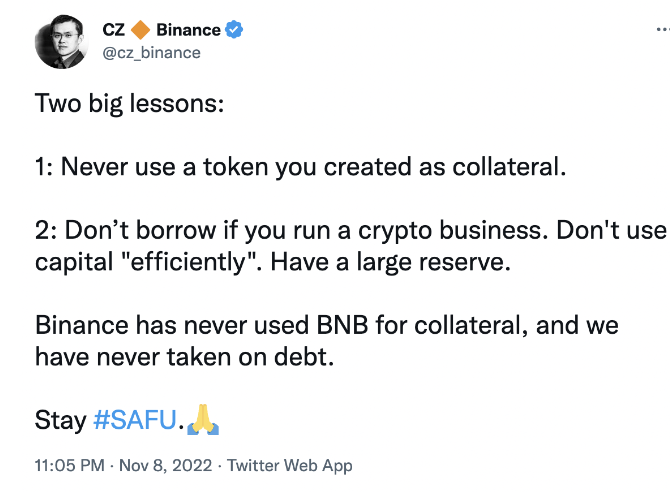 ---
Heads up!!!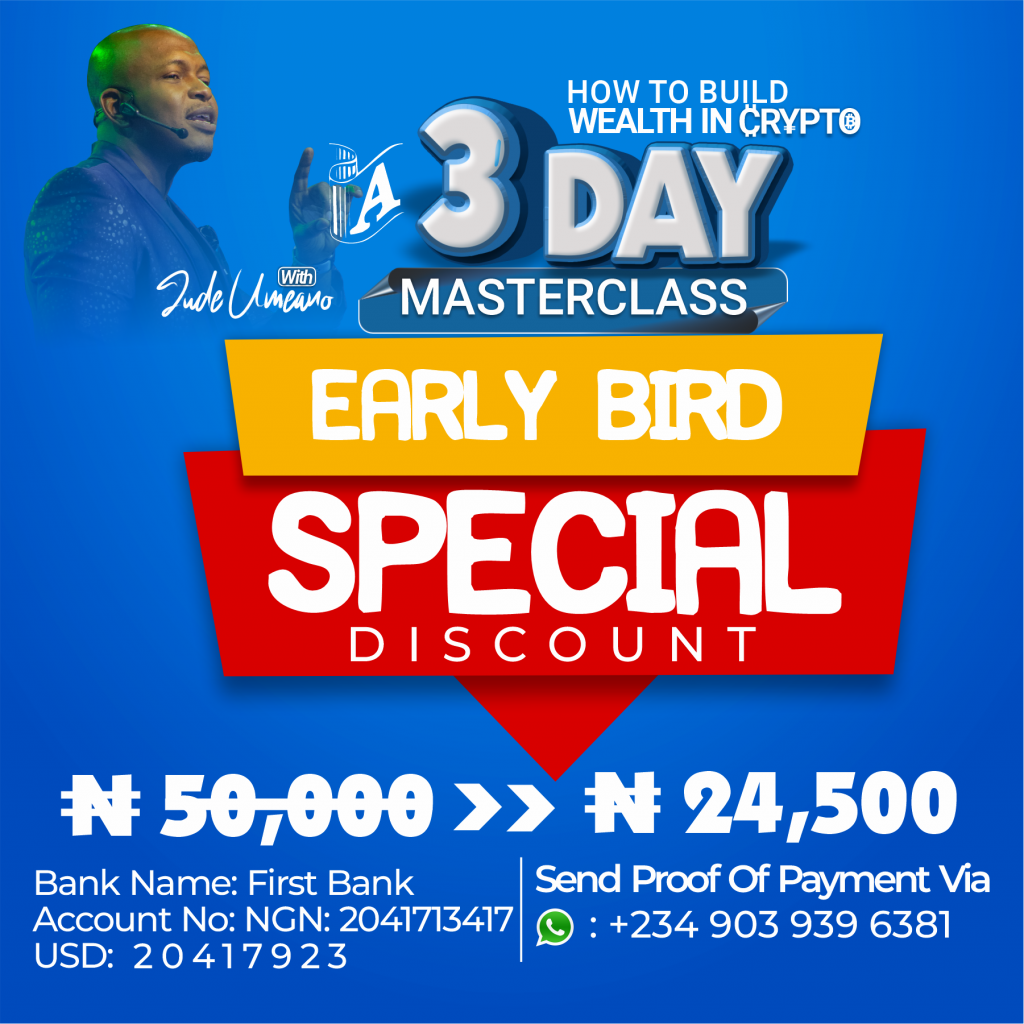 Here's a lifetime opportunity to learn how to build wealth in crypto from the crypto millionaire himself. Don't miss it for anything. Click on this link to register: https://masterclass.ctmastery.com/
---
Conclusion
We have reached the end of this post.
The sad thing about this story is that the fall of SBF's empire tainted the entire crypto market.
As a result, speculation is making the rounds that the crypto market might experience severe conditions in the future.
The topic around the FTX saga has been the crypto trend lately, and it appears the story has just started developing.
So, tell me in the comment section;
What are your thoughts about FTX?
Did you think I missed something? Put your thoughts in the comment section below.
Also, share the post if you enjoyed it by clicking the "SM" buttons below. Thank you!