Today's review is on Compound, a crypto lending platform that grants users amazing interest rates.
Many individuals leave their savings in the bank only to be disappointed with a measly 3% interest at the end of 3 years.
Compound offers an interest rate of about 4 times that amount and you don't necessarily have to lock up your funds permanently.
Isn't that amazing? I am sure you would love to know how this platform works.
Well, you'll get to know that as you read this post.
Let's get started!
---
Post Summary
This compound review is grouped under the following subheadings:
A click on any item above will reveal its details.
Enjoy your read!
---
1. What Is Compound?
Compound is a DeFi application on the Ethereum blockchain that enables users to lend or borrow cryptocurrencies and earn interest rates.
These cryptocurrencies are Ethereum based tokens like DAI and wBTC.
Robert Leshner and Geoff Hayes founded Compound in 2017. The platform is headquartered in San Francisco, California.
Compound does not only allow users to earn from lending and borrowing crypto, it also gives them the opportunity to contribute to the improvement of the platform.
Furthermore, users are rewarded with the platform's native token – COMP as they participate in different markets on the platform.
Next, I'll show you the features of this platform.
Keep reading!
---
2. Features Of Compound & Supported Assets
Features
The features of this platform include:
Markets
Governance
Developers
Prices
Docs
App
Discord
Institutions
Earn
Manage
Assets
Here's a list of assets supported by Compound:
Basic Attention Token (BAT)
Compound (COMP)
Dai stablecoin (DAI)
Ether (ETH)
Uniswap (UNI)
USD Coin (USDC)
Wrapped BTC (WBTC)
Let's go on now to see how this platform works.
---
3. How Compound Works
On Compound, you are either lending crypto and earning interest rate or borrowing and paying interest rates.
But lenders don't lend directly to borrowers.
Rather, they lend to pools from where borrowers can borrow assets.
Every supported asset on the platform has its pool e.g. BAT lending pool.
When you want to borrow, you must first deposit some other crypto.
Your deposited crypto will serve as a collateral for the asset you wish to borrow.
And you can only borrow less than your collateral. The amount of asset you can borrow largely depends on the liquidity and market cap of your collateral.
As for lending, you are given a corresponding amount of cTokens for the coins you deposit.
These cTokens are usually larger in number than what you deposited.
NB: cTokens are ERC-20 Tokens that represent a fraction of the underlying assets e.g. cDAI represents DAI.
Let's say, you deposited 1 ZRX, the system can give you as much as 49 cZRX.
The essence is to generate higher interest rates such that you can buy more of that underlying asset which you deposited using the cTokens you received over time.
In Compound, there are no fixed interest rates. The system updates the interest rates based on supply and demand (of assets).
The higher the demand of an asset, the higher the interest rate.
Therefore, lenders earn more while borrowers are discouraged from borrowing more than they have a need for.
Note:
Lenders can withdraw their assets at any time
You can use any crypto you deposited to perform other transactions
When a user borrows more than the acceptable amount of an asset based on a fall in the price of their collateral, they can buy their collateral at a discounted price or, pay back some of their debt to boost their borrowing capacity.
Moving on, I'll show you the steps to lend and borrow on compound.
Tag along!
---
4. How To Lend & Borrow Crypto On Compound
The video below explains how you can lend and borrow crypto on Compound.
I also listed the steps under it.
Lending Crypto
i. Visit Compound and click on the 'App' button in the top right corner.
ii. You will see an overview of the markets for the supported cryptos.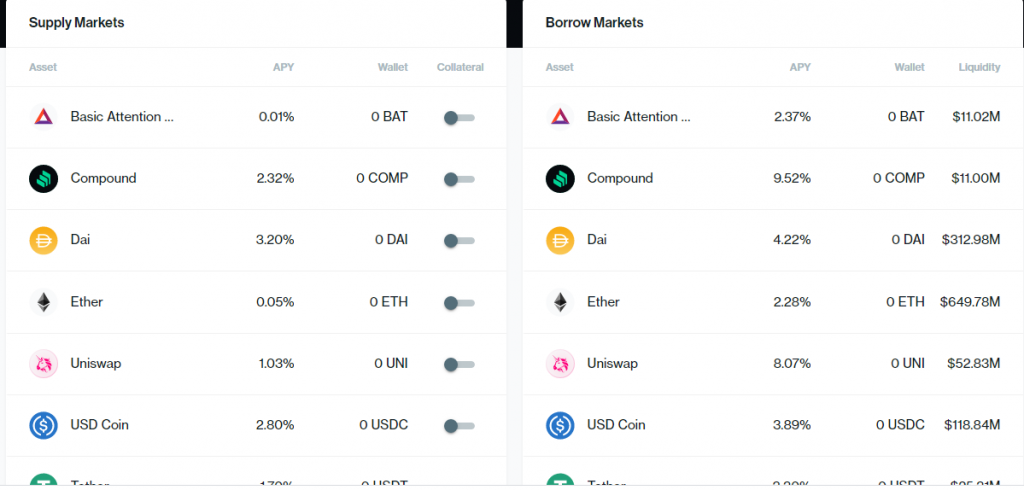 iii. Next, you click on 'Connect Wallet' or 'No Account' on the top right corner.
iv. From the listed options, choose your preferred wallet and connect it.
v. You will then be redirected to your dashboard on the Compound.
vi. Here, you can see all the assets as before and also the funds available in your wallet.
vii. Now, click on the asset you wish to lend.
viii. You will then be shown how much it will cost to lend that asset including the gas fees.
If you are cool with it, click 'Enable.'
ix. You will also have the option of selecting 'max' coin supply if you want to.
x. Once your wallet has been debited, you will be redirected to your dashboard to see your transactions.
xi. You can also click on 'vote' at the top of the screen to see the COMP you have received.
Borrowing Crypto
Connect your wallet to the compound app.
Supply the asset you wish to stake as collateral (following the steps above).
Once you have settled that, turn on the 'collateral' button in front of the coin.
You will be redirected to your wallet to pay the required gas fees.
After making the payment, you can then select the asset you wish to borrow from your dashboard.
Upon clicking the asset, you will be shown the maximum amount of asset you can borrow based on your collateral.
Click 'confirm' and you are good to go.
---
5. What Does The Future Hold For Compound?
Needless to say, the Compound protocol has made reasonable progress since its launch.
Transiting from centralization to decentralization by the introduction of the Comp token shows that the future is very bright for Compound.
According to an article published by the founding team on Medium, the platform is looking to develop new products and services for the crypto industry.
And judging by the limited tokens supported by the platform, I must say that this is a great step in the right direction.
With more assets, the user base of Compound will increase. This also means more profits for the platform.
Also, I see more influential platforms integrating the Compound protocol. 9 organizations including Coinbase already did.
---
6. Conclusion
Compound provides an opportunity for individuals to lend and borrow crypto while earning huge interest rates.
This is where we'll draw the drapes on our discussion on Compound. I hope you enjoyed the read.
Now, I'd love to hear from you:
What do you think of the Compound Protocol? Would you lend or borrow from the platform?
Perhaps, you are already using the platform, what has been your experience?
Let me know your thoughts in the comments section right now.
Also, share this post with your friends.
Thank you!
---
In case you need a tutor…
We can teach you how to trade cryptocurrencies profitably. Simply enroll in our Crypto Trading Mastery Course by visiting www.ctmastery.com.
You can also join our Telegram community at https://t.me/ctmastery. See you there!
---
For Your Reading Pleasure: