In this post, I explained everything there is to know about non-custodial exchanges.
These exchanges are gaining popularity as more crypto lovers seek platforms that grant users absolute control of their funds.
My guess is that you are interested in these platforms too.
But can non-custodial exchanges offer users absolute control of funds?
What benefits could there be in using these exchanges?
Read this post to the end to find answers to these questions and more.
---
Post Summary
For an easy read, I divided this post into the following subheadings:
A click on any item above will reveal its details.
Enjoy!
---
1. What Are Non-Custodial Exchanges?
A non-custodial exchange is a type of exchange that does not store users' funds. That is, it does not hold the users' private keys.
In such an exchange, users do not need to verify their accounts before they can enjoy the services of the exchange.
So, users neither provide any delicate personal information nor leave their funds with the exchange.
Usually, non-custodial exchanges have a user-friendly interface that makes it easy for users to trade altcoins.
Top examples of this type of exchange are Changelly, Shapeshift, Switchain, and Evercoin.
Next, we'll see how these exchanges work.
Keep reading!
---
2. How Non-Custodial Exchanges Work
Non-Custodial exchanges serve as intermediaries between users and trading platforms.
When a user requests a pair of coins to trade, the exchange connects him to a trading platform with the best offer for that pair.
If the user is okay with the rate, he goes ahead with the transaction. And he pays directly from his crypto wallet.
Since non-custodian exchanges do not store users' funds, users must have their crypto wallets where they store their funds.
Non-custodial exchanges conduct trades on behalf of the users.
These trades are settled on the blockchain.
When the trade is concluded, users will receive their earnings sent to their wallets.
Let's quickly take a look at some non-custodial exchanges.
Shall we?
---
3. Reputable Non-Custodial Exchanges
Here are 5 reputable non-custodial exchanges that you should consider using:
Changelly
Shapeshift
Evercoin
ChangeNOW
StealthEx
Switchain
Changelly
Changelly is one of the best non-custodial exchanges.
It was founded by Konstantin Gladych in 2015.
The user interface of the exchange is safe and convenient.
And you can sign up using your email or social media account.
Changelly offers the following services swap crypto, buy crypto, and sell crypto.
Also, the platform supports many currencies including BTC, ETH, XRP, BCH, ATOM, USD, EUR, etc.
To learn more about Changelly, you can read our full review here.
Shapeshift
Shapeshift is another non-custodial exchange that is making waves.
It was founded in August 2014 by Erik Voorhees.
This platform enables users complete trades in almost an instant.
And you only need to sign up with your email to enjoy the services of this platform.
These services are swap crypto, coincap, and keepkey hardware wallet.
Additionally, Shapeshift supports the following cryptos: BTC, BTG, ETH, BCH, LTC, ETC, ZEC, DASH, DOGE, etc.
You can learn more about Shapeshift from our review.
Evercoin
Thirdly, on this list of non-custodial exchanges, we have Evercoin.
It was founded in 2017 by Talip Ozturk.
Evercoin allows you to swap different coins using its mobile app.
Coins supported on this platform are BTC, ETH, XRP, DASH, BCH, TRX, and 12 others.
Also, to help users keep their private keys safe, the app was integrated with Yubikey.
Yubikey is a hardware wallet that uses biometric authentication factors like fingerprint to help users trade securely.
For this platform, there are no transaction limits or fees.
ChangeNOW
Here's another reputable non-custodial exchange that you should try.
ChangeNOW was founded in 2017.
The top features of ChangeNOW are exchange gateway, DeFi portal, buy crypto, and token swap.
Also, the exchange supports over 200 cryptos.
And users can trade about 10, 000 coin pairs including BTC to XMR, USDT to ETH, USDT to XMR, etc.
You do not need to register to use this platform. And there are no transaction limits.
ChangeNOW also provides a mobile app for easier transactions.
StealthEX
StealthEx is another non-custodial exchange that grants users a swift exchange of cryptos.
It was founded in October 3, 2020.
There are no transaction limits for this platform.
Users only need to have enough funds to take care of network fees.
Furthermore, StealthEx has a very user-friendly interface and provides 24/7 customer support.
Also, the platform supports 300+ cryptocurrencies including ZEN, BSV, BTC, XMR, ETH, ZEC, etc.
You do not need to sign up to use this platform.
StealthEx also provides a Telegram Bot to improve users' experience.
Switchain
Lastly, on this list of reputable non-custodial exchanges, we have Switchain.
It was founded in 2017.
Switchain is managed by a team of remote workers based in 9 different countries.
It provides a user-friendly interface that makes crypto trading easy and fast.
Major coins supported by the platform are BTC, ETH, BAT, BNB, ZRX, USDT, ERC-20 tokens listed on Binance, etc.
Furthermore, Switchain charges 0.5% transaction fees.
You do not need to sign up to use this exchange.
However, if you do sign up, you can participate in the platform's affiliate program and make some profits.
Moving on, we'll see the merits and demerits of non-custodial exchanges.
Tag along!
---
4. Merits & Demerits Of Non-Custodial Exchanges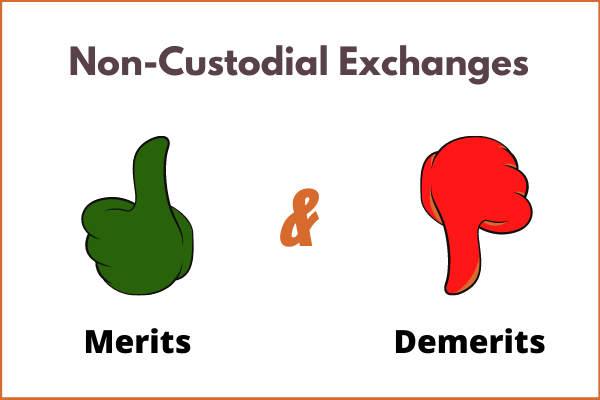 Merits
i. There is zero risk of users losing funds to hackers, thieves, insider manipulation, or miscounting.
ii. They have a user-friendly interface that facilitates the trading of altcoins.
iii. Non-custodial exchanges save users the delay of comparing exchange rates.
iv. They also save users the high cost of swapping coins on trading platforms.
v. Users have access to their funds at all times. So, they get to spend it at will.
vi. There is no hassle of account verification.
vii. Users do not need to share sensitive information before they can trade high volumes.
viii. The policy on digital assets by renowned regulatory bodies favor non-custodial exchanges.
Demerits
i. Most non-custodial exchanges operate exclusively with ethereum or ethereum based tokens
ii. It leaves the security of assets to the user. And as such, users cannot recover their private keys or mnemonic phrase if it gets lost.
iii. Since transactions happen on the blockchain, it is nearly impossible to retrieve a trade.
Next, we'll see the differences between non-custodial and custodial exchanges.
Tag along!
---
5. Differences Between Non-Custodial & Custodial Exchanges
In the table below, I described the differences between non-custodial and custodial exchanges based on relevant parameters.
Have a look:
Non-Custodial

Custodial

Users' funds &
private keys
Users are in charge
Exchanges are in
charge
Risk of losing funds
Zero risk
Very high
Account Verification
Not required
Very much needed
Transparency
Trading is done on
the blockchain
hence highly
transparent
Trading is settled on
exchange balance
sheet hence
not transparent
Transaction Speed
May be delayed due
to traffic in the
blockchain
Usually fast
Supported Fiat
Usually limited
Usually a wide-range
Altcoins trading
Very easy and direct
Can be tedious as
users may have to
convert to a
blockchain token first
Transaction fees
Minimal
High

Examples

Changelly, Shapeshift,
Coinswitch, Evercoin,
Switchain, etc
Binance, Luno,
Remitano, Quidax,
Coinbase, Bittrex,
etc
---
6. Conclusion
Non-Custodial exchanges promote what cryptocurrency stands for – transparency of transactions and customers' control of their funds.
Many traders opt for these exchanges because they can access their funds at will to conduct trades.
This is where we'll draw the drapes on this post. Now tell me:
What's your take on these exchanges?
Do you think they are a better option to their custodial counterparts?
Have you used one before? What was the experience?
Let's have your response in the comments section right now. You can also ask questions if you have any.
Before you go, share this post with your friends, thank you!
---
PS:
We can teach you how to trade cryptocurrencies profitably. Simply enroll in our Crypto Trading Mastery Course by visiting www.ctmastery.com. You can also join our Telegram community at https://t.me/ctmastery. See you there!
---
Don't miss…