Today's post is a detailed review of Yearn Finance, a yield aggregator built on the Ethereum blockchain.
Yearn Finance saves users the stress of manually monitoring yields by automatically allocating their funds to pools with the highest APY.
With its YFI tokens that have rallied over 38 times in a short period of existence, Yearn Finance seems to be the hottest cake in the DeFi space.
You too can benefit from this platform; keep reading to find out how.
---
Post Summary
A click on any item above will reveal its details immediately.
Happy reading!
1. What is Yearn Finance?
Yearn finance is a yield aggregator that allocates liquidity to different DeFi protocols.
A 'Yield aggregator' refers to a platform that leverages different DeFi protocols and strategies to maximize user profits.

It also rebalances users' deposits to account for changing interest rates.
It is hosted on the Ethereum blockchain and was built by Andre Cronje in February 2020.
He designed Yearn Finance to help users invest their coins in the most profitable liquidity pools.
The lucrative nature of DeFi notwithstanding, not everyone has the know-how to benefit from it.
Yearn Finance tries to simplify DeFi so that investors with little or no experience in crypto trading can also maximize from the platform to earn.
Now, users can deposit their coins in Yearn and rest knowing that the DApp will move their funds to a pool with high yields.
For instance…
I have lots of DAI in my Ethereum wallet.
Rather than leave it there, I choose to deposit it in a liquidity pool where it can yield profits for me.
Normally, I would look for a DeFi protocol with a high API for DAI, say AAVE, and deposit my funds there.
Not just that, I'll monitor AAVE and other protocols from time to time to see if there are any changes in APY.
Whenever I find another protocol maybe COMPOUND, offering a higher API than AAVE, I will move my DAI there.
Doing this will take my time and cost me some Gas.
But with Yearn Finance, all I need to do is deposit my DAI and the platform will take it from there.
It searches the market for me and automatically moves my DAI to a protocol with a higher APY.
Cool, right?
We can then say that Yearn Finance is an automated Yield Farming protocol that searches the market for the best return platforms and supplies them with pooled liquidity.
I suggest you read our post on Yield Farming to better understand the process.
Let's take a look at the features of Yearn Finance.
Tag along!
---
2. Features Of Yearn Finance (How It Works)
Top features of this platform are:
a. Vault
This feature combines different yield farming strategies to produce the best yields for deposited assets.
This asset can be Ethereum tokens or stablecoins.
How it works?
Visit Yearn Finance and select 'Go to Vaults'.
You will see different tokens you can invest in.
From the list, choose any token that picks your interest to read the vault's details.
If the information suits you go ahead and make a deposit.
Here's an example for CRV token_
For each vault, oracles supply information from different pools and protocols
Following the information provided, your coins will be moved to the pool with the best market.
b. Earn
This is concerned with checking lending platforms for the highest yields.
With this feature, users can deposit their stablecoins and it will auto lend to the platform (mainly Compound, DyDx, or Aave) with the highest lending rate.
Thereby providing users with yield from crypto lending.
How it works?
Click on "Earn" on the homepage
Select a pool and invest your token
Yearn pays you interest based on earnings of the loans made by the platform within the liquidity pools used.
This is an example for DAI pool:
You can see here that Curve is the platform hosting the liquidity pool.
Also, you must have noticed the 'y' in front of 'DAI'. This is because assets deposited in Yearn are wrapped or converted to ytokens to enable them to interact with the platform.
c. Zap
Zap allows users to swap tokens in and out of different liquidity pools.
With this feature, you can exchange your coin for a wrapped token which you can invest in a vault.
How to?
Click on V1 and then select Zap
Choose the coin you have and the one you want to exchange it for
Look at this image for BUSD:
d. Lending
This is a simple interface where users can lend and or borrow DeFi coins.
You can also access it from the V1 button.
Have a look:
e. Cover
Cover is another protocol on the Ethereum blockchain that enables users to insure their assets.
Here, users can insure their funds they have on Yearn.
How?
Select Cover from V1
Click on 'Buy Coverage'
Complete the form and hit 'Purchase'
Other features of Yearn are:
Stats – displays the different vaults and how well they are performing.
Experimental vaults – allows users to test run vaults at no cost.
Forum – where users discuss about improvements on the platform.
Note:
Yearn has two versions – V1 and V2. Both versions are active and easy to use. Also, they share similar features as described above.
V2 was created to improve on the 'Vault' feature by connecting it to Curve liquidity pools.
Additionally, V1 and V2 interact effectively i.e. users can switch between the two interfaces to enjoy the services of the platform.
Next, we'll talk about the YFI token.
Tag along!
---
3. YFI Token Overview
YFI token is the governance token of Yearn Finance.
The token was created to facilitate the decentralized control of the platform.
Did you know? YFI was the first coin to be worth more than Bitcoin (per unit price).
That was in September 2020 when it hit its all-time high of $41,000. Superb!
YFI was launched in July 2020 with a fixed supply of 30,000 coins. Quite low but not bad!
All the coins were distributed to the first users of Yearn. No coin was reserved for the developers and there were no VC (Venture Capitalist) investors.
This means that the coins went into circulation right away.
As of 10/04/2021, YFI is priced at $44,476.05 with a 24-hour trading volume of $536,500,688.
When users provide liquidity to Yearn Finance, they earn rewards in YFI tokens.
Holders of YFI token can propose improvements to the Yearn platform or vote for such proposals.
Additionally, YFI can be traded for other cryptocurrencies on popular exchanges like Binance, OKEx, Uniswap, and Huobi Global.
---
4. Customer Support & Public Opinion
The platform has a 'Docs' page where users can learn everything about Yearn.
Also, users can also get updates on the platform from these channels:
https://twitter.com/iearnfinance
https://github.com/yearn/yearn-finance.git
https://discord.com/invite/6PNv2nF/
https://medium.com/iearn
https://t.me/yearnfinance
Then I checked Yearn on TrustPilot, it had no rating and no reviews.
On Reddit, the platform has an active group with 4,306 members.
Also, Yearn has an 80% trust score on SCAMADVISER, with no reviews as well.
The absence of online reviews is quite discouraging but we can give Yearn the benefit of the doubt since it is still a new platform.
Moving on, I'll show you how to use Yearn Finance.
Tag along!
---
5. How To Get Started On Yearn
This platform is super easy to use. The core steps to follow are:
i. Visit yearn.finance
ii. Connect your wallet from the button on the top right

iii. Select your preferred wallet and obey the instructions that follow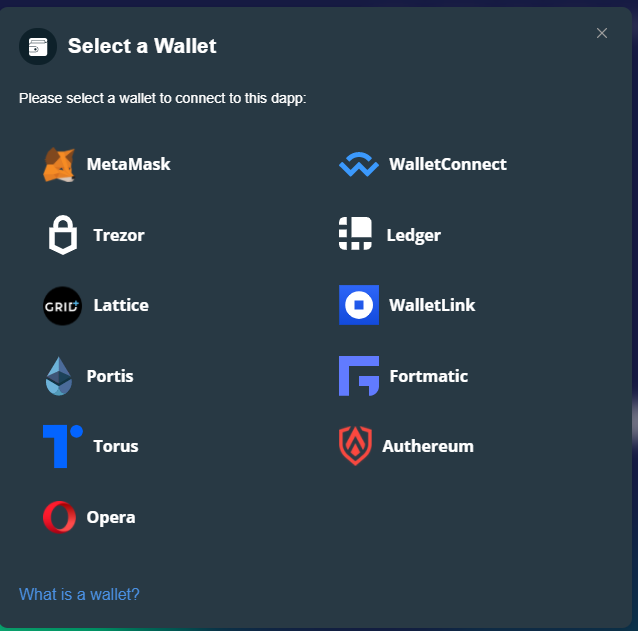 iv. Once you've successfully connected your wallet, go ahead and choose the product or service you need.
v. You can access 'Vault' and 'Earn' services when you click on the 'Invest' button from the top menu.
vi. Then 'Zap' and 'Cover' can be accessed from the 'V1' button.
Enjoy!
In the next section, I talked about the potential of this project.
Keep reading!
---
6. What Does The Future Hold For Yearn Finance?
So far, this platform has experienced tremendous success.
We can trace this to the simplicity of the platform. Year finance makes it easy for investors to explore DeFi and make profits even with little knowledge.
This has resulted in the mass adoption of the project and as such, the future looks bright for Yearn Finance.
Plus, the system is constantly undergoing improvements to make its services better. A good example is the launch of Yearn V2.
Also, there is plan to create more opportunities to boost revenue.
Another good attribute to consider is the price of the YFI token. Its value has increased over 38 times and at some point did better than Bitcoin in the market.
Nevertheless, the platform is not free of the risks associated with DeFi like changing market conditions and smart contract risks.
So, you want to thread carefully.
Let's answer some frequently asked questions and then we can call this post a wrap.
---
7. FAQs
How does Yearn Finance make profit?
The platform charges 0.5% withdrawal fees and 5% gas subsidization fees.
Since it is decentralized app, these figures can change over time.
What is the difference between YFI token and ytoken?
YFI is the governance token of the platform whereas ytokens are wrapped tokens that interact on the platform.
For example, when you deposit DAI on Yearn, it is converted to yDAI.
How do I withdraw my profits?
You can process withdrawals from your Dashboard on the platform.
There, you will find all the pools where you deposited your assets and how they are faring.
---
PS.
If you want to learn how to trade cryptocurrencies profitably, we have created a perfect course to help you do that.
Enroll in our Cryptocurrency Mastery Course by going to www.ctmastery.com.
You can also join our Telegram community at https://t.me/ctmastery for more information.
---
8. Conclusion
This is where we'll draw the drapes on our discussion on Yearn Finance. I hope you enjoyed the read.
We saw how the platform opens up complicated yield farming strategies to an average crypto user.
Now, I'd love to hear from you;
Will you invest in YFI?
Perhaps you are already investing in the platform? What has been your experience?
Let me know your thoughts in the comments section right now.
Also, share this post with your friends, thank you.
---
Don't miss…