If you are a blockchain aficionado, then, you would probably know that Chainlink is no.1 when talking about blockchain oracle.
The Blockchain network would not have been so ultimate without a decentralized oracle like Chainlink.
Chainlink is one of the creative projects in the crypto space that connects the Blockchain to events in the real world.
Gird your loins 'cos I am about to take you through a deep dive into everything about Chainlink.
---
Post Summary
What I will cover;
You are free to use the shortcut by clicking on any of the items if you are looking for specific info.
That said, Let's shoot off with this review
---
1. What is Chainlink?
Chainlink is a revolutionary blockchain oracle. It is even as of today, the most successful blockchain oracle in the crypto space.
Blockchain Oracles are third parties that serve as a bridge between blockchain and the outside world.
These third parties provide off-chain data feeds needed for the blockchain and smart contract to run efficiently.
There are different types of blockchain oracles, however, the most suitable one for blockchain tech is a decentralized oracle like Chainlink.
Chainlink was founded in 2017 but went live in its main net after a successful ICO in 2019.
It seeks to connect blockchain to external API to source for assets prices, data feeds and other payments made in the real world.
Also, Chainlink network is open source, it allows node operators from anywhere to participate in providing data for smart contracts.
Chainlink was founded by Sergey Nazarov and Steve Ellis. These two were also the founders of SmartContract.com.
However, while SmartContract.com provided a centralized oracle feed, Chainlink came as a fully decentralized blockchain oracle.
In the next section, we will take a deeper dive into how the Chainlink network works!
---
2. Why Was Chainlink Created?
Chainlink was created to solve "Blockchain Oracle Problem".
Blockchain Oracle Problem is the inability of the blockchain to incorporate external data source into its network.
Blockchain can only record transactions that happened on the blockchain, as a result of this, its full potential to outside events were cut short.
Moreover, there are Smart Contracts that require off-chain data to seal an agreement on the blockchain.
In order to set things appropriately, Chainlink surfaced as blockchain saviour.
Allowing different blockchains to tap into its network to access secure and decentralized data recorded outside the blockchain.
3. How Does Chainlink Work?
Chainlink nodes offer feedbacks to data requests made by other smart contracts on its network.
Keeping these two terms in mind, will help us understand the Chainlink network;
USER-SC: Represents other Smart Contract requesting data from Chainlink.
Chainlink-SC: Represents Chainlink's on-chain interface for requesting contracts.
Below, I explained how the Chainlink works to throw more light on this diagram above.
When a USER-SC requests off-chain data from chainlink, Chainlink-SC takes it up and sends it to its network of nodes.
In a bid to get a response, The network of nodes source for data through an "External API".
When the data are gotten, the nodes will now send them to Chainlink-SC to aggregate them
Chainlink-SC having reviewed these data, picks the accurate one and sends a single response to USER-SC.
Keep in mind that Chainlink uses a decentralized approach, and it achieves this by using a collection of nodes to source for multiple data which Chainlink can work with.
Another thing is that, for these nodes to carry out their off-chain duties, USER-SC must incentivise the node operators with the LINK token.
To discuss the LINK token in details, let's see the next section.
---
4. LINK Token Explained
LINK is Chainlink's native token.
It is an ERC-20 token, but it also has the "transferAndCall" functionality of ERC-667.
This token is used to incentivise node operator for the work they do on Chainlink.
Just like the bitcoin miners, the incentive offered to node operators on Chainlink is determined by the current market condition (the no. of USER-SC and no. node operators available).
The value of LINK increases as more and more node operators joins the Chainlink network.
LINK has a total supply of 1B tokens. According to Coinmarketcap, 407,009,556 LINKs are already in existence ( Feb 16, 2021).
Unlike BAND (LINK's competitor), LINK does not have a staking feature.
However, the team at Chainlink believes that this feature will be added in a later version of the mainnet.
If this happens, LINK will be used as a collateral for running nodes on Chainlink.
This will improve the quality of data provided on the network and ensure that the node operators are penalized for providing wrong data.
Next, we will discuss the top exchanges to trade LINK.
---
5. Top Exchanges to Buy LINK
There are about 100 crypto exchanges supporting LINK token. However, I will only list my top 5 here.
1. Binance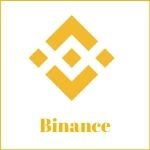 Binance is my favourite crypto exchange. It was founded by Changpeng Zhao, in 2017.
It is currently, the biggest exchanges by trade volume.
(Binance does over $20B in its 24hr trade volume).
As a world leader in its niche, it supports a lot of trading features. It equally supports over 450 cryptocurrencies.
On Binance, LINK can be traded over 10 pairs.
2. Coinbase
Coinbase is among the oldest and biggest names in the cryptocurrency space
It was founded by Brian Armstrong and Fred Ehrsam in 2012.
Coinbase started as one of the biggest Bitcoin brokers in the USA.
However, it has incorporated other crypto products and services including an advanced trading platform – Coinbase Pro.
3. OKEx
OKEx was founded in 2014 by Star Xu. It has its headquarters in Malta.
The exchange is one of top exchanges with high liquidity in the crypto space.
Like Binance, OKEx also offers varieties of trading features and has recently included a P2P marketplace.
4. Huobi
Huobi headquartered in Seychelles was founded in 2013 by Leon Li.
This exchange has grown exponentially since its launch date.
Huobi is one of the top exchanges recognized by Coinmarketcap, where it currently, ranks #2 above other exchanges.
Huobi has lots of trading features, and gluts of cryptos are supported too.
5. KraKen
Kraken is a US-based crypto exchange that was founded in 2011.
It is a very solid exchange with a repute on strong security.
Kraken offers advanced trading platform for Futures, Margin and OTC market.
Kraken has good market liquidity, however, only a few cryptos can be traded on the exchange.
See the next section!
---
6. 7 Best Wallets To Store your LINK
These are top LINK wallets.
1. Ledger
Hardware wallets like Ledger are most recommended for the storage of cryptos.
Although, it costs some penny (about $59) to get your hands around them.
Ledger has an excellent security feature that makes it almost resistant to hacking.
It was founded in 2014 by a French company, but it has become more popular than its antecedents.
Ledger has two wallets – Ledger Nano S and Ledger Nano X.
2. Trezor
Trezor wallet is also one of the most popular hardware wallets for the storage of multiple cryptos.
It costs about a minimum of 48.76 EUR to purchase.
Just like a good hardware wallet, Trezor stores your pin offline; protecting it against both physical and virtual theft.
Trezor One and Trezor Model T are the two products of Trezor wallet.
3. Trust Wallet
Changpeng Zhao acquired Trust Wallet in July 31, 2018.
Trust wallet is a non-custodial hot wallet that is available for download in Google Play and Appstore.
It is a multi-crypto wallet with an in-built DEX and a Web 3 browser that allows users to interact with Dapps on the Ethereum blockchain.
More so, this wallet was created with an easy to navigate UI. It allows for staking, and it is open-source too.
4. MyEtherWallet
MEW, as it is fondly called, is a wallet that allows you to store all ETH tokens.
It is an open-source wallet with a simple to use interface. It is also non-custodial and it supports an offline storage of users private key.
MEW has excellent features that make the users' interaction with the Ethereum blockchain seamless.
MEW was founded in 2015, and it is the most popular ETH wallet.
5. Coinomi
Coinomi founded in 2014, is one of the oldest multi-crypto wallets to come around the crypto space.
It is non-custodial, and it seeks to provide a solid platform that will secure over 1500 cryptos.
Although it is closed-source, it has outstanding features that make the storage of cryptos worthwhile.
6. MetaMask
MetaMask is a crypto wallet designed for the ETH network (just like MEW).
It is basically a browser extension that connects users directly to the ETH blockchain.
It has an in-built exchange and it allows users to create and run their Dapps on its platform.
7. Exodus
Exodus is a non-custodial multi-crypto wallt with amazing features.
It has the most intuitive and friendly UI, when compared to other crypto wallets.
Exodus has an in-built exchange, keeps track of all your crypto assets, but most wonderfully, it allows users to earn rewards for storing their cryptos.
Let's briefly look at the potentials of Chainlink below!
---
7. What is the Future of Chainlink?
Chainlink is a project with a high-rated value in the crypto industry.
Blockchain requires Oracle for better efficiency in the real world.
Therefore, it is for this reason that Chainlink will continue to soar above all odds in the crypto market.
Chainlink has proven its worth, making over 30 blockchain industries, and other non-blockchain firms; SWIFT and Google to embrace its use case.
In fact, Chainlink has come to be a powerful tool for Smart Contract and most Defi protocol are running under the stronghold of Chainlink.
Need to mention here, in Nov. 2020, Zeus Capital (a London-based financial firm) accused Chainlink of allegedly running a pump and dump scheme.
This caused a FUD among LINK investors but here is an article debunking Zeus claims against Chainlink.
Now over to LINK token; As of today(Feb16, 2021), LINK ranks no. 3 on the list of "Top Crypto Tokens" by Coinmarketcap.
LINK has been a hot crypto since the launch of Chainlink mainnet in 2019.
The LINK token did almost 500%, and in fact, was the most performed crypto in 2019 (even outperforming BTC).
Also, looking at the price chart for 2021, LINK rallied from approximately $11.66 (Jan 1, 2021) to $32.58 ( Feb 16, 2021).
This strongly shows that the crypto market is going perfectly bullish for LINK investors.
However, due to the high level of volatility in cryptocurrency, it would be safer to always conduct technical analysis for the price direction of the LINK token in the future.
That is my take on Chainlink. Let's us now head over to the FAQ section.
---
PS.
If you want to learn how to trade cryptocurrencies profitably, we have created a perfect course to help you do that.
Enroll in our Cryptocurrency Mastery Course by going to www.ctmastery.com.
You can also join our Telegram community at https://t.me/ctmastery for more information.
---
8. FAQs
1. What Blockchain can make use of Chainlink?
Chainlink blockchain protocol was created to be agnostic. This means that the Chainlink can run on any Blockchain.
2. Can I stake LINK?
Staking features are currently unavailable for the LINK token. However, the team at Chainlink believes that this feature would go live before the end of 2021.
3. Why do Defi protocol need Chainlink?
Chainlink is the reason most Defi platforms like, AAVE, Akropolis, and many others are now running free of Flash Loan attack.

The reason is that these Defi protocols require blockchain oracle to run efficiently and transparently.

Centralized Oracle is not so good for Defi and Blockchain in their entirety.

Relying on a central data source means that there is no way to verify the veracity of the data feed provided.
This can ultimately lead to the distortion of a Defi/ Blockchain ecosystem.

An example of this is the Synthetix oracle attack.



---
9. Conclusion
Here comes the end of this review!
Chainlink is assuredly the leader when compared with other blockchain oracles.
The proof of the above assertion lies in the rate of Chainlink public partnership with over 30 industries.
Moreover, Chainlink's use case cannot be overemphasised as it is the solution to blockchain and smart contract vulnerability.
As for me – I personally see Chainlink as the future of Smart Contract.
I do not know what your opinion of Chainlink would be, but you can put them right down in the comment section below.
What do you think about Chainlink?
You are a LINK hodler – can you predict the price direction of LINK by the end of 2021?
I am looking forward to your comments below!
One last thing, do not forget to click on the share buttons below. Cheers!
---
Other Related Articles;