I have been wanting to review the Trezor Model T for some time now, well this post is worth the wait.
Every day new measures are been sought to develop the security of crypto assets and reduce the risk posed by cyber-attacks.
Trezor Model T is a very decent upgrade of the Trezor One.
The Trezor T is a fine piece of hardware wallet in a plastic casing and it is touch screen enabled
To find out everything about the device, let's get down to the rest of the post.
---
Post Summary
Hardware wallets are major tools used in securing digital assets by allowing the private keys to be kept offline.
They are also classified as HD wallets because it allows you to create a seed phrase backup instead of depending only on the private keys.
If you're already using a reputable hardware wallet, just go to sleep and unburden your feelings on the safety of your funds.
Satoshi Labs, manufacturer of the Trezor wallet line is a reputable company aimed at providing secure and user-friendly solutions to crypto security problems.
The company was established in 2013 and headquartered in Czech republic, it has other projects aiming to reach out to the whole world.
Its other projects include;
Slush Pool: A pool of miners.
Coin map: A map showing different places that accept Bitcoin around the world.
This is the most complete review on the Trezor T so far. For better clarification, here's what I'll be going over.
Continue reading, there's much to be learned down the post.
---
Trezor Model T in a Nutshell
The Trezor T is basically a hardware wallet that stores your private keys offline. It is one of the best 4 crypto hardware wallets.
It has a unique colored touchscreen and has no buttons. The wallet supports over 1000 cryptocurrencies including Ripple and Monero; unlike its predecessor that doesn't support both coins.
It is compatible with hot wallets like Mycelium and Electrum and yet does not expose your private keys to the adversity of the internet.
One outstanding feature about the device is it's 'exchange support' i.e, you can trade cryptocurrencies pairs directly from your Trezor wallet without needing to join any exchange platform.
That's the Trezor T in a nutshell.
Now I will show you how to get the device and set it up for use.
---
Pricing and Unboxing
Currently, the Trezor Model T sells for $170 which I consider quite high regardless of the featured colored touchscreen. However, when you buy 3 of the device at the same time you will pay $435 instead of $510 saving $75.
You are advised to buy directly from the manufacturer or any authorized seller to be on a safe side. if the device does not come with a holographic seal at the bottom or if the seal is tampered with, return the device.
The following items are contained inside your newly purchased device;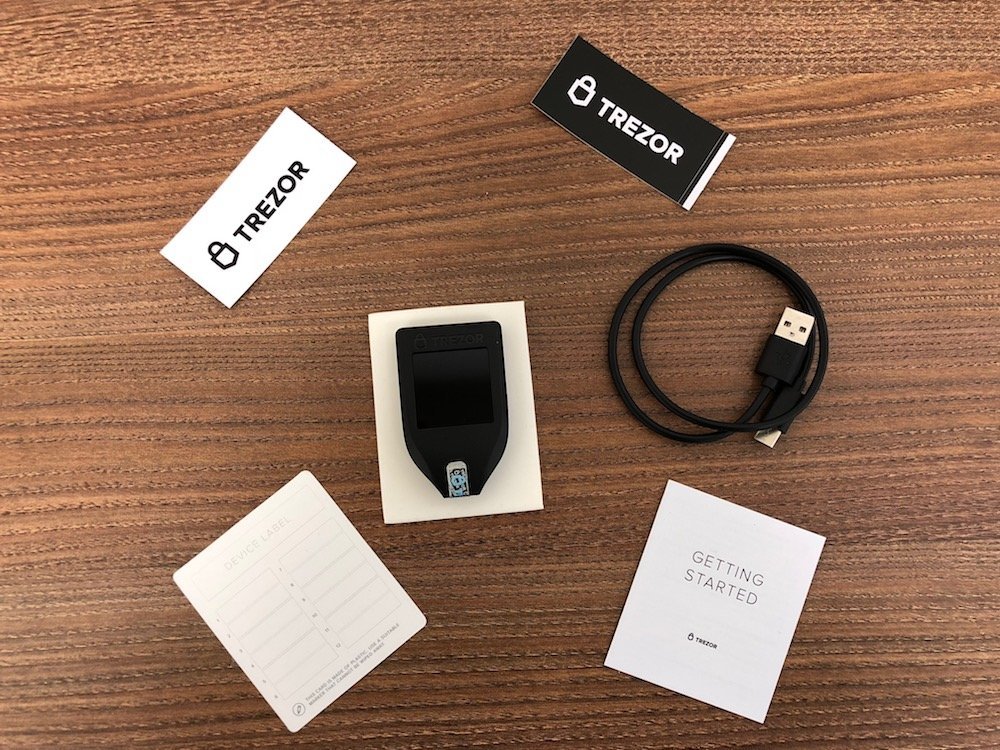 1 Trezor Model T device.
1 Model T magnetic dock.
1 USB-C Cable.
2 Recovery Seed Cards.
3 Trezor stickers.
Congrats on your new device! Now let's get underway.
---
How To Setup Your Trezor Model T
Setting up the device is very simple, you can do this under 5 minutes, join me as I walk you through.
Step 1: Install Bridge and Firmware
Connect the device via USB to any computer of your choice.
Go to trezor.io/start and click on Trezor Model T as your device.
Install the Trezor bridge and refresh page.
Click on "install firmware" then allow the device to reboot.
Next, click on "create new wallet", you will be prompted to confirm this on your device.
Step 2: Create Backup and Name Device
This is a very important stage, it takes more than half of the time of the whole setup process.
Click on "create backup in 3minutes"
Now write down all 12 words in the exact order they appear on your device's screen using the recovery sheets provided.
Depending on how much you are storing you might consider using a cryptosteel device to write down your seed.
Next, you will be asked to confirm your seed by entering some of the words in your device.
After that, give a name to your device, then move on to the next step.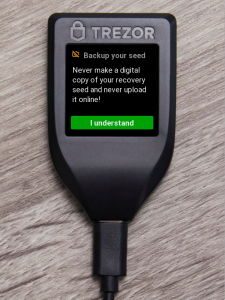 Step 3: Create PIN
Create a Pin code for your device to prevent access to unauthorized users.
Create a PIN of 4-9 digits long, by selecting the digits on your device's touchscreen.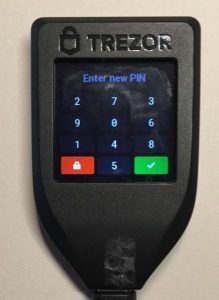 Bravo! Your device is ready. Now you can commence transactions; there's not much ado about this after all.
NOTE: Your recovery seed and PIN must be guarded jealously like a hen will guard her young chicks.
---
Trezor T Supported Cryptocurrencies
The Trezor Model T is built to support over 1000 crypto assets including Ripple, Monero, and ERC20 tokens.
Some of the major coins supported are
Some of the coins need an external wallet to be supported on the Trezor wallet.
---
Pros and Cons
Pros
Its touchscreen provides swifter operation.
Supports multiple cryptos.
Cons
The size of the screen is not convenient for people with big fingers.
It's expensive when compared to its competitors.
---
Comparisons
Trezor T vs Ledger Nano S
The closest competition to Trezor is Ledger. Both devices are nice wallets and they grant you assured security.
The Model T is touchscreen-enabled which does not really matter security-wise.
The Nano X is Bluetooth enabled and allows you to connect your device to a smartphone without USB cable.
A very important you'd want to consider here is the affordability, Ledger is more affordable.
Also Read: Ledger Nano S; The complete review and comparison
Trezor T vs KeepKey
These two wallets are touchscreen enabled but the keep key is bulkier and covered by a solid aluminium casing compared to Trezor's plastic casing
I still prefer the Trezor in terms of coins supported and company reputation even though it's way more expensive to buy.
Also read: KeepKey:- Complete Review and Comparison
---
Conclusion
I'm a fan of hardware wallets; I can't even imagine how much insecurities would have lingered in the crypto market without them.
If you don't have any, I'll advise you to get one to have a feel of it yourself. Trezor T is a wise choice.
Now I'd like to know….
Have you had any experience using this device?
What is your major challenge using the Trezor Model T?
Feel free to share your comments or any question you might have with me and don't forget to share this on your social media page; we'd be making more posts like this.
Cheers!!
---
Also Read: