This is a complete review of MetaMask.
MetaMask is a browser extension and a crypto wallet built for the Ethereum Blockchain.
This wallet is designed to help you to store, send, receive and manage your ETH and all your ETH tokens effectively.
By the time you go through this post, you must have learnt all the notable details of MetaMask and how to use it efficiently.
Tag along and Enjoy!
---
Post Summary
Here is a list of what you will learn in this article;
Let's dive in!
---
What is MetaMask?
Metamask is a crypto wallet designed in 2016 by Aaron Davis and Dan Finlay, a software developer at Consensys.
The wallet comes as a desktop-wallet and a mobile wallet downloaded on Chrome, Firefox, Edge, Brave, Play Store, and IOS.
As a crypto-wallet, it is designed to be a blockchain browser that connects you directly to the Ethereum network.
More so, MetaMask was developed for seamless and trustless interaction with ETH Dapps.
It is a non-custodial wallet that stores your seed phrase encrypted with your password.
This wallet has one of the best UI that makes it easy for you to store and send ETH and all ETH tokens.
Asides this, MetaMask has a built-in coin exchange that connects you directly to buy your tokens on Wyre, Coinswitch, etc. There is also a swap function.
MetaMask has a solid record of history in the security space, as there has not been any security breach since its launch date.
With all these encompassing features, MetaMask has amassed a lively community in the crypto niche with over a million users globally.
In the next sub-heading, I will show you some of the best features of MetaMask.
Scroll down!
---
Features of MetaMask
MetaMask has these following features;
Open-Source
Built-in-Exchange
User Friendly
HD settings
Non-custodial
Integrates Dapp
Supports ETH and all ETH tokens
Now, let's look at the services it provides.
---
MetaMask Services
Here are MetaMask services;
Wallet: Allows you to store and send all ETH tokens to any Ethereum address
Buy/ Swap: MetaMask has an inbuilt crypto exchange that allows you to buy all ETH tokens
Dapp: With MetaMask users can interact with decentralized applications (Dapps). This feature allows users to explore Dapps like; Cryptokitties, Digital art, etc.
Keep reading!
---
MetaMask Supported Cryptos
Metamask supports millions of ETH tokens out there, including all; ERC721, ERC20 tokens and more.
Let us look at some of them;
ETH, BAT, CK, ZRX, ETC
DCLENS, DXG, LINK, WBTC, DAI
NEST, HEGIC, BNT, REP, LEND
CRV, YFII, NMR, BAL, BAND
CVC, SNT, AAVE, AMPL, RSR,
SUSHI, KNC, NXM, SFT, WAVES…etc.
In the next section, I will show you how you can download and install MetaMask.
---
How To Download and Setup MetaMask
Downloading and installing Metamask is very simple.
You can download it via Chrome, Firefox, Edge or Brave browser for your desktop.
This video will give you a step by step guide on how you can download and install MetaMask on your Andriod phone.
Hope the video was helpful?
After setting up your MetaMask wallet the next thing to do is to buy ETH and ETH tokens.
You can do this by clicking on the "Buy" icon, once done, Metamask will redirect you to its third party exchange to make this purchase.
Additionally, you can import your external wallet into Metamask.
It also allows you to connect your hardware wallet (Ledger and Trezor for now) to your Metamask account.
At the time of writing this post, MetaMask mobile browser(app) is yet to provide support for the integration of hardware wallets.
On MetaMask, you can swap between different Eth tokens, however, you will need to add these tokens yourself by clicking on "Add Token".
Join me in the next subheading to learn how you can add ETH tokens to MetaMask.
---
How to Add Tokens
Adding tokens to your MetaMask account is very simple.
Let's say you want to add "BAT" to your MetaMask account, this token is already listed. What you have to do is to;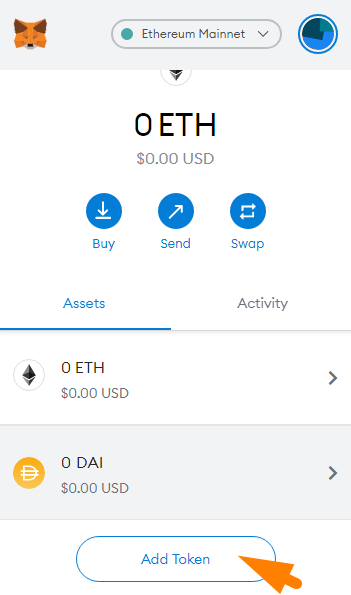 A search button will get displayed, then, you type in "BAT". Select "BAT" from the list of tokens displayed and click on "Next"
Then, click on "Add Token" again
However, there are ETH tokens not yet listed on MetaMask. These tokens are called "Custom Tokens".
Below, I will show you how to add your "Custom Tokens" on MetaMask.
On the "Add Token" section, select "Custom Token". The "Custom Token" box will be displayed, then you fill in the required details and click on "Next".
Your tokens will be added successfully.
Do note that the information regarding the tokens that you want to add can be found on Etherscan.
Let's talk about MetaMask support channel below.
---
Members Support Channel
MetaMask takes their customers very seriously.
It has a support ticket and a community that users can join to share their opinions on its website.
There is also an FAQ section and well-developed contents that answer users question on the website.
Moreover, it has an "Info and Help" option on both the desktop and mobile browser to ensure that users can reach out to them without difficulty.
In the next section, I will be comparing MEW and MetaMask. Stay put!
---
Comparing MetaMask With MyEtherWallet
MyEtherWallet (MEW) was co-founded by Kosala K. Hemachandra and Taylor Monahan on August 11, 2015.
Like MetaMask, it is one of the most popular used wallets for storing, sending and receiving ETH tokens.
It is a simple-to-use open-source interface that connects users to the Ethereum blockchain.
MyEtherWallet is a non-custodial wallet, and it allows users to create their own unique wallet.
MetaMask and MEW have their similarities; they are created for ETH blockchain and keep users in control of their wallet.
However, MyEtherWallet gives users the advantage of running a full node wallet.
Another thing is that with MEW, you can write a smart contract directly on your wallet. MetaMask, on the other hand, does not have these features.
Notwithstanding, these two wallets leave you with the ease of storing your ETH tokens without difficulty.
You can check out our MEW review here.
---
Is MetaMask Safe?
MetaMask is a safe-to-use wallet that provides users with the right tools to explore the Ethereum Blockchain.
It is non-custodial and encrypts your keyphrase with your password giving hackers a lesser chance of hacking into your account.
Moreover, it has not recorded any security breach since its inception in 2016.
However, one of the disadvantages to put into consideration when using this wallet is that it is a "hot wallet".
Hot wallets are considered less secure, and very vulnerable to hackers especially phishing attack.
But not to worry, MetaMask has a strong community of developers that is frequently updating its source code to keep hackers off your wallet.
However, you must note that securing your MetaMask Wallet largely depends on your personal and extreme alertness – since it is non-custodial.
If you are looking for a highly secure wallet to start storing your tokens and cryptos, then check out our review of hardware wallets.
---
Conclusion
This is the end of this review!
In this review, I walked you through the key features of "MetaMask" using the most simple language and explanation.
Now, it is time to get your feedback;
Have you been using MetaMask? What has been your experience so far?
Let's discuss this in the comment box below.
But hey! Do you like this post? Why not give it a share by clicking on the share buttons that you are seeing below…Cheers
---
PS: If you will want to learn how to trade cryptocurrencies profitably, we developed a course that can help you do that. Check out the CTmastery course. Join our community on Telegram to learn more.
---
Other Related Articles,