Today's post is a review of MyEtherWallet; one of the most popular wallets for ERC20 tokens.
If you are already using this wallet or you are a new user and not sure of how to set it up – Relax I have got you covered.
By the time you go through this article, you must have learned every salient feature of MEW and how to add your tokens successfully.
---
Post Summary
This post will be discussed under the following sub-headings;
Excited already? Let's start the learning process!
---
What is MyEtherWallet?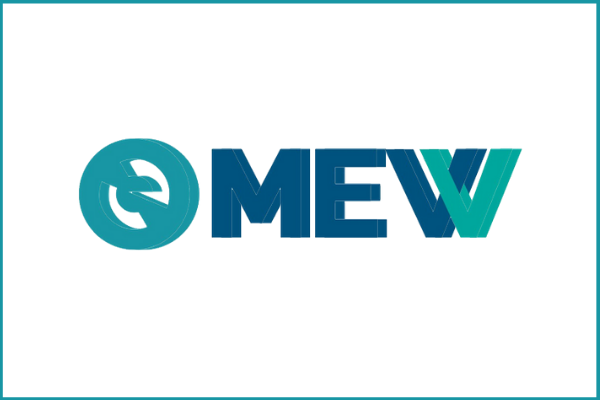 MyEtherWallet often referred to as "MEW", was co-founded by Kosala K. Hemachandra and Taylor Monahan on August 11, 2015.
Unfortunately, it forked in 2018 ushering in what we have as its rival "Mycrypto" after controversy spewed between founders.
MEW was founded to resolve the issue of sending and receiving ETHER which was a challenge to the Ethereum community when ETH first launched.
It is a simple-to-use open-source interface that allows users to store their ETH and other ETH related tokens.
Furthermore, it is a non-custodial wallet that allows you to generate a unique wallet and interact with the Ethereum Blockchain seamlessly.
MEW is both a web and mobile wallet, but the best side to it is that it stores your private key offline, thus, making it less vulnerable to hackers.
If you wish to know more about MEW… I suggest you keep reading.
---
Features of MyEtherWallet
Below is a list of some the benefits that MEW offers you;
Web and Mobile interface
Saves Private Keys offline
Built-in Exchange
Supports offline transaction
Integrates DAPP
Non-custodial
Supports ETH and all ETH tokens
Simple-to-use interface
Free Open source Platform
Users unique wallet
Customizable gas fee
Accepts Varieties of Wallet
If you are still here, let's look at the services provided to MEW users.
---
MyEtherWallet Products and Services
These are the services that you get from MEW
Wallet
Buy ETH/BTC
Swap
DApps
Contract
1. Wallet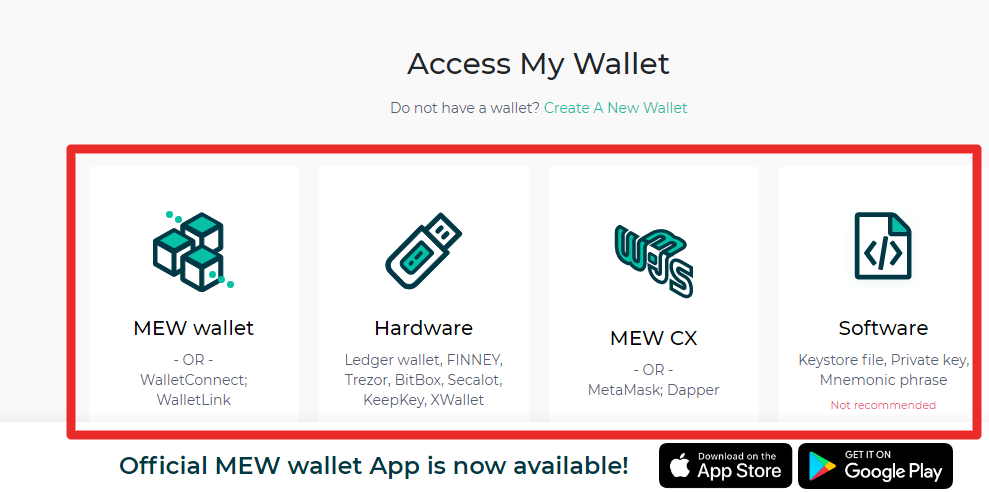 The sole function of MEW is to provide an easy- to -use wallet for ETH and other ETH tokens.
With MEW, you can create a non-custodial wallet that enables you to interact directly with the Ethereum blockchain.
Thus, allowing you to store, send, and receive ethereum and all ETH related tokens.
MEW wallet can be created via (mobile app), Keystore File or Mnemonic phrase, depending on your choice of use.
It also integrates with other wallets (hardware wallet, Metamask and other non-custodial wallets).
What is more? MEW uses a cold storage wallet, enabling you to store your private key offline either as a paper wallet or on your device.
2. Buy ETH/BTC
MEW also provide brokerage services. It allows you to buy BTC and ETH at a low rate using about 18 fiat currencies.
Note: You can only buy BTC from MEW; not store it. MyEtherWallet does not provide a wallet for BTC and other cryptos that are not ETH tokens.
Therefore, you will need to provide an external wallet where your BTC will be sent to when you purchase it.
3. Swap
MEW has a built-in exchange that lets you swap your cryptos.
As of April 2018, MEW updated its site to integrate with Kybernetwork; a protocol that allows for decentralized token swaps in any application.
With this service, you can swap fiat currencies and over 76 different cryptocurrencies without difficulty.
This service is provided on MyEtherwallet by Changelly, Bitly, Simplex and Dex.AG.
Note: Each currency listed for this feature has a Min and Max amount that you can swap.
4. DApps
DApp is a feature available on MyEtherWallet that lets developers integrate their DApps and make them available for all MEW users.
Some of the Dapps currently available on MyEtherWallet include;
AAVE
Unstoppable Domain
Lend Migrator
Name Your Wallet
ENS Manager
MakerDAO
Ambrpay
Schedule a transaction
5. Contract
MEW helps E-commerce applications e.g payment gateway, custodian services, etc to host and run their smart contract privately.
With this feature, every MyEtheWallet user can deploy and interact with their ethereum smart contracts directly on the platform.
Next, I will be talking about the countries and currencies that MEW supports. Keep reading!
---
Supported Countries and Cryptos
Supported Countries
MyEtherWallet is a global platform; thus, it accepts users from all around the world.
Supported Cryptos
MEW supports ethereum and all ethereum related tokens ( Ethereum Classic, EOS, ERC-20 tokens).
Let's have a look at some of the supported cryptos below;
ETH, ETC, EOS, EOST, EOSDHC, aETH, ETH3L, SEOS, EOSHEDGE, ETHMOON, 100WETH, ETHBULL, ASETH, BETHER, ASETH, BTCETH5050, CEH, DOGETHER, ETHPA, JET, Jetcoins, SKIN, GNT, GUP, HKG, GNO, REP, QAU, etc
---
How to Create an Etherereum Wallet on MyEtherWallet
There are about three ways that you can create an Ethereum wallet on MEW…let's see them briefly below;
MEW Wallet (mobile app)
Keystore File (web base)
Mnemonic Phrase (web base)
All these methods listed above are safe, but MEW mostly recommends that you create your wallet using MEW Wallet app.
So that being the case, I will show you how you can create your Ethereum wallet on MEW using MEW Wallet.
First off, MEW Wallet is a mobile app that allows you to store, send, and swap ETH and its tokens directly on your smartphone, and it is available for both Android and iPhones.
Now, let's look at how to set up a MEW Wallet.
Install and enable the app, then, click on "Create a free wallet"
Read the safety tips! Then click "Create a wallet".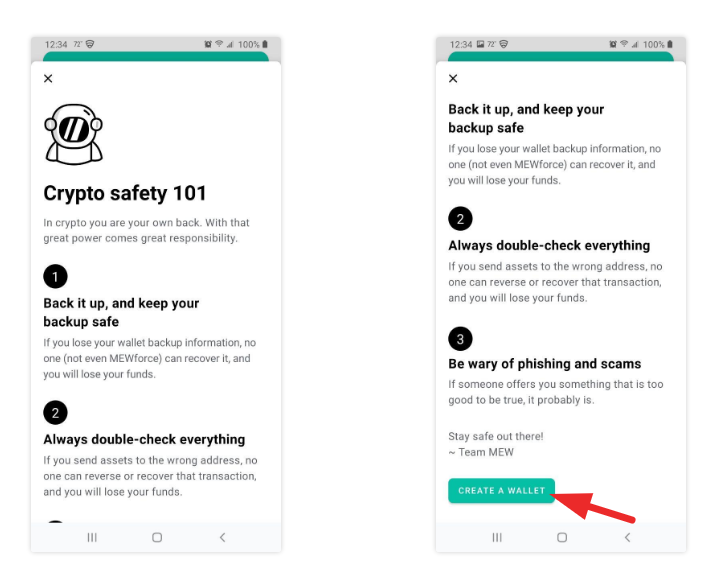 Choose a 6 digit pin code (make sure it is strong so that no one can access it except you) and enable "biometry unlock if you wish.
Wait for your account to "generate your ETH address, encrypt your pin code, and save it on your device", then, click on "Start Using MEW Wallet".
A "backup" option will pop up; you can decide to back up your MEW Wallet or not.
When you have completed the "backup" process (remember it is optional), your account will be ready for use. You can now click on "Buy ETH" and start exploring other features on the app.
If you wish to know how to "Add account", send/receive ETH and tokens or connect to "MEW web"…then, you should click here to learn more.
Note:
You do not need to go through all these processes if you already have a hardware wallet or MetaMask and wish to connect them to MEW.
What you need to do is to click go to "MyEtherwallet.com" and click on "Access My Wallet"
Although MEW supports all ethereum tokens, there are certain tokens that are not yet listed on MEW by default.
For this reason, MEW created an option that enables you to add these tokens manually.
If you want to see how to do add this kind of tokens, then, let us view the next section together.
---
How To Add A Custom Token To MyEtherWallet
Here are the steps;
Go to MyEtherWallet.com on your browser and click on "Access Wallet", then choose from the options available.
Click "add custom token" by the right below "Network"
An "Add Custom Tokens" box will pop up, then you fill in the required details and click on save.
You would find these details(contract name, number, etc.) from the creators of the contract or on Etherscan.
Once you have filled in the box and clicked on "save" your token will be added to your MEW wallet immediately.
Note: If you have chosen the "MEW Wallet" option, you will need to connect to the web interface to be able to do this.
To connect "MEW Wallet" to the web interface, this is what you need to do;
Tap on the "scan camera" icon found at the top right side of your MEW Wallet
Scan the QR code that you can see on your web interface.
Having explored this sub-heading, let's quickly check out what we have for the next sub-heading. Keep reading!
---
Membership Support
You will find how to contact support and some of the answers to your question by clicking on the "quick help" menu or the "FAQ" displayed on the screen.
Asides that, here are some other ways that you can reach out to MyEtherWallet.com;
https://twitter.com/myetherwallet
https://t.me/myetherwallet
MyEtherWallet has a lively social media community. It also has well-developed contents published online that elucidate their products and services.
Hope you are still here? Let's look at the section where I will get to answer some of your questions.
---
FAQs
1. Can I send an offline transaction using MyEtherWallet?
Yes, you can! But to do that, MyEtherWallet requires that you have the following available;

1. Two computers (one online, one offline)
2. A flash drive
3. An Ethereum Wallet
4. Google Chrome Browser

This link here is the official MyEtherWallet video on how to send an offline transaction. You can click on it to get the full details of how to go about that.
2. What happened to MEWconnect?
MEWconnect used to be the mobile app that connects MEW users to their wallet directly from their smartphones.

However, this app has been removed from IOS and Android on the 13th of August, 2020.

The reason for this is that; MyEtherwallet launched a new mobile app dubbed "MEW Wallet" which integrates both the MEWconnect function and other advanced features.

In other words, to access "MEWconnect" you will have to download "MEW Wallet" on your mobile phone.
3. I lost my private key, what should I do?
MyEtherWallet does not manage your account nor store your passwords, private keys, and emails. It can only give you access to the Ethereum blockchain.

MEW cannot help you to recover your private key – once it is lost, it is lost forever!
Additionally, you will not be able to reset your password or access your account.

Thus, it is very pivotal that you ensure the safety and good storage of your private key.
Nonetheless, you may have possibly stored your private key on your computer without realizing it.

Here are some tips that can help you search for your private key thoroughly on your device;
-: Do a full search of your computer for 'UTC–' and see if the file shows up.
-: Do a full search of your computer for your address, without the "0x" at the beginning.
-: Generate a new wallet via our interface and take a look at the different options you may have downloaded or saved.
Lastly, it is also recommend that you print out a paper version of your wallet, keep it in multiple physical locations, and only use it with an offline version of MEW.

4. Is MEW safe?
MyEtherWallet is a safe-to-use wallet. It is non-custodial and keeps you in total control of your wallet.
Thus, it requires your personal effort to ensure that your wallet is safe from hackers – prying almost everywhere to steal your funds.
To ensure that your wallet is safe, I suggest that you back up your keys and keep an eye open for all clone MyEtherWallet sites.
Also, accessing MEW with hardware wallets ( Trezor, Ledger, Keepkey) comes with a greater advantage.
This is because; it is the most secure kind of wallet that hoards your private key from prying eyes.
5. Can I buy BTC/ETH with credit card on MyEtherWallet?
Yes you can! MyEtherWallet accepts Visa and Mastercards.
6. What is the minimum amount of ETH to Buy if I want to activate my "MEW Wallet"?
At the time of this post, the minimum ETH that you can buy from your "MEW Wallet" to activate your account is 0.19 ETH (which is equivalent to $100).
---
Conclusion
This is the end of this review!
In this review, I walked you through the key features of "MyEtherWallet" using the most simple language and explanation.
Now, it is time to get your feedback; What do you think?
Do you own MEW? What has been your experience so far using this platform?
Do you think the MyEtherWallet is the most simple-to-use Ethereum wallet?
Let's discuss this in the comment box below.
But hey! Do you like this post? Why not give it a share by clicking on the share buttons that you are seeing below…Cheers
---
Ps: If you want to learn how to trade cryptocurrencies profitably, we developed a perfect course to help you master Cryptocurrency Trading.
Go to www.ctmastery.com to enrol.
---
Also Read;