Thinking of how to send money to Ghana from Nigeria instantly or vice versa?
Let me introduce you to the fastest way of doing that…..Sesacash!
Sesacash is a multi-currency wallet that allows you to send and receive money from Nigeria and Ghana.
By the time you must have gone through today's post, you will understand perfectly what Sesacash does and how to use it.
All set? Good. Let's get started then.
---
Post Summary
For a clear understanding, I listed the subheadings that will chair today's post.
They include:
You can click on any of the subheadings to see more about it or just continue on to read through for the full gist.
I will love it if you can take notes so by the time we meet at the concluding part, you will have something for me.
Bonne lecture!
---
What is Sesacash?
Sesacash is a multicurrency wallet that was launched in 2018.
In November 2019, the wallet was rebuilt and migrated to the Telos network.
This migration was due to the fact that Telos is a faster and cheaper platform for transactions and also allows you to develop dApps.
Sesacash's platform is registered in Panama and headquartered in Ghana.
It has Blaise Bayuo(former owner of Retail Power) as the CEO and co-founder.
Sesacash's main aim is to make it easier and faster for its users to make payments across the borders with low fees.
This way, its users can use their local currencies to access other countries' currencies as if you were in those countries.
In April 2020, Sesacash partnered with CryptoLocally, a peer-to-peer exchange, to power crypto payments.
That's a brief overview of Sesacash. Let's move on to see the unique features of this wallet.
---
Features of Sesacash
Unique user interface
No hidden fees
Powered by the blockchain
Multiple currencies support
Currency conversion
Mobile app
Affiliate program(up to 30%)
Having checked out the unique features that this wallet possess, let's go straight to see the services it offers.
Scroll down.
---
Sesacash Services
As at the time of this post(August 2020), Sesacash offers 2 services:
Send payments
Convert currencies
Find details about them below.
Send Payments
The wallet can be used to make and receive payments from other users.
To send payment to another user, you have to do the following:
Create an account with Sesacash and log in
From the menu, click on 'Topup' to deposit money into your wallet using your preferred deposit method
After making a deposit, click on 'Pay' from the menu
Select your preferred currency and enter the amount to pay
After that, enter the recipient's email address, enter memo(optional), and click on 'Complete'
The details of the transaction will be displayed.
Make the payment and the money reflects in the recipient's wallet
Convert Currencies
With Sesacash, you are free to convert one fiat currency to another e.g NGN to USD.
To do this, you have to select 2 different currencies and do the following:
Enter the amount of the currency that you want to convert and the amount you will receive after conversion will be displayed. For example, you enter 500NGN for conversion and the equivalent will be displayed in USD.
Click on 'Convert Currency' and the conversion takes place.
The amount appears in the wallet of the converted currency (USD in this case)
Note that the conversion is done using the mid-market rate at the time of the conversion.
Next, I will be discussing the supported countries and currencies.
Keep reading.
---
Supported Countries and Currencies on Sesacash
Countries
As at the time of this post(August 2020), Sesacash supports users from just 2 countries – Nigeria and Ghana.
However, the team is making efforts to extend its services to the whole of the African continent and the world at large.
Currencies
The fiat currencies supported are:
United States Dollar (USD)
Ghana Cedis (GHS)
Nigerian Naira (NGN)
Cryptocurrencies that are supported include:
Bitcoin (BTC)
Ether (ETH)
USD coin (USDC)
Telos (TLOS)
Eos (EOS)
Yensesa Token (YNT)
***Yensesa Token (YNT) is the native token of the Sesacash platform. You are paid cashback for every transaction in YNT.
More currencies will be added as its services expand.
Moving on, I will be talking about the ways you can make deposit or withdraw your funds.
---
Accepted Deposit and Withdrawal Methods on Sesacash
Deposit
Cryptocurrencies – BTC, ETH, YNT, TLOS, EOS, USDC
Bank account – USD, NGN, GHS
Mobile money (available for users in Ghana only)
Withdrawal
Bank account – NGN, GHS
Mobile money
Blockchain – YNT
Next, I will be talking about the fees charged when using this wallet and the points at which limits apply.
---
Sesacash Fees, Limits, and Verification Requirements
Fees
Fees apply on Sesacash when you are depositing and withdrwaing.
Sending/receiving payments and currency conversion does not attract any fee at all.
The fee structure is between 1 – 1.5% depending on the country and the amount involved.
Limits
Deposit
Methods
Fees
Min. Limit
Max. Limit
Bank
Account
NIG –
50NGN +1.5%
GHA –
5GHS + 1.5%
NIG –
1000NGN
GHA –
2 CEDIS
NIG –
None
GHA –
Depends on KYC
Mobile
Money
GHA – 1.5%
GHA – None
Depends on KYC
Cryptos
0.5%
None
None
Withdrawal
Methods
Fees
Min. Limit
Max. Limit
Bank Account
50NGN
+ 1.5%
NGN – 1000NGN
GHA – 2 CEDIS
None
None
Mobile Money
1.5%
None
None
Yensesa (YNT)
None
None
None
Verification Requirements
To get verified on Sesacash, you need the following:
Identification card – Passport, Driver's License
Number on your ID card i.e your ID number
A complete and clearly visible image of the ID card uploaded in JPG/PNG format
A photo of yourself holding your ID card and a piece of paper with the day's date and Yensesa written on it.
That's all for this section.
I will be taking you through how the whole thing really works in the next part.
---
How to Send Money from Nigeria to Ghana using Sesacash
Using Sesacash to send money from Nigeria to Ghana or vice versa follows thus:
Step 1
The first thing is to sign up with them. Visit sesacash.com and click on 'Sign Up' at the top right-hand corner of the homepage.
**If you have already signed up, just click on 'Sign In'.
Step 2
Enter your email address and password then click on 'Sign Up'.
Step 3
A passcode is sent to your email.
Step 4
Copy the passcode and paste into the space provided and click 'Verify'.
Step 5
Your account has been activated.
To start up your transaction, click on the 'Back to sign in' button. Sign in to your account.
Step 6
To begin any transaction, you have to deposit money to your account. Click on 'Top Up' beside your chosen currency to deposit money.
Step 7
Enter the amount you want to top up, confirm the currency, and select a preferred deposit method.
Here, I chose 'Bank Account' and I will click on 'Top Up'.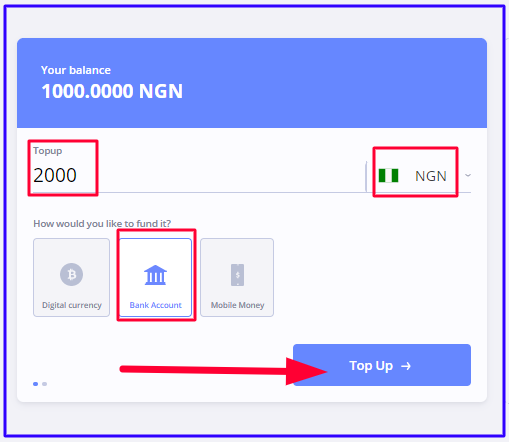 Step 8
Copy the account details provided, make a payment, and then click on 'Deposit Complete'.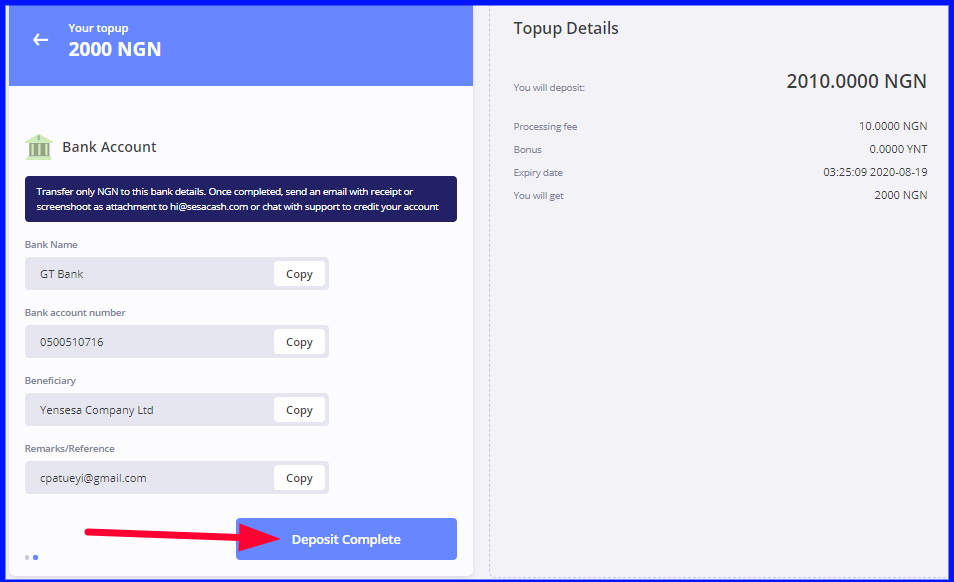 Step 9
The deposited amount reflects in your wallet.
I will then send evidence of payment(screenshot or receipt) to the Live Chat or to [email protected] so my account can be credited.
So if I check my NGN wallet, I should be able to see the deposited amount.
Now that I have some funds in my wallet, it's time to carry out some transactions.
It's showing 3000NGN because I had a thousand NGN before the deposit.
Step 10
Say I want to pay my friend, Abenna for a service rendered. I can do that in 2 ways:
I can send her NGN and she withdraws in GHS from her own end.
or, I can convert my NGN to GHS and send for her.
I will show you how it works both ways.
i. This is what I will do if I am going to send her NGN straight away.
I will click on 'Pay' beside my NGN wallet.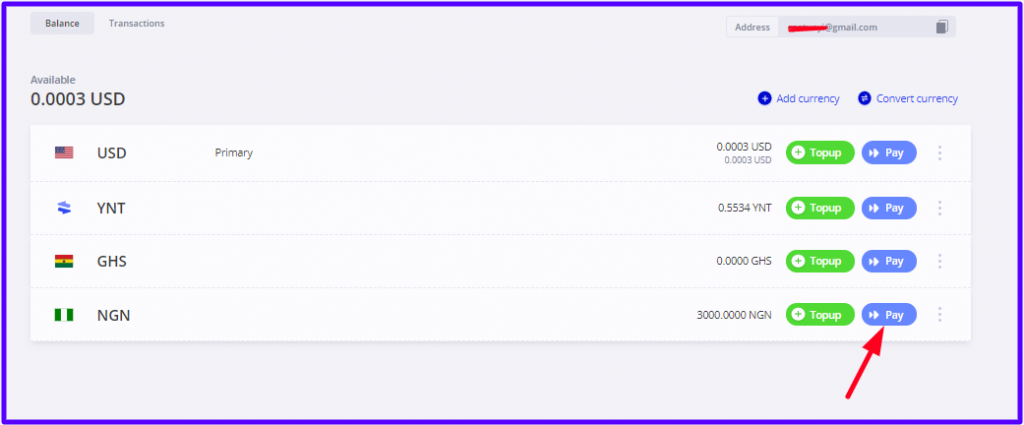 It opens up to this page. I will then
enter the amount
select the currency
input Abenna's email address (the exact one she used to sign up for Sesacash)
and if I like, I will add the purpose of the payment, and then click 'Complete'.
The money is sent and Abenna receives it in her NGN wallet.
She can then go ahead and convert it to GHS and withdraw to her bank account.
ii. If I will be converting to GHS first, this is what I will do
I will click on 'Convert Currency'.
It will open to this page. Select the 2 currencies and input the amount you want to convert.
Click on 'Convert currency'
The converted amount reflects in the appropriate wallet (GHS).
I will then click on 'Pay' beside GHS to send Abenna the money.
This dialog box opens. I will select the currency, input the amount, email address, and memo(optional).
I will click on 'Complete' when done.
Abenna receives the money in her GHS wallet. She can choose to withdraw to her account or leave in the wallet.
If she chooses to withdraw, she will do the following:
Step 11
Abenna will click on 'Withdraw' from the menu on the left hand side. This page opens up.
She will select the currency, the withdrawal method, and then input the amount she wants to withdraw.
When done, she will click on 'Complete'.
Step 12
This is what she will see. She will provide her full name, select the provider(MTN, Tigo, or Vodafone), provide her mobile number, and click 'Withdraw Money'.
Abenna will now follow the onscreen instructions to receive her funds shortly.
There you have the complete rundown of how to send money from Nigeria to Ghana or the other way round.
I listed ways to contact the team at Sesacash below.
Let's check it out.
---
Sesacash Contact Channels
Sesacash has a great user interface with instructions on what to do at every point clearly spelt out.
If you encounter any challenge, the admins are always online to attend to your queries.
You can reach them via any of the following channels:
Let's meet at the next section to round up today's review.
---
PS: If you want to learn how to trade cryptocurrencies profitably, then enroll for our Crypto Trading Mastery Course by going to www.ctmastery.com. You can also join our Telegram community at https://t.me/ctmastery
---
Conclusion
Now we have come to the end of the review today.
Hope you enjoyed every bit of it?
After going through your note, guess you have some thoughts to share.
So tell me:
Are you a Sesacash user? What has been your experience?
What fave coin of yours will you want the team at Sesacash to provide support for?
Looking back to the pre-Sesacash era, do you think the platform has carved a niche for itself in the payment verse?
Leave me your thoughts and questions you might have in box provided for comments below.
Click on the buttons below to get more persons informed about this subject matter.