Today will see us looking at a new exchange on the block –CryptoLocally.
CryptoLocally is a P2P exchange that was founded in late 2019.
As the name implies, it enables you to exchange your crypto with your local currency seamlessly.
Though relatively new, it supports every country on earth and provides a wide range of payment methods.
Forget the snippets I've given above, the real gist is yet to come. You will learn the nitty-gritty that you need to know about this exchange.
So let's get started at once.
---
CryptoLocally Summary
What I did here is to list out the main points that will lead today's discussion. This will also make it easier for you to navigate through the post.
The main points include:
If you will want to skim through before settling down to read or perhaps, you just need to look up info from a particular part, I got you covered.
You only need to click on any of the points and it takes you directly to where its details are.
Bonne lecture!
If you prefer to go watch the video instead; here is my full video review of Cryptolocally where I gave an overview of the platform, How to Buy, Sell and create offer on Cryptolocally, Enjoy
---
What is CryptoLocally?
CryptoLocally is a non-custodial peer-to-peer exchange that was launched in October 2019.
Its founder is Hugo Campanella, a crypto enthusiast and is headquartered in Hong Kong.
It was formerly known as EOSLocally (an exchange focused solely on EOS and EOS-based token) but re-branded to CryptoLocally on 20th March 2020.
According to CryptoNinjas, the rebranding was decided on in order to better reflect the direction of the exchange which has included non-EOS based tokens.
CryptoLocally allows users to buy/sell cryptos with their local currency.
The exchange can be used by anyone, anywhere, as long as they have access to the internet.
There is not much information available about the company but its success so far has challenged the big names in P2P trading.
I will now go ahead and list the unique features of CryptoLocally.
Read up below.
---
Features of CryptoLocally
Great user interface
Instant transactions
Increased security
Automatic calculation of trader's reputation
Multiple coins support
Multiple payment methods
Referral program
Having listed out CryptoLocally's features, let's look at the products and services it offers.
Just scroll down.
Products and Services of CryptoLocally
CryptoLocally offers the following services at the moment:
Buy (Buy crypto from Seller)
Sell (Sell crypto to Buyers)
Create Order (create your own offer and determine the price you want to buy or sell at)
The video above covers these 3 services. However, you can read further to learn specifically about each service.
Buy Service
This involves buying crypto from an already placed order. You can choose to fill a part of the order or all of it.
To do this, you will need to sign up with CryptoLocally, choose the crypto to buy, and then select an order.
You can search for orders based on payment methods, location, and currency.
This 3 mins video guide below explained in details how you can do that.
Sell Service
Here you can sell any of the support cryptos to a buyer that has created a buy order.
The process is the same as when you want to buy:
Sign up and select your choice coin
Pick a buyer and open a trade.
Agree to terms with the buyer and fund the escrow
Ensure that you have received payment before you release escrow
This video guide explained how to go about that in details.
Create Order
In cases where you can't find a fitting order to fill, you can go ahead and create your own order.
To do this, you have to do the following:
Sign up and create an offer
Select the type of trade you want to place including details such as – if you are a buyer or a seller, the offer status, payment method, and location.
Then add the price and amount of USDT you wish to trade. This also includes the currency and the rate of margin.
Click on 'Save My Offer' to complete the process and publish your first trade offer.
Your offer is now officially live on CryptoLocally. You can review edit or delete your offers anytime by clicking 'My Offers'.
*Notice: At the moment, only a light version of USDT is released on the platform. This means that when trading Tether on CryptoLocally, users cannot enter any USDT address (Omni-USDT, ERC20-USDT etc…). They can only use their EOS address, or a USDT address based on the EOS Chain to buy or sell Tether on CryptoLocally.
Watch the video below to understand more.
Having listed the services it offers, I will go ahead to list out the coins it supports.
Find the list below.
---
Supported Cryptocurrencies
The following coins are supported on CryptoLocally:
EOS (EOS)
ETH
ETH (BEP -2)
Worldwide Asset eXchange (WAX)
Telos (TLOS)
BOScoin (BOS)
EOSDT (EOSDT)
Binance Coin (BNB)
Binance USD (BUSD)
BTC (BEP-2)
USDT – TRC20
USDT – ERC20
USDJ
USDC
DAI
SENSE
TRX
GIV
JST
---
Supported Countries
CryptoLocally supports every country worldwide; none is restricted at the moment.
As I mentioned above, the exchange can be accessed from anywhere and by anyone as long as you have an internet connection.
So peradventure you find yourself stuck with your coins in the Caribbeans, you have an exchange to use.
Now, ain't that sweet?
Let's continue with the review.
---
Fees Charged on CryptoLocally
0.99% – 0.5%
The fees that are charged on CryptoLocally depends on the user's status. It has a beginner, VIP, and VVIP user status.
Beginner Status
As the name implies, here you have users that have no referral or trade history; they are just new to the platform.
CryptoLocally charges such users 0.99% commission fee on every completed trade.
VIP Status
Users with VIP status are ones that have referred 3 or more persons who successfully complete a trade on CryptoLocally.
OR
are among the first 2000 persons to have registered and completed a trade on cryptolocally before (available until 20/11/2019)
If you are reading this post now, it means you can only attain the VIP status via the first option.
VVIP Status
The VVIP Status users are the ones that have referred a minimum of 3 or more persons who then successfully complete a trade on the exchange.
AND
are among the first 2000 persons to have registered and completed a trade on cryptolocally before (available until 20/11/2019)
If you are reading this post now, it means you cannot attain the VVIP because the second requirement for it is no longer available
Next in the line of discussion is the various ways to make payment.
Just scroll down for the details.
---
CryptoLocally Payment Methods
CryptoLocally users can make payment via the following means:
Bank transfer
Local cash (in person)
Cash deposit
International wire
Venmo
WeChat Pay
Toss
Kakao Pay
Cash App
SEPA Transfer
Mercado Pago
PayPal
Alipay
M – Pesa
Sesacash
Revolut
Zelle Pay
I will go on now to talk about the trading limits.
Keep reading.
---
Limits on CryptoLocally
Currently, there are no limits to the amount to be traded.
The only limits there are those set by the makers themselves.
Users can go ahead and trade any amount within few minutes of signing up.
---
Customer Support and Public Opinion
CryptoLocally has a Help Centre that answered some of the questions users may have.
For further inquiry, the team can be reached on this address: [email protected]
You can also follow them on social media:
Twitter – twitter.com/cryptolocally
Telegram – https://t.me/cryptolocally
LiveChat mentioned as part of the update of its products in November 2019 is available only when you open a trade with another user.
Being relatively new, there are no reviews found on TrustPilot and Reddit except the 3 positive ones found on its home page.
This clearly implies that CryptoLocally still have a lot of work to do in this area.
Below, you will see answers to some frequently asked questions about CryptoLocally.
Check it out in the next section.
---
Frequently Asked Questions(FAQs) about CryptoLocally
How do I sign up with CryptoLocally?
To sign up, follow these steps:
1. Visit cryptolocally.com and click on 'Sign Up'at the top right-hand side of the page.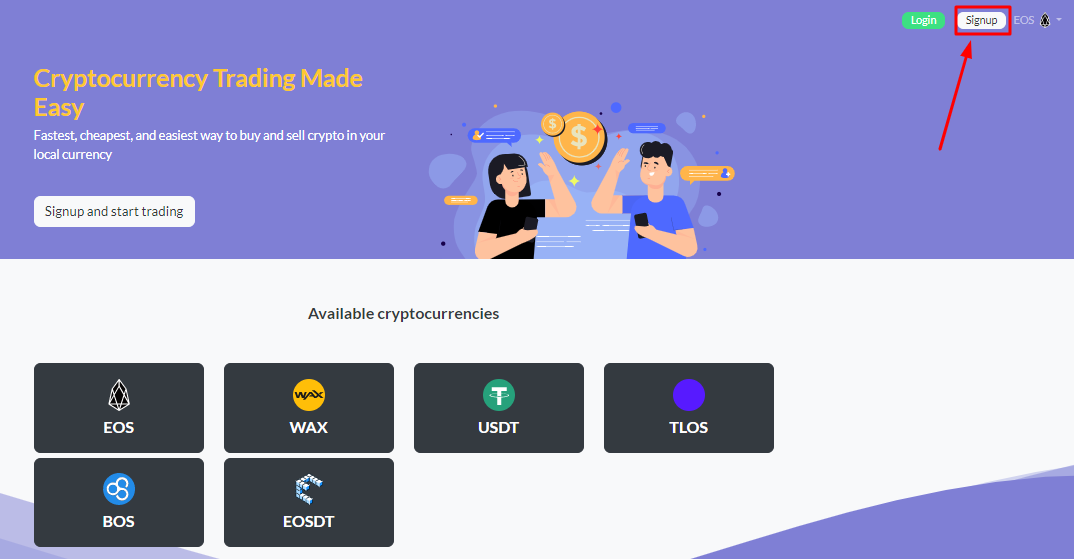 2. The Sign Up form opens up. Fill in the required details.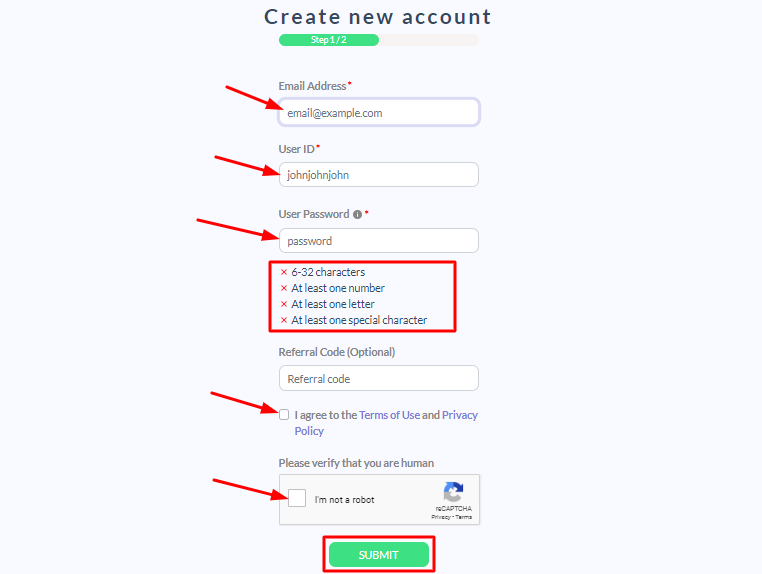 3. A link to verify your e-mail is sent to your e-mail address. Go to your inbox and click on 'Verify email'.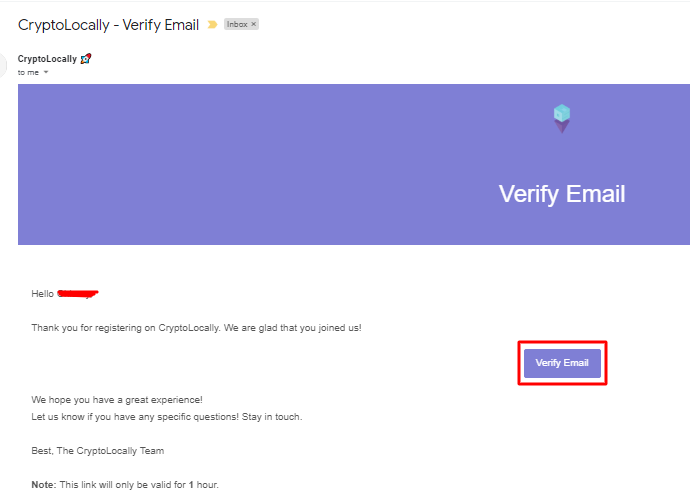 4. If there is a problem with your e-mail, you can either click 'Resend email' or fill the Submit new email form and click 'Submit email'.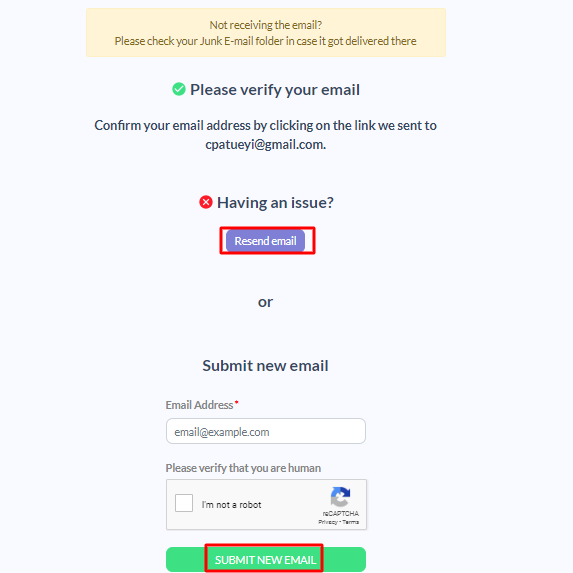 5. You can edit your account as shown in the diagram below or just go ahead and start up trading by clicking on 'Buy Crypto', 'Sell Crypto' or even Çreate Order' depending on what you want to do.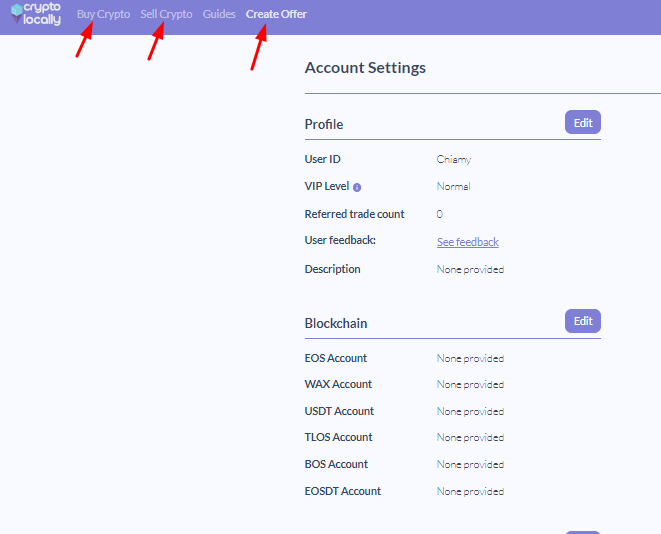 What are the requirements for registration?
CryptoLocally only requires your e-mail address for you to sign up; no cumbersome KYC checks.
How long will it take for my trade to occur?
Once a trade is initiated, CryptoLocally sets a time limit for every step that occurs afterward.
Depending on the reactivity of the traders and the payment method chosen, a trade can take less than 2 minutes or a maximum of 40 hours.
Here is the time limit for each step of a trade:
– Agree on terms: 1500 minutes
– Fund escrow: 60 minutes
– Pay: 120 minutes
– Release escrow: 720 minutes
What happens when I start up a dispute resolution case?
When a user commences a dispute resolution process, CryptoLocally will freeze the smart contract (the escrow).
The next step is to determine which side of the transaction is being disputed e.g. unreleased escrow or a missing/partial fiat.
CryptoLocally will then contact each party to obtain evidence to substantiate the claim.
After reviewing the evidence, CryptoLocally will either ask for additional information or offer a decision on the claim.
All decisions in the arbitration process are final and binding.
Each party will be notified of the decision and the resolution will be executed within 24 hours of this decision.
Is CryptoLocally reliable?
With the known facts at the moment, I will say it is reliable.
I asseverate this because all transactions made on CryptoLocally are powered by an on-chain smart contract.
Trade is secured by the escrow until its end. Thus, no third party, including hackers, can interfere or lay a hand on your crypto.
Again, it is custodial which means that it does not hold users coins. You are the one in charge of your cryptos.
And though still somewhat new, the exchange shows great potential when you consider the number of countries that it caters to.
But then, the opinion above is exclusively mine. Thus, it should not be seen as investment advice.
Always make your own findings before making any investment decision.

---
Conclusion
Here is the last part of this CryptoLocally review.
So far, it has been an interesting one and I'm sure you've learnt a lot.
Now, let's talk:
Do you have an account with CryptoLocally or you are yet to sign up?
What other services will you want the team at CryptoLocally to provide?
And of course, the supported coins – which faves will you want to see listed on the exchange?
Your replies to these and questions(if any) are what I will be checking back for in the comment section below.
It will also be really nice if you share this post with your friends. The share buttons are right below.
---
You can also check out these posts about other P2P platforms: