Today, I will take you through one of the highly-rated multi-crypto wallets – Exodus.
Exodus is a crypto wallet that has proven to be exceptionally user friendly since its launch date in 2015.
If you are a hodler looking for the right wallet to store and make passive income off your cryptos, then, let's quickly dive into this post.
---
Post Summary
Before I get started with this review, here are the things to be discussed;
Excited already? let's explore this crypto wallet then!
---
Overview of Exodus Wallet
Exodus, launched in 2015 and headquartered in Omaha, Nebraska, U.S.A, is a crypto wallet where you can store virtually all kinds of crypto.
Founded by JP Richardson and Daniel Castagnoli both who are reputed entrepreneur, blockchain experts, and software developers.
The two created Exodus wallet to be a platform where pro traders and newbies can easily access and store their crypto assets safely.
It is free to use and is compatible with Android, Linus, iOS, Windows and Mac.
Exodus wallet is non-custodial; it keeps you in absolute control of your assets and private key.
One of the good things about this wallet is that; it simplifies work for you, by keeping track of all your assets in your wallet portfolio.
With Exodus Wallet, you have 2 backup features that enable you to access your wallet from another device, using a recovery phrase and email backup.
Need to mention, the wallet has an in-built exchange, plus it is integrable with the hardware wallet Trezor.
Exodus launched a new product that allows its users to earn passively while storing their cryptos.
If you wish to learn more, then, join me, as I take you to some other aspects of the wallet below.
---
Features of Exodus Wallet
Exodus Wallet has the following features;
In-built Exchange
Free Multicrypto Wallet
Supports different BTC addresses
Integrates Trezor
Asset Portfolio
Want to learn more about Exodus and its services?
See below!
---
Services Provided by Exodus Wallet
Listed here are the services provided on this wallet;
Wallet
In-built Exchange
Crypto Apps
Wallet
You can store and receive over 100 cryptocurrencies or send them to other wallets of your choice.
Exodus has support for both Segwit and Legacy BTC addresses.
It also adopted the customizable fee feature for sending and receiving BTC and ETH.
In-built Exchange
Here on Exodus, you can easily swap between coins.
This feature is the only way the Exodus makes money, since, the wallet app is downloaded and used for free. (more details on the FAQ section).
However, you can buy BTC with USD.
Crypto Apps
This product was newly added on Exodus Wallet. To access this feature, click on the icon "Install Apps" to include up to 3 crypto apps;
Reward
Compound Finance
SportX
This product, I must say, is a welcome development for the Exodus wallet, as users can now stake their coin to earn passively on the platform.
I discussed how you can earn from Exodus crypto apps in one of the subheadings below.
Note: Crypto app is not supported on the mobile app yet.
Taking a deep dive…let's look at the next section!
---
Supported Cryptocurrencies
Exodus has crypto wallets for over 100 coins. I will be listing some of the popular ones below for you.
BTC, ETH, LTC, ETC, XRP, BCH, USDT, LINK, BNB,
XTZ, BSV, EOS, TRX, NEO, VET, DAI, ATOM, DASH
ALGO, ONT, HBAR, ONG, VTHO, GAS, 0X, AST, ANT
APPC, REP, BAL, BNT, BAT, CND, COMP, CRO, CRV
MANA, DCR, DGB, FUN, GLM, RLC, KNC, LOOM, LUN
MKR, MCO, OMG, POE, PPT, POWR, QSP, REN, RCN
SNT, XLM, STROJ, SNK, PAY, TUSD, UMA, USDC, WBTC..etc.
It's good that you have read to this point. I am going to show you how you can set up Exodus wallet in the next section.
---
How to Download and Store your Cryptos on Exodus Wallet
Exodus is very easy to set-up.
To download and start using Exodus on your desktop, follow this simple step by step guide;
Go to the Official website and click on "Download" or "Download Wallet".
2. A new interface will display, click to download the latest version of Exodus Wallet, then, select where to download from the listed options. This will automatically download and install the app on your device.
3. After installation, click on the app from your desktop shortcut to open and access your Exodus wallet.
Exodus does not require that you first sign up an account before you have access to it.
You can start storing, sending and receiving crypto immediately by clicking on "Make Your First Deposit". or click on "Restore from backup" if you have an existing account.
See the screenshot below!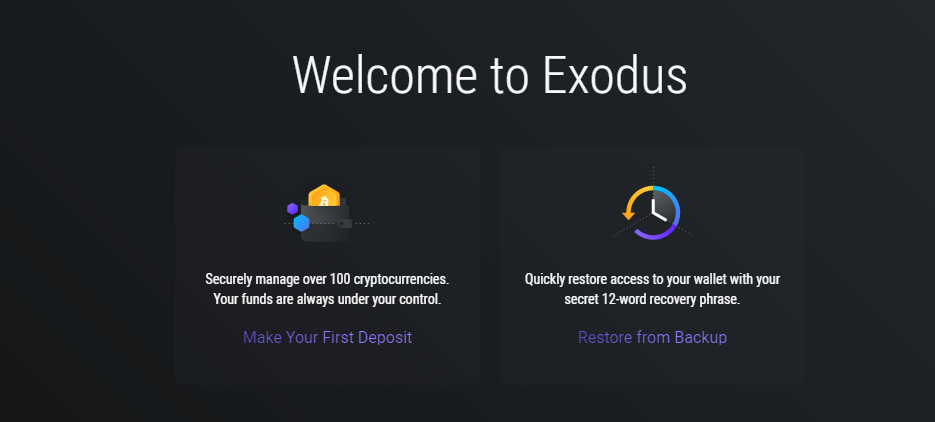 If it is your first time using Exodus, and you intend to hodl your asset for too long, then, I advise you backup your wallet by clicking to do so on the "settings icon" found on the app.
You can find details on how to backup your Exodus wallet in the FAQ section.
Click here to learn how you can install Exodus on your mobile device.
Below, you will learn how to start earning from Exodus…let's check it out.
How To Earn Passive Income on Exodus Wallet
To start earning free cryptos on Exodus, the first thing that you should do is to install crypto apps by clicking on "Install App".
Here is how you can earn from your Exodus wallet.
On the "Reward" app, click on the "GET REWARD" buttons to earn from all the coins available for staking.
Earn From Compound Finance
For the "Compound Finance" app, you can only stake DAI, but an amount of 0.092125 ETH is required before you can access it.
SportX is temporally unavailable on Exodus. The reason, according to Exodus, is to put a check on the high ETH network fee they pay for users to place bets on SportX.
However, they hope to bring this app up and running once they put in place solutions that will make SportX more efficient on its platform.
Now, you may ask, What Coins can I stake on Exodus?
You can stake up to seven (7) coins on Exodus. See them below.
– NEO
– VET
– XTZ
– ATOM
– DAI
– ALGO
– ONT
The percentage of the reward that you earn staking these coins is shown in the "APY Reward" section of your wallet portfolio.
Moving on – excellent customer support experience is always of paramount concern when talking about a financial system like Exodus.
Does Exodus take users queries seriously? Scroll down to learn more!
---
Exodus Membership Support Channel
Here are links to Exodus communities on social platforms;
https://twitter.com/exodus_io/
https://exodusmovement.slack.com
https://vimeo.com/exodusio
https://www.facebook.com/exodus.io/
Exodus support system is active and relatively impressive (in my opinion).
Users can contact support on the wallet's apps and on the official website too.
To reach the team via the website, scroll down to the "help" bar, located (almost) at the right bottom side of the web's interface.
Upon clicking on it, you can decide to use the Knowledge base or send a support ticket.
Having discussed this enough, let's switch gears to "users opinions".
Exodus has a polarized review on Trustpilot and an "Average" performance rating from its users.
From the reviews, most users complained a lot about poor security, and a very high send fee charged on Exodus.
The complaints on the "high send fee" l must say, has nothing to do with the Exodus Wallet. This because this fee is is not charged by Exodus but by miners.
Moreover, there is a customizable fee feature for sending BTC and ETH. You can adjust this feature to get the desired fee amount that you are willing to pay.
---
Comparing Exodus With Other Hot Wallets
Exodus vs Coinomi
Exodus and Coinomi wallets are the two highly-rated multi-crypto wallets in the crypto space.
These two wallets have a lot in common and are compatible with android, ios, macOS, Windows and Linux.
Coinomi is one of the oldest crypto wallet founded by George Kimionis in 2014.
It is a highly secure wallet that allows you to store over 500 cryptocurrencies for free.
Below, I listed the features Exodus and Coinomi have in common.
In-built Exchange
Backup Feature
Segwit support
Closed source
Sign up and KYC not needed
Staking
Non-custodial
Although these similarities exist between these two wallets, they equally have distinct features.
For instance, Coinomi has live chat support, and you can buy Giftcards with crypto on Coinomi, but it is not so on Exodus.
Also, Coinomi came into the crypto space a year ahead of Exodus Wallet. It also supports more coins.
Here is our Coinomi review.
Exodus vs MyEtherWallet
MyEtherWallet (also called MEW) is a web and mobile wallet co-founded by Kosala K. Hemachandra and Taylor Monahan in 2015.
This wallet was created to to resolve the issue of sending and receiving ETHER.
Basically, MEW is an open-source interface that allows users to store their ETH and other ETH related tokens.
While MEW is a hot wallet, it is totally different wallet from Exodus and has its own unique features.
Here are the features of MEW;
MEW connects you to the Ethereum blockchain
You can only store ETH tokens on MEW
You can create dapps on MEW
MEW allows you to run a smart contract directly on its platform
To learn more about MEW, check out our review here.
---
FAQs
---
P.S
If you want to learn how to trade cryptocurrencies profitably, we developed a perfect course to help you master Cryptocurrency Trading.
Go to www.ctmastery.com to enrol.
---
Conclusion
This is the last part of this review, guys!
I have walked you through all the key things you need to know about "Exodus wallet" in an explicit manner.
Now, it is time to get your feedback;
You want to start using Exodus now?
Have you been using Exodus? What has been your experience so far?
What do you think about the new crypto App feature?
Let's discuss them in the comment box below.
But hey! Do you like this post? Why not give it a share by clicking on the share buttons below…Cheers.
---
Other related articles;