Today I will give you a complete review of the Trezor One, recognized as the first Bitcoin hardware wallet.
Since its launch in August 2014, it has succeeded in providing its users with both the security of a cold wallet and the convenience of transacting with a hot wallet.
Seeing that cryptocurrencies are no longer safe to stored online, due to several cyber-attacks leading to loss of funds.
Satoshi Labs, a renowned company involved in several bitcoin projects, came up with the idea of storing cryptocurrencies in an offline device.
Hence the Trezor One was created, a portable device just like the regular car key but can secure thousands of your cryptos.
I have made the post simple and clear, you will find out all the features of this device, how to get it, most of all how to use it and lots more…
---
Post Summary
Satoshi Labs was legally incorporated in 2013. Founded by Marek, Pavol, and Alena, it aims at providing secure and user-friendly solutions to crypto problems.
The company has several crypto projects to its credit including its Trezor wallets ( Trezor One and Trezor ModelT).
Other projects include;
Coin Map: Map pointing places that accept Bitcoin around the globe.
Slush Pool: A popular mining pool.
To give you a better understanding of the post, here is what I will be covering today;
This is currently the most complete review of the Trezor One. like I said earlier, I have made it simple and clear. Enjoy the rest of the post.
---
Trezor One In a Nutshell
Launched in August 2014, the Trezor One is the first Hardware wallet to grace the crypto security market.
Much like the shape of a regular car key, it can easily be carried about by the user and connected to any computer around when ready to use.
It is compatible with hot wallets like Mycelium and Electrum. The wallet supports over 1000 cryptos and allows to add a passphrase to the device for extra security.
The best thing I like about the Trezor One is it's affordability though not the cheapest in the market plus it is very easy for anyone to use.
Find out more about the device, we are just getting started.
---
Pricing and Unboxing
The Trezor One is currently sold at $80. Save $20 when you buy 3 at once.
What's in the box?
1 Trezor device.
1 micro USB cable.
2 recovery Sheets
NOTE: NEVER BUY A HARDWARE WALLET FROM EBAY, IT MIGHT BE COMPROMISED. RATHER BUY FROM THE WALLETS OFFICIAL WEBSITE OR AMAZON.
---
How to Setup Your Device
The Trezor One is a USB 2.0 Device and compatible with Linux, Windows and macOS 10.8+ and it is very easy to setup.
The TREZOR device can be set up in 4 different ways.
Through TREZOR bridge
Through TREZOR chrome extension
Through TREZOR android manager
Offline with Python tools (not recommended, except you are an advanced user).
Follow these simple steps to get your device ready under 5mins.
Step 1: Install Firmware
After connecting your Trezor device to the digital wallet, next is to install your device firmware. This is done to ensure you are initializing a brand new device.
Click on "install firmware".
Unplug and replug the device to the computer to continue the setup procedure
Don't use the device if the firmware is already installed (you must install it by yourself)
Step 2: Create Wallet and Backup
Your wallet is where you visualize and carry out actions on your crypto portfolio concerning your device.
Click on "create new" if you want to create a new wallet.
If you want to recover a former wallet, click on " Recovery".
Now click on "Create backup in 3minutes" and write down your recovery seeds in the exact order they appear on your device' screen.
Name your device especially if you have more than one Trezor device.
Step 3: Create PIN
The PIN protects your device from unauthorized users. It's simple to create.
Create your PIN by clicking on an obscured numerical pad that is presented on your computer screen.
On the Trezor device, select the digits you want to use for PIN. PIN shouldn't be more than 9digits.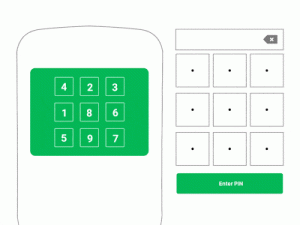 That's it, your device is all set now, go ahead to send and receive your funds right away.
You can watch this 7 mins video on how to set up the Trezor One.
---
Trezor One Supported Crypto Currencies
Trezor one supports over 1000 cryptocurrencies including Erc20 tokens. Here are some of the major coins supported;
Bitcoin(BTC)
Bitcoin Cash(BCH)
Ethereum(ETH)
Litecoin(LTC)
Zcash(ZCH
Stellar(XLM) etc….
Ripple and Monero are not supported plus some of the ERC20 tokens need alternative wallets to support them e.g Electrum and Mycelium wallets.
Click here to see the full list of all the supported coins.
---
Comparisons
Trezor One vs Ledger Nano S
Trezor's main competition is the Ledger Nano S. The two of them are almost the same and will provide you with top-notch security. But the Trezor has an edge here because it gives an extra layer of security by enabling Passphrase support.
The Ledger Nano S supports more coins e.g Ripple and Monero. If you want to use Ripple Or Monero I'll advise you to go for Ledger Nano S. Better still, you can upgrade to the Trezor ModelT which supports both coins and it's touch screen enabled.
Below is a Tabular comparison of both Trezor and Ledger Wallets
---
Pros and Cons
Pros
It's very affordable
Portable device
It's user-friendly
Provides proper security.
It has passphrase support
Cons
It does not support Ripple and Monero
Certain coins need alternative wallets to be supported.
How Secure is the Trezor Wallet?
TREZOR has put together concrete security measures to safeguard its users' cryptocurrencies from both virtual and physical theft, let me briefly highlight a few.
Using a TREZOR wallet device means having total control of your private key. here is why, when setting up this device, a user will be required to create a 24-word seed.
This seed backs up your entire wallet and is generated using your computer and the TREZOR device in offline mode (without an internet connection). The generated seed displays only on the screen of your device, and can never be accessed by any third-party software or internet-connected device, making it hack-proof.
Click HERE for more details on how TREZOR handles security threats.
---
Conclusion
That's all about the Trezor One for you, my reader.
Hardware wallets are relevant tools if you are serious about your crypto security. Trezor One is a wise choice to make.
Do you have any experience with this device?
How satisfied are you with all its features?
Leave your replies to me in the comments section.
Remember to hit any of the social media icons below to share this post, someone might be needing this info on your timeline…
Also read: