This is an updated review of ZenGo, a non-custodial, keyless cryptocurrency wallet.
If you have been seeking a secure wallet for your digital assets, ZenGo may just be the best option for you.
Interestingly, you earn attractive rewards when you save and make transactions in Bitcoin on this wallet.
I'm sure you like the sound of that. But that's not all you can gain from using this wallet.
Keep reading to learn more about the ZenGo wallet.
---
Post Summary
Click on any item above to read its details right away.
Happy reading!
---
1. ZenGo Wallet Overview
ZenGo is a non-custodial cryptocurrency wallet where you can store your Bitcoin, Ethereum, Dogecoin, and other coins.
It is the first keyless cryptocurrency wallet that is managed by the KZen Network Ltd.
Ouriel Ohayon and his team created the ZenGo wallet in April 2019 with headquarters in Tel Aviv, Israel.
Their goal is to make the global crypto economy accessible to everyone.
ZenGo wallet enables you to buy, trade, and earn cryptocurrencies safely and without stress.
I'll talk about how you can do all that shortly but first, let's see the features of this wallet.
Keep reading!
---
2. Features Of ZenGo Wallet
Excellent UI
Regulated transaction speed
Adjustable fees mode
High APY
Multiple assets support
24/7 active customer support
Mobile app
Next, we'll look at the products and services offered by this wallet.
Read on!
---
3. ZenGo Wallet's Products & Services
ZenGo offers the following services:
a. Wallet
ZenGo provides wallets for over 70 cryptocurrencies. You can safely store your assets in these wallets.
You can also send crypto from the wallet.
b. Savings
This is where you can save your coins and earn rewards. The coins you can save are BTC, DAI, USDC, USDT (ERC20), and XTZ.
See what you can earn from each one:
BTC – 4% APY
DAI – 2.5%
USDC – 2.26%
USDT – 3.16%
XTZ – 5.57%
c. Buy and Sell
This service enables you to buy cryptocurrencies with cash via the supported payment methods.
Also, you can sell your crypto to the platform and receive cash.
Guess what? You'll get up to $10 cashback in Bitcoin when you buy BTC on ZenGo
How to:
Download ZenGo using this link
On the email screen, click on "Tap here to enter your code" and use the code ZENX0B4G, then hit 'Apply'
Make sure you see "Referral code applied" and continue signing up with your email
Next, Select 'Buy' and make a purchase of $200 or more
After your purchase is received, you'll receive your Bitcoin cashback reward within a few days
Amazing!
d. Trade
Here, you can exchange a cryptocurrency for another.
---
4. Countries & Currencies Supported On ZenGo Wallet
Countries
All except:
Bangladesh
Cuba
Iran
Myanmar
North Korea
Pakistan
Panama
South Sudan
Sudan
Syria
Zimbabwe
Within the USA, these states are restricted:
Connecticut
Hawaii
New York
New Mexico
Since ZenGo employs the services of other platforms, also confirm that they support your country.
Check out for supported countries on MoonPay here and on Coinmama here.
Currencies
This wallet supports 70+ cryptocurrencies and the local currencies of the countries supported on the platform.
They include:
Cryptocurrencies
BTC
ETH
ZRX
AAVE
REP
BAND
LINK
CHZ
CVC
COMP
DAI
MANA
LUNA
OKB
MATIC
USDT
UNI
WBTC, etc.
Fiat
AUD
CAD
EUR
GBP
JPY
KRW
NGN
USD, etc.
---
5. Payment Methods & Transaction Fees
Payment Methods
Credit card (Visa and MasterCard)
Apple Pay (Visa and MasterCard)
Bank transfer (SEPA and Swift)
Debit card (Maestro)
Google Pay (Mastercard)
Samsung Pay (Mastercard)
GBP instant bank transfers
Transaction Fees
ZenGo does not charge any fees for sending, receiving, and storing crypto.
However, trading incurs fees as well as cryptocurrency networks and payment processors.
Find more details below:
Trading fees – 0.75%
For the network fees, you can choose from the economy, regular, fast modes when transacting BTC, ETH, ERC20 tokens.
Next, we'll see the transaction limits.
Keep reading!
---
6. Transaction Limits & Verification Requirements
Transaction Limits
There are no limits for crypto transactions in ZenGo wallet except when you want to buy via a payment processor.
The minimum amount you can buy via MoonPay is 100 USD and the maximum depends on your verification level with the platform.
While the minimum you can sell is 20 EUR and the maximum is 2,000 EUR daily, 10,000 EUR monthly.
Learn more about MoonPay limits here.
Verification Requirements
To use ZenGo, you must verify your email address.
After that, you can proceed to deposit your crypto into the wallet.
But if you want to buy crypto with cash, you'll be required to create a biometric backup with your face.
Don't worry, it's not tedious.
The wallet will access your phone's camera to capture your face.
The essence is to keep your funds safe even if you lose your device.
Also, MoonPay has its verification requirements, you'll find them here.
---
7. Customer Support And Public Opinion
ZenGo wallet has a Knowledge Base where users can find answers to the questions they have about the platform and other relevant topics.
Also, they can get direct answers via the Live chat button on the home page.
I tried it and I got a response in less than a minute. Cool!
Users can also stay updated through these channels:
https://www.twitter.com/zengo
https://www.medium.com/zengo
https://www.github.com/kzen-networks
https://www.linkedin.com/company/zengo
https://t.me/zengo
When I checked ZenGo wallet on TrustPilot, it had a poor rating with only 5 reviews.
Then on GooglePlay, it had a 4.3 rating with about 2,600 reviews.
I also noticed that the ZenGo admin responded to customers' complaints on the page.
Next, I'll show you how to buy bitcoin on ZenGo wallet.
Tag along!
---
8. How To Buy Bitcoin In Nigeria Using ZenGo Wallet
a. First, you need to download the wallet. Go to zengo.com and click on App Store or Google Play depending on your device.

b. Open the wallet and skip to the last page to input your email. Then enter ZENX0B4G as your referral code and hit 'Continue'.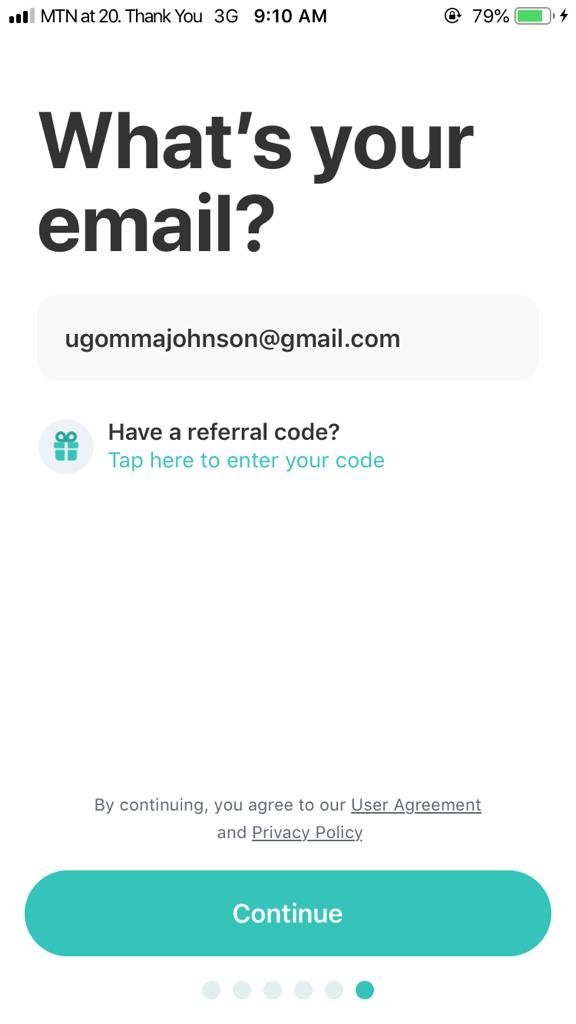 c. Confirm your email by clicking on the link sent to your inbox
d. Next, create a password for your account.
e. Then select 'Explore the app' to proceed
e. Select the 'Buy/Sell' from the bottom of the page and opt to buy BTC.
f. Enter the amount you need and hit 'Continue'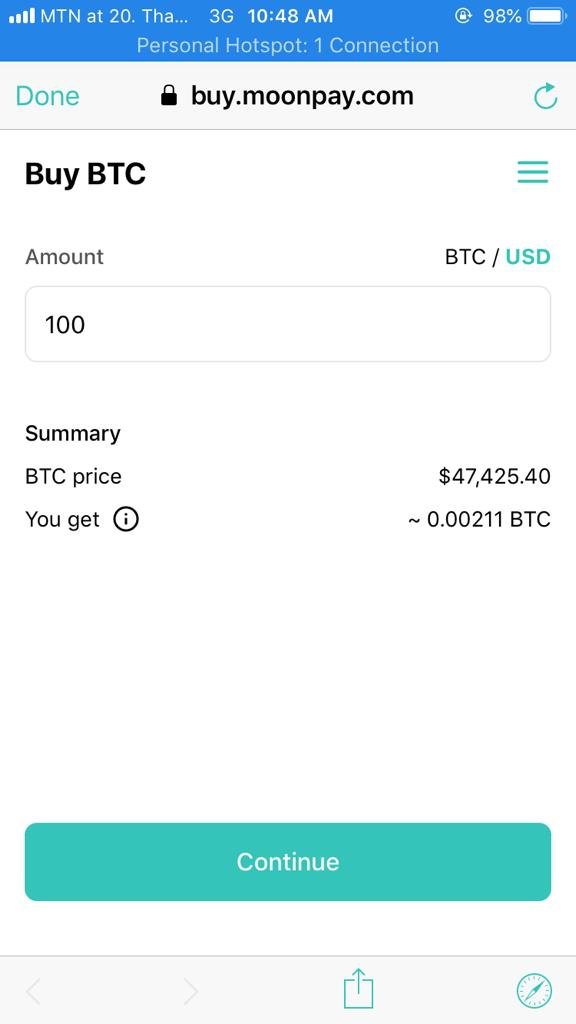 g. Verify your email with MoonPay and provide other required information to continue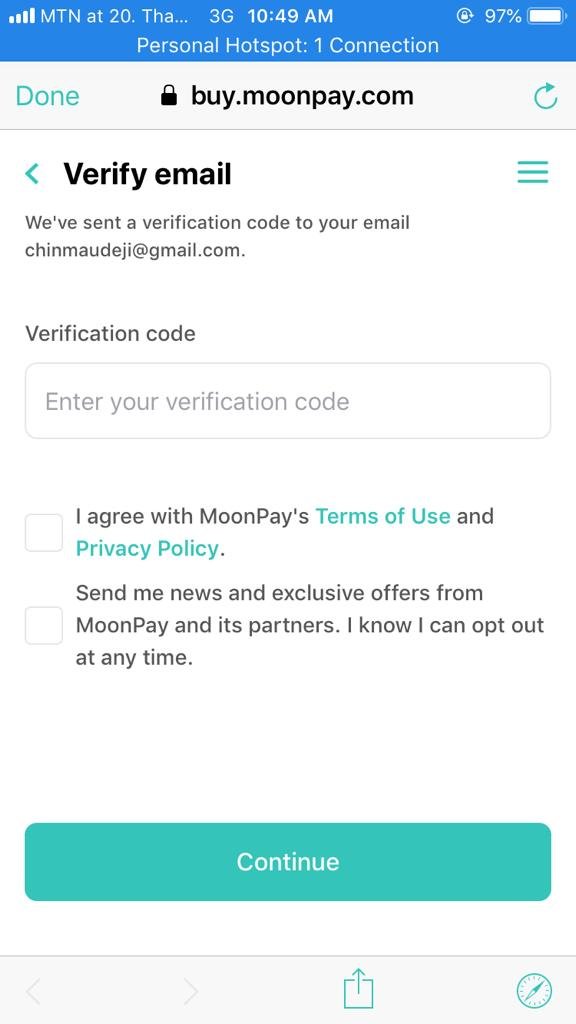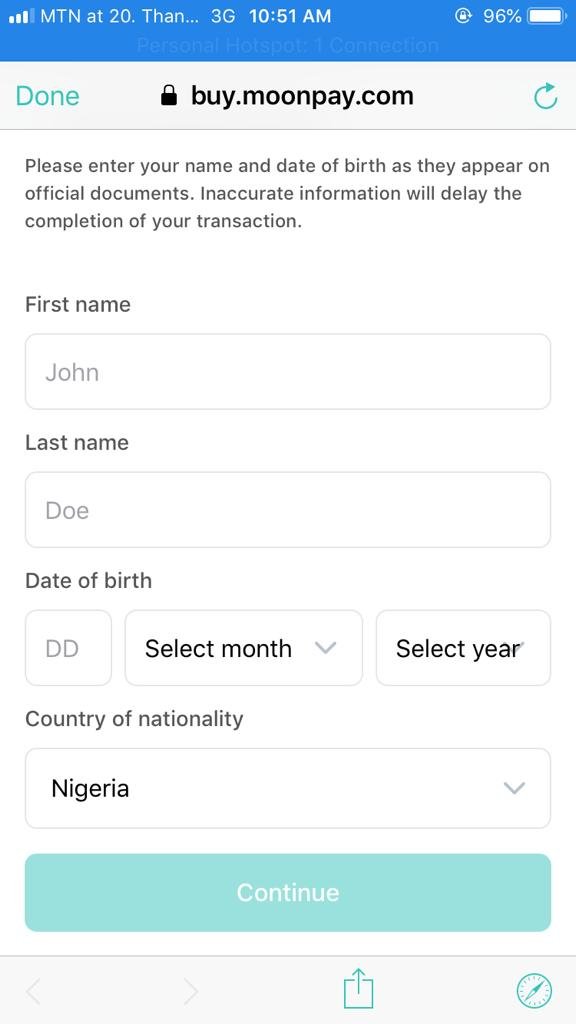 h. After making payment to MoonPay, your wallet will be credited with BTC.
Note: it may take a few working days for your payment to be processed.
Impressively, you can speed up your transaction or even cancel it before it is confirmed on the blockchain.
Moving on, let's compare ZenGo wallet with similar products.
Tag along!
---
9. Comparing ZenGo Wallet With Similar Wallets
ZenGo vs. Trust
Trust is a mobile wallet just like ZenGo. It is a product of the global exchange, Binance.
Both wallets have related features including Trade, Staking, and Buy Crypto.
Additionally, both wallets are compatible with android and ios.
However, Trust has features that ZenGo does not like: Finance and Collectibles.
And while ZenGo is a keyless wallet, you need a private key to secure your funds on Trust.
ZenGo vs. Coinomi
Coinomi is one of the oldest crypto wallets founded by George Kimionis in 2014.
Just like ZenGo, it is secure and allows users to store over 500 cryptocurrencies for free.
The wallet also supports staking and the exchange of crypto.
However, Coinomi allows users to buy Giftcards with crypto but ZenGo lacks this option.
Also, it has a web version but ZenGo does not.
But ZenGo's keyless feature is not obtainable in Coinomi.
Let's answer some frequently asked questions and wrap up this post.
---
10. FAQs
What makes ZenGo a good option for Nigerians?
ZenGo uses an external payment processor to facilitate crypto purchases.
This is good for Nigerians (following the crypto ban) since they can make transfers without specifying anything crypto.
The only downside here is that you have to complete KYC with the payment processor
Is it safe to use the ZenGo wallet?
I think ZenGo wallet is safe because:
– The owners are known.
– ZenGo always conducts security audits for its mobile app and server
– There are also routine security checks that are run on all its systems.
– Additionally, ZenGo has raised $20 million for its development through noteworthy investors like Samsung Next, Elron, Collider Ventures, FJ Labs, etc.
Nevertheless, do due diligence before using this wallet.
What if something disrupts my face (e.g an accident), how do I get back my account?
Thankfully, ZenGo allows for an additional face map.
Simply, get a trusted close friend or family member to add a biometric face scan to your account and you are good to go!
---
11. Conclusion
ZenGo wallet enables individuals to store, buy, transfer, and trade crypto.
It supports a wide range of coins and it is easy to use.
And that's all I have for you in this review. Now, I'd love to hear from you;
What do you think of this wallet? Would you store your funds in it?
Perhaps, you're already using the wallet. What has been your experience?
Tell me in the comments section right now.
Also, share this post with other crypto lovers on your list. Thank you!