Looking for a top-notch crypto wallet? I present to you ZenGo!
ZenGo is the first keyless cryptocurrency wallet that was launched in 2019. I say 'keyless' because it does not make use of a password or a private key.
Guess you are wondering how the users keep their coins safe since no private key. Don't worry, I explained all that and more in this most complete review.
Just stick with me as I take you through the ZenGo world.
---
ZenGo Review Outline
In this part, I listed the various subheadings you will come across in this review with a link to their full details attached.
They include:
Having listed what is to be discussed, let's get to discussing them at once.
---
What is ZenGo?
ZenGo is the first keyless cryptocurrency wallet that was launched in April 2019.
It is owned and managed by KZen Network Ltd.
ZenGo is headquartered and registered as a corporate entity in Tel Aviv, Israel.
The 4 co-founders include Ouriel Ohayon, Gary Benattar, Tal Be'ery, and Omer Shlomovits.
Also among the ZenGo team are other members of the Core Team, Advisor Team, and Investors.
The team at ZenGo has the mission of making the global crypto economy more accessible.
With this in mind, they believe that one day, all assets(both digital and physical) will be represented on the blockchain.
Users of ZenGo can buy, swap, and earn cryptos in an unrivaled safe, and simple manner.
This it does with the help of its KEYLESS WALLET technology.
Now, don't let that word in UPPER CASE and BOLD upset you. I broke down its meaning and how it works in the next section.
Just move your cursor down.
---
ZenGo's Keyless Wallet Technology Explained
I will backtrack a little to how a typical crypto wallet works.
A typical crypto wallet stores your private keys. Without your private keys, you cannot access your coins no matter how much you try.
So this simply means that the loss of your private key means the loss of your coins…QED!
Now along comes ZenGo with this disruptive technology that has no use for the private keys.
So ZenGo is saying: Hey user, don't worry yourself about remembering or storing your private key 'cos you won't even be needing them at all. And again, even if the platform stops working or you peradventure lose your wallet, your assets are still safe.
'WOW'...Yeah, I heard you say that!
But before you start thinking this has something to do with magic or perhaps, voodoo, let me explain how ZenGo does that.
Going further, it will get a bit technical but of course, I will still be there to explain things plainly for you.
ZenGo ensures the safety of users' funds in these ways:
Use of MCP/Threshold Signatories
ZenGo replaced the traditional private key with multiparty computation(MCP), a branch of cryptography.
Here, you have a set of parties that suspect each other together try to analyze information about themselves while keeping the results of their findings private. It is expected that each party will work independently and arrive at the correct answer without exposing their results.
The same can be applied when computing a digital signature.
Using Threshold Signatures, ZenGo shares 2 independently created mathematical secrets between 2 parties.
One share is stored on your mobile device and the other on its servers.
When you initiate a transaction, you automatically start up a process in which the servers and your device share interact to sign your transaction.
The transaction gets signed without any of the parties(device or servers) revealing its secret to the other.
With no single point of failure, even if something happens to one of the parties involved, your assets are always safe.
Wallet Backup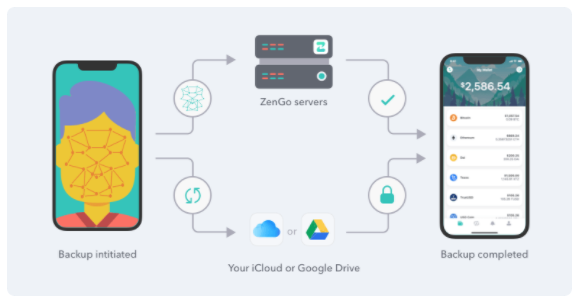 Another thing ZenGo does is to back up your wallet.
It does this by storing an encrypted copy of your device on the ZenGo server.
The decryption code is stored separately in your personal iCloud (iOS) or Google (Android) account.
You can only access the encrypted code with your 3D biometric face map.
Chilling Storage
ZenGo also made plans in case you lose your device or ZenGo stops operating. It implemented Chill Storage™.
Chill Storage is an e-wallet service that ensures that your funds will always be accessible.
How this works is that there are established Escrow and Trustee.
The Trustee monitors ZenGo while the Escrow stores a master decryption key,
Now during normal operation, this is what happens:
ZenGo instituted this guaranteed recovery process by creating both a master encryption key and a master decryption key.
This master decryption key is deposited in an established escrow and also appoints a trustee.
The master encryption key is maintained on its servers. It continuously encrypts the server share every time a new one is created;
Users then get an encrypted version of that server share (encrypted with the master encryption key).
During recovery, these steps take place:
Once the Trustee discovers that ZenGo is not operational, it will request the Escrow to post the decryption key to a dedicated GitHub account.
Upon startup, the app automatically checks the GitHub account and detects when it should enter recovery mode.
Users will then be able to export their wallet to another service and move their funds to any desired destination.
The recovery agents that ZenGo use are EscrowTech and JRG.
So one can say that ZenGo's security model is not 2FA but 3FA(3-Factor Authentication).
The factors used are your email, backup file, and your face map.
Here you have the keyless wallet technology explained clearly. Check for further details on it here.
Let's go on now to find out the distinct features of this wallet in the next subheading.
---
Features of ZenGo
Great UIX
Fast transactions
Better security with Threshold signatories
No hidden fees
Best market rates
Multiple assets support
24/7 active customer support
Mobile app
Next, I will be talking about the services that ZenGo provides.
Stick with me…..don't leave me yet.
---
Services Provided by ZenGo
ZenGo offers the following services:
Buy Crypto
ZenGo Swap
ZenGo Savings
Referral Program
1. Buy Crypto
Here, ZenGo users can buy BTC, ETH, BNB, DAI, PAX, USDT, TUSD, XTZ, and others via MoonPay.
The steps to do that include:
Tap the 'Buy' icon
Enter the amount
Input your email
Enter the verification code
Fill in your address
Select a payment method and make your purchase
When your transaction is approved, you will receive a confirmation email and your coins will arrive in your wallet.
2. ZenGo Swap
ZenGo provides support for a vast array of coins on its app.
You can swap any ZenGo-supported crypto for any other ZenGo-supported crypto.
This is made possible because of its integration with Fox.exchange.
During swapping, the exchange rate is locked at the beginning of the process to protect you from price fluctuations.
Get more info on this here.
3. ZenGo Savings
This involves you hodling your cryptos on ZenGo and earn rewards and interest for doing that.
Here, you earn in 2 ways:
Providing liquidity: Here, you are loaning your coins to a decentralized pool of liquidity. Others can borrow it and in return, you earn interest. ZenGo is currently using the Compound protocol for this.
Staking: This allows users to earn an extra income by contributing to the network security of a proof-of-stake (PoS) asset. As at the time of this post(September 2020), you can only stake XTZ. But the team plans to add more staking coins in the future.
Using ZenGo Savings is easy. Choose the asset that you want to start saving, select what percentage of your holdings that you want to allocate, and click 'Confirm'.
The coins you can save are DAI, USDC, REP, ZRX, and BAT.
4. Referral Program
Whether as a Referrer or an Invitee, there is something for everybody on ZenGo.
As a Referrer, you earn when you invite friends and they sign up with your referral link.
You will get 50% of ZenGo's commission on all purchases made by your referral for 1 year following their registration.
As an Invitee, you earn a one time cashback reward of 5 USDC when you buy cryptos worth 100 USDC or more in the app.
This can be achieved in a single or multiple purchases.
Note that this offer expires 30 days after account creation if no qualifying purchase is made.
You will be notified when your referral makes a qualifying purchase and also when payout is made.
Your payouts(rewards and cashback) are sent once a week and it is made in USDC.
The payout is sent directly to the ZenGo wallet that is associated with your referral link.
Find more information on this here.
Here you have all the details about ZenGo's services.
To find out all about the supported countries and currencies, check out the next subheading.
---
Supported Assets, Payment Options, and Countries on ZenGo
Assets
Bitcoin (BTC)
Etereum (ETH)
Tether (USDT)
Chainlink (LINK)
Binance Coin (BNB)
Huobi Token (HT)
Tezos (XTZ)
Compound Coin (COMP)
Leo Token (LEO)
Wrapped Bitcoin (WBTC)
Dai (DAI)
Maker (MKR)
OmiseGo (OMG)
TrueUSD (TUSD)
0x (ZRX)
Basic Attention Token (BAT)
Decentraland Coin (MANA)
Augur (REP)
Chiliz (CHZ)
Golem (GNT)
UTrust (UTK)
Civic (CVC)
Loom ERC20 (LOOM)
LCX (LCX)
Paxos Standard (PAXOS)
Payment Options
Debit/Credit Card (Maestro, VISA/MasterCard)
ApplePay (Available for MasterCard holders)
Bank transfer (SEPA and SWIFT)
Bank deposit (GBP and SEPA)*only for users in the EU and UK
Countries
ZenGo supports Nigeria and every other nation of the world except these:
Bangladesh
Cuba
Iran
Myanmar
North Korea
Pakistan
Panama
South Sudan
Sudan
Syria
Zimbabwe
Within the USA, these states are restricted:
Connecticut
Hawaii
New York
New Mexico
Since ZenGo employs the services of other platforms, you have to check out if these platforms support your country.
Check out for supported countries on MoonPay here and on Coinmama here.
In the next section, you will find information on the fees, limits and verification requirements.
Scroll down, please.
---
ZenGo Fees, Commission, Limits, and Verification Requirements
Fee
Commission
Credit Card – 2.49%
Bank Wires – 0.99%
Limits and Verification Requirements
Minimum Buy Limits
USA – $50
EU and other places – €20
Find more details in the table below.
S/N.
Purchases
(per month)
Daily Limit
Verification
Requirements
1.
Under
€150
$50
– Name
– Email
– Address
– Date of birth
2.
€150
to
€20,000
€5,000
(card or
bank transfer)

– Government
issued ID(image)
– Selfie of you
holding ID
3.
€20,000
to
€50,000
–
– Proof of address
– Proof of income
or source of funds
Having listed all the information for this subheading, I will be listing how to contact the team at ZenGo in the next one.
Just keep reading.
---
Customer Support Channels and Public Opinions
The platform has a comprehensive knowledge base that provides answers to the questions users may have.
However, if you will still need to reach the team, you can do that via the following channels:
LiveChat – for any query regarding the wallet
Support Ticket – for your contributions
I found only one review of ZenGo on TrustPilot but the reviews found on the app's download page are mostly positive.
The reviewers praised the app's interface and the support team.
The very few negative ones there are about an update made which affected access to the app and fees.
Of course, the team was there to reply to these and give reasons for such occurrences where necessary.
Let's check out some frequently asked questions about ZenGo.
Find that below.
---
Frequently Asked Questions (FAQs)
How do I start up using ZenGo?
To startup, you have to first of all download the wallet.
Step 1
Visit zengo.com and click on App Store or Google Play depending on your device.



Step 2
Download the wallet to your device. Open the wallet and enter your email address. Click 'Confirm'.



Step 3
Go to your email and click on 'Confirm' to confirm your address.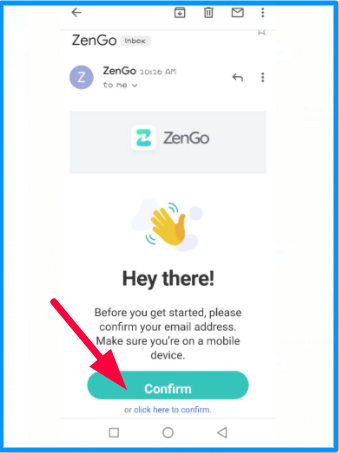 Step 4
Then click on 'Enable Device Lock'. Add a code to lock your device and put your fingerprint.



Congratulations! You have successfully set up your account. You can now start using your wallet.

To do that, you have to make a deposit. Do the following:

Step 5
From the menu, click on 'Deposit funds'.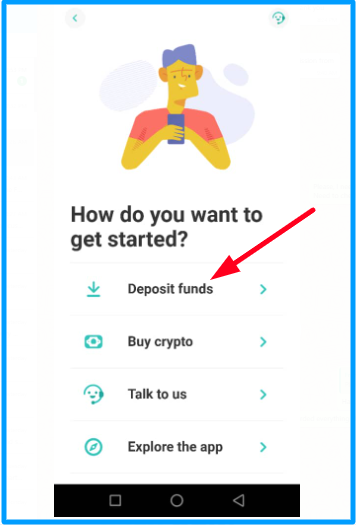 Step 6
Select the asset to deposit. Let's work with Bitcoin.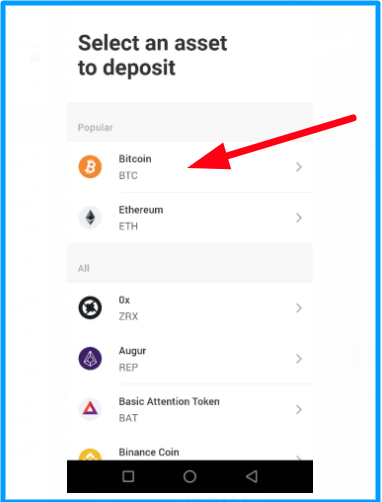 Step 7
But before you can deposit, your biometric data has to be captured via a face map.
Click on 'Continue'.



Step 8
Submit your face map by fitting your face into the space provided. Click 'Done'.



Step 9
Having submitted your face map, you will go ahead to choose the most convenient method for you to make your deposit.
Assuming that I have no BTC anywhere and I want to buy, I will click on 'Buy Bitcoin'.



Step 10
So you will go on to provide the necessary details in the dialog boxes that open.



Step 11
After that, you will provide your credit card details to buy BTC.


From this point, you can now follow through with the instructions provided on the screen to complete your transaction.
How does ZenGo make money?
Presently, using the company is absolutely free.
But in the future, ZenGo will charge a small monthly fee and will introduce premium features.
However, the company will always remain free for its first users.
What if something happens to my face(say an accident), how do I get back my account?
ZenGo allows for an additional face map for cases like this.
You can use the face of a trusted close friend or family member. You simply get them to add a biometric face scan to your account and you are all set.
How safe is ZenGo?
ZenGo is the very first kind of wallet that possesses the keyless feature.
The owners are known and it offers support for users from almost all around the world.
The company is one that takes security seriously as it always conducts security audits for its mobile app and server. This audit is done by an independent auditor.
There are also routine security checks that are run on all its systems.
This goes a long way to prove how serious ZenGo takes its security business.
However, always conduct your own research before going ahead with any investment.
---
Conclusion
That's all I have for you today, dear reader.
Thank you for hearkening to my 'don't leave me' plea and staying put to this point.
But before you go, let me know what your thoughts are on this wallet.
Are you a user already or you are yet to download it?
Is there any fave coin of yours that you will want ZenGo to provide support for?
With its unique keyless technology, do you see ZenGo emerging as the crypto wallet monarch?
Do you have anything to ask me?
Just leave your comments and question(if any) in the box below.
Also help to spread the word by clicking the share buttons below.