The SHIBA token undoubtedly took the crypto world by storm.
It is a meme token that poises itself as the Dogecoin killer.
Prior to the Bitcoin crash, it rallied 3,300%, enriching investors with a windfall profit. So incredible!
Well, I'm sure you've heard a lot about this popular coin, and you're curious about how profitable it can be, right?
Anyway, I'm glad you stopped by because this review covers all you need to know about the SHIBA token.
Let's dive in!
---
Post Summary
In this review, we will look at:
All set? Now, we will take a deep dive into this review!
---
What is SHIBA Token?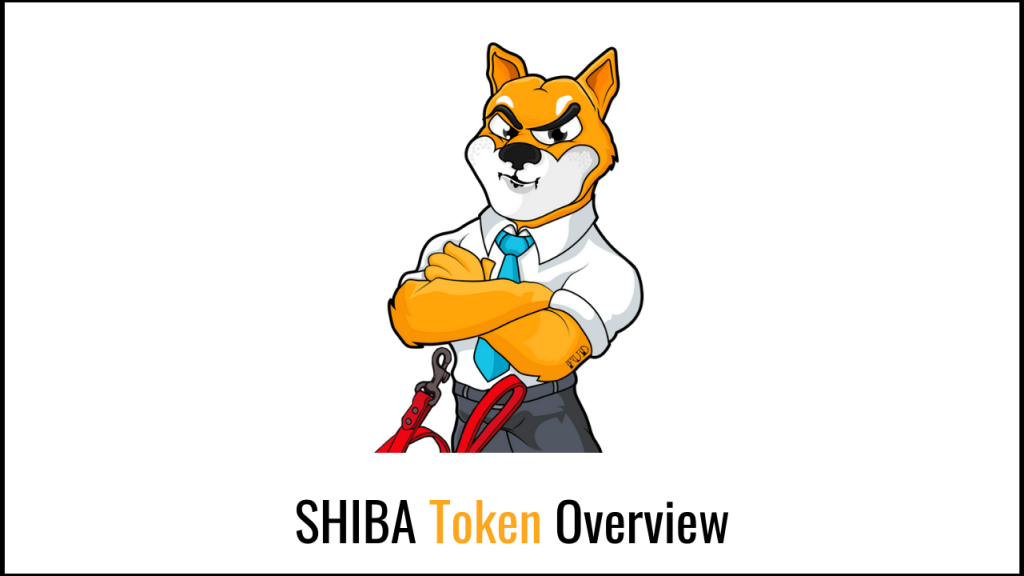 Shiba token, also known as SHIBA INU, is a decentralized ERC-20 meme token built on the Ethereum network.
It is regarded as another joke coin that competes with the DOGE coin.
This is because it promises to outperform DOGE coin before reaching a value of $0.01.
SHIBA, like bitcoin, was founded by a pseudonym, Ryoshi, in August 2020.
Upon creating the Shiba token, Ryoshi burned 50% of it by sending it to Vitalik Buterins's wallet address. Hmm, how on earth is it even possible?
Another thing is that this token is the first token of the Shib community, also known as the Shiba Army.
Shib Community operates as a decentralized spontaneous community-building experiment.

https://shibatoken.com/
At the time of writing in June 2021, the Shiba community has 520k members and aims to offer the following three products:
1. ShibaSwap
This will be a decentralized exchange based on the Shib community's three distinct tokens (more on this later).
Moreso, the Shiba Army will be able to earn incentives on ShibaSwap through staking and liquidity provision.
This product is undergoing security audits and has not yet been released.
However, there is no definite date for its release.
2.

Art
This product will serve as the Shiba community's NFT marketplace.
Art has not yet been released, but it is in the hands of some artist incubators.
3.

Rescue
This product allows any Shiba Inu member to help rescue Shiba Inu through a free donation made by placing orders on smile.amazon.com.
Read more about these products here.
Follow me as I walk you through the tokenomics of this project. Scroll down!
---
Shiba Inu Tokenomics
The team released a total of 1 quadrillion SHIBA tokens during the project's initial launch. That's huge!
Nonetheless, the Woofpaper reports that:
Now, it is this action taken by the team that rendered SHIBA under the full control of hodlers.
As of this writing, June 23, 2021, the SHIBA token is ranked #30 on Coinmarketcap.
Furthermore, it is currently valued at $0.000006776 with a circulating supply of 394,796.00B.
Impressively, the SHIBA token has up to 540,962 holders.
Nevertheless, you should be aware that the SHIBA token lacks a compelling use case that drives its value.
It can only be staked on some platforms and on the yet-to-come ShibaSwap for a reward.
Amazingly, the Shib community also has two more tokens that will contribute to the development of their ecosystem.
Let's talk about them below!
LEASH
The LEASH token was initially designed as a rebase token pegged to the price of Dogecoin.
The rebase functionality, however, was later disabled, leaving LEASH as a standard ERC-20 token.
LEASH has a total supply of 107,647. It is currently ranked #2579 on CMC, with a price of $2,034.54.
LEASH, like the SHIBA token, has a single use case: staking on the prospective ShibaSwap.
BONE
BONE is the Shiba community's future governance token.
It will be used to vote on ShibaSwap DEx proposals in 2022.
BONE, according to the Woofpaper, will only be traded on ShibaSwap.
Also, BONE will have a total supply of 250 million tokens.
Remember, I told you that 50% of the entire SHIBA token was burned to Vitalik's wallet address, right?
Yes, we will discuss it in detail in the section below. Read on!
---
Vitalik Buterin's Influence on The SHIBA INU Token
The creator of Shiba Inu appears to have a connection with Vitalik Buterin, the Ethereum guy.
As he claimed, he burnt half of SHIBA's total supply to Vitalik's wallet.
Interestingly, the value of the SHIBA token he claimed to have burned was worth $15 billion and it exceeded the whole value of Vitalik's 330,000 ETH.
One strange thing, however, is that, unlike the conventional coin burn protocol, these SHIBAs were not sent to an inaccessible wallet but to a valid one.
Something fishy, right?
This claim proved a mere marketing ploy after the following events happened:
Shortly after this incident, the price of SHIBA plummeted by half from its initial price, which had surged by 3,300% before the drop.
However, Coindesk reported that Vitalik burned 90% of his entire Shiba token.
Keep reading!
---
Best Exchanges|Wallets to Buy/Sell And Store SHIBA INU
Here is a list of 7 reputable crypto exchanges to buy/sell SHIBA:
1. Binance
2. Huobi
3. Gate.io
4. OKEx
5. UniSwap
6. Crypto.com
7. Kucoin
You can store your SHIBA tokens in these wallets:
Next, we will talk about the potential of the SHIBA token. Let's dive in!
---
What Does the Future Hold for The SHIBA Token?
Actually, before the recent bull run, the Shiba Inu token was remarkably worthless.
From 2020 until February 2021, the price remained stable at 0.00000001.
A look at the chart below will help to explain this further.
However, in the month of May 2021, SHIBA gained momentum.
It took its first long stride and crossed $0.000032 price range. Incredible!
Although the exact cause of this upward price trend is unknown, many people link it to the astronomical price gain of Dogecoin.
Whether this is true or not, it does prove one thing, which is that the major driving force of SHIBA is marketing hype.
Well, we'll know how disastrous "marketing hype" can be in the crypto market.
I mean, it can wreck investors.
But this does not appear to be the case for the SHIBA token, anyway.
This is because, like other cryptocurrencies, it has continued to range at a stable price following the BTC market meltdown.
Furthermore, the SHIBA community is expanding and waxing stronger by the day, as is the coin's daily high ranking among all cryptocurrencies.
Another point is that the coin has received a lot of support from reputable exchanges.
These four factors are most likely already revealing SHIBA's real potential. 🤷‍♀️
Moreover, the team is anticipating major products to boost the value of SHIBA.
Would this happen, SHIBA INU would most likely become a significant coin that cryptonites will reckon with as useful.
Remember, Dogecoin was viewed as a worthless token until very recently.
Nevertheless, before making any assumptions about the potential price movement of this token, conduct additional research.
Let's compare SHIBA against the DOGE coin to see which is superior. Scroll down!
---
SHIBA Token vs DOGE coin
The SHIBA token was created to compete with the DOGE coin, but is this truly the case?
In this section, we'll find out.
But first, let's start with the similarities between SHIB AND DOGE.
We've seen the commonalities between these tokens; now let's look at the differences…
Parameters

SHIBA

DOGE

Year
2020
2013
Founder
Ryoshi
(Anonymous)
Billy Marcus
Jackson Palmer
Blockchain
Ethereum
Dogechain
Max. Token
supply
1 quadrillion
None
Circulating
Supply
(June 2021)
394,796.00B
130.16B
Rank
(June 2021)
#29
#6
Market Cap
$2,666,042,333
$31,054,004,750
24hr Trade Volume
(June 2021)
$377,401,002
$4,696,799,744
ATH
(June 2021)
$0.00003791
$0.7376
ATL
(June 2021)
$0.000000000056
$0.00008547
ROI
(June 2021)
417976.48%
42357.48%
Use Cases
– Staking
– Shiba Inu rescue

– Internet speculation.
– As a medium of
payment
– Charity Donation
Find more here
Community
Members
520k+
(According to the
website)
2.1M
(on Reddit alone)
Transactions
Per
Second
30
30
It should be noted that some of the information on the table was obtained from the CMC.
Based on this comparison, it is clear that Shiba is in a tough head-to-head battle with Dogecoin.
However, DOGE has two advantages over SHIB: It has endured the test of time and currently has more use cases than SHIB.
Moreover, Elon Musk, the world's richest millionaire, is influencing Dogecoin.
Also, if SHIBA wants to be the Dogekiller, it should be a better speculative coin. It hasn't proven that point yet.
So, now that I've compared these two coins, it's up to you to decide which one is winning or will win the race.
Let's meet at the FAQ section. Scroll down!
---
FAQs
1. Should I invest in Shiba Inu?
Given SHIBA's stellar performance over the last two months, many cryptonites, including newbies, are curious to know whether they should buy this token or not.

The thing is that: while many people have profited from SHIBA, there were also some who lost their life savings to it.

Furthermore, because SHIBA is relatively new to the crypto market, there is no way to tell if this coin is suitable for long-term HODLing. 

Meanwhile, a lot of SHIBA enthusiasts have predicted that SHIBA may hit $1 in the future.
However, as we all know, things do not always go as planned in the crypto world.

Besides, it is a well-known truth that every investment involve a certain risk.

So, in my opinion, I would rather suggest you invest with the money that you can afford to lose.
Additionally, remember to DYOR before investing.
2. What are the social channels of the Shiba Inu Community?
The following are the social channels for the Shiba Armies:
SHIB Telegram: https://t.me/shibainuthedogecoinkiller
Twitter: https://twitter.com/shibtoken
Reddit: https://www.reddit.com/r/SHIBArmy/
Discord: https://discord.com/invite/shibatoken
LEASH Telegram: https://t.me/officialleashtoken
3. Is there a roadmap for Shiba Inu?
No, there is none, and this is because the Shiba Inu developers want to keep their roadmap a secret.
---
P.S
Do you want to learn how to trade cryptocurrencies profitably?
We developed a perfect course to help you master Cryptocurrency Trading.
Go to www.ctmastery.com to enrol.
You can also join our Telegram community at https://t.me/ctmastery for more information.
---
Conclusion
You've made it all the way to the end of this review. Congrats, and I hope you enjoyed it?
SHIBA has gained popularity because of how well DOGE has performed in the past following Elon's influence.
Thus, many people will not want to miss out on the SHIBA coin.
So we keep our fingers crossed to see how the SHIB token will fare.
So tell me:
Did you invest in the SHIBA token? How did it turn out – profit or loss?
Or maybe you are yet to invest. Do you find SHIB's potentials appealing enough to invest?
Do you believe it will ever hit $1?
Which coin do you think will win this battle – SHIB or DOGE?
Please share your opinion in the comments section below.
Remember, you can share this article by clicking on the social media icons below. Cheers!
---
Other interesting articles;