In today's post, I reviewed ZEVS TRADE, an online investment platform that uses AI technologies to make profits.
As of the time of this writing, ZEVS TRADE has 98,153 clients who have received a profit of $11, 474, 226.
Impressive huh?
But is ZEVS TRADE a safe platform to invest in?
Find out by reading this post till the end.
---
Post Summary
I discussed ZEVS TRADE under the following subheadings:
Happy reading!
---
1. What is ZEVS TRADE?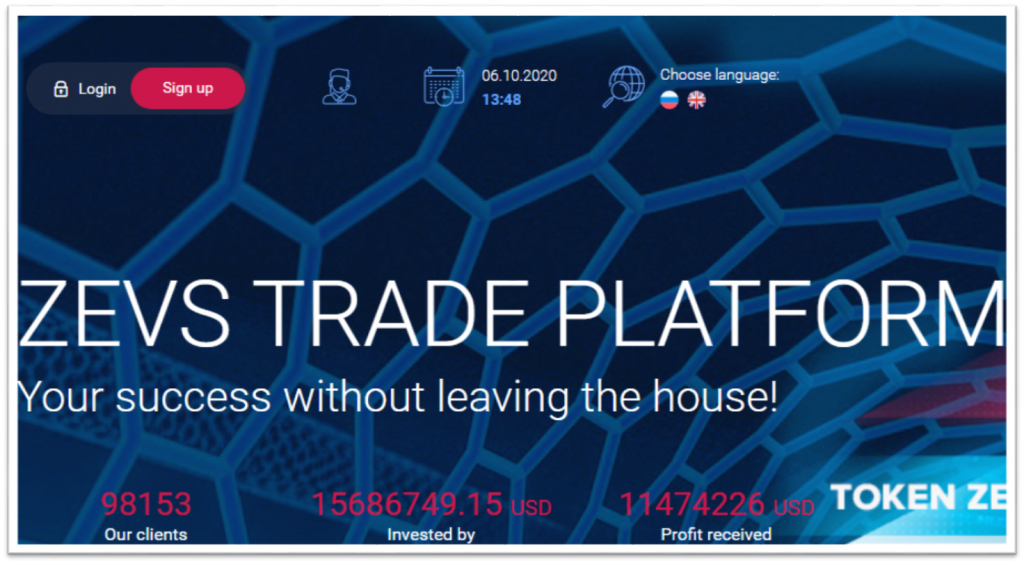 ZEVS TRADE is an online investment platform that claims to use artificial intelligence technologies to make profitable crypto trading decisions.
Not just that, it also claims to provide a cloud mining service for users who wish to mine digital currencies.
There is no information on the founders of the platform on its website but from the available language options, I'm guessing they will be Russians.
From what I saw on the website, ZEVS TRADE is located at 58 Cobden Road, London, England.
Also, it appears that the platform has been in operation since 2016 following the 'company profits' section on the home page.
Furthermore, ZEVS TRADE has a network token called ZEVS token. It is used to reward users when they refer people to the platform.
Other opportunities exist for users to earn as well. We'll get to that shortly but first, let's see how the platform works.
Keep reading!
---
2. How ZEVS TRADE Work?
Individuals who wish to invest in this platform will begin by creating an account.
Upon registration, there is already an assigned upline for new members.
After a successful registration, the next thing is to choose an investment plan and make deposit.
All new deposits are added to the company's purse where funds are distributed to different channels to yield profit.
Every investment plan expires after a number of days. At this point, users can withdraw their earnings or re-invest.
Next, we'll look at the available investment plans.
Keep reading!
---
3. ZEVS TRADE Investment Plans
ZEVS Trade has 5 investment plans that users can choose from: ZEVS-1, ZEVS-2, ZEVS-3, ZEVS-4, and ZEVS-5.
When users choose a plan and make the required deposit, they earn daily returns on their investment.
Daily returns can be withdrawn at any time once users have earned up to a certain amount (determined by their chosen plan).
Each plan expires after a number of days, at which point, users can then withdraw their initial deposit.
Take a look at the table below for further details on the plans
Here's An Example:
Chidera registers on the platform with $30. This falls under ZEVS-1.
Daily, he will be paid $0.6. By the end of 60 days, he will have $36.
Adding it to his initial deposit of $30 it becomes $66, which he can withdraw or re-invest.
A quick observation here. Since Chidera cannot make a profit of $100 before the 60days term is completed, he cannot make any withdrawals until then.
And if I do the math well, any ZEVS-1 investor that wishes to withdraw his profits before the end of 60 days will have to deposit up to $100.
Moving on, I will show how ZEVS TRADE users make profit.
Read on!
---
4. How Do I Earn From ZEVS TRADE?
As we saw in the previous section, ZEVS TRADE provides 5 plans for users to choose from, make deposits, and earn profits.
In addition to these plans, users can earn more when they subscribe to ZEVS TRADE partnership packages.
There are two partnership packages: Referral program and Representative program.
For the Referral Program, users are paid 12% of any deposit made by their direct referrals. Additionally, they will be given 25 ZEVS token.
While for the Representative Program, interested users will make an additional deposit of $50.
Then they will be paid 12%, 6%, and 3% of contributions from their 1st, 2nd, and 3rd level referrals respectively.
They will also receive 25 ZEVS token.
The picture below makes it clearer:

For Example:
Let's say Chidera chooses to participate in the Representative program.
He will make an additional deposit of $50, making his principal a total of $80 ($30 + $50).
Now, he invites Tosin who registers with $100. Chidera will then be paid $12 (12% of Tosin's $100).
When Tosin recruits someone (Angela), Chidera will also be paid since Angela is his 2nd level referral.
If Angela registers with $300, Chidera will be paid $18 (6% of $300).
Additionally, he will be given 25 ZEVS Token. The only problem here is that I do not know what he can do with this token.
In the next section, I answered the question on the legitimacy of this platform.
Tag along!
---
5. Is ZEVS TRADE Legit?
Based on my findings, I will say this platform is not legit and below are my reasons why:
i. Unknown Founders
The founders of ZEVS TRADE are not known. Therefore, no one can be held accountable when the platform shuts down.
ii. Questionable Registration
ZEVS TRADE claims to be legally registered but the link provided to prove this claim shows that the founders have something to hide.
I noticed that the directors' details (names and dates of birth) on this registration page were probably forged.
And two out of the three directors appears to have resigned.
Check it out:
Again the information on the directors does not hold water. Take a look at the information on the 3rd person, Mr. Peter.
Furthermore, I have a problem with the different dates given for ZEVS TRADE's commencement.
On the registration link provided on the website, it states 2013 but according to Whois.com, it was registered in 2018.
But then when you look at the 'company profit' section on the home page of the company's website, it appears the platform started in 2016.
Looks really shady to me.
Still on the registration link provided, the office address (UK Flag 10 Nuxley Road, Belvedere, DA17 5JF) is different from the one on the company's website (58 Cobden Road, London, England)
If that is not a red flag, you tell me what is.
Adding to that, I didn't find any contact details for ZEVS TRADE on this site where it claims to be legally registered.
iii. No Source Of External Revenue
ZEVS TRADE has no retail products from where it receives external revenue.
Even the network token only exist on the platform. It cannot be used anywhere else. Plus, it is not registered on coinmarketcap.com.
The only source of revenue is investors' funds. This means that when recruitment stops, the system will not have any means to pay users.
Also, the company claims to use artificial intelligence technologies to trade with investors' funds and yield profit. But there is no proof of such trades.
We are also not told the different channels where investors funds are being distributed to yield profit as the system claims it does.
On the company's profit section on the homepage, you will see different percentages attached to Bitcoin, Ethereum, Monero, Litecoin, Ripple, Tron, QTUM, Dogecoin, and Zcash.
We are made to believe that such a percentage of profits were made on these coins in those years.
But how can we believe that when we are not shown how the figures came about?
Could it be another strategy to lure investors?
Plus, we didn't get any information on how ZEVS TRADE conducts her cloud mining service.
Or, is that also a line to attract investors?
I sent a mail to the support team based on this but I didn't get any response.
iv. ZEVS-1 Investment Plan Is A Joke
Earlier, we saw that ZEVS-1 investors cannot make withdrawals until the end of the term (60 days) if they deposit any amount that is less than $100.
When I inquired from the support team concerning this, I was advised to activate a VIP status by depositing $120 as that is the only way users can withdraw at any time.
That response does not help at all!
Think about it. The essence of ZEVS-1 is to encourage members who want to start little.
How come they have to pay additional $120 just to make withdrawals? Withdrawals worth less than $100?
And to think that this 'VIP' status was not mentioned anywhere on the site.
It just beats me!
v. Inactive Telegram Account
The telegram account whose link is on the platform's website is inactive.
Adding that the support team did not give a satisfactory response to my email, users will have a hard time rectifying any problems they have with the system.
They may even lose their money.
vi. Unverifiable Testimonials
Now, I saw videos on the ZEVS TRADE YouTube channel of individuals claiming to have earned from the platform.
However, they didn't provide any proof of their transactions with the platform. You can check them out here: video1 and video2
vii. Negative Public Opinion
Then I checked ZEVS TRADE on Trust pilot. It had a poor rating with only 5 reviews.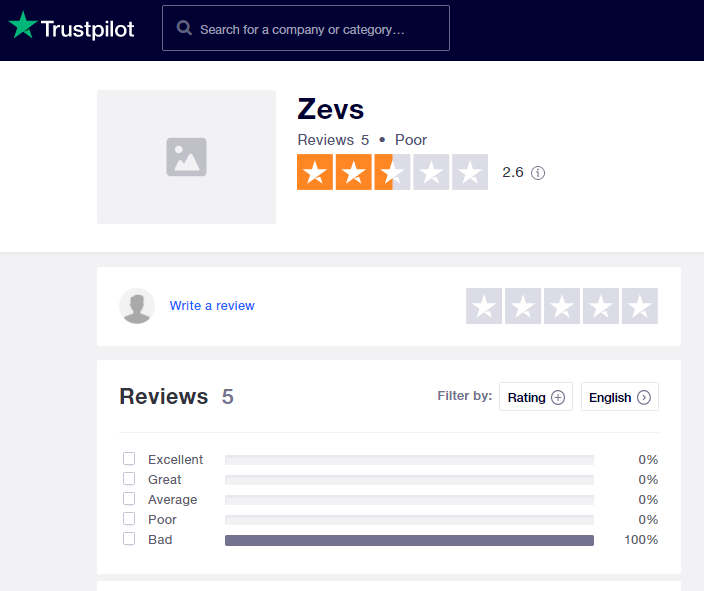 I also checked on scamadviser, this is what I found:
Also, the reviews of ZEVS TRADE users on other popular sites like beer talk, and trust mama were nothing to write home about.
Have a look:
Where Do These Leave Us?
ZEVS TRADE does not reveal her founders and her legal registration has lots of question marks.
The company depends on investors' funds to pay members which makes it a Ponzi scheme.
And considering all the negative reviews of users on various platforms, ZEVS TRADE cannot be trusted. I wouldn't waste my money if I were you.
---
Just so you know…
We can teach you how to trade cryptocurrencies profitably. Simply enroll for our Crypto Trading Mastery Course by visiting www.ctmastery.com. You can also join our Telegram community at https://t.me/ctmastery. See you there!
---
6. Conclusion
Don't be fooled by ZEVS TRADE advertised accolades of AI trading or cloud mining services.
It is just another platform designed to steal money from innocent individuals.
You read those negative reviews of some ZEVS TRADE users, didn't you?
Over to you:
What is your take on ZEVS TRADE? Do you think it is legit or not?
What can you say the future holds for the platform?
Share your thoughts in the comments section right now.
Before you leave, hit those share buttons below and save a friend from making a wrong investment.
---
Seen These Yet?