In response to the requests from our readers, I bring you this Pinkoin review today.
Pinkoin is the reserve token of the Inksnation's blockchain that is currently (July 2020) in its Initial Coin Offering(ICO) stage.
This token and its blockchain have been making headlines lately and guess you are here to find out all about it.
In this review, I satisfied your curiosity by putting together all the facts about Pinkoin and Inksnation in one place.
Ready to go? Let's roll.
---
Post Summary
Here are the subheadings under which I will be discussing today's post:
A click on any subheading will open up its details.
Happy reading!
---
Inksnation Overview
Inksnation is the world's first charitable trust that exists as a Decentralized Autonomous Organization(DAO).
It has its CEO as Amos Sewanu Omotade-Sparks who is also known as the UDI(Universal Daddy Ink).
The headquarters is located in Nigeria at 19 Posukoh Quarters off Joseph Dosu Way, Badagry, Lagos State.
There are also mailing addresses in Canada, the UK, and the USA listed on its site.
As shown on its site, iBSmartify began operating the Inksnation website in November 2018. It is also registered with the CAC of Nigeria.
This video below shows what Inksnation intend to achieve:
Inksnation states that its project can eradicate poverty in any country in less than 9 months.
It intends to achieve this with its own blockchain called InksLedger(formerly iBLedger).
InkLedger functions not like the conventional blockchains.
You might ask: HOW?
Just find out for yourself below.
---
InksLedger Explained
InksLedger is the blockchain of the Inksnation's Pinkoin.
As mentioned earlier, InksLedger does not function as conventional blockchain technology do e.g Bitcoin, Litecoin, etc.
Infact, it is not even built upon or modeled after any pre-existing blockchain.
Rather, InksLedger is to function as a first of its kind charitable blockchain that will be backed by human assets.
This means that every human being that signs up with Inksnation becomes a living node on its blockchain.
As stated on its platform, it claims its project is not time-oriented rather target-oriented.
That it is centered around making human asset investment the biggest and the best before 2025.
InksLedger proposes to use what it calls the Proof of Love consensus mechanism and Inkrestation (one united global family system of governance).
For the Proof of Love or Collective Mass Agreement (CMA), 180 sovereign currencies are represented as 180 LivingNodes(LNs).
180 multiplied by 10 also give birth to
Minor CMAs like 1,800 LNs, 18,000 LNs, 180,000LNs, and
Major CMAs like 18million LN, 180million LN, and 1.8 Billion LNs
Most importantly, it claims to seek ways to make AI work for humans perpetually.
It is still unclear how this will work or how transactions will be confirmed by these living nodes.
Just as every blockchain has its token, InkLedger has its own coin – the Pinkoin.
Follow me to the next section to learn more about it.
---
What is Pinkoin?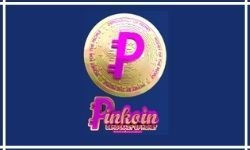 Pinkoin is the brainchild of Inksnation. It is the native coin of the InksLedger.
It being a native coin simply means that it will be used to make whatever payment that is to be made on InksLedger.
This is the same as in the case of Ethereum where Ether is used and that of NEO where Gas is used.
According to the team at Inksnation, this native reserve coin will pay everyone on earth (including babies born every day) salary for life.
It is proposing a minimum of 4,000NGN daily and 120,000NGN will be paid monthly for life as UCBI (Universal Child Basic Income).
The Pinkoin has a total supply of 144,000,000 coins and uses the ticker – PKN.
The coin is set to launch on 12th August 2020 thus bringing its crowdsale to an end.
The price of 1PKN is $4,977.7389(as of 28th July 2020), a total reserve cap of $702,272,000,000, and an average net worth of $800,000.
No exchange has indicated support for Pinkoin yet. Thus, PKN can only be acquired from the Inksnation site.
So, how does the brothers and sisters of Inksnation get a hold of Pinkoin?
Just scroll down; I discussed that in detail below.
---
How to Acquire Pinkoin – The Membership Registration Plans
Before you can talk about getting Pinkoin, you will have to sign up with Inksnation.
When signing up on Inksnation, you are to select a suitable membership plan for yourself.
The available membership plans include:
For all the plans:
All benefits are in Pinkoin(PNK)
Will get August 12th, 2020 benefits(for those that registered before that date)
Usage of all funds in Pinkoin will be active by 12th August 2020
Find other details about the plans in the table below.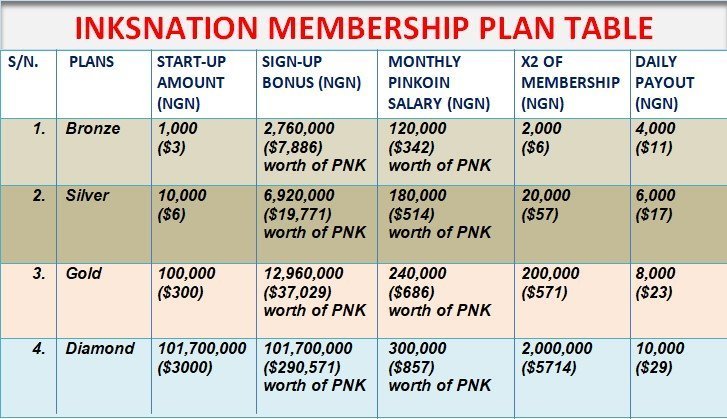 When you have chosen a plan, you will go ahead and fill the Sign-Up form.
After filling the form, you will then contact the person that introduced you to Inksnation and pay the correct amount.
If no one introduced you, account details to make payment will be provided for you.
When payment has been made, send the proof of payment and your username to the person(or to the provided WhatsApp number).
The person will then activate your account using his/her Pinkard.
Pinkard is a QR debit card that is issued to users on the platform. It is used to register new members.
When your account is activated, you will go ahead and set it up. You can even print your own Pinkard.
Below, I explained fully how Ink brothers and sisters earn on the platform.
Keep reading.
---
How Do I Earn From Inksnation?
Presently(July 2020), the users of Inksnation make money on the platform by bringing in new members.
l will explain that with this scenario below.
Let's say my friend Francis is a Brother Ink(a member of Inksnation) and he gets to convince me to sign up.
I will go ahead and register and make payment to Francis' account. I will then provide him with proof that I have paid, and send him my username.
Now Francis will activate my account using his own Pinkard and that will make me a full Sister Ink.
So to make money as a member, I will go ahead and set up my already activated account.
Then I will print and activate my own Pinkard. Upon activation, I will receive the sum of 70,000NGN in my Pinkard.
I will then use the money in registering new members. How this works is that the new members will pay me directly(via cash or to my account).
Then when I am activating the person's account, that amount will be deducted from my Pinkard.
When I exhaust the 70,000NGN in my Pinkard, I will keep 50,000NGN for myself.
I will return the remaining 20,000NGN to the platform so my card can be loaded with another 70,000NGN.
And all the members I registered will, in turn, can get their own cards and start registering new members.
And so the cycle continues……
NOTE:
Activating your Pinkard means signing a contract to help in the marketing process.
Indirectly, this means that the card will be loaded with 70,000NGN and you MUST return 20,000NGN to the platform.
Do not activate your Pinkard if you will not be registering new members.
If you do not have enough persons to refer, do not bother activating your Pinkard. You can pass them on to the person that referred you. In doing so, you are helping build Inksnation.
But there might be a tweak in the earning pattern after August 12th 2020.
Find that how that will happen below.
---
Earning on Inksnation After August 12th 2020
There are 3 categories of users in Inksnation. Find details on how these categories will earn below.
1. End-users
In this category, you have persons who just registered and did not activate their Pinkard to register new members.
They can start withdrawing come after August12th, 2020.
These end-users will be paid by the exchangers who will charge commissions for their services.
2. Exchangers
These are the bedrock of the platform; middlemen sort of. They are the ones that activated their Pinkards and have been registering new members.
Come August 12th, 2020, their role won't change much. They will keep doing what they are doing i.e registering people.
For their earnings, it will be sent to their Pinkards. They will keep using it to register new members and to pay the end-users.
**Can double as Merchants ONLY if they agree to send all monies to their Pinkards.
3. Merchants
This category has persons that will indicate interest to accept Pinkoin for payments in their stores or businesses.
They will not be registering new members.
I cannot explain how the persons in this category will earn. Perhaps, they might have their earnings stored up in their Pinkards too.
A very important point to note is that, before you can make any withdrawals come 12th August 2020, you must complete your KYC.
This is to ensure that nobody has 2 accounts i.e One Human Asset = One Living Node (No Double Accounts).
For the KYC, Inksnation partners with KoboPay, a payment processing platform just like Fliqpay.
You need a National Identification Number(NIN) to complete the KYC.
If you already have your NIN, you will pay the sum of 200NGN for verification. If not, you will have to pay the sum of 700NGN.
P.S:
Those that got their accounts activated before July 12, 2020, will be entitled to start withdrawing from August 12, 2020.
Those that got activated from July 12, 2020, will start theirs on November 12, 2020.
The millions in your wallet(call Reserved) will be spendable ONLY when Inksnation reaches 18million members.
Listed in the next section are ways through which you can contact the team at Inksnation.
Just scroll down to see them.
---
Inksnations Contact Channels
Telegram: https://t.me/InksNation
Twitter: https://twitter.com/InksNation
Email: info@inksnation.io
WhatsApp: 08104277484, +16474936439
You can also visit the site to get more information.
Moving on, I will be answering the million dollar question of Inksnation's legitimacy.
Come with me to this next part to find out what my reply will be.
---
Inknation Platform: Legit or Scam?
My simple answer: YES and NO!
Hey, don't get mad at me yet!
Let's together go through my reasons for saying YES and NO at the same time.
Why I Said 'YES', It Might Be Legit
There is a known owner; UDI Amos Sewanu Omotade-Sparks. This is unlike what we have for Wazobia Investment that has no known owner(s). At least, we know who to hold accountable peradventure things go the wrong way.
It is registered both with the CAC and on Whois.com which is a good sign.
Okay, now you have seen why I 'ayed' it.
I will state the reasons for my 'NO' answer below.
Why I Said 'NO', It Might Be A Scam
Upon arriving at the site, I saw buttons to view the WhitePaper and InksNode Paper. Excitedly, I went straight ahead to click to read. Unfortunately, the buttons do not work.
Going through the Terms and Conditions, I was met with this first statement: Effective November 12, 2018. iBSmartify operates the www.inksNation.io website. This statement somehow infers that the iBSmartify took over the operation of inksnation.io or started operating it from 12th November 2018. This date contradicts what I found on whois.com as the registration date which is May 30th 2019.
Now to the team – It was just the UDI that was listed with Elohim JahGah as the Trustor/Grantor. I was not able to pick out the particular account of the UDI on any social media platform; seems he is using a pseudonym or does not want to be identified personally.
Let's look at the Pinkoin. The price of 1PKN is $4,977.7389(as of 28th July 2020). Now, no exchange has shown interest in listing this coin when it eventually launches. No talks in the pipeline regarding that either. Yet, the coin is worth this much! (Kinda reminds me of The Billion Coin(TBC) that the price increases only on the TBC site.)
For the Pinkard, I love the fact that I get to keep 50,000NGN for myself out of the 70,000NGN that I will make ideally. But you and I know that getting people to sign up for things like this is pretty very hard these days; all thanks to the numerous scam sites online now. The bitter truth is that, sometimes, I will be unable to register enough persons before the remittance time. Times like this, I will even have to pay with my own money so as to meet up. That's a bit unfair as it appears I just worked for nothing.
Going back to the card, I find it disturbing how the Pinkard is generated. To get my Pinkard, I will fill in my details, take screenshots of them, and go print as a plastic card from any cyber cafe. This got my security clock ticking: what if my card gets stolen? What if the cyber cafe decides to duplicate my card?
There you have my reasons for the answer above.
If you followed through the points I raised, you will find out that the points projecting it as a scam surpasses that of it being legit.
Though one can never really tell what will later become of projects like this, I will not endorse this project.
But if you are convinced it is legit, keep the golden investment rule handy as you go ahead with it: ONLY INVEST WHAT YOU CAN AFFORD TO LOSE.
---
Conclusion
So that is all I have on the Pinkoin review. So far, so good! (I believe)
As can be deduced from the above points, categorically stating if Inksnation and its Pinkoin is a scam or not is really hard.
But since the coin will be launching soon(August 12th, 2020), we will get to find out in a short while(i.e as at the time this post is written).
So till then, we will just keep our fingers crossed and watch the turn events take as they unfold.
But be sure to check back for my update on the turn of events as I will be watching closely.
Now, over to you: What is your opinion concerning Inksnation?
Will you be signing up or wait it out first?
Leave me your thoughts in the comment section below.
And after stumbling on this goldmine of a review, are you going to keep it to yourself?
NO obviously! Do well to share with others using the buttons right below.
---
PS: If you will want to learn how to trade cryptocurrencies profitably, we developed a course that can help you do that. Check out the CTmastery course. Join our community on Telegram to learn more.
---
HOW HAS THE INKNATIONS PINKOIN FARED?| A POST – AUGUST 12TH UPDATE
Hello fellas!
Told us I will be watching closely the turns that events will take, right?
Well, I sure kept my promise!
I have been following up as events unwind.
Read my discoveries below
No more daily UCBI – All UCBI will drop once per month (12th of every month) to your Spendable balance i.e the one you can spend. This means that you are getting:
12OK FOR BRONZE
180K FOR SILVER
240K FOR GOLD
300K FOR DIAMOND
Now, don't get all excited yet thinking you are getting all of this at once. There are more rules.
Now, out of this monthly UCBI that will drop monthly, you can only withdraw 10% of it. So you are getting:
12K – BRONZE
18K – SILVER
24K – GOLD
30K – DIAMOND
So much for ending poverty! I mean with the state of the economy, 12k per month is hilarious.
But do you know what's funnier? You are not even getting all of it. See the next guideline for clarity.
For you to withdraw, you have to go with (not 40% anymore) but 30% of what you want to withdraw in cash. This will serve as commission for the exchanger.
Now let me tell you what this means for those that bought the Bronze package for 1k and are meant to get 120k.
They will be able to withdraw only 10% of 120k i.e 12k.
Now out of that 12k, you will pay 30% i.e 3,600 to the merchant in cash out of the 12k.
This leaves you with only 8,400k.
Quite interesting, right?
Ah….I guess you are wondering what happened to the remaining 90% of your money. There is yet another directive concerning that.
The remaining funds in your Spendable will be sent to your Distributed Reserve Cashless Bank (DRCB).

The funds can be

ACCESSED

when buying and selling starts with merchants

and/or when

Pinkoin achieves mass adoption

and/or

if the Nigerian government embraces Pinkoin as a base/reserve currency for the Naira

.
You understand what this means, right?
You and I know that these conditions will take a long time for them to be met. It indirectly means then that those funds cannot be accessed for a very long time.
The withdrawal of the UCBI has been placed on hold from 1st to 12th of September 2020. Exchange of Pinkoin will resume on the 13th and closes on the last Friday of the month.
These withdrawals will take place on Mondays, Wednesdays, and Fridays.
For the exchangers, the rest of the days that withdrawals are not taking place (i. e Tuesdays, Thursdays, Saturdays, and Sundays), they are to go out to register more people. Exchangers that refuse to register more people stand the probability of being banned from the platform.
It was not stated where the exchangers will get the cash to pay end users. So I presume they do that from the cash they collect from registration.
They also claim to prefer Bronze and Silver registration to Gold and Diamond packages. This (according to them) is because they prefer human assets i.e the people that will be brought into the ecosystem than large amounts.
But I am wondering this kind of business that does not encourage larger investments. I mean with the whole complain about spending up to 4million per month to maintain the site, shouldn't higher investments be encouraged?
The end users are not left out too. They are encouraged to bring in more members and get 20% for their efforts.
Other complaints that plagued the project include:

Unsuccessful logins (even after the site has allegedly been upgraded)
Top-up difficulties
Password change not working
Upgrade from one level to another disallowed
Unresponsive customer support

Another prevalent one is that of gender selection. A good number of members complained that they were assigned the wrong gender even when they chose the right one. What I mean is that you will see a male account bearing 'Sis. Ink …….' instead of 'Bro. Ink ……' and vice versa.
The price for the packages was meant to increase to X3 by 1st September 2020 but has been shifted. The new date is now on the 12th of September 2020 by 12am.
Two ATM machines have been brought into the country from China but yet to be launched. This, they claimed, will be used for withdrawals using the Pinkard.
For the registration, found out some persons now subsidize the rates. For example, the Bronze plan that goes for 1k can now go for 800NGN…..even 700NGN.
Can't say what their (exchangers) intentions are for this price reduction but think it has something to do with the commission they receive when end users withdraw.
So the more referrals you have, the more commission you will get during withdrawal.
But all these happenings never stopped persons from joining the site. Inksnation recorded more than 100,000 living nodes (new users) on 5th September 2020 alone. Presently (8th Sept. 2020), there are 2,557,131 living nodes.
It also did not stop the price of Pinkoin from rising. Currently (8th Sept. 2020), the price is at $14,206.2833.
That's the update so far.
I will keep watching to see how things continue to unfold.
Be sure to check back for more updates.