In this post, I shared everything I learned about Wazobia investment.
The platform has been trending on social media for the past few months.
You may have seen videos of its users stating how rich they have become in a short while.
Is that really true? Can you become overly rich by investing in Wazobia?
Could this be another high yield investment in Nigeria?
I guess you are here to find out.
So, let's dive right in!
---
Post Summary
Enjoy your read!
---
What is Wazobia Investment?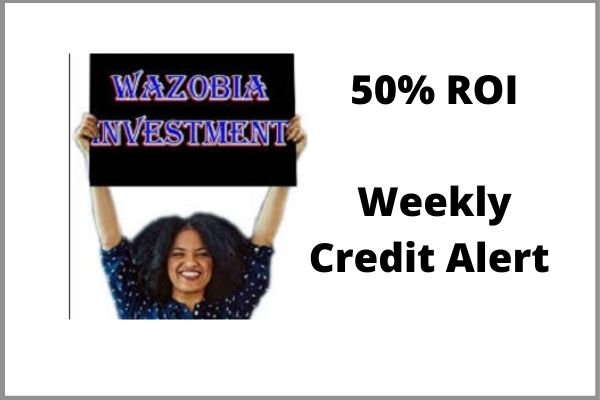 Wazobia Investment is a platform where users receive up to 50% ROI for every investment.
According to the information given on its website, the platform was launched in 2017.
Somehow it has received massive social media attention in the past three months.
Talk about maximizing the Covid-19 pandemic lockdown to scale (LOL).
There is no information available about its founder(s) even on its website.
As far as I know, this investment platform exists only in Nigeria.
---
How Wazobia Investment Works
Wazobia is a peer-to-peer funding market. It is purely an investment platform.
The four core activities that go on there are:
registration
deposit
withdrawal
referral
Registration
You register so that you can have an account on the platform to work with.
To register, you need to provide your email address and phone number.
Deposit
Once your account is ready, you can then make deposits or investments.
The minimum amount you can invest is 10,000NGN or 0.004BTC.
Withdrawal
For the withdrawals, you will wait till your investment is ripe before you can withdraw.
It takes 3 days for your first investment to mature.
You will then be placed on a queue to be merged to receive from another user.
Referral Program
When it comes to referral, you are paid some percentage if you refer people and they join the platform.
You get 10% of the initial investment of anyone that joins the platform through your referral link.
Afterwards, you are paid 5% on subsequent investments.
There are no limits to the number of persons you can refer.
Other activities on this platform are:
Being a Guide – This involves convincing 10 people to join the platform. You will be paid 10% on each of their initial investments and then 5 % on subsequent investments.
Tempting right?
Video Testimonials – As a user of the Wazobia platform, you will be required to make a video testimonial and upload it on your Facebook and Instagram accounts.
You are to insert the links to the video on the Wazobia website when it is ready.
The essence of the video is obviously to promote the Wazobia Investment platform.
Account upgrade – This refers to increasing your investment after 5 weeks or 5 withdrawals as the case may be.
In other words, you will have to deposit more sums than your usual deposit after you have made up to 5 withdrawals.
Let's keep digging.
---
Membership Support
Wazobia has different means through which members can receive answers for their query.
They include:
Whatsapp: wa.me/2349013801148
Telegram: t.me/wazobiainvestment
Facebook: fb.me/wazobiainvestment
Instagram: instagram.com/wazobiainvestment
Youtube: youtube.com/channel/UC-08nSletO-dyJIVnIpoNuQ
---
How Do I Earn on Wazobia Investment?
Like I mentioned earlier, you are paid 50% profit on your investments on this platform.
Your first investment gets this 50% after 3 days. Any other investment after that takes 7 days before receiving the profit.
And you can withdraw both the invested amount and profit at once.
Now this is the tricky part:
You cannot withdraw your ripe investment until you reinvest.
Here's an example;
If you invest N10, 000, your ripe investment would be N15,000 i.e your initial N10, 000 + N5,000 profit.
And this is due for withdrawal in 3 days.
But you cannot withdraw this N15,000 until you invest another sum into the platform.
Hold on, it gets more interesting.
In order to withdraw your N15,000, you have to reinvest right?
Well, here's another hit: You cannot reinvest any amount less than your initial investment of N10, 000.
So, you can only withdraw your N15,000 if you pay in an additional N10, 000 or more.
Pause and think about it for a while. (Tell me what you think about that in the comments before you continue your reading).
I provided a clearer illustration in the image below. Take a look!

As you can see, by the time you make your 5th withdrawal, you would have made a total withdrawal of N 75, 000. And that is because you deposited up to N 60, 000.
Quickly do the math, what is your percentage profit?
I did the calculation myself and a profit of N 15, 000 from N 60, 000 investment means 25% profit. I know I didn't flop math class.
Did you see that? After 5 withdrawals, you will be making a 25% profit and not 50% profit as the platform claims.
Do not forget that at this point, you'd have to upgrade your account before you can earn again.
Now look at this:

Notice a cause for worry? Well, I did. You have not made any profit until after your 4th withdrawal!!!
And this will take about 17 days (considering the initial 3 days, and the following 7-day intervals needed for investments to mature).
Consequently, you will only make profit after you have made 5 deposits.
Hmm…
---
Is Wazobia Investment Legit or Scam?
Let's see…
1. The founders are not known. Therefore, every investor will lose their funds when the platform crashes.
2. You must recommit before you can withdraw ripe investments. This means that the platform runs on the deposits of investors.
It also means that investors will never withdraw some of the money they deposit.
And considering the fact that you have to increase your investment after every 5 withdrawals by at least 20%; the sum that will be stuck in the platform would be a huge one.
What happens when the invisible founders make their target profit from investors' deposits?
3. The major way to benefit from this platform is through referral.
You know as well as I do that convincing a person to join an investment platform is not an easy job these days.
4. Again, there was a mention of Bitcoin somewhere. When I checked out the site on how to make Bitcon deposit, there is no info on that.
I also reached out to its support as regards that via mail but yet to get a response.
Guess a mention of crypto was meant to spice up the whole thing.
5. Remember the information on their website says the platform was launched in 2017? I did a search on Whois Lookup and discovered the website was registered in May 2020.
Take a look:
Where does these leave us?
It is as clear as a Tabula rasa!
You invest, make a profit, reinvest, withdraw, make a profit, reinvest, withdraw, and so on. (Actually, your first real profit is at the 4th withdrawal as we saw earlier)
The entire frustrating process proves that Wazobia Investment is a scheme that can crash at any time.
I mean , have you asked yourself: What kind of business do they run with the money that yields 50% ROI in 3 days?
Well, if you will still go ahead to invest, I advise you invest with money that you can afford to lose.
---
Conclusion
This brings us to the end of this review.
As I said earlier, if you are willing to give it a try, then go ahead. After all, you will be paid every 7 days.
Moreso, if you are able to convince others to join, you will earn more by and by.
For me, I am not convinced that this platform is the way to go.
But then, that's just me.
Have any questions or thoughts you wish to share?
Please leave them in the comments section right now.
If you enjoyed this review and will love to see more like this, just click any of the share buttons below.
Cheers!
---
Read about other investment platforms facing the 'legit' panel: