Today's critical review is on My Gold Rev, an online gold investment platform with a promise of 450% ROI in 100 days.
If you belong to the group of folks that can give anything to have a large storage of gold, you may be tempted to join this platform when the promoters come knocking at your door.
But can you really become rich in gold by investing in My Gold Rev? Is this platform legit?
Find out yourself by reading this post to the end.
---
Post Summary
We shall discuss My Gold Rev under the following subheadings:
Enjoy your read!
---
1. My Gold Rev Overview
My Gold Rev is an online investment platform that uses investors' funds to make profits from gold trading and gold mining.
Connor Roberts founded the company in late 2019.
It was officially launched on the 5th of January, 2020.
As per information on the website, My Gold Rev has offices in the UK, the USA, and Hong Kong.
The purpose of the platform is to enable users invest in gold and make huge profits.
We will see how it intends to achieve that in the next section.
Keep reading!
---
2. How My Gold Rev Works
The modus operandi here is quite simple.
Investors deposit funds which are used to trade/mine gold behind the scenes.
Users do not need to be masters in gold trading to profit from this platform.
All they need to do is, register on the platform, deposit as many funds as they can afford, and let the experts on the platform do the trading for them.
Whenever their profits are due, users will then be paid.
Additionally, users can earn more when they refer people to the platform.
Registration on My Gold Rev is free but you must register with someone's referral link.
The platform pays users in Perfect Money, Payeer, Bitcoin, or Ether depending on the user's preference.
This means that users need an external wallet to withdraw their earnings from this platform.
Users can withdraw at any time. However, the withdrawal process may take 2 to 30 hours to be completed.
In the next section, I explained the different packages of this platform.
Keep reading!
---
3. My Gold Rev Packages
There are three packages available on this platform – Package 1, Package 2, and Package 3 with varying costs.
Whichever package a user chooses will determine how much he will earn daily.
Each package expires after a number of days. Users will then renew their chosen package or buy another one.
Details of the 3 packages are summarized in the table below: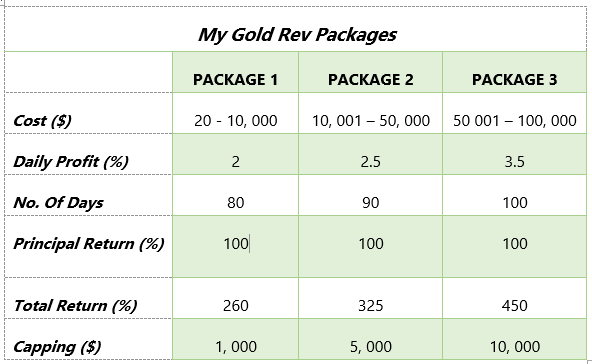 As you read the next section on how to earn from this platform, you will understand the packages better.
Tag along!
---
4. How Do I Earn From My Gold Rev?
There are 3 principal ways users of My Gold Rev earn namely:
Daily ROI
Direct Referral Bonus
Binary Bonus
Daily ROI
Here, users are to select a package from the available 3 packages, deposit the required amount of funds, and then reap their profits.
The platform pays users Daily Profit – a certain percentage of their investments (from Monday to Friday).
This percentage depends on the chosen package; 2%, 2.5%, and 3.5% for Packages 1, 2, and 3 respectively.
Here's an example of how a user can earn via Daily ROI:
Ifunanya gets referred to My Gold Rev and decides to invest $2, 000. That falls under Package 1.
Hence, she is paid 2% of $2, 000 daily (Mon-Fri) which is $40.
At the end of 80 days, she will have 80*40 which is $3, 200.
Adding her principal return, that is, 100% of $2, 000, it becomes $3, 200 + $2, 000 = $5, 200.
Therefore, she goes home with $5, 200 as her total return which is 260% of her initial investment of $2, 000.
Tempting, right? Let's look at other ways users earn from the platform.
Keep reading!
Direct Referral Bonus
For this earning method, users are paid 10% of their direct referral's investment.
Two terms are very important here: Upline and Downline.
Upline or Direct Sponsor is the individual that refers a new person to the platform.
The new person he referred becomes his Downline or Direct Member.
Remember Ifunanya from our previous example? Good!
Let's say she invites Idara to join the platform and he agrees. He becomes her Downline while she remains his Upline.
Once Idara subscribes for a package by depositing some funds, Ifunanya will be paid 10% of his investment.
That is, if Idara deposits $2, 000, Ifunanya will be paid 10% of $2, 000, which is $200 as a Direct Referral Bonus.
Direct Referral Bonus is paid only from Mondays to Fridays.
It gets more interesting!
Binary Bonus
Here, users need to have 2 direct referrals to earn.
With the 2 referrals a binary tree is created.
This tree has 2 branches (legs) – one on the left and the other on the right.
The leg with lower investments is called the pay leg because that is where the user's bonus will be calculated.
Binary bonus equals 10% of the daily investments on the pay leg.
Say, Ifunanya invites Idara and Tolu, and the both register at the same time.
Idara deposits $2, 000 but Tolu deposits $1, 500.
She (Ifunanya) will be paid 10% of Tolu's investment, which is $150.
Consequently, as more people register under Idara and Tolu (in twos), Ifunanya will continue to receive 10% bonus from her pay leg daily.
And there is no limit to the number of users that can be in a binary tree.
Binary bonus is paid daily, including weekends.
However, the payment of binary bonus is not that simple. It is based on what is found on the binary slabs.
Have a look:
You can now see that it is not exactly 10% as advertised.
So, Ifunanya will not be paid $150 rather, she will be paid $100 because the earnings on her pay leg fall under Slab 4.
Not just that, but the remaining $1, 400 ($1, 500 – $100) is flushed leaving $0 in her pay leg.
Meanwhile, the $1,500 is also subtracted from the earnings in the other leg. Hence she will be left with $500 ($2, 000 – $1, 500) on that leg.
And so it goes with every new investment.
There's more!
The system also puts daily capping into consideration before paying binary bonus.
Daily capping refers to the maximum amount of binary bonus that a user can receive daily.
It depends on the package of the user. Capping equals $1, 000, $5, 000, and $10, 000 for the Packages 1, 2, and 3 respectively.
This means that when a user wins a bonus that is beyond his package, he will only be paid his capping and the rest of his earnings will be flushed off.
Let's dig further!
---
5. My Gold Rev Payment Methods, Transaction Fees And Limits
Payment Methods
Fees
Deposit – 0%
Withdrawal – 10%
Internal Transfer – 0%
Limits
Minimum Deposit – $20
Minimum Withdrawal – $10
Moving on, I will answer the question that has been on your mind.
Tag along!
---
6. Is My Gold Rev Legit?
Before I give an answer, let's take a look at what makes it legit and what doesn't.
What Makes My Gold Rev Legit?
1. The founder and members of his team are not in hiding
2. Details of the platform's website registration were found on Whois.com.
3. Some individuals claim to have benefited from the platform (I didn't see any proof of their transactions though).
You can check out this video made by one of them.
What Makes My Gold Rev Scam?
1. Though the founder and his team are known, they still appear to be actors especially in the video where the CEO showcased their office.
Everything appeared rehearsed and unreal.
2. The company has no retail products and this qualifies it as a Ponzi scheme.
It claims to use investors' funds to trade gold and make profits, which is shared among investors.
Yet, there is no proof of any ongoing or completed gold trading on the platform.
3. I searched for My Gold Rev on NFA and WebOfTrust (popular sites were legit platforms are found) but there were no results.
4. Then I checked for the platform on Trust Pilot, it had a poor rating with only 8 reviews. The reviews were mainly negative. Have a look:
5. Again, the capping for Package 3 is $10, 000 but the maximum income on the binary slab is $5, 000. Who is deceiving who?
My Take
Based on the above reasons, I tick the scam box for My Gold Rev.
The absence of proof of any external source of revenue (through gold trading and mining as the company claims) shows that the company is being run on investors' funds.
It is the same old Ponzi strategy of robbing Peter to pay Paul.
Therefore, when recruitment drops, there will be no available funds and the company will fold.
And considering those reviews of users which revealed that the system never paid them, recruitment will definitely stop.
When the company folds, investors will lose their money big time!
I wouldn't invest in this company if I were you.
---
7. Conclusion
My Gold Rev is no different from other Ponzi schemes. Don't be swayed by all the gold lectures scattered on its website.
You will not find any gold there, except in photos and videos (LOL).
And that is all I have to say. Now, I'd love to hear from you:
What do you think of My Gold Rev? Is it legit or scam?
Have you invested in this platform or a similar one before? What's it like?
Let's hear your thoughts in the comments section right now.
Share this post as well, you may just save a friend from making a wrong investment.
---
Heard about these platforms yet?