This post is a critical review of Six Sigma Trade, an AI-based trading platform that promises users an attractive weekly ROI.
With 9 different means of earning being advertised on the platform, it is quite easy to convince people to join Six Sigma.
But are these 9 means of earning for real or same old referral gimmicks? And does the use of AI authenticate Six Sigma Trade as a non-Ponzi scheme?
You are probably here to learn the truth yourself. So, let's get to it!
---
Post Summary
I grouped this review under the following subheadings:
A click on any item above will reveal its details.
Enjoy your read!
---
1. What Is Six Sigma Trade?
Six Sigma is an AI-based trading platform built to empower users in Forex Trading, Crypto Trading, and Robot Trading.
The major strength of the platform is its use of a robot to automate trading processes.
Its goal is to create a conducive atmosphere for traders to generate huge profits.
Six Sigma was launched on the 27th of September, 2019.
Following the information on its website, the headquarters of Six Sigma Trade is located at 157 Lambton Quay Wellington 6011, New Zealand.
Next, we'll discover the individuals behind Six Sigma.
Keep reading!
---
2. Who Is Behind Six Sigma Trade?
Six Sigma was founded by Sura Bianca. She started her career as a worker in a Forex Trading Company in 2009.
It is said on the website that she conceived Six Sigma Trade out of her passion for trading and crypto.
Also, the company has legal advisors in 4 different countries. Their job is to provide legal support to all registered members.
They are Mr. Ogedi Ogu (Nigeria), Mr. Syed Arif Shah (Pakistan), Mr. John Kariuki (Kenya), and Mr. Manish Kumar (India).
---
3. Six Sigma Trade Products And Services
This platform offers the following services:
Six Sigma E-wallet
Forex Trading
Crypto Trading
Robot or AI Trading
Six Sigma Packages
Six Sigma E-wallet
This enables users to deposit and transfer funds.
Crypto Trading
From the name you can already tell what happens here. Crypto trading involves the exchange of cryptocurrencies or buying/selling crypto for other currencies.
The goal here is to take advantage of the volatility of the crypto market and make attractive profits.
Experienced experts on the platform help newbies make informed decisions with low risk and high chances of success.
Forex Trading
Forex trading is a financial market that involves the exchange of different currencies and speculating the direction of a particular pair of currency's movement.
Here, traders post their orders to buy and sell currencies on the network so they can interact with other currency orders from other parties.
Efficient and experienced traders make the most profits here. Six Sigma helps users make the most of this trading by providing an AI-based solution.
AI Trading
Six Sigma makes use of AI to make trading easy. The platform owns a robot called AIFA, which was designed to make smart investment decisions without human intervention.
It helps traders understand whether they should buy or sell specific currency pairs, and at what time.
AIFA's Roles
AIFA is Six Sigma Trade's unique selling point. These are some of its roles:
It analyzes the Forex and Cryptocurrency markets, in search of trends and top trade opportunities
AIFA can trade short or long term depending on the user's preferences. It is knowledgeable in Scalping (Micro-Trading) and Position Trading
It executes orders automatically provided requirements are met.
AIFA fastens the entry of orders despite changing market conditions, etc.
Six Sigma Trade Packages
Six Sigma Trade has 7 packages, which users must choose from in order to participate actively on the platform.
The packages are Builder, Super Executive, Executive Plus, Master, and Elite. And each package yields business points.
Find more details in the table below:
Package
Cost
Business
Points
Basic
$99
20
Builder
$299
60
Super
$499
100
Executive
$999
200
Executive Plus
$3999
800
Master
$9999
2000
Elite
$19,999
4000
Note: Business points (Bps) – is a kind of reward given based on the degree of investment. Hence it increases with higher investment.
Next, we'll see how you can earn from the platform.
Keep reading!
---
4. How Do I Earn From Six Sigma Trade?
There are 9 major ways you can earn from Six Sigma. They are:
ROI Income
Direct Commission
Binary Commission
Royalty Commission
Presenter Bonus
Myriad Share Bonus
Hall of Fame Share Bonus
Escrow Income
Ranks and Rewards
Find details about them below.
ROI (Return On Investment) Income
This is the basic way to earn from Six Sigma Trade.
Here, investors receive a weekly ROI depending on their chosen package:
| | |
| --- | --- |
| Package | Weekly ROI |
| Basic | 2.5% |
| Builder | 3% |
| Super | 3.25% |
| Executive | 3.5% |
| Executive Plus | 3.5% |
| Master | 4% |
| Elite | 4.5% |
Direct Commission
Here, users are paid when someone uses their referral link to join the platform. They receive 50% of the referral's Bps.
Example: If a new member owns 60Bps based on his chosen package, the user who referred him receives $30 from Six Sigma Trade.
Binary Commission
For binary commission, you need to refer two persons to get paid. This gives you two downlines (one on the left and on the right).
You get paid a certain percentage from each of your downline's investment. The percentage commission depends on the package your referral chooses.
Have a look:
There is a trick here.
If your referral goes for a higher package than yours, you will be paid a commission that tallies with your package and the rest of the commission will be flushed off.
Say you own a Basic Package but your downline has an Elite package you will receive only 20 Binary points (instead of 60) and other points will be flushed off.
Royalty Commission
This is where you sponsor as many users as possible and receive commission based on their weekly ROI.
Payment here is based on levels and there are 10 levels available.
Each level has its percentage of the referral's weekly ROI that will be paid the sponsor. This is called Level Commission (LC).
Example:
From the image above, the top investor earns $73 from Level 1 commission and $60 from Level 2. This makes it a total of $133 for his royalty commission.
Myriad Share Bonus
This is 1% of the company's total earnings paid to users that own up to 10,000 Bps.
Hall of Fame Share Bonus
The Hall of Fame Share Bonus is 1% of the company's income shared equally among the top four rank achievers club – Rhodium, Plutonium, Painite, and Tritium.
That is, if 1% of the company's income is $1, 000, each club will receive 25% of $1, 000 and share it among their members.
Presenter Bonus
This is 10% of the Bps of a new member given to his recruiter if he enters this recruiter's username as 'Presenter' on the registration form.
Escrow Income
Here, users earn when they meet a target set by another user on their binary tree. Like a promotional ad.
The money/reward to be awarded is stored in the Six Sigma Escrow System until the promotion is complete.
When it's time, the amount is divided among the achievers. And if there are no achievers, the amount will be refunded to the user that set the target.
Ranks and Rewards
As new members join the platform, recruiters increase in ranks and receive appropriate bonuses.
The bonus depends on the amount of Bps a recruiter has accumulated in his binary tree.
More details are provided in the table below:
Rank
Requirements
Reward
Bronze
2, 000 Bps
–
Silver
5, 000 Bps
–
Gold
10, 000 Bps
Apple Macbook Air
Platinum
50, 000 Bps
Foreign trip for 2
Palladium
200, 000 Bps
Chevorlet Trax
Rhodium
800, 000 Bps
Nissan X-Trail SV
Plutonium
2, 000 000 Bps
Toyota Land Cruise GX.R
Painite
4, 000 000 Bps
+
4 directs palladium
executives
Porsche 911 GT3
Tritium
10, 000 000 Bps
+
4 directs rhodium
executives
Penthouse
Still here? Good. Let's see what it will cost to join Six Sigma.
Read on!
---
5. What Does It Cost To Join Six Sigma Trade?
To be an active member of the Six Sigma Trade, you will invest between $99 to $19,999 per year depending on the package you choose.
Investments can be made in Bitcoin, Bitcoin Cash, Ethereum, Stellar, Litecoin, and USD.
After you have created an account with the platform, you will be required to purchase a package before you can start earning.
In the next section, you will find answer the question that brought you here.
Tag along!
---
6. Is Six Sigma Trade Legit?
Based on our discussion so far, Six Sigma Trade seems legit but there are issues of concern.
Briefly, we will look at what makes it legit and what doesn't.
What Makes It Appear Legit?
The registration details on whois.com tallies with the information on Six Sigma Trade's website.
Records for the platform were also found in Business for Homes.
Few persons claim that they have benefited from Six Sigma Trade.
What Makes It Appear As A Ponzi Scheme?
1. The CEO can't be found elsewhere
The CEO, Sura Bianca, exists only in Six Sigma Trade marketing materials. I couldn't find that name and face combo anywhere else.
There is no way to prove the 'tech-savvy' qualification attached to her on the company's website.
And when the owner of a platform cannot be traced, it is already a red flag.
2. Six Sigma Trade prelaunch video appears shady
In the video of the prelaunch event of Six Sigma Trade, Sura Bianca is missing. Tell me, which CEO misses her prelaunch event?
In the same video, Six Sigma Trade users looks like they were paid to play the role.
3. Posts on Six Sigma Trade's Facebook page are not convincing enough
On its Facebook page, I found only photos of users who have attained different affiliate ranks with no way to prove that these people actually use the platform.
4. No proof of trade on Six Sigma
Furthermore, I couldn't find any proof of an ongoing trade or completed trade on the website. Not even pictures of trading chats.
Also, there is no official way to reach the admins. Every attempt I made to reach them through their social media handles proved abortive; queries sent are yet to answered.
5. NFA does not recognize Six Sigma Trade
I also checked NFA, a site where legit trading platforms are listed and no results were found for the Six Sigma Trade Platform.
6. The payment calculations don't add up
A good example is what happens in "Direct Commission" and "Royalty commission" where commissions are paid in dollars rather than Bps.
For Direct Commission, users are meant to receive 50% of their referral's investment, right? But then look at this: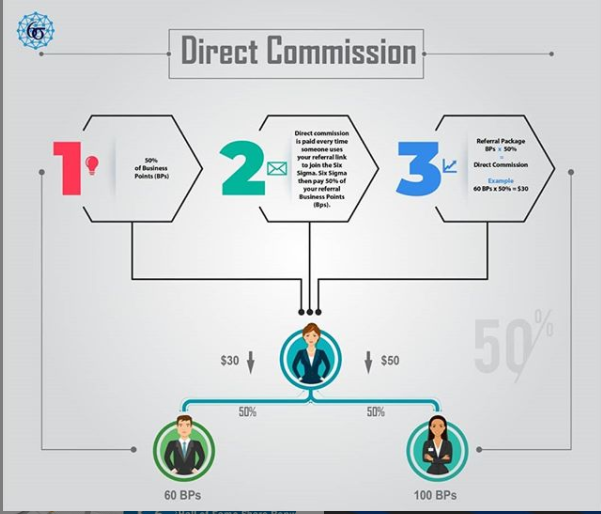 Take a closer look at the left leg, 50% of 60 Bps is paid in dollars ($30).
But in the actual sense, 50% of that investment on the left leg should be 30 Bps which is equivalent to $149.5.
So, who is deceiving who?
7. Six Sigma Trade depends on investments for revenue, AIFA notwithstanding.
Again, Six Sigma Trade has an operational trading bot, yet, it still needs funds from new investors to reward old ones.
Isn't the bot intelligent enough to generate revenue? Or, is AIFA just a means to lure new members? Think about it.
Another cause of concern is that there is no evidence that Six Sigma Trade has any source of external revenue with which it can pay advertised returns.
This means that the platform's singular source of revenue is new investments. It also reflects Six Sigma Trade as a Ponzi scheme.
It then follows that when recruitment slows down, investment slows down as well. Thus, the system will lack funds to pay users.
Eventually, the system will crash and most participants will lose their money.
My Take:
The use of factual actors (CEO, members in their videos/Facebook) and the dependence on new investment for revenue generation makes Six Sigma Trade more of a Ponzi scheme than a legit platform.
I wouldn't invest in this platform if I were you.
But then, that is my humble opinion. If you deem it legit, I strongly advise that you only invest what you can afford to lose.
---
7. Conclusion
And this is where we will bring our discussion on Six Sigma Trade to a close.
Though the company promises 9 means of earning, I doubt that it can pay advertised returns from new investments alone.
Now over to you:
What do you think of the Six Sigma Trade platform? Do you think it is legit?
And what can you say about CEO Sura Bianca?
Let's hear your thoughts in the comments section right now.
Also, hit those share buttons below to spread the word.
---
PS: If you want to learn how to trade cryptocurrencies profitably, then enroll for our Crypto Currency Mastery Course by going to www.ctmastery.com. You can also join our Telegram community at https://t.me/ctmastery
---
Interesting posts you shouldn't miss…