The review of today is centred on FXFarms, a Forex trading company.
FXFarms was launched in 2019 and is located in the United Kingdom.
It provides a profitable way for its users to invest funds in Forex without limitations.
At the end of this post, you would have understood what FXFarms stand for and how it works.
Let's quickly get to this next part to see the outline of what I will be discussing.
---
Post Outline
The layout of today's review is as follows:
Click on any of the subheadings to peruse its details.
Let's begin post haste.
---
FXFarms Overview
FXFarms is a Forex trading company that is located in Manchester, United Kingdom.
From the information on whois.com, it was launched on the 18th of November 2019.
As seen on the site, the team consist of the following persons:
Paul Miller – Founder
Andrew Morgan – Technical Head
Travis Gilbert – Chief Financial Officer
Adam Ingram – Administrator
There was also a list of agents(43) in about 17 countries.
FXFarms has the mission of offering advanced and more profitable Forex trading.
This is to ensure the maximum satisfaction of its users.
It aims to achieve this with the help of its:
very experienced traders
bots
best trading strategies
well designed business plans
The company is registered with the Companies House in the UK and the State of Delaware in the USA.
FXFarms offer various account types, trading tools, and software to further help its users have wonderful trading experience.
That's who FXFarms is.
Find out the unique features of this company in the next subheading.
---
Features of FXFarms
Great UX
24/5 multilingual support
Deep liquidity
Fast execution of trades
Affiliate program
MT5 bots
Over 250 instruments available for trading
Earning calculator
Having listed the features, the next section has the information about its products and services.
Let's go check them out.
---
Products and Services of FXFarms
The list includes:
Forex
Futures
Commodities
Shares
Cryptocurrency
Bonds
Islamic Forex
Wallets
Find details about these below.
1. Forex
The Foreign exchange(Forex) market is one of the largest markets whose daily trade volume is more than $4.5 trillion.
Its price movement is affected by economic and geopolitical factors. Hence, when positive news is published, currency quotes start to rise.
On FXFarms, its Forex traders use their years of experience and the best strategies to achieve amazing results all over the currency pairs.
Popular Forex pairs include AUDCAD, AUDGBP, CADEUR, EURCHF, NZDJPY, etc.
2. Futures
Futures are financial contracts for the specific asset to be bought at a set time in the future.
FXFarms allows investors to trade CFD on Futures.
Contracts for Difference (CFD) is a way of speculating on financial markets that do not require the buying and selling of any underlying assets.
Trading Contract for Difference (CFD) on Futures allows traders to speculate on the price fluctuations of a wide range of assets: commodities, indices, and energies.
If investors make a forecast about the quotes increase, they open a Buy position on the trading platform.
And when they feel the chart will move down, they make an online order to Sell.
Trading futures with FxFarms gives you the opportunity to diversify your investor account.
3. Commodities
Trading spot metals such as Spot Gold and Silver allows investors to expand their portfolio.
They do this by taking long or short positions on Spot Gold and Silver.
Though Spot Gold is more valuable than Spot Silver, both metals share strong price movements.
FXFarms ensures that your orders are executed at the most competitive and accurate prices.
There is a demo account where you can practice before trading on the real account.
Commodities available for trading on FXFarms include Euro, Crude oil, E-Mini S, Natural gas, etc.
4. Shares
On FXFarms , Shares trading is offered as CFD.
Trading CFD on Shares allows traders to place both long and short positions to benefit from a price rise or fall.
Shares trading is available for some of the valuable companies in the world such as Apple, Coca Cola, Facebook, etc.
5. Cryptocurrencies
Cryptocurrencies present traders with a new way of investing.
Users of FXFarms can trade cryptos as CFDs in pairs with USD e.g BTC/USD, ETH/USD, etc.
6. Bonds
Bonds are fixed-income instruments that represent loans given by a lender(the creditor) to a borrower(the debtor).
The Bonds that are issued by national governments are counted among the safest long term investments.
When a lender buys a government bond, the person is indirectly lending money to the government for a particular number of years.
In return, they receive interest on the loan given.
On FXFarms, you can invest in the Bonds of some of the big countries including the USA, UK, France, and Germany.
7. Islamic Forex
Based on the Sharia law, muslims are banned from earning interest on what they give.
This law also applies to the interest earned on Forex trading.
To remedy this, FXFarms allows many Forex brokers the opportunity to open Islamic Forex accounts. These offer interest-free Forex trading.
It is also important that you consider the account type, services, and trading conditions offered by the broker(s) you are considering.
8. Wallets
On FXFarms, users are allocated 4 wallets which hold your different income.
The wallets are:
You can transfer funds from any of your wallets to another one.
FXfarms charges no fees for this transfer.
That's it on the products and services that FXFarms provides.
I will be presenting you with FXFarms' business plans next.
Keep reading.
---
Business Plans on FXFarms
FXFarms business plans have been developed to take advantage of the markets in such a way that profit is ensured.
Profits generated are sent to the users equally and is visible on the platform.
There are 8 plans available with the requirements and ways of earning stated.
Find details about them in the table below.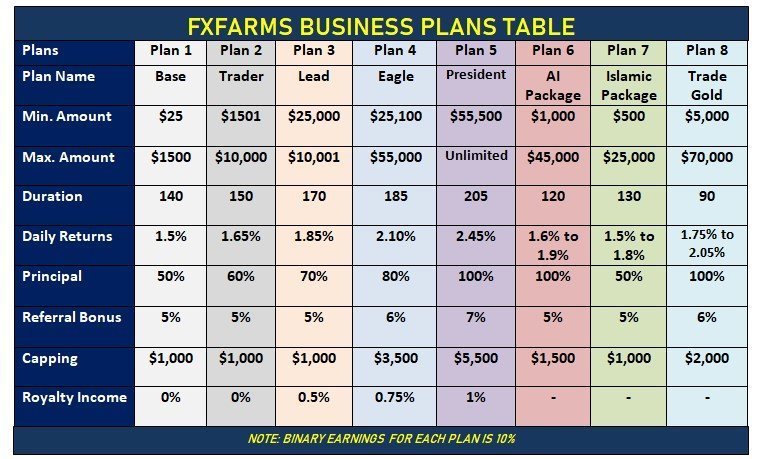 What this table is saying is: Assuming I signed up for Plan 3 with $25,000, I am going to receive 1.85% daily for 170 days.
At the expiration of the days(170 days), 70% of my capital(Principal) will be returned to me. I will also earn 5% from my referrals and 0.5% as royalty income.
Not forgetting the $1,000 capping and the 10% that I will gain as my binary earning.
Having seen the business plans, let's now talk about how one earns when he/she purchases any of these plans.
Just scroll down.
---
FXFarms Network Income
OnFXFarms, there are 4 ways to earn when you sign up for any of the plans.
The ways include:
Referral Income
Binary Earnings
Royalty Income
Career progression
I am going to explain how each works below.
Referral Income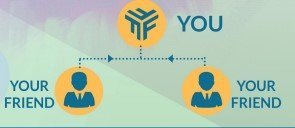 This is earned when you refer another member to invest using your sponsor ID.
You(as the Sponsor) will receive 5% – 7% of your referrals investment as bonus.
This will be credited to your network wallet instantly and you can make withdrawals anytime.
Your income depends on the investment of your referral and the business plan you signed up for(Check the Business Plans table above).
This process continues for unlimited levels and is only applicable to your direct referrals.
Binary Earnings
To earn here, you must invite a minimum of 2 members who will be registered under your ID.
That is, 1 member on the left hand side(LHS) and another on the right hand side(RHS).
How this works is that whatever you make from your team(LHS and RHS), you will be paid 10% of the lesser leg.
By lesser leg, it means the side with lesser earnings.
For example: If your LHS made 4,000USD and RHS made 10,000USD, you will receive 400USD as your binary. This is because the LHS is the weaker leg.
Binary starts the day you qualify and can be earned for unlimited levels.
It is credited to your account at the end of the day.
Royalty Income
Another way you can earn is from the Royalty Income.
This is available for members who signed up for Plans 3, 4, and 5.
You get to earn 0.5% – 1% of whatever your team does.
You get to earn Royalty Income for unlimited levels and it is credited to your wallet immediately.
Career Progression
The fourth way to earn is when you progress in your career from Leader to VIP.
Find details about this in the table below.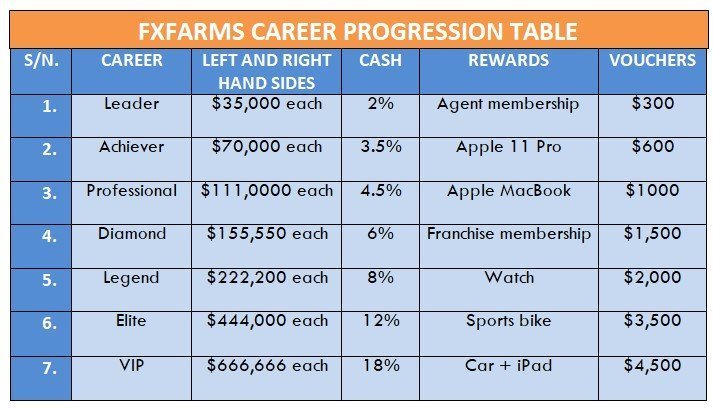 Now that we have seen how to earn, let's check out the supported countries and modes of fund transfer.
---
Supported Countries and Modes of Payment on FXFarms
Countries
FXFarms supports all countries; none is restricted.
Modes of Payment
You can deposit and withdraw with:
Bitcoin
Perfect Money
Payeer
Ethereum
Tether
Next, you will find details about the fees, limits, and the verification requirements.
Let's check it out.
---
Fees, Limits, and Verification Requirements on FXFarms
Fees
Withdrawal fees – 9% (Admin charges)
Limits
Deposit – $25
Withdrawal – $5
Verification Requirements
Government issued photo ID
Proof of residential or business address
Corporate documentation
Business registration information
Any other applicable documents
We will see the ways to contact the team at FXFarms next.
Just keep reading.
---
FXFarms Customer Support
You can reach FXFarms via the following channels:
Email – [email protected]
WhatsApp

447480619460 – Sales Support
447481347262 – Technical Support
447446896591 – CEO
447480533921 – Finance
Physical Addresses

UK – 10th Floor 3 Hardman St. Manchester M3 3HF (+447480619460)
USA – PNC Building 300 Delaware Ave. Wilmington, DE 19801 (+12512207738)
Spain – Camino Fuente de la Mora 9 Madrid Hortaleza 28004 (+34518880207)
Greece – Spaces Green Plaza Ag. Konstantinou 59 – 61 Marousi Athens 115 24 (+302111988505)
Hong Kong – 13A South Tower, World Finance Centre, Harbour City, 17 Canton Road, Tsin Sha Tsui, Kowloon
Now that we have all the needed information about FXFarms, I am going to give you a rundown of how it actually works.
Check that out below.
---
How Does It Really Work on FXFarms?
To start up using the FXFarms platform, you will need to sign up using someone's referral code.
**If no one referred you, you have to click on 'get Referral ID' to get one before you can proceed with the registration.
I will take you through how it all works in this section using my friend, Kitan as an example.
So Kitan was invited by Ivie and he is ready to sign up. He will take the following steps:
Step 1
Kitan will click on the link Ivie gave him and it opens up to this dialog box. He fills in the required field and clicks 'Sign Up'.
**The box with 'FX-IRZF' has Ivie's Referral ID and 'Right Position' there indicates that Kitan is placed on the RHS of Ivie's binary tree. This placement is done by the company on first come first serve basis.
Step 2
Kitan will receive a message in his email that contains his user ID, password, and security pin.
He will go back to the login page and click 'Login', provide the required details from the mail sent, and click on the Login button.
Step 3
It brings him to this page where he will change his password to something more secure.
Kitan will be notified of the successful password change and it opens up to his dashboard.
Step 4
Now, Kitan's account is ready and he is ready to make investments.
He will click on 'Investment' on the left hand side of the dashboard and select 'Packages' from the drop down menu.
Step 5
He wants to start up with the Base plan (Plan 1) so he clicks on 'Invest Now' under the Base plan.
Step 6
It opens up to this page. Kitan will now enter the amount he wants to invest (from $25 – $1,500) and select the way to pay e.g Bitcoin.
He has the option of paying with Bitcoin, Payeer, or Perfect Money.
Step 7
Kitan will now see this page that contains the payment details. He will scan the QR code or copy the address to make payment.
Kitan then sends his payment and waits till he receives the success note display on his screen.
His account is then set up for him to start receiving his income.
This is a breakdown of what Kitan will earn for the duration of the 140 days that the Base plan(Plan 1) will last:
Daily income: $0.375
Weekly income: $1.875
Monthly income: $7.5
Total income after 140 days: $52.5
On completion of the 140 days, Kitan will also receive(in addition to the $52.5) $12.5 i.e 50% of his initial investment.
So Kitan's total earning from his $25 investment after the 140 days is $65.
Note: The income is calculated Monday – Friday(i.e Business days). The weekends are not included.
Get more information about registration here.
This is simply how it works when you sign up with FXFarms.
Below, you will find answers to some of the questions you might have.
---
Frequently Asked Questions (FAQs) about FXFarms
How often can I make withdrawals?
You can withdraw your funds at any time provided you have up to the minimum withdrawal balance ($5).
You can withdraw from your Team wallet and ROI Wallet daily (1pm – 5pm UK time and 2pm – 6pm Nigerian time).
Note: You have the option to withdraw only from the modes which you have deposited. For example, as Kitan deposited with Bitcoin, he can only withdraw Bitcoin, not Perfect Money or Payeer.
How are the agents gotten?
Agents are chosen from members who have brought in a good number of referrals.
From the Career Progression table, it can be seen that you attain the agent membership position when you have $35,000 each on the LHS and RHS of your binary tree.
For the Business Plans, must I buy Plan 1 before progressing to a higher plan?
No, not at all.
You can purchase any of the plans; no need of moving from Plan 1 to 2, and 3.
If you want, you have like 2 plans running at the same time.
That way, your profit is increased.
What are the benefits attached to gaining a Franchise membership?
You attain a Franchise membership when you have made up to $155,550 each on the RHS and on the LHS of your binary tree(see Career progression table above).
These are the benefits attached:
1. Your name will be shown on the official website.
2. Your account details for depositing will be shown on the official deposit page.
3. People that want to sign up from your region will be automatically placed under you.
4. A website in your regional official language will be created and handed over to you.
5. Direct contact with the company's official departments.
6. 25% Cash Redemption on every seminar and conference you organize
7. You get a 3% commission on every purchase made from the company in your weaker leg.
8. No prior appointments to be booked to visit any of FXFarms offices across the globe.
9. You will be handed over a Franchise Agreement which states that the company will be held responsible for any liabilities and legal issues concerning the business [only].
Can I own more than one account on FXFarms?
Yes, you can open as many accounts as possible from the same IP address and the same email address.
Is FXfarms legit?
FXFarms is a Forex trading company that started up in 2019 and since then, has been offering quality services to ensure the maximum satisfaction of its users.
It provided proof of its registration on its site and its owners are known.
Though relatively new, there has been no report of it scamming anyone and has been expanding its services to various countries.
However, always DYOR before setting out to make any investments.
Hope I answered your questions in this section?
If you still have other questions that I did not answer here, don't worry about that – You will get the chance to ask them in the next part
---
Conclusion
This is the final section of this review. So far, so good!
I have taken you through everything you need to know about FXFarms and how it operates.
Now, dear reader, I want to hear from you.
Have you invested with FXFarms before? How did it go?
If you are yet to sign up, which of the plans will it be for you?
With the vision to evolve the Forex market, do you see FXFarms emerging as the Forex king in no distant time?
Let me know your thoughts and questions(if any) at once in the comment section below.
Just before you go, click on those share buttons below to give this post a share.
---
Update on FXFarms – Perturbing Changes
From the time this post was written, FXFarms has undergone some changes both to its website and its services.
These are some of the things I found out:
The site's URL (fxfarms.com) is no longer working. When I contacted the team as regards that, I was told that the site's URL has been changed to fxfunited.com.
Information about this change was NOT disseminated to users and no reason was stated for this change.
Okay, no issues with the site change.
Now I went ahead to check out the new site and found that my tree details (earnings from my left and right binary tree) are all wiped out. Guess they all went with the old site.
And we all know what this means, right?
Well, if you've not figured it out, it means that whatever balance you have accumulated via referrals is lost. No way to get them back! This means that you are getting nothing for your efforts.
That is quite sad😌
Another thing I noticed is an addition to the team – A Mr. Kevin who is the FXFarms Marketing Head. Again, no word about the new fella.
Òn the top right-hand corner of the new site, I found 'Let's Do Mining'. This was not part of what we had on the old site.
A click on it showed that it is a new service where it offers Gold Mining. Yet again, there was no description of how this works.
The height of it all is the accumulated funds in your wallet. There is no way to access the funds.
I mean there is no way to make withdrawals from the site.
When I contacted the team about that, they explained that withdrawals will take off from the 30th of November 2020.
I guess we will have to fold our arms and see if that will be the case.
In all, I find these changes disturbing hence the reason for this update. Be very careful while using the site.
That's all I have for the update and my findings.
Will revert if I stumble on any further development on the site.