Today's post is a detailed review of Phoneum, a crypto mining app.
Phoneum rewards users or miners with PHT tokens.
And unlike the rewards from the mining apps we reviewed in the past, PHT has monetary value and can be traded in a crypto exchange.
The project also has fascinating use cases which you will see as you read on.
---
Post Summary
Happy reading!
---
1. What Is Phoneum?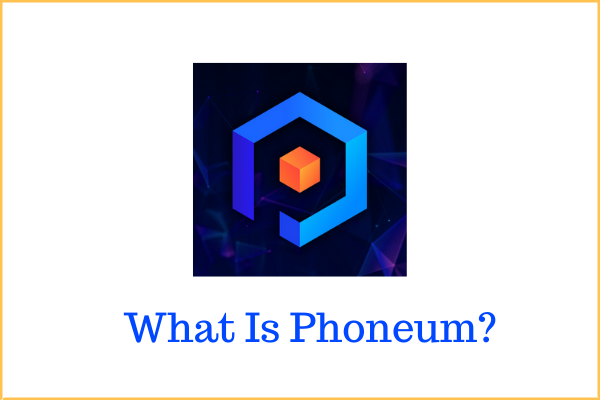 Phoneum is a crypto mining app that rewards users with PHT tokens.
Ivan Likov launched the app in November 2017 with headquarters at 4786 Queen Street, Niagara Falls, Ontario.
The idea was to enable everyone everywhere to access cryptocurrency even without the technical know-how.
Anyone can mine PHT tokens once they have installed the Phoneum app on their mobile. Cool!
Already, over 1 million persons have downloaded the app.
In addition to the mining apps, the Phoneum ecosystem has other apps where users earn PHT.
You'll find more details on that later in the article.
For now, let's see the features of the Phoneum app.
Tag along!
---
2. Phoneum Features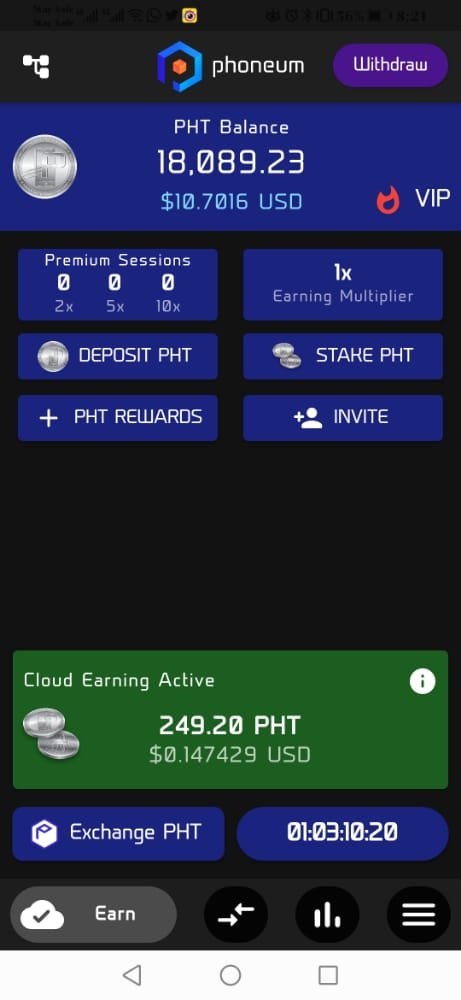 Top features of this app are:
a. PHT Balance – shows the amount of tokens earned and the USD equivalent
b. Withdraw – enables users to withdraw their tokens to an external wallet. The minimum withdrawal is 20,000 PHT.
c. Deposit PHT – enables users to receive tokens from an external wallet.
d. Exchange PHT – this feature redirects the user to ProBit exchange where he can swap PHT for USDT.
But you can't make the exchange directly from the app, you have to first withdraw your tokens into an external wallet like Trust or Tronlink wallet.
e. Stake PHT – here, users can stake their tokens and earn up to 12% APY.
f. VIP – this feature enables users to earn at a higher rate and reduces their withdrawal/staking minimum to 10,000 PHT.
You can buy VIP positions with the fiat of your resident country.
There are 3 positions: 2x, 5x, and 10x which multiplies your earnings by 2, 5, and 10 respectively.
g. Earning multiplier – shows how many times your earnings are being multiplied.
h. Premium Sessions – displays what you're earning in each VIP position.
i. History (the two opposite arrows at the bottom) – displays all your activities on the app.
j. Stats (the three vertical lines at the bottom) – shows the market statistics of PHT.
k. Menu (there horizontal lines at the bottom) – displays all the functions on the app.
Next, I explained how the Phoneum app works.
Keep reading!
---
3. How Phoneum Works
First things first, you have to install the Phoneum app on your mobile device.
Upon installation, you'll receive 20 PHT without a referral code.
But if you register with a referral code you'll get additional 200 PHT. Yay!
You can use this code – fdmrqvk3 to register ?.
Then, weekly, you log on to the app and tap the "Earn" button.
This action connects you to the Phoneum server, which handles the mining in the cloud.
So, your device is not doing the mining; it simply connects to the server.
And the app does not have to run in the background all the day like GeoCash.
Once you initiate the mining process, you'll start earning PHT.
Now, it was not specified at what rate you'll earn but your earnings are always displayed on the home page.
I came across an image on the app that shows what you can expect to earn daily. Have a look:
Also, you'll need an internet connection to tap the button weekly.
This is different from TimeStope that requires daily attendance.
Plus, the app notifies you when a mining session is complete so that you can log in and resume a new session.
Apart from the weekly mining, you can also stake your PHT tokens to earn more.
You need a minimum of 20,000 tokens to participate in staking.
Furthermore, Phoneum provides incentives for users to encourage them to invite their friends to the platform.
When you invite someone to Phoneum, you earn rewards as the person completes several mining sessions.
Cool, right?
In the next section, I described the PHT token.
Keep reading!
---
4. PHT Tokenomics
PHT is the native token of the Phoneum network.
It is a Tron based cryptocurrency.
The maximum supply of the coin is 5,000,000,000 with 2,477,667,522 PHT tokens in circulation.
As of 11/05/2021, the coin is priced at $0.000625 with a 24-hour trading volume of $58,962.30.
If you wish to trade your PHT for other coins, you can do that on ProBit Exchange.
Next, I'll show you the use cases of Phoneum.
Tag along!
---
5. Phoneum Use Cases
Phoneum aims to be a cryptocurrency for mobile applications.
That is, PHT tokens will be used for inert purchases across mobile apps.
As at the time of this writing (11/05/2021), this goal is yet to be achieved.
Secondly, Phoneum has other apps which reward users when they complete certain tasks.
They include:
a. CryptoTreasures – a game, where players complete various quests, trivia, and mini-games to unlock Gold (in-game currency), Treasure Chests, Items, Collectibles, and PHT.
b. Crypto Planet – a virtual planet that rewards users with PHT tokens when they play a game.
c. Crypto Cards – this is a digital trading card collectibles game. The cards are bought using PHT.
d. Green Karma – here, players are rewarded with PHT tokens for opening treasure chests, playing mini-games, and completing tasks.
A common thing with these games is that you have to complete several tasks daily to earn which is time-consuming.
Also, video ads are included, which players will have to watch patiently to earn rewards.
---
6. Customer Support & Public Opinion
Phoneum users can submit a support ticket on the site to get response to their queries.
Also, they can view updates on the platform via these channels:
https://t.me/Phoneum
https://www.facebook.com/phoneum
https://twitter.com/PhoneumMobile
https://www.instagram.com/phoneum.io/
https://www.linkedin.com/company/phoneum-io/
https://medium.com/@phoneum
https://www.youtube.com/phoneum
Then I checked Phoneum on TrustPilot, it had an excellent rating with 16 reviews.
Also, on Google PlayStore, the app has a 4.5 rating with over 49,000 reviews.
On Reddit, it has an active group with close to 3,000 members.
Impressive!
I will now show you how to mine PHT.
Tag along!
---
7. How to mine PHT token
Follow these steps to mine PHT:
i. Download and install the app from Google PlayStore. It is listed as Cloud Earning PHT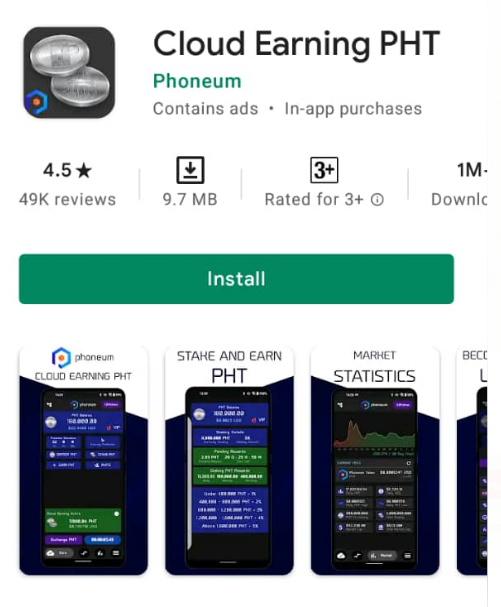 ii. Open the app and choose your preferred sign-in option (Google or Facebook)
iii. Select 'Continue' to proceed and enter 'fdmrqvk3' as your referral code. Then hit 'confirm'.
iv. Bravo! You're in! Feel free to peruse the app using the right arrow or select 'skip'.
vi. Next, click on 'Start Earning' and choose 'Regular'
(Premium means you want to pay for a higher earning rate)
You will now see your mining progress on the screen. Come back after 7 days to resume mining. Enjoy!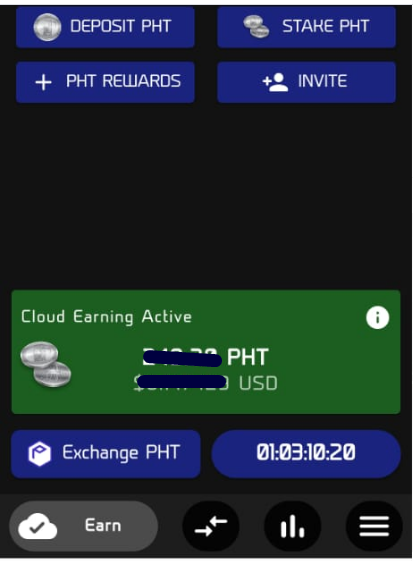 Are you still here? Good!
Let's discuss what the future holds for this project.
---
8. What Does The Future Hold For PHT?
Sadly, Phoneum does not have a roadmap with which we can measure its progress/goals.
But compared to most tokens that are mined on mobile, PHT looks more promising as it is already worth something.
Secondly, it is listed on Coinmarketcap and a can be traded on the ProBit exchange.
Although the price of the coin is still poor, it has experienced some increase in the past. Take a look at this chart:
Again, Phoneum has developed other apps where users can play games and earn PHT.
However, the problem with that is, not every mobile is compatible with apps that pay users for completing tasks.
Apple, for example, does not support any app that enables payment that will oppose the Apple payment flow.
This is a major challenge for Phoneum as it intends to achieve inert payments among apps as well as reward users for completing tasks in the apps.
And as such, you cannot find Phoneum on the App Store yet.
To get listed on Apple, Phoneum will have to make relevant changes in the payment solution it is offering.
Also, PHT will increase in value as more people embrace the project.
And if demand for the coin increases, it may even get listed on popular exchanges like Binance, Coinbase, Bittrex, etc.
Let's answer some questions and then we can call this post a wrap.
Read on!
---
9. FAQs
Can I multi-stake my tokens?
No, you cannot start a new staking until the period for your initial staking has elapsed.
How can I earn more tokens?
In addition to mining weekly, you can also:
– refer people to the platform
– download related apps like CryptoTreasures and CryptoCards and complete tasks daily
– stake your tokens and earn interests
– buy VIP positions on the app to earn at a higher rate (only do this, if you strongly believe in the future of this coin. Otherwise, be content with what you're getting for free).
Is Phoneum safe?
This platform appears to be safe based on the following reasons:
– There is evidence of its registration on Whois.com
– The founder is known
– It has a physical office
– There are several positive reviews of the platform online
– It is listed on Coinmarketcap
Nevertheless, DYOR before investing in Phoneum.
---
PS.
If you want to learn how to trade cryptocurrencies profitably, we have created a perfect course to help you do that.
Enroll in our Cryptocurrency Mastery Course by going to www.ctmastery.com.
You can also join our Telegram community at https://t.me/ctmastery for more information.
---
10. Conclusion
Phoneum is a crypto mining app that rewards users with its PHT tokens for their participation.
It also has other apps/games where players can earn rewards from completed tasks.
However, the success of this coin depends on an increased adoption as it is not doing so well in the market right now.
We have now come to the end of our discussion on Phoneum, I hope you enjoyed the read.
Now tell me; what do you think of Phoneum? Do you see the other apps in this ecosystem as an excellent idea?
Let me have your responses in the comments section right now.
Also, share this post with your friends, thank you!
---
For your reading pleasure…