In this post, I made a detailed review of GeoCash, a cryptocurrency app that pays users for generating data.
GeoCash users earn GEO coins as they go about their day with the app running in the background.
Impressively, GEO can be traded for other coins on crypto exchanges.
Want to join over 200, 000 users to earn passive income from your phone?
Then keep reading to learn more about GeoCash and its GEO coin.
---
Post Summary
This review is divided into the following subheadings:
Click on any item above to read its content immediately.
Enjoy your read!
---
1. GeoCash Overview
GeoCash is a cryptocurrency app that rewards users for the data they generate with their devices.
It is a product of GeoDB, a decentralized peer-to-peer big data sharing ecosystem.
GeoDB was founded by Luis Gelado Crespo in 2019.
The goal is to accord users due rights over their data and reward them for the much they are willing to share.
Before now, companies like Google and Facebook access users' data because of the services they provide, and users are not rewarded for these data.
With GeoCash, users can earn GEO coins (which they can later convert to cash) for the data they generate.
Cool, right?
The data generated on the app include locations, battery levels, device information, telephony signals detected and the list of applications installed on the device.
Interestingly, data sharing on GeoCash allows for anonymity so that nothing you share can be traced to you as an individual.
Super cool!
Presently (15/03/2021), the GeoCash app is operating on the test net of GeoDB.
Join me in the next section to see how the app works.
---
2. How GeoCash Works
The mode of operation of this app is quite simple to understand.
Simply install the app and leave it running in the background as you go about your business.
As you move, the app records the data of your different locations and then you get GEO coins.
The data generated by users' devices are shared on the GeoDB ecosystem where data scientists analyze the data to create verified datasets.
These datasets are then sold to big companies who need it (payments are made in GEOs).
That way, the platform generates revenue and as such, it will not be a problem to reward users.
Rewards are given based on data generated. The more places visited, the more rewards a user receives.
However, there is no standard reward specified for data. A user can earn 0.25 to 0.5 GEOs when he visits 2 places.
And this reward can arrive in 30 to 40 minutes as that is the duration for creating a block on GeoDB.
It all depends on the frequency at which the user generates data.
Furthermore, users can also exchange GEO coins with one another.
They will also be able to view other users' stats such as locations and distances travelled.
And as mentioned, users can also trade GEO for other crypto.
But since the app is still on the test net, you can't send tokens directly to a main net exchange or wallet right now.
You first need to swap the test tokens for real tokens, and for that, you need to wait for the next swap opportunity to open up.
The last swap process happened in late December, 2020 and users who already had balance of test tokens benefited from it.
Now, let's learn about the coin.
Tag along!
---
3. GEO Coin Information
As of March 15, 2021, 21,594,011 GEO coins are in circulation with a maximum supply of 1,000,000,000.
The current price and 24-hr trading volume of the coin are $0.695353 and $708,643 respectively.
This coin is deployed in the Ethereum network and follows the ERC-777 token standard.
Users can trade their GEO coin on the following exchanges: LongBit, Uniswap (V2), BitForex, and Fatbtc.
The table below shows the units of the coin. Check it out!
---
4. Support Channels and Public Opinion
Users can read the FAQ page of the platform to better understand how it operates.
Also, they reach the team through any of these channels:
https://t.co/RJBKXlvr6P?amp=1
https://geodb.medium.com/
https://twitter.com/GeoDataBlock
https://www.linkedin.com/company/geodb/
https://www.facebook.com/GeoDataBlock/
https://www.reddit.com/r/GeoDB/
https://www.instagram.com/geodb_ecosystem
https://discord.gg/KWudZCCUcm
The team responds quickly to users' queries on the Telegram channel.
On TrustPilot, GeoDB has an excellent rating with 11 reviews.
Then on Reddit, it has an active group with 527 members. Nice!
I will now show you how to use this app.
Keep reading!
---
5. How To Earn GEO Coin From Your Phone
i. First things first, go to PlayStore or AppStore to download the GeoCash app
ii. Install the app and open it
iii. Accept the terms of agreement to continue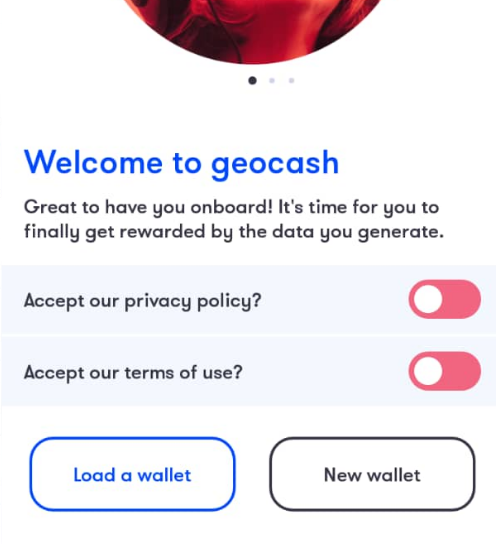 iv. Now connect your Eth wallet or create a new wallet. (I prefer to create a new one since I can transfer my earnings to my ETH wallet later).
v. Next, choose the name and password for the new wallet and click 'Ok, I get it' to see your wallet address and private key.
vi. Then copy the address and key to a safe place. You'll have to write it as there's no way to automatically copy it.
If you're not disposed, you can screenshot the page and write it later then delete the image.
vii. Now create a username for the app and input 102145_YKWPJU as your invitation code. Click Continue.
viii. Now turn on your device's location so that the app can generate data as you move around.
ix. Click OK for the next pop-ups and your app is ready.
x. Leave it running in the background and don't turn your mobile data off to keep generating data
xi. The coins you earn are displayed on the homepage of the app.
Enjoy!
Let's answer some frequently asked questions and then we can call it a wrap.
---
6. FAQs
Do I need to leave my mobile data on for the app to keep running in the background?
Yes.
Can I have multiple wallets?
Yes you can. But then you can only mine GEOs with one wallet.
Can I send GEOs to other users?
Yes but you will have to pay Ethereum gas fees to do that.
Will I lose my wallet when I logout?
No. Your wallet is safe. However, you will stop sharing data when you logout of the app.
Is it safe to share my data with GeoCash?
Totally. The data you share cannot be traced to you as a person.
And if you are so worried, think about how much of your data Google can already access without paying you a dime.
---
PS:

If you want to learn how to trade cryptocurrencies profitably, we have created a perfect course to help you do that.

Enroll in our Cryptocurrency Mastery Course by going to www.ctmastery.com.

You can also join our Telegram community at https://t.me/ctmastery for more information.
---
7. Conclusion
We have now come to the end of our discussion on GeoCash.
This app rewards users for the data they share. We looked at how it works and the rewards it pays users.
Now, I'd love to hear from you;
What do you think of GeoCash? Do you agree that data should be paid for?
Will you get the app? Perhaps you already did. What has it been like leaving your data on all day?
Let me hear your thoughts in the comments section right now.
And if you got value from this post, do well to hit those buttons below to share it with friends!
---
Top picks for you!