Today we're looking at TimeStope, a new cryptocurrency project that converts Time into an asset.
TimeStope promotes the idea that everyone has an equal amount of time, therefore time is a fair asset.
It creates opportunity for everyone to earn simply because we all have time.
Keep reading to learn more about TimeStope and its Tau coin.
---
Post Summary
A click on any item above will reveal its content.
Happy reading!
---
1. What Is TimeStope?
TimeStope is a new cryptocurrency project where earnings are based on Time.
It was founded in 2020 by Seungil Chung.
The concept behind this project is that everyone has equal time (24 hours every day) so, time is a fair asset.
TimeStope was created to enable users earn time as a currency (time coins).
Time coins are measured in Tau (τ) hence they are called Tau coins.
Just like the Pi coin, Tau coins are mined using a mobile phone.
Both coins try to correct a prevalent problem in the cryptocurrency space – early adopters having an overwhelming earning advantage over late adopters.
Cool, right?
In the next section, we'll see how this platform works.
Keep reading!
---
2. How TimeStope Works
On TimeStope, users have to log onto the app daily to mark attendance. In other words, mine coins.
The coins are mined at 24τ/day or 1τ/hr.
Upon registration, users are given 2 years stope. Stope refers to the period of time users can mine coins for free.
Depending on your activity level, your stope can increase with more diligence on your part.
Furthermore, you cannot sign up on TimeStope without an invitation code.
When you sign up, your time is shared between you and the person who invited you (called witness).
40% of your time is given to your witness while you keep the remaining 60%.
That is to say;
You will earn at 14.4τ/day (24τ*0.6) while your witness earns an additional 9.6τ/day (24τ*0.4).
In summary, you download the TimeStope app, sign up with your invitation code, and mine daily.
Next, we'll discuss the Attendance Score.
Read on!
---
3. TimeStope Attendance Score
The attendance score is a relevant feature of TimeStope.
It determines the transfer limit of users.
Also, users can increase their stope when they have more points or higher Attendance Score.
Once you sign up, you are given 100points. Then as you remain an active user, your points increase.
Every day you mark attendance, you receive 2 points. Any day you miss it, you lose 3 points.
Now, let's see how the Attendance Score affects your transfer limit. Check out the table below:
| | |
| --- | --- |
| Attendance Score (points) | Transfer Limits (tau/year) |
| 1 – 299 | 5,000 |
| 300 | 10,000 |
| 500 | 50,000 |
| 700 | 100,000 |
| >1000 | No limits |
This second table shows how Attendance Score influences stope. Have a look:
| | |
| --- | --- |
| Attendance Score (points) | Stope (days) |
| 300 | +120 |
| 500 | +240 |
| 700 | +360 |
| 1000 (△) | +540 |
| △ + 200 | +120 |
You can see from the table above that once you earn up to 1000 points, every additional 200 points that you earn grants you120 more days.
This means that TimeStope users can mine coins forever. Hmmm!
Next, I'll show you how to earn from TimeStope.
Tag along!
---
4. How To Earn From TimeStope
There are 2 principal ways to earn from this platform:
i. Daily Attendance: You earn coins as you mark your attendance daily on the app.
Gladly, you do not have to wait for 24 hours to pass; so long as it is the next day, you can mine coins.
ii. Referral: Here, you earn coins when you invite someone and the person downloads the app.
This makes you a Witness. And for every person you invite, you earn 40% of their time.
By the time you invite 250 persons, you will be given additional 2 years stope.
Meaning that you have 2 more years to mine coins for free. Superb!
---
5. Support Channels & Public Opinion
Support Channels
There is a support ticket on the site where users can forward their query.
Also, users can get updates on the platform via these channels:
https://www.facebook.com/timestope
https://twitter.com/StopeTime
https://www.linkedin.com/company/timestope
https://www.instagram.com/timestope
Public Opinion
I checked TimeStope on TrustPilot and it had an excellent rating with 114 reviews.
Then on Reddit, TimeStope has a group with about 112 active members.
Moving on, we'll see how you can mine free coins on TimeStope
Keep reading!
---
6. How To Mine Tau Coins For Free
i. First things first, you have to download and install the TimeStope app.
For now, it is only available on android devices.
ii. Next, you open the app and select New Account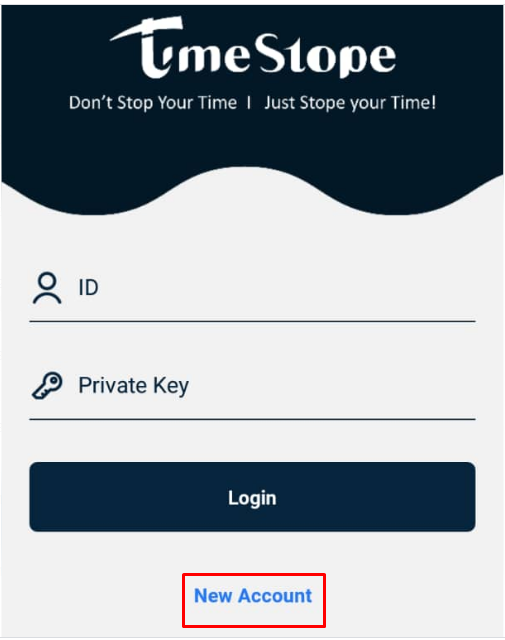 iii. Accept the terms of agreement and complete the fields using judeworld as your witness.
Hit Next when you're done.
iv. Crosscheck your details and hit 'Next' and 'Confirm' consecutively.
You can also copy your private and public keys and save them somewhere safe.
v. You're set! Find your mining progress at the top of the page.
vi. Open the TimeStope app daily and mark your attendance. Enjoy!
iPhone Users are not left out. Follow these steps to mine Tau coins:
i. On your PC, download and install BlueStacks (a virtual Android device)
ii. Launch BlueStacks and login with your Google account
iii. Now, open "Google Play Store", search for "TimeStope" and install it.
iv. Launch the app and create your account with the witness code judeworld
v. Start the TimeStope app in BlueStacks daily and mark your attendance by hitting the day's date.
As simple as that!
---
7. TimeStope Timeline
You can see from the image above that TimeStope is presently (4/03/21) running its wearable version.
It is yet to start KYC, open its exchange/search engine.
By next year, it intends to integrate 3rd party apps (like Google and Facebook where Tau coins will be used for payment), and then get listed on Coinmarketcap.
Quite impressive!
Just like Pi, TimeStope is not in a hurry to attach a value to its coin.
The plan is to have a large user base first in order to give many folks the opportunity to mine free Tau coins.
Over 500,000 persons already downloaded the app.
It uses its referral plan as an incentive for users to spread the word.
There's more on this project.
Keep reading!
---
8. The Problem Of TimeStope
Though it has interesting future plans, I find a problem with this project.
A good look at TimeStope earning plans reveals that active users will earn coins indefinitely.
As they mark attendance daily, their points increase, and their Stope increases as well.
When they have invited up 250 people, they receive additional 2 years Stope.
It then means that the mining of free coins continues. Eventually, there will be no limit in the total supply of Tau coins.
And this will negatively affect the value of the currency.
Look at this excerpt from the white paper of TimeStope:
"The total amount of time increases infinitely as the world exists infinitely. It will continue to increase as much as new miners who participate in it, and it will increase exactly as much as 24 hours, which is the time given per day for the participant.
This achieves a 'Distributed Seigniorage' that distributes the actual production authority of the money called TIME to each individual."
There's no plan to put a cap in the mining of Tau coin, and that is worrisome.
Secondly, TimeStope wants to create opportunity for everyone to earn fairly, withhout early adopters over-shadowing the latecomers.
But considering the method of awarding witnesses 40% of another users' time, this goal of fairness is far-fetched.
In the end, the range between what an early adopter is earning and that of a user who will come on board a year later will still be very wide.
Quite contradicting, right?
Let's answer some frequently asked questions and then we can wrap up this post.
---
9. FAQs
How much is Tau coin worth?
As far as we know, the Tau coin has no value.
However, its developers predict that 1τ will sell for $1.30 when the coin gets listed on exchanges.
Until then, fingers crossed.
Can I create more than one account with different devices?
No. TimeStope permits only one account per user.
When KYC begins, any account that cannot be verified will be flushed out of the system.
And every coin/point earned will be lost.
When will account verification start?
TimeStope KYC CROWD will be opened on March 11, 2021, and applied on March 18, 2021.
Find more information on this here.
---
Ps.
We can teach you how to trade cryptocurrencies profitably. Simply enroll in our Crypto Trading Mastery Course by visiting www.ctmastery.com. You can also join our Telegram community at https://t.me/ctmastery. See you there!
---
10. Conclusion
While the Tau coin does not have any value now, it will in about a year(all things being equal).
You may want to gather some free coins until then.
We have now come to the end of this post. I hope you enjoyed the read.
Now tell me, what do you think of the TimeStope project?
Do you think exchanges will be quick to list the Tau coin?
What's your take on the fact that the coin supply increases infinitely?
Let me hear your thoughts in the comments section right now.
Also, share this post with your friends, thank you!
---
Further read: