In this article, I reviewed OctaFX, an award-winning Forex trading broker.
If you watch lots of skits like me, you must have heard about OctaFX from the likes of Kiekie and Bae U Barbie.
This platform provides users with ample trading instruments with low spreads and fast execution.
Also, expert members are willing to advise newbies in the right direction.
If you have not found a convenient platform to trade Forex, this might be it.
Keep reading to learn more about OctaFX.
---
Table Of Contents
Click on any item above to read its details immediately.
---
1. Overview Of OctaFX
OctaFX is a broker with outstanding services for accessing the Forex market.
It was founded by Georgios D. Pantzis in 2011.
Since that time, the company has excelled in providing beneficial conditions for trading and easy‑to‑use services.
OctaFX creates opportunities for both experts and newbies to make profits.
Also, it offers different promotions and rewards that make trading on the platform exciting.
Impressively, OctaFX has won several industry awards including the Best Broker Asia 2021.
Let's look at the features of this platform and the available assets in the following sections.
Keep reading!
---
2. Features Of OctaFX
Demo account
Mobile App
Market Analysis
Educational resources
Referral
Promotions & Contest
Islamic account
Global Networks
CopyTrading
---
3. OctaFX Assets
a. Currency pairs
OctaFX allows you to trade up to 32 most volatile pairs with 1:500 maximum leverage and narrow spreads.
Also, you can start with as low as $25 USD.
b. Index CFDs
Up to 10 most popular indices are available including Dow Jones, NASDAQ, Nikkei, and Eurostoxx 50.
Here, you can trade with 1:50 maximum leverage.
That way, you profit from price movements without having to own any stocks.
c. Commodities
They include:
Gold and silver (traded at 1:200 maximum leverage)
Natural Gas, Brent crude oil, and West Texas Intermediate crude oil (traded at 1:50 maximum leverage)
d. Cryptocurrencies
OctaFX allows you to trade 30 cryptocurrencies including Bitcoin, Ethereum, Litecoin, Ripple, and Bitcoin Cash.
You can also trade them against other currency pairs.
Moving on, we'll see the trading platforms on OctaFX.
Tag along!
---
4. Supported Trading Platforms
As you'd expect, OctaFX supports the popular MT4 and MT5 trading platforms.
Also, it has two mobile apps for trading and copy trading.
More details are given below:
MetaTrader 4 (MT4)
MT4 is recommended for newbies and for more experienced traders seeking a simplified yet well-developed platform.
It provides a wide range of markets and financial instruments.
Also, it features:
An easy-to-navigate interface
Built-in market for Expert Advisors and Custom Indicators
Interactive customizable charts
Reliable Virtual Private Server service
CFD trading
Cryptocurrency trading
MetaTrader 5 (MT5)
MT5 combines the simple interface of MT4 with a number of new features.
It caters to both technical and fundamental traders.
MT5 has these features:
Stop Limit orders
Built-in economic calendar
Advanced one-click trading tools
Highly customizable interface
Integrated development environment for EAs
CFD trading
Cryptocurrency trading
OctaFX Trading App
This app helps users to create, manage, and keep track of their trading accounts on the go.
It is easy to use and helps you control your profile and funds.
The app is available to download for free on both iOS and Android devices.
OctaFX Copytrading App
Here's an app that enables users to conveniently copy expert traders and make a profit.
You get to see traders' performance, check on trading strategies, diversify your portfolio between traders, add and disinvest all funds or just part, collect your investment at any time.
Cool, right?
Next, we'll see the available account types.
Tag along!
---
5. Types Of Accounts Available On OctaFX
There are two major accounts based on the trading platforms:
Both accounts have lots of similarities including:
Floating spreads that starts at 0.6 pips
No commission
Minimum $100 deposit
1:500 leverage for currency pairs, etc.
The major difference between them is that you can trade up to 10 indices on OctaFX MT5 while only 4 indices can be traded on OctaFX MT4.
Also, while the maximum volume for OctaFX MT4 is 200 lots, it is 500 lots in OctaFX MT5.
Lastly, MT5 does not support Swaps but OctaFX MT4 supports Swaps, and no commission is charged.
Learn more about these accounts here.
Moving on, we'll see the countries and cryptocurrencies supported on the platform.
Keep reading!
---
6. Supported Countries And Currencies
Countries
OctaFX supports all the countries except:
United States
Russian Federation
Cuba
Cyprus
Kazakhstan
North Korea
Iraq
Niger
Iran
Puerto Rico
Belarus
Samoa
Ukraine
Virgin Islands
British
Northern Mariana Islands
Libya
Guam
Sierra
Myanmar
Sudan
Currencies
OctaFX accepts deposits in all currencies but transactions are done in EUR and USD.
So, any deposit in a different currency will be converted.
Also, the platform allows users to trade 30 cryptocurrencies including:
.Next, we'll see the accepted payment methods and transaction fees.
Read on!
---
7. Accepted Payment Methods And Fees Charged By OctaFX
Payment Methods
Visa
Local Banks
Crypto (BTC, DOGE, USDT, ETH, and LTC)
Skrill
Neteller
Fees
OctaFX does not charge any commission for deposits and withdrawals.
However, the trading commission is included in the spread as a markup on OctaFX MT4 and OctaFX MT5 accounts.
The spread can be fixed or floating and it depends on the trading account, starting from 0.2 pips.
Also, inactivity and monthly account fees do not apply here.
Note that fees applied by third parties (e.g. Skrill, Neteller, etc) are covered by OctaFX but some fees may be applied in certain cases.
---
8. Customer Support
OctaFX has active customer service.
It is available 24/7 via the live chat button on its website.
I tried it and my messages were replied to in seconds.
Also, the platform has educational resources that teach users how to trade profitably.
You can access it from the top menu on the website.
Additionally, users can stay updated via these channels:
support@octafx.com
https://www.facebook.com/octafx
https://twitter.com/octafx
https://www.instagram.com/octafx_official/
https://www.youtube.com/user/octafx
Next, I'll show you how to get started on OctaFX.
Read on!
---
9. How To Get Started on OctaFX
Follow these simple steps:
I. Go to OctaFX.com and click on "Open Account"
ii. Complete the form to create your account.
iii. Verify your email by clicking on the link sent to your inbox.
iv. Next, you provide other relevant details to set up your account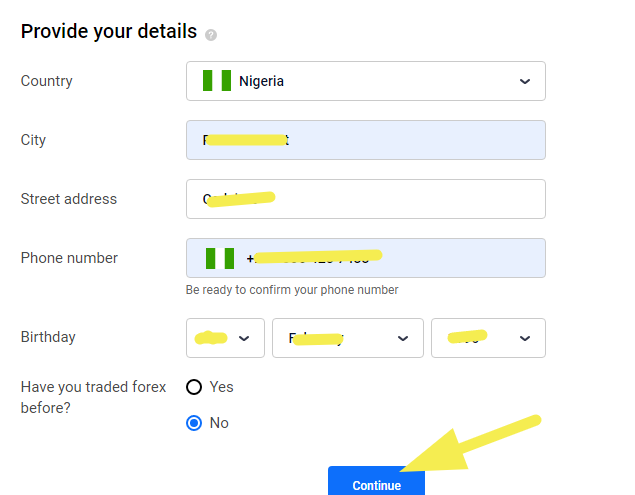 iv. Now, choose your preferred trading account type and make a deposit.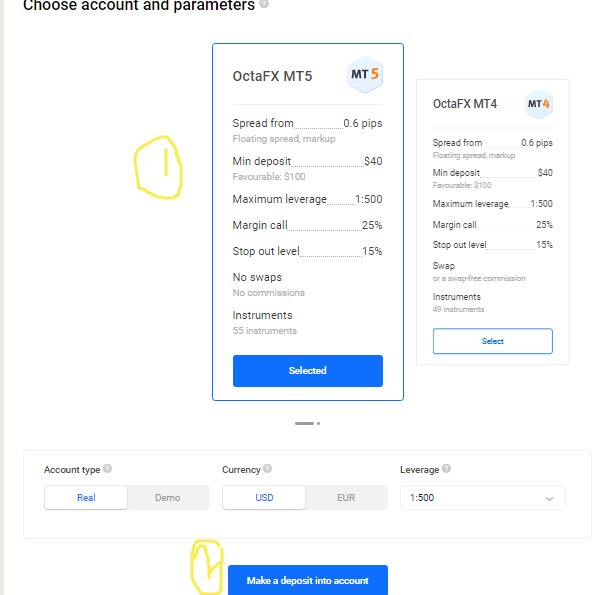 v. You can check your email for your trading account login details and start trading.
Enjoy!
Let's answer some questions before we wrap up the post.
---
10. FAQs
Is OctaFX safe?
I believe it is because:
i. The founder is known 
ii. Secondly, the platform is registered with the Cyprus Securities and Exchange Commission (CySEC).
iii. Additionally, it has won several awards from trusted bodies.
iv. Also, the platform has been around since 2011 without any rumors of fraud.
v. Plus, I didn't find any complaints by old users with regard to the withdrawal of profits.
Nevertheless, do your research before using this platform.
What is the least amount that I can deposit?
The minimum deposit for Neteller and Skrill is 50 USD.
For crypto, we have:
Bitcoin = 0.00037 BTC
Ethereum =  0.02 ETH
Litecoin = 0.3 LTC
Tether = 50USDT
Dogecoin = 230 DOGE
Then, for Visa, MasterCard, and Local banks, the minimum deposits are 25 USD, 50 EUR, and ₦15,000, respectively.
What do I need to verify my account?
You'll provide proof of identity, e.g., passport, national identity card, or any other government-issued photo ID, and proof of address, e.g., residence permit or any local government-issued ID.
---
Guess what?
We curated a comprehensive course to teach you how to trade cryptocurrencies profitably. Visit www.afibie.com to enroll.
You can also join our Telegram community.
---
11. Conclusion
We have now come to the end of our OctaFX review. I hope you enjoyed the read.
The platform is well-designed to help you make profits from forex trading.
I'd love to know if you will trade with OctaFX.
Perhaps you already are; what has been your experience?
Let me know your thoughts in the comments section.
Also, share this post with your friends; thank you!
---
Other Forex brokers that you may be interested in…