Today's post is a detailed review of the Kanga Exchange.
It recently gained media attention following the launch of its native token on September 23, 2021.
Kanga Exchange allows users to share in the revenue garnered from trading fees.
Amazing, right?
And with physical offices scattered around, this exchange definitely wants to promote the adoption of crypto.
Keep reading to learn more bout Kanga and how you can share in those profits.
---
Post Summary
This review is grouped under the following subheadings:
Click on any item above to read its contents immediately.
Happy reading!
---
1. Kanga Exchange Overview
Kanga Exchange is a cryptocurrency exchange located in Poland.
Slawomir Zawadzki and his team launched the exchange in September 2018.
They are experienced entrepreneurs with a rich technological background.
Their goal is to facilitate the widespread adoption of cryptocurrencies.
Thus, the exchange is designed with features that make crypto-based transactions easy.
Also, it has a native token called KNG, which is used to pay for transaction fees.
When users stake this token on the platform, they earn interest generated from trading fees.
I'll tell you all about KNG in another post. For now, let's see the features of the exchange.
Keep reading!
---
2. Features Of Kanga Exchange
ATM Withdrawals
Profitable PoS
Blog
Markets Display
physical offices
Moblie App
Affiliate program
Next, we'll see the services offered by the exchange.
Read on!
---
3. Products & Services By Kanga Exchange
They include:
Exchange
This service enables users to trade different cryptocurrencies. More than 20 crypto pairs are available for trading.
Swap
Here, users can quickly swap two currencies i.e. exchange what they have for what they need.
Wallet
This is where users store funds and initiate transactions.
The exchange supports wallets for KNG, BTC, ETH, Hero, over 20 more.
It has a mobile version which you can download from GooglePlay or App Store.
PoS Passive Income
Kanga Exchange enables users to earn passively via this service.
100% of all the revenue generated on the Kanga exchange are converted to KNG and distributed proportionally to all those who have KNG staked in the Proof of Sake (POS). Thus you can earn KNG daily by simply staking your KNG in the POS. This is how the Kanga team themselves generate the income it pays its about 50 stars.
There is also an increasing bonus of 0.3% each day when you turn on the auto-transfer.
This bonus is an addition to the APY that is awarded for staking KNG.
Also, turning on the 'auto-transfer' button ensures the user earns this bonus daily.
Since it is an increasing bonus, the user will be earning a 3% bonus by the 10th day.
Cool, right?
OTC
This service enables users to buy crypto with cash from any of the exchange offices.
The process involves generating a code on the app, present the code and make a cash payment, then complete the transaction on the app.
You'll find the list of the offices here.
IEO
Here, users can buy tokens that are newly listed on the exchange at a fair price.
Want to know what IEO is truly about? Check here.
Additionally, if you have a coin that you want to be listed on the exchange, you can send an email to ico@kanga.exchange.
That's it on the services. Let's see the supported currencies in the next section.
Tag along!

---
4. Supported Countries & Currencies
Countries
All
Currencies
Fiat
Crypto
You can trade the following cryptos:
ETH
STC
PAYB
CKWH
LEASH
DANCE
pAAVE
pSUSHI
pAUTO
pCRV
pCNT
pMAHA
pSPCY
Note that coins starting with 'p' are wrapped tokens hosted on the Polygon Blockchain.
Kanga Exchange also supports personal tokens including:
A Personal Token is a coin issued and created by a private entity – a person or an enterprise. The creator can manage it, influence the value, develop a business model for it or advertise it.

https://tokeneo.com/personal-tokens/
NULL
JKCOIN
GREG
SECUREMB
XEN
AGAPE
ZETON
ZUK
YKN
WWRA
WOJ
VTT, etc.
Moving on, we'll see the supported payment options.
Read on!
---
5. Payment Methods & Fees Charged By Kanga Exchange
Payment Methods
Bank transfer
ATM
Cash
Zen (for PLN deposits only)
ATM (for PLN withdrawals only)
Fees
Deposit Fees
Fiat
Cash – 1-3%
Bank transfer – 5USD if you're depositing in dollars, 0 fees for EUR and PLN deposits.
Zen – 3%
Crypto
0 fees
Withdrawal Fees
Fiat
Bank transfer – 0 fees
ATM – 2%
Cash – 1-3%
Crypto
Ethereum (ETH) – 0.00278 ETH
10set token (10SET) – 0.01716 ETH
Other Ethereum tokens – 0.01056 ETH
Bitcoin (BTC) – 0.0005 BTC
Bitcoin Vault (BTCV) – 0.005 BTCV
Note that withdrawal fees may change because of network activity levels.
Trading Fees
0.2% of the transaction amount (charged to both the buyer and the seller).
Next, we'll see the transaction limits on Kanga Exchange.
Keep reading!

---
6. Transaction Limits & Verification Requirements
Limits
Kanga allows customers to use the platform after they sign up with their emails.
But until they verify their accounts they cannot perform more than 4000.00 PLN (1075.26 USD or 888.88 EUR) worth of transactions
Verification
To verify your account on Kanga Exchange, you'll need:
an ID document e.g. ID Card, passport, driver's license
a proof-of-address document e.g. utility bill, bank account statement
---
7. Customer Support & Public Opinion
Customer Support
Kanga exchange has a blog where customers can learn more about its services.
Also, users can reach the support team through support@kanga.exchange.
Plus, they can stay updated via the following channels:
https://facebook.com/kanga.exchange
https://www.youtube.com/channel/UCgB3tPtXgu4f3cIxqZlrB8Q
https://t.me/KangaExchange
https://www.linkedin.com/company/kangaexchange/
https://twitter.com/KangaExchange
Note that only the Twitter channel is displayed in English. Other channels are displayed in Polish
Also, when you receive an email from Support, you can use Google translator to change the language to English.
Public Opinion
I didn't find any reviews of Kanga Exchange on TrustPilot and WebOfTrust.
On SCAMADVISER, it has an 80% trust score with zero reviews.
Also, it does not have an active community on Reddit.
Needless to say, the Kanga Team has got work to do to get positive public reviews.
Now, I'll show you how to get started on Kanga.
Tag along!
---
8. How To Get Started On Kanga Exchange
Follow these simple steps:
i. Visit Kanga.exchange and click on 'Register' from the top right corner
ii. Enter your email address and check the boxes. Then click on 'Register'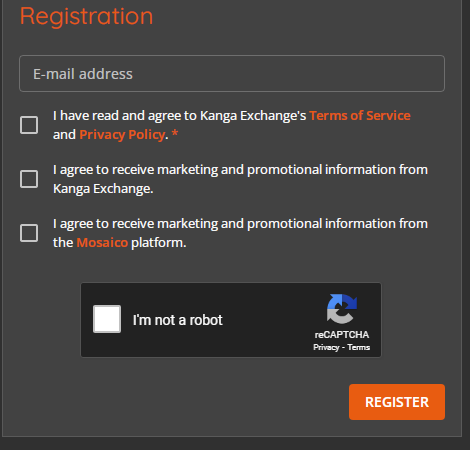 iii. Click on the link sent to your inbox to proceed.
iv. Set your password and log in.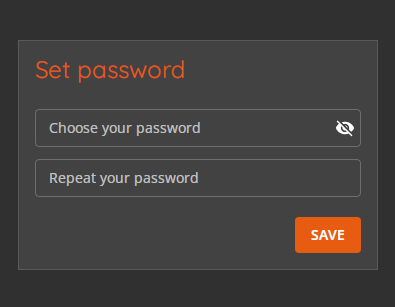 Voila! You're in…enjoy!
We're almost done here. Let's answer some frequently asked questions and then we can call it a wrap.
---
9. FAQs
Is Kanga Exchange safe?
I believe it is because:
– The founders are known
– It is operated by Good Investments Ltd, which is a registered business under the Republic of Seychelles.
– Also, it is backed by the Polish Financial Supervision Authority
– There has been no report of fraud since its launch in 2018.
– It has physical offices.
– Registration details on Whois.com tallies with what is on the company's website.
But do due diligence before using the exchange.
How do I earn passively on Kanga Exchange?
You can do that by depositing the native token, KNG into the PoS account.
First, you have to buy KNG by selecting a convenient pair e.g. KNG/USDT from 'Markets'
When you receive the coin, you can then select 'Pos' from the menu to transfer the coin.
After every 24 hours, you'll be rewarded with 0.3% of your deposit. Cool!

---
10. Conclusion
We have now come to the end of our discussion on Kanga Exchange. I hope it was worth the read.
This exchange enables you to trade crypto, earn from your holding, and list your personal tokens for sale.
So tell me, will you register on Kanga Exchange?
Perhaps you already did, what has been the experience.
Let me hear your thoughts in the comments section.
Also, share this article with your friends, thank you!
---
Don't miss: