Today's review is on a blockchain-based liquidity protocol, the Kyber Network.
It is designed to provide a lasting solution to the setbacks found in centralized and decentralized exchanges.
With its superb technology and unique features, Kyber offers users fast cryptocurrency transactions and at a lower cost.
But how does Kyber work its magic? You're about to find out.
Read this post to the end to learn about Kyber and its services.
Let's jump right in!
---
Post Summary
This Kyber review is divided into the following subheadings:
Click on any item above to read its contents immediately.
Happy reading!
---
1. Kyber Network Overview
Kyber Network is a liquidity protocol that enables users to easily convert or exchange digital assets.
It was founded in 2017 by Loi Luu, Yaron Velner, and Victor Tran. The company is based in Singapore.
This network is hosted on the Ethereum blockchain and Vitalik Buterin, Ethereum founder is a member of its development team.
It was designed to improve user experience beyond what Decentralized exchanges (DEX) has over Centralized Exchanges (CEX).
How do I mean? CEXs have a problem of slow transaction and third party custody.
While DEXs try to solve these problems, it is limited by low liquidity and high network fees.
So, Kyber takes care of these limitations by providing users a secure exchange where they can trade their crypto immediately at a lower cost.
Later in this post, I explained how Kyber is able to achieve this.
For now, let's see the features of the platform.
Read on!
---
2. Features Of The Kyber Network
KyberPRO
Swap tokens
KyberDeveloper
Blog
KyberTracker
Reserves
KyberDAO
Mobile app
Wallet
Next, I'll explain the services available on Kyber network.
Keep reading!
---
3. Kyber Network's Products & Services
This network offers the folowing services:
Exchange or KyberSwap
Reserve
KyberDeveloper
Exchange or KyberSwap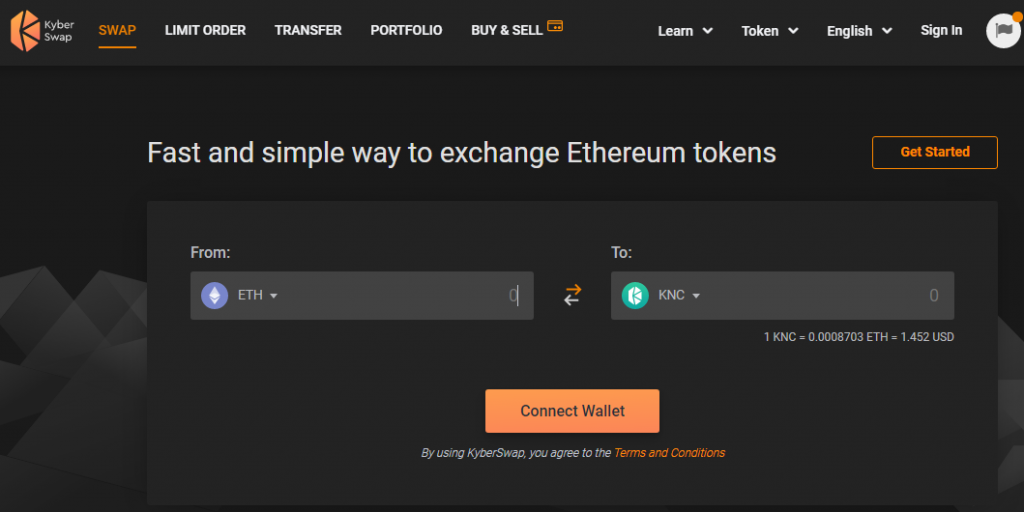 Kyber has a decentralized exchange where users can trade cryptocurrencies.
Here, users can swap different tokens of their choice. But they must be ERC 20 utility tokens.
Also, users can transfer coins to each other on the exchange.
Interestingly, the coins being transferred must not match the one that was requested.
Kyber will exchange the coins in the course of the transfer.
For example, if Ada wants wBTC from Edward but he has only ETH.
He can send the ETH he has but Kyber will convert it to wBTC before sending to Ada.
Impressive, huh?
Reserve
This is the source of liquidity for the network. It gives room for tokens to be donated to the platform.
Reserve entities, reserve contributors, and reserve manager make the reserve functional.
The Reserve entities add liquidity to the platform through the dynamic reserve pool.
They can be internal to the Kyber Network or registered third-parties.
These entities are either private or public. They are termed public when outsiders are permitted to contribute to their reserve.
Because registered third parties can be research entities, monopolization is removed from the network, and exchange rates remain competitive. Cool!
That way, less popular coins with lower volumes can also be listed on the network.
Reserve Contributors are those who deposit funds into the reserve through a public entity.
Their goal is to receive a share of the profit from the reserve.
Then, the Reserve Manager is the one who maintains the reserve. He also calculates exchange rates and sends them to the network.
As for his profit, he makes it from the exchange spreads he sets on the reserve. Each reserve entity has a reserve manager.
KyberDeveloper
This is the component of the Kyber network that enables DApps, DEX, wallets and other decentralized projects to be integrated into Kyber's liquidity pool.
In summary, the Kyber network functions by providing an exchange for users, a reserve for high liquidity, and opportunity for other projects to be hosted on the platform.
When a user requests a trade, the protocol will scan the entire network to find the reserve with the best price and take liquidity from that particular reserve.

https://cryptocurrencyhub.io/research-report-about-kyber-network-48a479c0d37
Cool, right?
Moving on, I discussed the network token of Kyber.
Keep reading!
---
4. Kyber Network Crystals (KNC)
KNC is the token of the Kyber Network. It connects liquidity providers and those who need liquidity.
The transaction fees charged on the network are collected as KNC.
Also, a portion of every fee collected is burned, so that KNC remains deflationary.
In the reserve system, entities buy KNC with third-party tokens in order to pay for their operations in the network.
Again, the exchanges, wallets, and DApps that leverage the liquidity network are able to do so using KNC.
Furthermore, Kyber rewards entities with KNC when they refer users to the network.
Additionally, users can stake their KNC and earn passively from Kyber.
They can also vote for key improvements on the platform when they own the token.
A brief history…
The ICO for Kyber Network Crystal was conducted in September 2017.
Then the price was $1. And 226M coins were minted.
61% of these coins were sold to the public. The company and the founders/ advisors have 50/50 control of the remaining 39%.
These remaining coins were locked up for one year, followed by a 2 year vesting period.
In May 2019, the company burned 1 million KNC token and another 1 million KNC token three months later.
As of Feb 17, 2020, the Kyber Network had burnt over 4 Million KNC. Waoh!
Presently (3/02/21), KNC has a market cap of €252,378,649 with 204,772,817 tokens in circulation.
Also, KNC is listed on these exchanges: Coinbase Pro, Binance, OKEx, Huobi Global, BitZ, BitAsset, etc.
And since it is an ERC-20 token, it can be stored on MyEtherWallet, MetaMask, Ledger, or any other Ethereum wallet.
Still here? Good! Let's talk about the Kyber community in the next section.
Come along!
---
5. The Kyber Network Community (KyberDAO)
The Kyber network has a community called Kyber Decentralized Organization (KyberDAO).
It comprises of KNC token holders. Here, they participate in the governance of the network.
In other words, KNC holders can stake KNC to vote on important proposals for the network.
Not just that, they are also rewarded for voting.
The reward is paid in ETH gotten from network fees i.e. fees collected from trading activities in Kyber Network.
Sounds cool!
This is what the KyberDAO interface looks like:
Moving on, we'll see the projects supported on the Kyber network.
Keep reading!
---
6. Projects Supported On The Kyber Network
We have already established that the Kyber Network is a liquidity protocol that different projects can anchor on.
Listed below are some of those projects:
i. Wallets and Token Swap Services: with Kyber, users of these services can swap tokens directly from their wallet apps.
ii. Decentralized NFT and Ecommerce Payments: Kyber enables these projects to receive payments in a wide range of tokens irrespective of their limited list of supported coins.
iii. Exchanges and Trading Integrations: exchanges can leverage on Kyber liquidity pool to write arbitrage programs that take advantage of market inefficiencies.
iv. DeFi: using Kyber, DeFi assets can be liquidated and token portfolios can be rebalanced in a single transaction.
Now, let's see how you can use this network.
Keep reading!
---
7. How To Use The Kyber Network
It depends on what you intend to achieve with the Kyber Network
A. If you wish to make payments in a token other than what you own, KyberSwap is available for you.
Follow these steps:
i. Go to kyberswap and click on 'Get started'.
ii. Following the instructions given
iii. Start swapping
Alternatively, if you have funds in your Ethereum wallet, simply connect your wallet and start swapping.
B. Say, you are a developer and you have been seeking to build a decentralized app, then you will find the KyberDeveloper useful.
Simply go to KyberDeveloper and read up the instructions then act accordingly.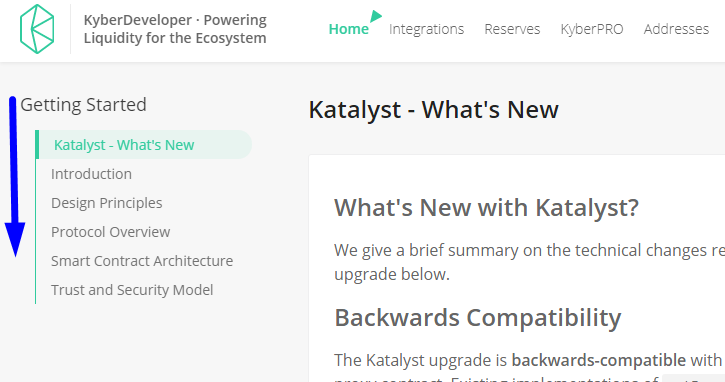 C. Perhaps, you own an Exchange but liquidity has been a challenge. You can leverage on the reserve pool of the network.
Click on the 'Become a reserve' button on the homepage. Read and follow the instructions provided.
Gratefully, Kyber network has a user-friendly interface, you'll not have a hard time finding what you seek.
In case you are wondering what it would cost to use this network, I discussed the fees below.
Read on!
---
8. Fees Charged By Kyber Network
The only fee charged by the Kyber Network is a flat trading fee of 0.10%.
For withdrawals, the fees are the network fees charged by the Ethereum blockchain.
Very affordable. Isn't it?
---
9. Customer Support & Public Opinion
There's a support ticket on the Kyberswap platform where users and send their queries.
Also, updates on the network can be viewed on these channels:
https://twitter.com/kybernetwork
https://blog.kyber.network/
https://www.youtube.com/channel/UCQ-8mEqsKM3x9dTT6rrqgJw
https://www.reddit.com/r/kybernetwork/
https://www.facebook.com/kybernetwork
https://github.com/kybernetwork
https://blockfolio.com/coin/KNC
I checked Kyber Network on TrustPilot and it had a 'Great' rating with only 4 reviews.
WebOfTrust also considers Kyber a safe platform but there were no reviews.
Then on SCAMADVISER, the network has a 100% trust score with 5 reviews.
These reports are good but the small number of reviews is quite discouraging.
Next, I compared Kyber network with a similar platform.
Tag along!
---
10. Kyber Vs. 0x Protocol
Just like Kyber, 0x is a liquidity protocol that allows decentralized applications to be built on its platform.
I compared both platforms in the table below:
Parameters

0x

Kyber

Founder
Will Warren &
Amir Bandeall
Loi Luu, Yaron Velner,
& Victor Tran
Founded
2016
2017
Hosting
Blockchain
Ethereum
Ethereum
Token
ZRX
KNC
USP
Off-chain order
matching
Transfer
mechanism
Trading method
Order book
Smart contracts
Token supply
Inflationary
Deflationary
Swap feature
Includes stocks
Supports only
ERC-20 tokens
Earning
features
Limited
On the increase e.g.
cross-chain trading
Interesting, huh?
Let's answer some frequently asked questions and then we can wrap up this post.
Tag along!
---
11. FAQs
How do I participate in staking on Kyber?
i. Purchase KNC from an exchange e.g. Binance.
ii. Visit KyberDAO
iii. Click on 'Get started' to connect the Ethereum wallet holding your KNC
iv. Select 'Stake' to stake your tokens.
What are the minimum and maximum amounts that I can stake?
There are no limits to the amount of KNC you can stake.
Do I need to make any deposit on the platform before I can swap tokens?
No. You only need to connect your ethereum wallet.
---
Ps.
If you want to learn how to trade cryptocurrencies profitably, then enroll in our Cryptocurrency Mastery Course by going to www.ctmastery.com. You can also join our Telegram community at https://t.me/ctmastery.
---
12. Conclusion
The Kyber Network integrates liquidity from a wide range of reserves to enable instant and secure token exchange in any DApp.
There's a lot to gain from using this network.
We have now come to the end of our discussion on Kyber. I hope you enjoyed the read.
It's your turn; what do you think of this network? Will you try out KyberSwap?
Perhaps, you already did. What was it like?
Let's have your responses in the comments section right now.
Also, share this post with other token swap lovers you know.
Thank you!
---
Seen these?