This post is a complete deep dive into the Vechain blockchain network!
Vechain is the blockchain leader in supply chain solutions.
It not only solves real-world problems but has also piqued the interest of over 30 world largest firms.
VET and VTHO are the native coins of the Vechain network.
But are these cryptocurrencies worth investing in and will any of them skyrocket soon?
This post has the answer to this question and more.
---
Post Summary
This is what I will cover:
Let's get started!
---
1. What Is Vechain?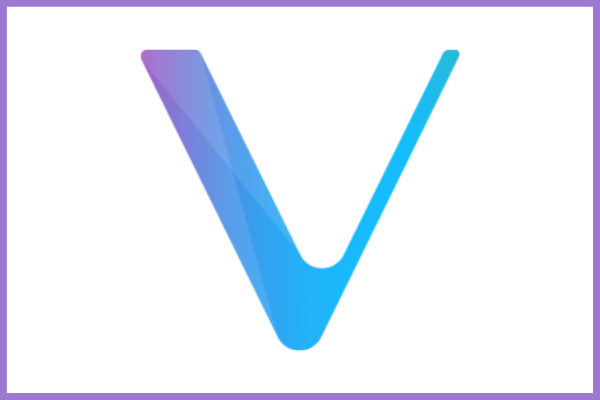 Vechain is a blockchain project that was created in 2015.
It was originally built on the Ethereum network.
But in June 2018, it released its blockchain and migrated to the VechainThor blockchain.
Sunny Lu, the blockchain's founder, is an engineer with over 15 years of expertise in computer and communication technology.
VeChain aims to improve supply chain management in the corporate world.
It intends to be an Internet of Things (IoT) blockchain that uses smart contract technology to track goods and services.
Also, Vechain is a smart contract platform on which businesses can build their DApps, as well as their native coin. I
In Sept. 2021, Vechain announced that it is now an NFT platform, making it easy for companies to build and host their NFT on its network.
With the launch of the VeChainThor blockchain, its technology has been levelled up for mass corporate adoption.
Impressively, it has made massive progress since then, bringing many partnerships into the Vechain ecosystem.
Some of these partnerships include PWC, Walmart, DNV GL, NRCC, BitOcean, Mediterranean Hospital and so many other giant firms. See the full list here.
This is Vechain in a nutshell. Let's look at how it works below.
---
2. How Does Vechain Work?
Businesses can use Vechain's "Toolchain" to track their products from manufacture to end consumers all around the world.
"Toolchain" are block-chain-based solutions offered by Vechain.
It verifies that the product's quality, authenticity, storage temperature until the final delivery to the end-user are all met.
Vechain accomplishes this by integrating IoT chips and sensors into products to collect their databases.
The databases are then stored on the Vechain blockchain and can be verified anytime by anyone.
With this technology, companies can easily identify and improve on issues with their products.
For instance:
If a food product is not properly preserved, a user can easily detect this by scanning it on the blockchain, allowing for products safety and better consumer satisfaction.
Gladly, Vechain also allows you to spot counterfeit products and avoid them.
Other two important features that contribute to how Vechain works include:
Consensus Mechainsim
As a blockchain network, Vechain achieves consensus through the Proof of Authority model.
There are fixed 101 validators known as Authority Masternodes (AM) responsible for validating transactions on the Vechain network.
All were authorized by the Vechain foundations after a strict KYC procedure.
Furthermore, becoming an AM requires you to stake at least 25,000,000 VET tokens on the network.
The fact that Vechain has a limited number of pre-selected validators makes it somewhat centralized.
However, it can achieve a throughput of 10,000tps using this consensus model.
Although there is another set of nodes called the "Economic Masternode", these nodes are only used to secure the network and do not validate transactions.
Governance
VeChain's governance structure is grouped into 2 bodies:
Board of Steering Commitee
Stakeholders – consists of Authority Masternode, Economic X node and Economic node
The Board of Steering Committee is made up of Vechain members who are elected by "stakeholders" through voting.
They are in charge of making decisions concerning the daily activities on the Vechain especially in the case of emergency.
Stakeholders, on the other hand, make decisions that improve the network.
In addition, decisions are made through voting done on the VeVote platform.
Each stakeholder is entitled to 1 vote. And voting power is allocated to each stakeholder based on their position on the network.
You can view how this voting power is allocated to various stakeholders here.
Below, we will dive into the Vechain tokens.
Keep reading!
---
3. Vechain Cryptocurrencies Explained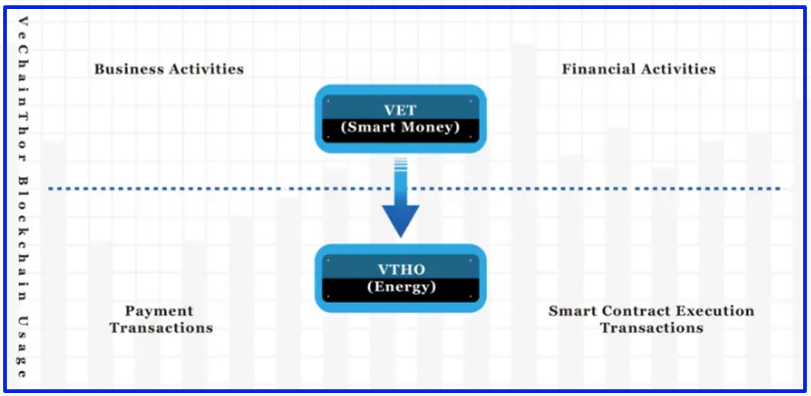 The Vechain network uses a dual token system made up of VET and the VTHO tokens.
VET Token
The VET token is the utility and the governance token of the Vechain network.
It was initially running on the Ethereum blockchain as an ERC-20 token named VEN.
As the VEN token, it had a total supply of 1 billion and an ATH of $9.45.
However, after the launch of the VechainThor mainnet, the ecosystem migrated to the VET token.
A total of 86,712,634,466 VET tokens were minted and swapped for VEN tokens at the rate of 1:100.
Coinmarketcap shows that it reached an ATH of $0.278 on April 17, 2021.
Use cases of VET include:
Staking
Governance
Adopted as a payment system by businesses:
For instance, Vechain partnered with Travala.com, a blockchain-based travel agency, to make it possible for anyone to pay for vacation using VET.
Note that this payment is made outside the Vechain network.
VTHO Token
VTHO is the gas token on the Vechain network.
All payments made on the Vechain network, such as smart contract and transfer fees, are made using the VTHO token.
0.00000005VTHO is generated per VET per transaction block.
Impressively, every VET holder is entitled to earn rewards in VTHO tokens and the amount you earn depends on your VET holdings.
This implies that you do not have to worry about network fees since you earn them freely
Furthermore, 70% of the transaction fee paid in VTHO in each block is burned, while the remaining 30% is rewarded to the Authority Masternodes.
Vechain's dual token model is unique in that it keeps the transaction fee stable, unlike the high gas fee on the Ethereum network.
Getting your hands on Vechain tokens isn't that hard as they have good exchange support.
Let's see the exchanges to buy Vechain tokens and more in the next section!
---
4. Where To Buy And Store Vechain Tokens |VET Staking
5 Best Crypto Exchanges to Buy Vechain Tokens
The top 5 exchanges at a glance:
Crypto Exchanges
Website
Reviews
VET Pairs
VTHO Pairs
Binance
Visit Site
Read Review

USDT, BUSD,
BTC, TRY,
ETH, BNB,
EUR, GBP
USDT, BNB
Huobi
Visit Site
Read Review
USDT, BTC
and HUSD
–
Kucoin
Visit Site
–
USDT, BTC
ETH, KCS
–
Gate.io
Visit Site
Read Review
USDT, ETH
USDT, ETH
Crypto.com
Visit Site
Read Review
USDT, BTC
CRO, USDC
–
Top 5 Wallets To Store Vechain Tokens
VechainThorWallet – Vechain's official mobile wallet available for Android and iOS
Vechain Syn – Vechain's offical desktop wallet
Ledger Nano S – A hardware wallet. It costs around $50
Trust Wallet – Non-custodial multicrypto mobile wallet
Exodus – A non-custodial desktop and mobile wallet for the storage of multi-cryptocurrencies
How To Stake VET Tokens
To Earn VTHO
There are many platforms where you can stake VET to earn passive income in VTHO. They include:
Vechain official wallets
Trust wallet
Kucoin and a lot more.
I will guide you through how to stake the VET token on Binance.
I used Binance because it is the largest crypto exchange in the world and most people are familiar with it.
Log into your Binance account. Don't have any? Create one with this link.
Make sure you verify your account up to the intermediate level.
2. Go to Finance and click "Binance Earn"
Select "Locked staking" on the Binance Earn page.
Search for "VET" using the search bar, then click "Stake now"

Fill in the prompt form and click "Confirm".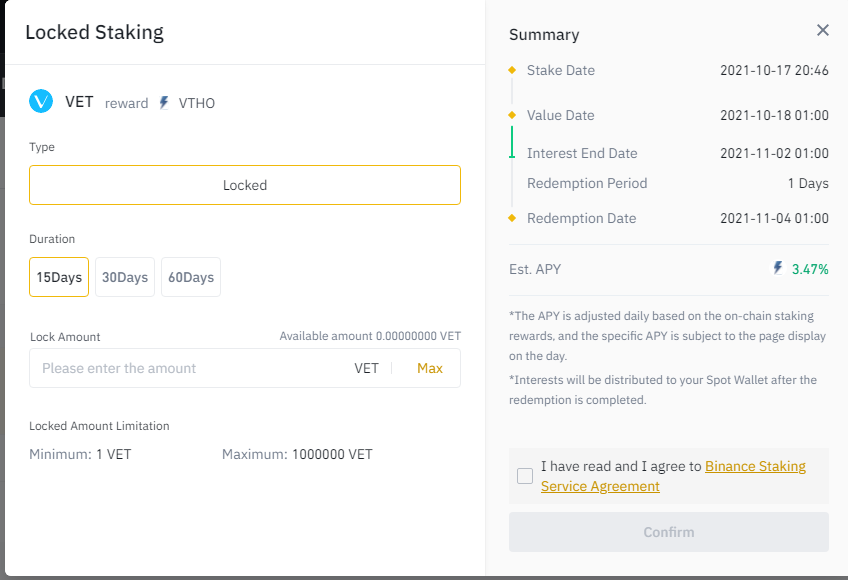 Take note of the different durations of days for which you must stake your coin.
Binance offers up to 5.47% APR paid in VTHO on VET staking.
However, it is dependent on the duration of the days you have chosen.
You have learnt how to stake VET for some passive income. Cool!
In the next section, we will look at the potential of VET and whether it is worth your investment.
---
5. Should I Invest In Vechain Cryptocurrencies?
Looking at the project's fundamentals, it's easy to see this project has enormous potential.
Its solutions and use cases are worth trillions of dollars, as it addresses counterfeiting and product safety; two major concerns in the industrial sector.
Furthermore, Vechain has been around for a long time, yet it is still disrupting the crypto space with useful impacts.
Vechain's achievement is backed by a long list of partnerships, and it is perhaps the crypto project with the most high-profile partnerships.
Another thing is that Vechain is a smart contract and NFT platform.
This makes it potentially possible for the price of VET and VTHO tokens to explode if the DApps on its network gain massive adoption.
Based on the price chart on Coinmarketcap, the VET token is doing very okay in the market. Impressively, it reached its new ATH this year, April 2021.
The VTHO token, on the other hand, has gone up significantly from its price level in 2020 as of 2021. It has equally seen a decent trading volume too.
Gladly, VET holders receive incentives for holding VTHO. This makes the VET token a pretty nice investment for traders seeking to earn free cryptos.
However, VET and VTHO are yet to hit $1 despite the projects awesome achievements.
This is quite a bit of a concern for the Vechain tokens!
But, you see, "price" is not all that matters in a cryptocurrency. Besides the tokens have given good returns to their investors, which makes it remarkable.
This is my opinion about Vechain. Let me have yours in the comment section.
---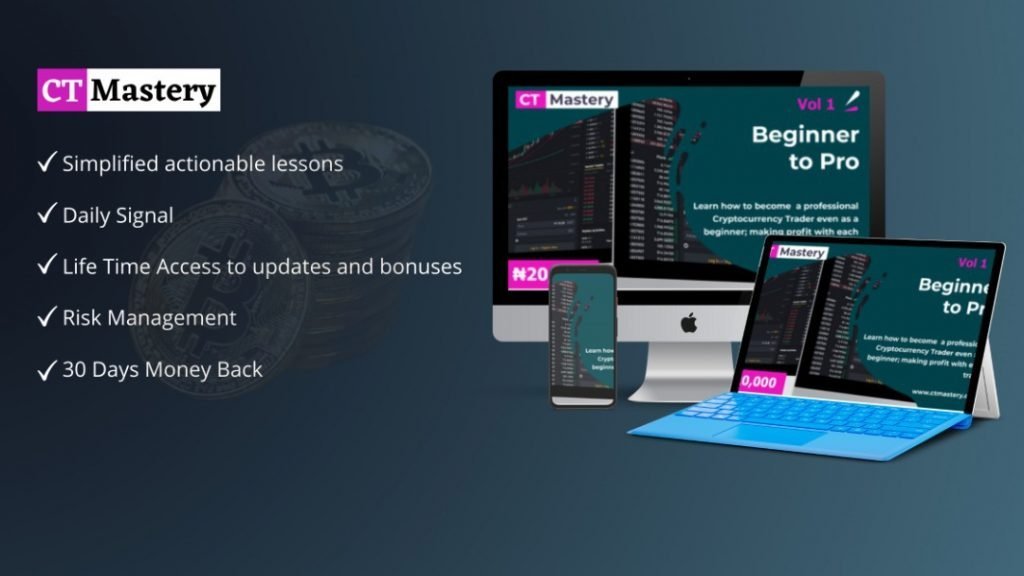 Ps: If you want to learn how to trade cryptocurrencies profitably, we developed a perfect course to help you master Cryptocurrency Trading.
Go to www.ctmastery.com to enrol.
You can also join our Telegram community at https://t.me/ctmastery for more information.
---
6. Conclusion
We've reached the end of this review.
Vechain has a fairly robust ecosystem with real-world use cases, which has attracted the likes of large multinational companies.
VET and the VTHO coin are performing well in the market and are continuing to gain traction.
None, however, have reached the $1 price mark.
So, tell me in the comment section below.
What do you think about the Vechain project?
Do you have a VET or VTHO price prediction – How much do you think each will be worth by 2022?
Do you think that the enormous supply of VET will hinder it from hitting $1?
I will be glad to have your opinion.
Remember to use the share buttons below if you enjoyed this post. Cheers!
---
Also read: