In this post, we will take an in-depth look at the Terra (LUNA) protocol.
Terra is a DeFi protocol that facilitates an easy payment system through multiple scalable stable coins.
Impressively, it has been adopted by some of the most popular payment apps, making it one of the most promising DeFi projects.
LUNA, Terra's native token, is one of the most performing altcoins to have soared exponentially in price during the 2021 crypto bull run.
If you are considering adding LUNA to your crypto portfolio, read this post to the end.
---
Post Summary
This is what I will cover:
Enjoy your reading!!!
---
1. Terra Network: An Overview
Terra is a decentralized payment service powered by a blockchain network.
While Terra was founded in 2018, its main net went live in 2019.
Terra was built by Terraform Labs, a Korean company founded by two popular figures, Daniel Shin and Do Kwon.
Daniel Shin has founded several well-known Korean-based e-commerce and payment apps, including TMON, Chai, TicketMonster, etc.
While, Do Kwon is a computer scientist, a former Microsoft worker, and the founder of Anyfi. He was included in Forbes' "30 Under 30" list in 2019.
The duo created Terra to power all the DApps built by the Terraforms Lab.
Terra aims to replace the complex payments system with a single blockchain layer, including credit/debit cards, banks, and payment gateways.
It achieves this by minting stable coins pegged to various fiat currencies that can be used for online payment, lending, borrowing, and trading on the stock exchange.
There are more than 10 Terra stable coins available, including:
KRT pegged to the Korean fiat currency (KRW)
UST pegged to the U.S. dollar
MNT pegged to the Mongolian tugrik
SDT pegged to the IMF's SDR
And several other currencies which you will find here.
These stable coins can be transferred anywhere with cheap transaction costs and no bank limitations.
Also, new stablecoins can be added to the ecosystem if users vote on their inclusion.
The fact that Terra's stable coin is inclusive, allowing anybody to pay in their own currency, is one of its most striking features.
Terra proposes (pg 2) that its SDT (TerraSDR) will be used for transaction fees and incentive payouts because it is less volatile than other fiats.
In addition to minting stable coins, Terra allows anyone to deploy and interact with smart contracts on its network.
Scroll down to read how Terra works!!
---
2. How Does Terra Work?
Terra adopts the elastic monetary policy along with a protocol known as Seigniorage to mint, burn, and maintain the price peg of its stable coins.
As I already mentioned, Terra mints and issues various fiat currencies on the blockchain.
However, the price of each stable coin is determined by the theory of demand and supply.
For example:
The UST coin's price is expected to be fixed at $1.
However, in theory, the price might move above, below, or remain constant at $1.
This is because its price is mainly driven by how many people are demanding it compared to its available supply.
If there is more demand for UST than there is supply, the price will rise above $1.
Similarly, if demand for UST is lower than supply, the price will fall below $1.
You could argue that this renders the stable coins volatile, but it gives Terra's users an arbitrage advantage.
Now, to ensure that the price of UST remains fixed at $1, the LUNA token is introduced.
So, this is what happens:
If the price of UST rises above $1, every LUNA holder can burn their LUNA token and make some profit by minting UST.
And if the price is below $1, then UST holders can burn their UST and make some profit by minting LUNA.
This system ensures that the supply of UST is stable and that the price remains fixed at $1.
Also, this burning and minting process is done through an atomic swap and will frequently happen to keep Terra's economy stable.
Later in this article, I explained how LUNA users can profit from Terra's Seigniorage.
Let's talk about Terra's technology below.
---
3. The Technology Behind Terra
I will discuss the following here:
Blockchain Architecture
The Terra blockchain was built using the Cosmos SDK and is interoperable with other blockchains.
Terra currently features a cross-chain bridge that works with Ethereum, BSC, and Harmony, with plans to add more blockchains in the future
Terra also allows users to write and deploy CosmWasm smart contracts on its network. (This is still under development as of August 2021.)
Consensus Mechanism
Terra uses Tendermint's delegated proof of stake consensus mechanism.
This is based on a set of validators, followed by the delegators, who make sure that the network is always secure.
Validators: These are users who run a full node of the network. They typically have 3 functions on Terra's network, which are:
Propose blocks or validate transactions
Make proposals or governance
Submit oracle prices and absorb short term volatility
All these are made possible by staking the LUNA tokens.
There are more than 100 validators on Terra and they earn these rewards here for carrying out their function.
The more LUNA a validator stakes, the more computing power he has, hence, a better reward.
Delegators: These are ordinary LUNA holders who can delegate their LUNA token to any of the validators to earn a portion of the rewards distributed to validators.
It is also noteworthy that Terra's network is capable of validating over 10,000 TPS.
Miners Oracle And Stability
The miners here are the validators.
They are responsible for keeping Terra's price stable and acting as a decentralized oracle for the network.
We have already established how Terra achieves stability, let's switch to how it obtains its oracle.
Terra practices a decentralized oracle in which every validator must vote for the current exchange rate of Terra's token in the real world to earn a reward.
You can learn more about this here (pg 3).
Slashing Risk
This stands for the punishment imposed on validators if they provide the wrong data feed or fail to carry out their functions properly.
Here are the conditions that result in "slashing risk".
If a validator suffers this punishment, his stakes and those of his delegators are slashed, and his reputation is affected.
Fees
Three fees are noticeable on Terra's network.
Stability Fee: Every Terra transaction is subject to a transaction fee ranging from 0.1% to 1%, and capped at 1 TerraSDR.
Computational Fee: These are the fees set by validators to keep the network secure
Swap fees: A 2-10% fee is charged when LUNA is swapped for Terra.
Initially, this fee goes to the validators.
However, after a network upgrade, miners now receive the seigniorage rewards while the "swap fee" is burned by sending them to Terra's treasury.
This system ultimately increases the value of LUNA by making it scarce.
More so, the fee on this network is nothing compared to the high fee of the ETH network.
Seigniorage
This is one of the ways that users profit from the network by minting the Terra coins.
For instance, if you have 10 UST and the price of LUNA was $5, you will get 2 LUNA for burning your UST.
Likewise, if 1 LUNA costs $10 but the price of 1UST is $1.50, a LUNA holder can make a 50% profit by burning LUNA to mint UST.
Let's talk about the LUNA protocol in the subheading below!
---
4. LUNA Token
LUNA is the native coin that is used to secure the Terra ecosystem.
It was first offered in a private sale to exchange investment arms such as Binance, OKEx, and Huobi.
The sales were completed in August 2018, and they raised a total of $32 million.
A total of 385,245,974 LUNAs was first minted and distributed as follows:
Terraform Labs – 10%
Project contributors – 20%
Terra Alliance- 20%
Price stability reserves – 20%
Project backers – 26%
Genesis liquidity – 4%
Luna has 4 main functions.
Stability: It brings stability to the ecosystem by collateralizing the Terra coins to maintain their price pegs. This happens when LUNA is burnt to mint stable coins.
Governance: Changes to the Terra ecosystem can be proposed and voted on by LUNA holders.
Staking: Holders of LUNA coins can stake their coins to earn rewards.
Treasury: Each time LUNA is collateralized to mint Terra's coin, a portion of it goes to Terra's treasury. These LUNA coins are used to keep the ecosystem running smoothly.
The LUNA token can exist in 3 ways, which are:
Unbonded: This is Luna that is freely traded on exchanges
Bonded: These are staked LUNA. you cannot trade them rather they yield rewards
Unbonding: It is a period of unstaking the bonded LUNA. staked LUNAs take up to 21 days before they can be unstaked. LUNA does not yield a reward at this stage
Furthermore, LUNA has its maximum supply capped at 1 billion, and over 95 million LUNA have been created.
On August 2nd, 2021, LUNA was worth $12, with a market cap of $4,984,191,304 and around 415 million LUNAs were in circulation.
It is also the 25th most valued cryptocurrency according to Coinmarketcap.
Exchanges to buy LUNA
In the table below, I've included the top 7 exchanges where you can buy and sell LUNA profitably, as well as the trading pairs that are supported.
Exchanges

Trading Pairs

– LUNA is traded against:
Webpage
Reviews
Binance
BTC, BNB, BUSD, EUR,USDT
Visit Site
Read Review
Kucoin
USDT, UST,BTC, KCS
Visit Site
–
Huobi
BTC, USDT, HT, KRW
Visit Site
Read Review
OKEx
BTC, USDT
Visit Site
Read Review
Bittrex
BTC, USDT
Visit Site
Read Review
Bithumb
KRW, USDT
Visit Site
–
Gate.io
USDT, ETH
Visit Site
Read Review
Wallets to store LUNA
These are the lists of secured wallets where you can store your LUNA tokens.
Terra Station: This wallet was specially created by Terra's team to facilitate Terra's ecosystem
Ledger Nano X/S: This is a hardware wallet that lets you store your LUNA safely stored away from the internet. It costs about $50 to purchase.
Mirror Wallet: This is a wallet created by the Mirror protocol, a DApp that runs on the Terra network. It is secure and non-custodial. It equally allows you to trade synthetic assets.
MathWallet: It is a multi-crypto and non-custodial wallet with amazing features.
Oxis: This is a non-custodial wallet featuring fiat-to-crypto on- and offramps, as well as transaction capabilities.
You can also store your LUNA with the exchanges listed above.
However, you should not store a large quantity of your LUNA on exchanges. This is because it is more vulnerable to hackers.
I will walk you through how to stake LUNA and claims airdrops in the next section. Scroll down!
---
5. How To Stake LUNA To Earn Passive Income
You'll need the Terra Station software application to stake your LUNA coins.
Terra Station is a DApp developed by Terraforms Lab, it allows users to interact with the Terra network.
Follow the steps below to stake your LUNA for rewards on Terra Station:
A new interface will display.
If you do not have a ledger wallet, then proceed with the second option.
The Terra Station app supports chrome extension, macOS, Windows, Linux, iOS, and Android.
However, the chrome extension only gives you access to the wallet feature.
Once, it's installed, click on "Wallet" and then "Connect" again.
You'll be able to see the setup options.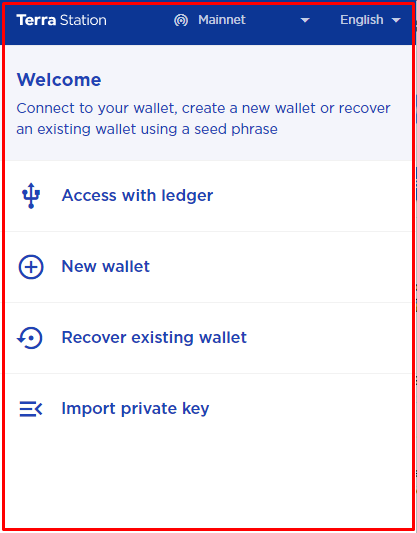 – Access with Ledger allows you to connect your Ledger wallet to Terra Station.
– New wallet, you should choose this option if you are a new Terra Station user.
– "Recover existing wallet" and "import private key" allows you to connect your already owned Terra Station wallet to the one you have just downloaded.
When you are done setting up the wallet, fund it with LUNA
Next, proceed to "Staking" click on it and you will find a list of "Validators". Choose a validator by clicking on their names.
Let's say you picked "KysenPool, click on "Delegate".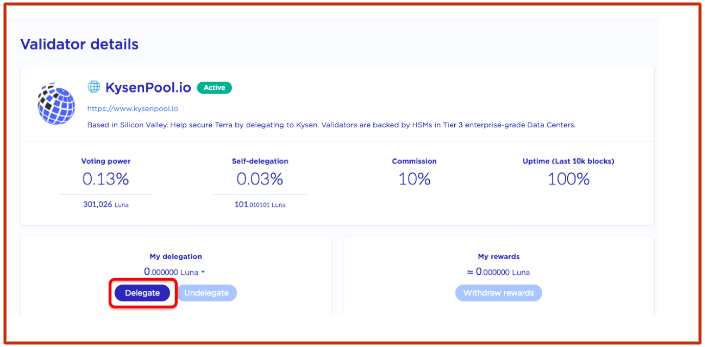 Enter an amount of LUNA to delegate. And click on Next.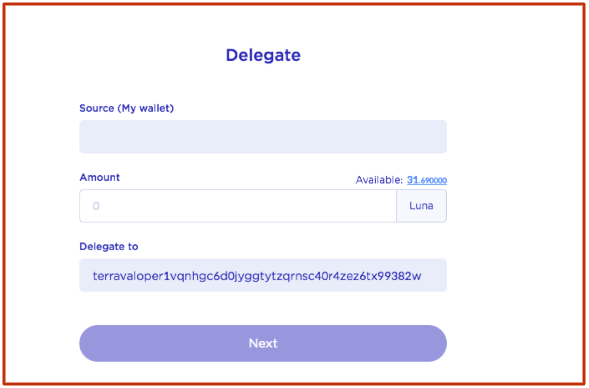 Confirm your delegation with Password. Click on the Delegate button.
Click "Ok" once your LUNA has been successfully staked.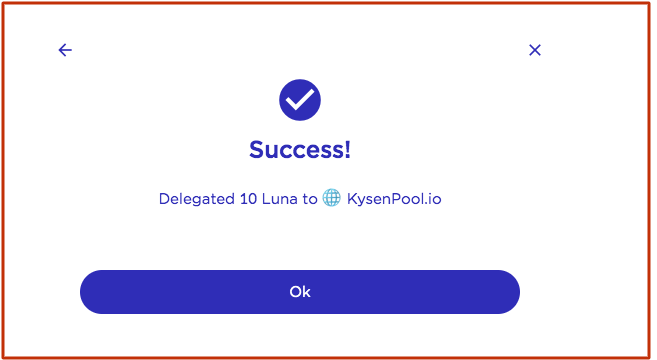 When you have staked your LUNA, you will start receiving rewards, it will be shown at the top of the staking page.
You can withdraw them by clicking on"Withdraw all rewards"
Also, you are entitled to airdrops from different DApps built on the Terra network when you stake LUNA.
By heading to Terradrops, you may claim all of the airdrops at once.
Note:
It takes 21 days to unstake all staked LUNA
Also, to avoid "Slashing risks", make sure you choose your validators wisely.
Now, is the LUNA token heading to the moon? I discussed this in the next section.
Please scroll down if you don't mind.
---
6. Potential Of Terra (LUNA)
Terra is one of the most innovative crypto projects to have emerged from the DeFi space.
Its protocol has proved profitable, and its use cases have advanced significantly.
This is due to the protocol's collaboration with well-known crypto projects like Binance, Huobi, OKX, and many more.
Furthermore, the Terra ecosystem's significant development is also due to the growing number of DApps that have been created on top of it.
Most excitingly, Terra stable coins are integrated into the majority of these DApps, expanding Terra's use case and profitability.
For instance:
The KRT token is integrated into the Chai, an e-commerce DApp built by Terraforms Lab and it is used by over 2 million users
The MNT token is integrated into Memepay, a payment app that has over 40,000 users
Many DeFi protocols like Mirror protocol, Anchor, and Binance have increased demands for Terra coins, most especially the UST
Currently, UST is the 5th most valuable stable coin by market cap.
Now, all these add so much value to the price action of the LUNA token.
LUNA soared substantially during the 2021 crypto bull run and this is because of the huge demand for Terra's stable coins.
Moreover, it has good tokenomics that incentivize users.
Additionally, a large number of reputable exchanges support LUNA, all of which have decent liquidity and volume trading for the token. Great!
LUNA has one disadvantage, though, it is subject to a 21-day unbonding period.
This means that, if the price of LUNA rises quickly, staked LUNA will miss being sold for instant profit on an exchange
Also, the Terra team claims that a portion of LUNA is burned each time it is swapped for stable coins.
This goes against the conventional coin burn protocol, as the coin is not actually being burned but sent to the community's treasury – meaning that they are still in circulation.
Notwithstanding, I believe LUNA has a high possibility of reaching the moon.
I say this because it has room to grow exponentially as Terra stable coins adopt more use cases.
Let's meet at the FAQ section
---
7. The Sudden Death Of Terra
Terra has experienced the world's largest crypto crash, with its native token LUNA falling by more than 99.99% in a few days.
This happened after Terra's stable coin UST which was supposed to be pegged to $1 lost its peg (May 7, 2022).
Unfortunately, this was the death of Terra.
The LUNA coin, which had been the 8th most valued cryptocurrency, has now fallen to #211 in rank, making it almost a worthless coin.
On the other hand, the value of the UST coin has declined to $0.18 (May 16, 2021).
This sharp drop was reportedly caused by a large sell-off of UST, LUNA, and the BTC used to back the UST.
All were steps made in a bid to restore the UST peg to $1.
Today (16/5/2022), LUNA's market cap has dipped below $4 billion and is now trading for less than a penny at $0.00024.
If you recall, LUNA was supposed to have a maximum supply of 1 billion tokens.
However, over 6 trillion LUNA is now in circulation, making LUNA more of a meme coin just like Shiba Inu and Wakanda Inu.
What a total mess up!
Sadly, Terra's investors lost tons of money and the blockchain was put to a temporal halt (although it is now active).
Also, some exchanges, like Binance, had to quickly delist LUNA as a futures contract and briefly suspended withdrawals from the network.
Furthermore, this event did not only affect the Terra Blockchain.
But it also had a significant impact on the entire crypto market, particularly Bitcoin and the Defi space, as they all took a plunge.
From the looks of things, Terra's LUNA and stable coins have completely collapsed.
However, Terra's developers are doing all they can to bring back the network.
The community has put forward a number of proposals, and Do Kwon, the founder, has also written one.
As of writing, none of these proposals has been implemented.
To find more details about Terra's crash and whether it is still safe to trade its tokens, I suggest you read this post.
---
8. FAQs
1. Where can I swap Terra's stablecoins?
Through the "Swap" function on Terra Station, you can swap between all Terra stable coins.
2. How do I become a Validator?

To become a validator on Terra, you basically need to install the "Terra Full Node Software".

A guide on how to set up this node can be found here.


---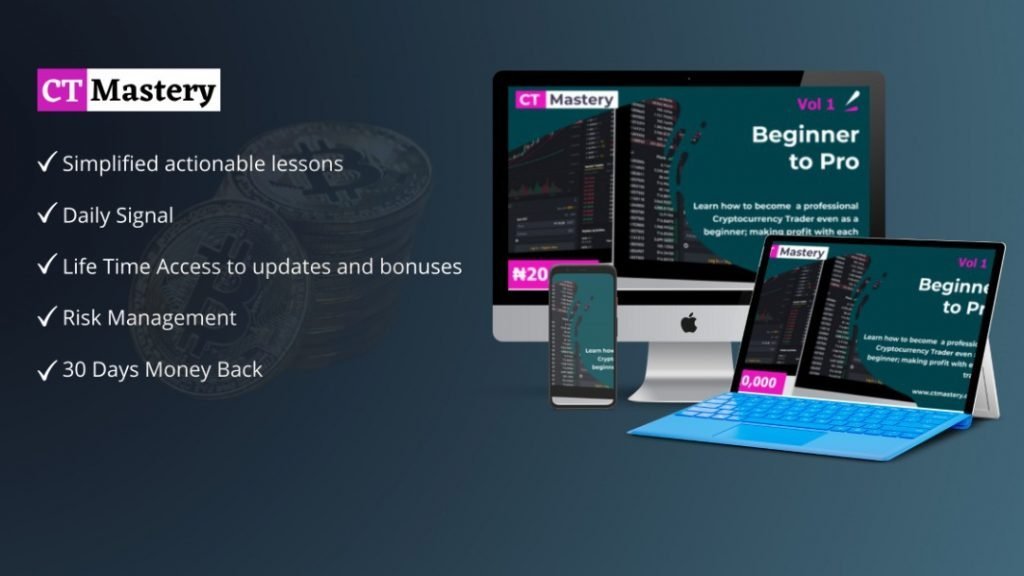 Do you want to learn how to trade cryptocurrencies profitably?
We developed a perfect course to help you master Cryptocurrency Trading.
Go to www.ctmastery.com to enroll.
You can also join our Telegram community at https://t.me/ctmastery for more information.
---
9. Conclusion
This is where I'll end this post.
With a thriving ecosystem combined with unique world use cases and partnerships, I see Terra becoming the most promising DeFi project.
Finally, what are your thoughts about Terra?
Do you think the LUNA token has the potential of making it to the moon?
Put your thoughts in the comment box below, and let's chit-chat.
Remember to share this post with your friends by clicking on the social media icons below.
---
Also Read: