In today's review, I will go through the newly launched exchange token QDX.
QDX is the native coin of Quidax – the most popular crypto exchange situated in Nigeria.
I'm sure you've heard of this token, and you've come to learn about its potential.
So buckle up, because I'm about to take you through an in-depth review of QDX!
Let's get started!
---
Post Summary
This review has been broken into subheadings for ease of reading.
Let's dive in!
---
What is QDX Token?
QDX is the native cryptocurrency of Quidax Exchange.
Buchi Okoro created Quidax, a Nigerian cryptocurrency exchange, in 2018.
The exchange officially launched its token on JulSwap Launchpad on May 19, 2021.
QDX is a BEP-20 token and it runs on the Binance Smart Chain network.
It is also the first token ever to be launched on JulSwap – one of the decentralized exchanges that run on the Binance Smart Chain Ecosystem.
Interestingly, QDX sold out in 48 hours during the ICO|token launch and raised over 7,772 BNB, worth over $3 million.
QDX was created to assist Quidax in transitioning from an African-based exchange to The Global Home of BEP-20 Tokens.
Scroll down to the next section to take a deep look into the QDX Tokennomics.
---
QDX Tokenomics
Token Supply & Distribution
The QDX coin has a total supply of 500 million tokens and is listed on Coinmarketcap.
But as of June 4, 2021, the circulating supply of this token was not available on CMC.
The screenshot below summarizes how this token is being distributed.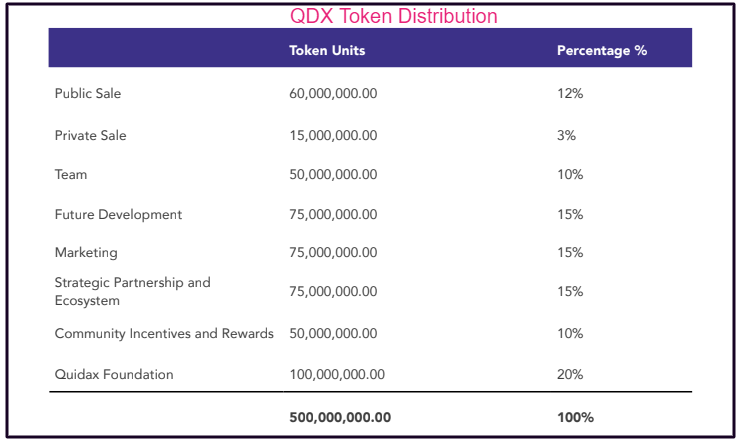 QDX is now priced at $0.02894 and ranks #3636 on CMC (as of June 4, 2021).
Additionally, this coin integrates a unique buy-back-and-burn function.
This essentially means that Quidax will buy back and burn their coin at the end of each quarter, using a 20% profit gained on its platform.
This, I must say, is impressive, as it will help to increase the value of the QDX token by lowering its market supply.
Uses Of QDX
QDX will power the whole Quidax ecosystem.
The use cases of QDX are as follows:
1. Exchange Utility Token
With QDX, users will be able to get trading fee discounts, receive free crypto via airdrops, vote on Quidax-related matters, and do a variety of other things.
2. Deposit, Savings, and Bill Payments
It will be used for the deposit and savings product that will be available on Quidax very shortly.
Users can also pay utility bills like; electricity, cable, and airtime on Quidax using this token.
3. Merchant Payment Gateway
Merchants will accept payment for goods and services via QDX through a crypto payment gateway.
4. DeFi access token
On Quidax, QDX will be used in DeFi protocols such as lending, staking, yield farming, and more.
5. Creation of NFTs
Although this will happen in the future, QDX will power the NFT marketplace on Quidax.
Note: Some of the QDX token's use cases do not apply at the time of writing. However, I believe it is only a question of time.
We will talk about the roadmap right below. Scroll down!
---
QDX's Roadmap
Without a doubt, the launch of the QDX token is set to usher in a new wave of opportunities for the Quidax community.
As we can see, the roadmap reflects Quidax's vision of becoming an internationally known platform for all things crypto.
Amazingly, Quidax has not laggardly followed this roadmap; it has continued to accomplish its objectives as scheduled.
Presently, on June 4, 2021, anyone can buy/sell and trade BNB and the DOGE coin on the Quidax Exchange.
However, every other thing set to be achieved in June 2021, has not been fully accomplished.
This is most likely because we are still in the first few days of June.
Hopefully, it will be completed by the end of June.
Continue to the next section!
If you are already thinking of the exchanges and wallets to start stacking QDX, keep reading because we'll go through them in-depth!
---
QDX Exchanges And Wallets
Exchanges
You can buy QDX from the following crypto exchanges
a. Quidax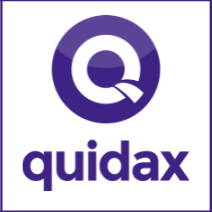 Quidax is a cryptocurrency exchange that debuted on August 1, 2018, following months of Alpha testing.
It quickly ascended to become one of Nigeria's "Top 10 Cryptocurrency Exchanges" by trade volume, ranking higher than other older Nigerian crypto exchanges.
Currently, you can buy QDX with USDT on this exchange.
Quidax intends to become a platform focusing on the trading of BEP-20 tokens.
It also plans to launch new DeFi and CeFi products, which will help the exchange flourish.
b. JulSwap
JulSwap is a Uniswap alternative built on the Binance Smart Chain network.
JulSwap features the same user interface, trading engine, and services as Uniswap, but it charges a lower trading fee.
It is an AMM decentralized exchange for BSC-20 tokens.
JulSwap was founded on December 29, 2020 by Tobias Graf.
On JulSwap, there are over 100 QDX trading pairs.
Wallets
You can store QDX on any wallet that supports BEP-20 tokens. Here are my top picks:
a. Trust Wallet
This is Binance's mobile wallet, and it provides a safe place to store your QDX.
Trust Wallet is very popular among crypto traders and investors.
The wallet supports up to 160,000 cryptocurrencies and 40 blockchains.
It's very convenient and safe!
Users of both Android and Apple devices can install the Trust wallet on their smartphones.
Using the swap function on this wallet, you may also purchase, exchange, and sell QDX.
b. MetaMask
MetaMask is a cryptocurrency wallet that allows you to securely store your coins.
It is a non-custodial wallet that secures your seed phrase with a password.
Thousands of ETH tokens, including ERC-20 and ERC-71 tokens, are supported by the wallet.
MetaMask was released in 2016 and comes in both desktop and mobile versions.
Despite the fact that the Metamask wallet is designed for ETH tokens, it also connects you to the Binance Smart Chain.
This is how to store your BEP-20 tokens on MetaMask.
c. Exchange Wallet
An exchange wallet is a wallet offered by an exchange with which a user trades.
However, because these are custodial wallets, you do not have complete control over your money.
Quidax currently provides an exchange wallet in which you can store your QDX token.
I'll show you how to buy QDX on Quidax In the next section. Scroll down and learn!
---
How to Buy QDX
This is a simple step-by-step guide on how to buy QDX on Quidax.
a. Buy QDX from Quidax Instant Buy/Sell
Create a Quidax account (If you are not already a user) or "Sign in" (if you are already a user).
2. When you're through with the preceding step, click the "Instant Buy/Sell" menu bar.
3. On the Instant Buy/Sell page, select QDX, as well as the cryptocurrency you will be paying with. Enter the amount you want to buy and press the "Continue" button.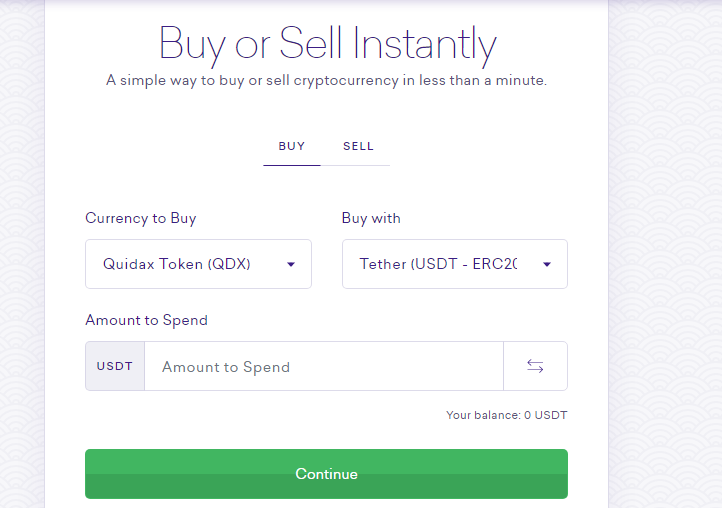 4. A transaction slip will appear on the screen. Check all of the details again and then click "Confirm Order."
When you have done this, your QDX will be credited to your account in a matter of minutes.
b. Buy QDX from Quidax Order Book
After logging into your Quidax account, click on the "Order Book".
2. You will be taken to Quidax's "Markets." Enter QDX into the "Search box" on the left side of your screen. You will find the available trade pair for QDX.
It should be noted that, as of this writing, Quidax only supports the QDX/USDT trade pair.
3. On the right-hand side, there are already open orders that you can buy/sell by clicking on any of them.
Inversely, you can scroll down to the bottom to place your own order, either to buy or sell.
When you have filled in the necessary details and clicked on either "Buy QDX" OR "Sell QDX", it will buy/sell QDX in this manner:
If you have selected the "Limit" order, it will buy/sell when QDX hits the price of your choice.
If you selected the "Market" order, it will buy/sell instantly at the current market price.
You can learn how to place an order on Quidax by clicking here
This article here succinctly describes how you can buy/sell QDX on JulSwap.
Let's move on to the next section!
---
What Does The Future Hold For QDX?
To begin with, Quidax is a Nigerian exchange with an outstanding reputation.
This already makes the future of this token favourable for investors – unlike the Ponzi coins.
Another point to mention is that the Quidax community has shown a great deal of interest in this token.
I say this because of the haste with which it was sold during its private and ICO token sales.
As we've already seen on the roadmap, Quidax intends to offer new profitable products and services that will drive QDX's potential.
As previously said, this cryptocurrency is presently trading at $0.02894 and has a fully diluted market cap of $14,049,280.
Now, this might seem too little, but it might probably be the right time for you to take advantage of this token.
I say this because exchange tokens have recently skyrocketed – I'm sure you've heard of BNB, FTX, HT tokens, and the rest.
Furthermore, given QDX's tokenomics (total supply, coin burn, and use cases), I can't help but believe in its healthy growth.
However, keep in mind that this is only my opinion.
I really can't predict the future price of this token, the reason being that nothing is predictable in the world of cryptos.
Please DYOR before investing.
Let us now proceed to the FAQ section. Scroll down to learn more!
---
P.S
If you want to learn how to trade cryptocurrencies profitably, we developed a perfect course to help you master Cryptocurrency Trading.
Go to www.ctmastery.com to enrol.
You can also join our Telegram community at https://t.me/ctmastery for more information.
---
FAQ
1. Can I earn free tokens by hodling QDX?
Yes, you certainly can!
By hodling QDX, Quidax users will be able to earn crypto airdrops.
Not only that, they can also make passive income by staking the QDX token.

However, as of the time this post was written, this had not occurred.
2. Has QDX been listed on other crypto exchanges apart from Quidax?
Currently, you can only trade this token on the two exchanges listed in this post.
Hopefully, it will get listed on other exchanges in due time.
3. Where can I get Update on QDX?
You can join the Quidax community to get updates on QDX via these channels:
– Twitter: https://twitter.com/quidaxglobal
– Facebook: https://www.facebook.com/QuidaxGlobal/
–Telegram: https://telegram.me/QuidaxGlobal
– Youtube: /channel/UCZNMPuO2ys0StabKhvtXCpA
4. How much QDX will be burned?
Quidax will burn the QDX token until 50% of the total QDX supply is burned.
5. Is QDX Safe?
Yes, it is safe to invest in QDX. See my reasons below!
– It is the exchange token of a popular Nigerian platform
– The coin has a use case and can be traded on exchanges
– It is listed on Coinmarketcap
– Quidax has been up to date with its QDX roadmap.
However, because this is an exchange token, it is subject to any negative regulatory requirements imposed on the exchange.
---
Conclusion
This brings us to the end of the article. I hope you found this review helpful?
Given that the Quidax Exchange plans to offer more creative and tempting products, the QDX token can skyrocket in value in the future time.
The only issue is that it will take some time to reach its full potential.
This simply means that you need to be the hodling type.
Well, what do yo think?
Do you think that this token is worth investing in?
Have you bought the coin already?
Let me have your thoughts in the comment box below.
You can help others to learn about this by clicking the buttons down here.
---
Other Related Articles;