Welcome to our Bitstamp review.
Bitstamp has been around for quite some time now and happens to be one of the oldest exchanges in the planet today.
Since its launch in 2011, Bitstamp has been able to build upon its services to become an exchange of choice to a variety of traders worldwide.
Today, Bitstamp boasts of offices in a variety of locations and provides crypto-trading related services to many around the world.
In this Bitstamp review, we will be looking at its features, currency supported, account creation process, deposit and withdrawal options, platform safety, and security amongst other things.
Let's start off by talking about Bitstamp's historical background.
---
Bitstamp Review – Background
Bitstamp was founded in 2011 by Damijan Merlak and Nejc Kodric, with a primary focus on catering for the teaming European crypto market.
At the time of its inception, Mt. Gox dominated the entire market and was a force to reckon with.
However, Bitstamp acted as an alternative to Mt. Gox, it started out in 2011 with an office in Slovenia before opening another branch in the Uk in 2013 and Luxemburg in 2016.
Today, the Bitstamp exchange has a physical presence in New York and London.
Bitstamp aims to provide its users with a convenient way to exchange large amounts of digital currencies with pocket-friendly transaction fees.
It provides its users with the ability to buy major digital currencies by using fiat currencies. These features have made it popular with beginner, intermediate and expert traders.
Furthermore, the Bitstamp exchange is ranked among the top 10 exchanges today on trading volume, handling over $700,000,000 million worth of cryptocurrency transactions on a daily basis, offering BTC/EUR, BTC/USD, ETH/EUR, ETH/USD trading pairs which account for most of its trading volumes.
---
What Bitstamp Brings To The Table
Bitstamp is loved by many due to the following:
Ease of use – the entire Bitstamp platform is generally easy to use and always contains updated information on charts and balances. It can be accessed via mobile through its IOS and Android applications.
Low Fees – fees on the bitstamp exchange are competitive, international wire deposits are clocked at a 0.05% fee with a minimum deposit of 7.50 USD/EUR, international wired withdrawals come with a 0.09% fee with a minimum withdrawal amount of 50 USD/EUR, trading fees are clocked at 0.25% on volumes below $20,000 a month and as low as 0.10% for volumes amounting to $20,000,000 and above.
Secured platform – the bitstamp team go about their duty with a high sense of professionalism, the exchange is fully compliant with laid down laws governing consumer protection and asset regulations. User assets are closely monitored and stored in cold storage (offline), while those in active use are stored on Amazon Web Services (online). Additionally, funds on the Bitstamp dollar accounts are stored in a New York chartered bank and insured by the FDIC
Also read: Top 4 hardware Storage for all cryptocurrency.
Supported Countries – Bitstamp is available to a wide variety of users in countries worldwide in addition to its availability to users in the EU and United States.
Customer Support – customer support has been a major challenge for most digital currency exchanges worldwide. However, Bitstamp has taken giant strides towards catering for the yearnings of its users. For emergency purposes, users are advised to visit a Bitstamp office close to them, for regular inquiries users can get help via Email, read the FAQ section or call the customer support line.
---
Supported Currencies
Bitstamp supports a variety of cryptocurrencies including Bitcoin (BTC), Ethereum (ETH), Bitcoin Cash (BCH), Ripple (XRP) and Litecoin (LTC). The exchange offers over 12 trading pairs traded against 3 major base currencies Euro (EUR), Bitcoin (BTC) and US Dollar (USD).
Having been around for over 8 years (at the time this articles was written), the Bitstamp exchange enjoys a high level of cash flow (liquidity), with over $700,000,000 million in daily trade volume.
---
How To Use Bitstamp
To use the Bitstamp exchange, you will be required to create an account on the Bitstamp official website
The account creation process is relatively easy, all you have to do is click on "register" on the homepage.
Fill in your details such as name, email address and country of residence. After which you are required to accept the platform's terms and conditions.
Once you fill the details above and click on the "register" button, you will receive a welcome Email containing your unique ID and password. However, upon your first login, you will be prompted to change the password to your preferred password.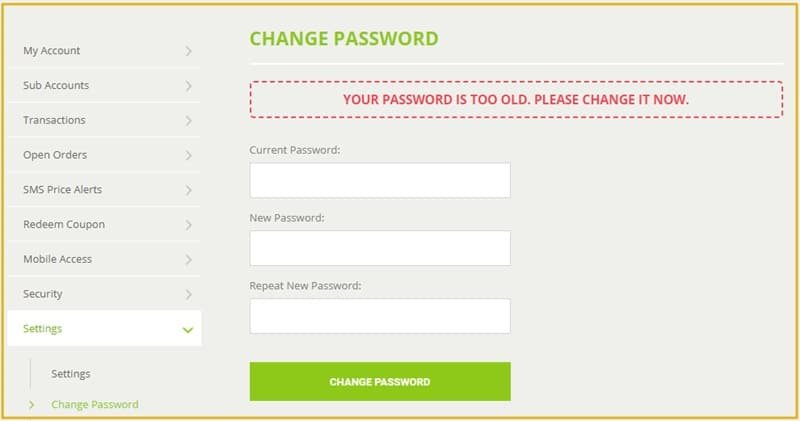 Furthermore, after login in and changing your password, you can proceed into further securing your account by enabling 2-factor authentication (2FA), once all is set and done you will be granted access to all of the platform's features.
How To Verify Your Bitstamp Account
Bitstamp is a regulated platform, hence the reason why it is allowed to operate in the United States. Due to its compliance with regulations, users are required to verify their identities before being allowed access to certain features such as international bank transfers.
Bitstamp offers 2 account types – personal and corporate, and they are all required to submit the following documents for identity verification purposes.
A government-issued means of identification (National ID or proof of citizenship), driver's license and passports are also accepted.
Proof of residence to show your actual location. The documents required include utility bills, bank statements, and some other government issues documents.
Once the documents above are submitted and approved, a user is mandated to verify their phone numbers through an OTP code which will be sent to their mobile phones. Once all the criteria above are met, you will be allowed unlimited access to everything Bitstamp has to provide.
---
How To Trade On Bitstamp
To trade on Bitstamp you must first make a deposit. This can be done by navigating to the "deposit" tab on your dashboard and choosing your preferred deposit method. The supported methods include:
Direct bank transfers
Cryptocurrency transfer
Credit/debit cards
SEPA
It might take up to 3 working days for funds deposited through bank transfers to reflect on your dashboard, although some users have reported faster deposit time-frames.
Once the funds reflect on your dashboard you can then proceed to purchase your preferred currency by clicking on the BUY/SELL button present on your dashboard, after which you choose a trading pair and place a market or limit order. Once all is done, you can then input the quantity and price you are willing to buy before processing your order.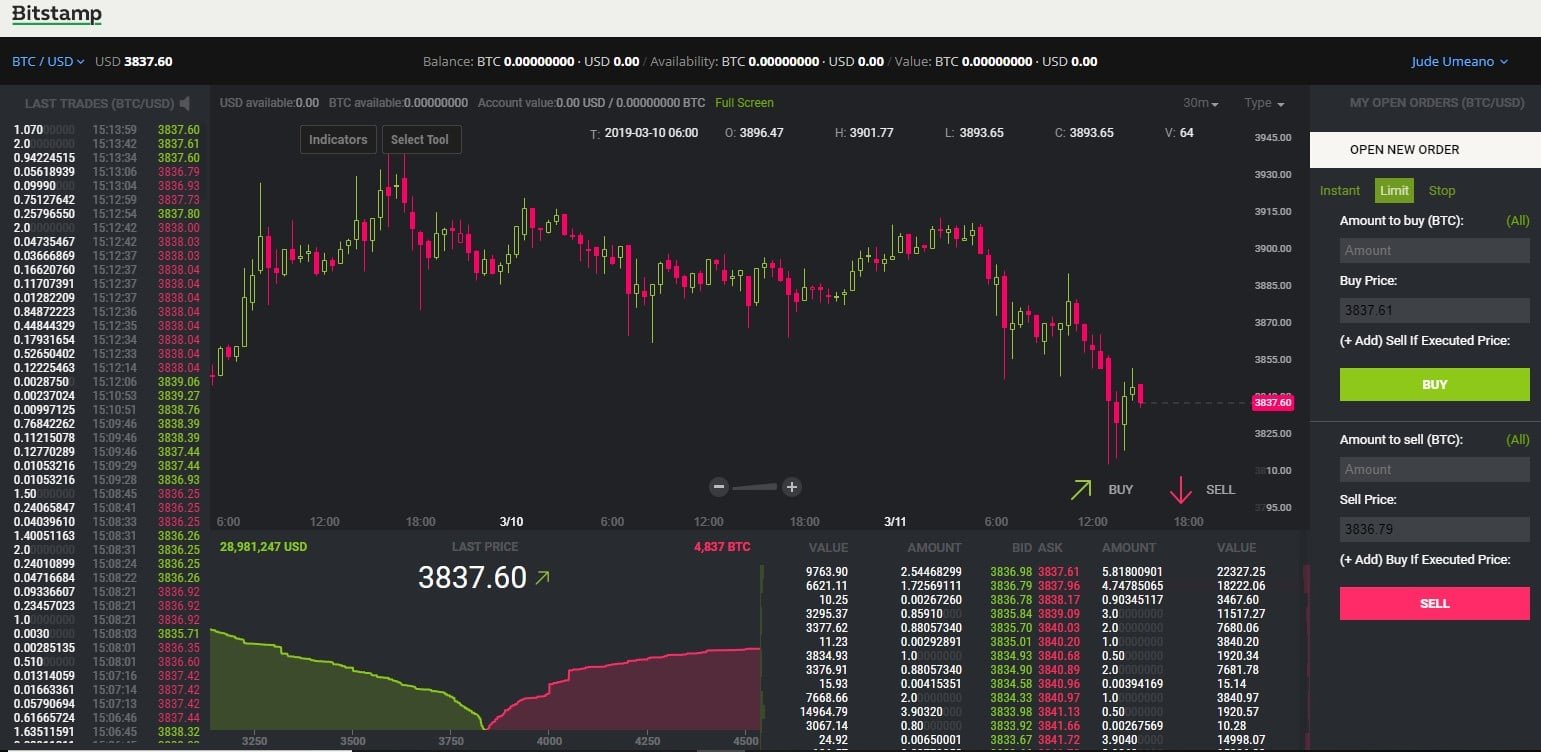 As soon as your transaction is processed, your desired currency will be credited into a wallet provided by the Bitstamp exchange, you can choose to leave it there or transfer to a safer wallet (hardware wallet).
Click HERE for a comprehensive list of all Bitstamp fees.
---
Conclusion
Bitstamp has been in the sector for a long period of time and has established itself as a reputable exchange. The exchange has facilitated the widespread adoption of cryptocurrencies worldwide due to its support for fiat deposits and withdrawals and its low transaction fees.
With bitstamp, everyone with a bank account and access to the internet can lay their hands on digital currencies like Bitcoin, Ethereum, Ripples, Litecoin etc…
However, there is still room for improvement here – users expect more currencies to be listed plus the introduction of live chat support, once this is done, Bitstamp will be a force to reckon with.
That's all we have on our Bitstamp review, if you found this useful and will like us to continue on our course, please hit the social media share icons below.
Thank you!