Today's post is a detailed review of Xend Finance, a fast-scaling DeFi platform.
In less than 6 months, the platform's user base scaled from 10,000 to over 50,000.
And we can trace this increase to the unique services offered by Xend Finance.
Imagine depositing Naira and saving in dollars with 15% annual interest.
What better way to protect your funds from inflation, right?
If you're ready to see how to grow your money with Xend, let's jump right into the post!
---
Table Of Contents
Click on any item above to read its details immediately.
Happy reading!
---
What Is Xend Finance?
Xend Finance is a DeFi platform that provides crypto banking services for everyone.
Ugochukwu Aronu and Abafor Chima launched the platform in March 2021.
It is aimed at helping credit unions, cooperatives, and individuals to save in stable currencies.
In other words, users can convert their local currencies and save in stablecoins or USD.
This will help investors overcome the issue of currency devaluation.
Not only that but they also earn up to 15% annual interest on their savings. Great!
Furthermore, low liquidity and geographical restrictions are two major problems of traditional credit unions.
Xend employs blockchain technology to solve these problems and more.
Initially, it was built on the Ethereum blockchain but it later moved to the Binance Smart Chain for higher scalability.
Now, users of Xend Finance enjoy fast payments and financial security. Superb!
In the next section, we'll talk about the features of this platform that enables it to achieve its goal.
Keep reading!
---
Features Of Xend Finance
They include:
a. Mobile App
The Xend easy-to-use mobile app makes it easy for users to save funds and withdraw their earnings on the goal.
Also, they can pool funds to create credit unions for saving, investing, and loaning.
Creators define the rules of their credit unions like minimum deposit/withdrawal amounts and charges for not meeting the contribution schedule.
Plus, using smart contracts, each group has a unique identification tag.
b. Auto Yield
This is a yield farming feature. It is a high yield aggregator that automatically scans multiple chains for the best yields.
That way, users are guaranteed higher returns on their investments.
c. Xend Launchpad
Here's a decentralized launchpad for African startups.
It gives them the visibility they need to attract investors and strategic partners.
d. XEND Staking
This feature enables users to stake $XEND tokens and earn rewards.
e. XEND Finance SDK
This is a Software Development Kit that enables other developers to build on the Xend Finance infrastructure.
f. Switch Wallet
Using this service, developers can create and manage wallets for their users
g. XEND Bridge
On this bridge, users can convert local currencies to cryptocurrencies and vice versa.
Impressive, huh?
Next, we'll discuss the native token of this platform.
Tag along!
XEND Token Explained
XEND is the native token of Xend Finance.
It is used for governance, rewards, and fees.
Users are rewarded with XEND for participation like saving or lending.
Additionally, they need it to pay subscription fees to create or join a credit union on the platform.
Furthermore, Xend Finance is governed by a Decentralized Autonomous Organization (DAO).
Therefore, coin holders can vote for changes on the platform.
The maximum supply of XEND is 200,000,000 and 107,160,249 coins are in circulation.
Presently (11/06/2022), a unit of the coin goes for $0.030981 and you can buy it from any of these exchanges:
MEXC
Gate.io
BKEX
PancakeSwap (V2)
Uniswap (V2)
AscendEX (BitMax)
Also, Trust, MetaMask, and BSC wallets support the coin.
Moving on, I will show how to use the Xend app to save in dollars.
Keep reading!
---
How To Save In Dollars On Xend Finance
First, I'll show you how to set up your account and then how to start saving.
Part 1: How to set up your Xend account
i. Install the Xend Finance app using this link.
ii. Open the app and click on "Get started".
iii. Next, you enter your email address, choose a password and click on "Register"
iv. Check your email inbox to activate your account then return to the app to continue.
v. Type in a username and continue. Then enter "JUDE1" as your referral code.
You'll be notified of a successful account creation. Click on "Let's go"
Then take a tour to get familiar with the app.
Part 2: Save In Dollars
i. To begin, you need to verify your account. From the home page, select "Complete KYC"
ii. Fill in the form and hit "continue". You'll need an identity card and selfie photo.
iii. After a successful verification, go to the wallets option to fund your account or you can simply select "Add money" from the homepage.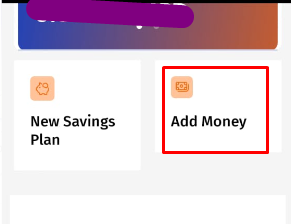 iv. Next, you choose your preferred option and make a deposit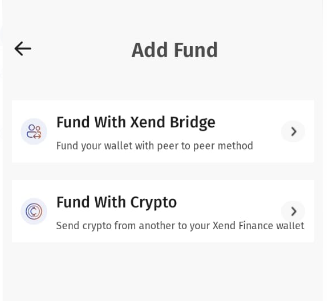 Note:
The Xend Bridge option allows you to make a deposit in naira.
At the moment (13//06/2022), you can only deposit XEND and BUSD via the crypto option.
v. Once your account is funded, go to the "Plans" option or click on "New savings plan" from the homepage
vi. Select between Flexi Save and Fixed Savings.
Flexi Save allows you to withdraw your funds and earnings at any time but Fixed Savings locks it up for a certain period.
vi. Enter the amount you wish to save and confirm it. Bravo!
But is XEND worth your money?
Find out what I think in the next section.
---
Is XEND A Good Investment?
I believe it is especially because of the service the parent platform provides.
With Xend Finance, users can save their funds in stablecoins and escape the dangerous effects of inflation.
Also, they can form credit unions and enjoy DeFi services such as borrowing and lending.
Plus, they enjoy mouthwatering profits from yield farming and high interest rates from different savings plans.
All these benefits will attract more users to the platform as we can see from the 10k to 50k increase within 6 months of introducing the mobile app.
And with more users of Xend Finance, the value of the XEND token will increase.
Another feature that will make XEND scale is the cross-chain high yield aggregator for yield farmers on Binance Smart Chain and Polygon.
Not only that but the coin also has Ethereum and Huobi chain variations.
This means that the platform is compatible with high-scaling blockchains and there are plans to add more. Superb!
Additionally, Xend Finance has an open Layer-2 DeFi infrastructure for developers.
As developers build on Xend, it will generate more revenue for the platform thus boosting the value of the coin.
Again, the founders of the platform have the knowledge and experience to grow Xend.
Ugochukwu and Chima have worked in blockchain amd web development firms in the past.
Also, Ugochukwu is running another succesful decentralized platform – Wicrypt.
Moreover, Xend Finance is backed by Google Launchpad and Binance. Amazing!
Even top firms like Hashkey, Twin Apex, Biconomy, DeFi Dollar, etc. have partnered with the platform.
This shows that the future is very bright for Xend so, you may want to lay your hands on the coin now.
But don't take my words for it, do due diligence before buying XEND.
Let's answer a few questions and then we can wrap up this post.
---
FAQs
Is Xend Finance legit?
I have reasons to affirm that this platform is legit. They include:
– The founders are not in hiding
– It has been audited by Certik and other auditing firms
– The platform integrated with a smart protocol insurance service provider -Tidal Finance to enable users to hedge their funds against loss.
– No record of hack since launch
– Many people already use the platform
– Registration details on Whois.com tally with the information on the platform's website
– It has been featured on TechCrunch, Decrypt and Coindesk
How do I stake XEND?
Go to https://stake.xend.finance/
Connect your wallet and choose a preferred pool to stake your XEND 
If you're a Pancakeswap user, you can also invest in the XEND Syrup pool and earn rewards
How do I stay updated on the platform?
Xend Finance has a blog where users can read articles and learn more about the platform.
Also, users can stay updated via these channels:
– https://t.me/XendAnnouncements
– http://twitter.com/xendfinance
– https://www.youtube.com/channel/UCcR2lTpYwCws-axra4AAO8Q/featured
– http://www.reddit.com/r/XendFinance/
– https://discord.io/xendfinance
– http://web.facebook.com/XendFinance
---
Special Offer!
If you want to learn how to trade cryptocurrencies profitably, we developed a perfect course to help you master Cryptocurrency Trading.
Go to www.ctmastery.com to enroll.
You can also join our Telegram community at https://t.me/ctmastery for more information.
---
Conclusion
We have come to the end of our discussion on Xend Finance. I hope it was worth your time.
You can use this platform to convert your local fiat currency to stablecoins and earn high APYs across chains.
Now, I'd love to hear from you:
Will you save on Xend? Perhaps you are saving with the platform already, what has been your experience?
Are there other features that you'd like to see added to the mobile app?
Share your thoughts with me in the comments section, let's engage!
Also, hit those social media icons below to share this post with your friends. Thank you!
---
Don't miss…